Stuffed with meat and fruit and drizzled with a creamy white sauce, chiles en nogada packs sweet and savory flavors into a traditional dish that's popular around Mexican Independence Day celebrations in September.
On Wednesday, the smell of ground beef and pork mixed with apples, peaches and raisins wafted from a frying pan as Cristina Encinas sautéed the dish's filling.
Behind her, Encinas' husband Alex Lim scraped the charred edges off grilled poblano chiles in the kitchen of the couple's home in Nogales.
Chiles en nogada, originally from the southern state of Puebla, is a staple of southern Mexican cooking and is often prepared in the season leading up to Mexico's Independence Day on Sept. 16.
Encinas, who grew up in Hermosillo, Sonora, and Lim, a Korean-American who came to Nogales by way of Philadelphia, said they enjoy the dish for its cultural significance.
"For us," Lim said, "we are trying to meet the spirit and we're trying to celebrate this culture."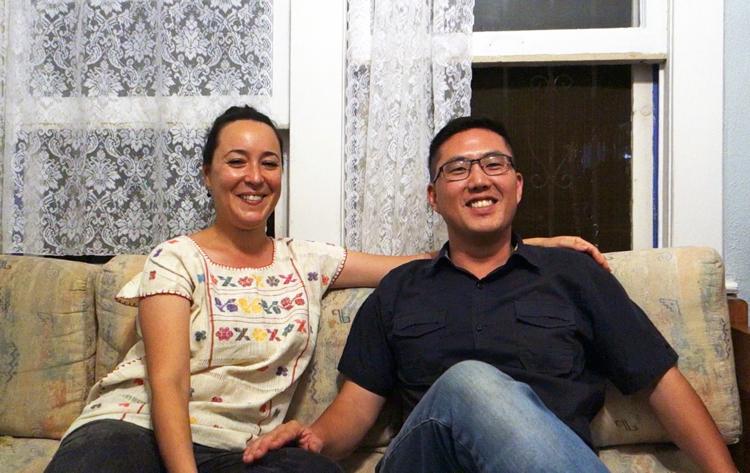 And, some historians say, chiles in nogada traces its roots to an important moment in Mexican history.
According to one version of the story, the dish was first prepared by nuns in August 1821 to serve to Mexican Army Gen. Agustín de Iturbide when he passed through Puebla after signing the Treaty of Córdoba, which granted Mexico independence from the Spanish Empire.
The dish's tricolor palette – white sauce with red pomegranate seeds and green parsley for garnish – adds to its patriotic appeal.
And its ingredients mark chiles en nogada as a distinctly fall recipe.
"The thing about this dish is that it uses all the harvests of this time of the year," Lim said, noting the fresh fruits, nuts and peppers used.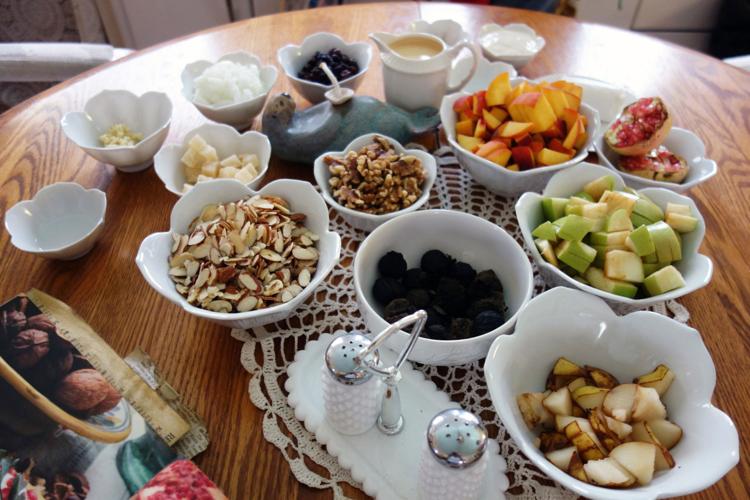 "It just takes time, but it's really not difficult to make," Encinas said of the recipe.
The couple started off measuring, peeling and chopping a lengthy list of ingredients, which quickly filled up their kitchen table.
Encinas carefully picked the red seeds from a pomegranate and Lim grilled the chiles and tomatoes, holding the vegetables over the open flame of a gas stove.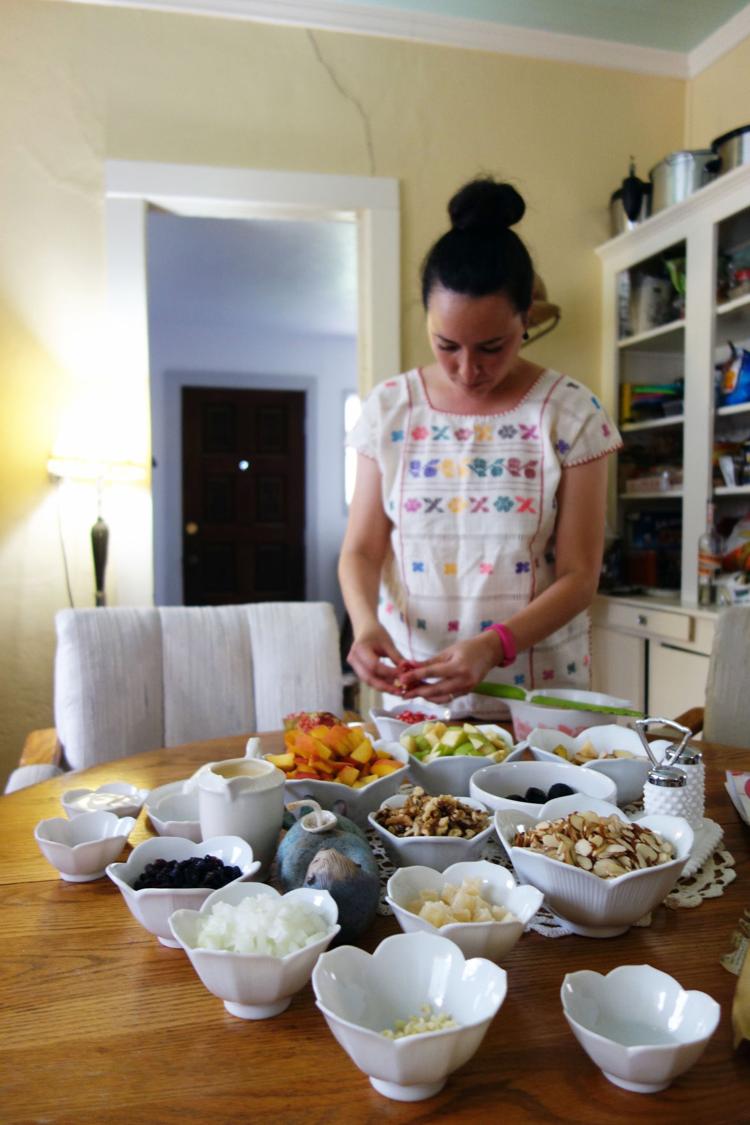 Beginning with chopped onions and garlic, Encinas gradually added the filling ingredients to a large frying pan, forming a rich picadillo.
The couple took care to prepare the different parts of the dish in order, so as to allow the chiles and filling to cool after cooking.
"Some people say you should eat (chiles en nogada) warm, others say room temperature," Cristina said. "If you ask me, I think room temperature is better."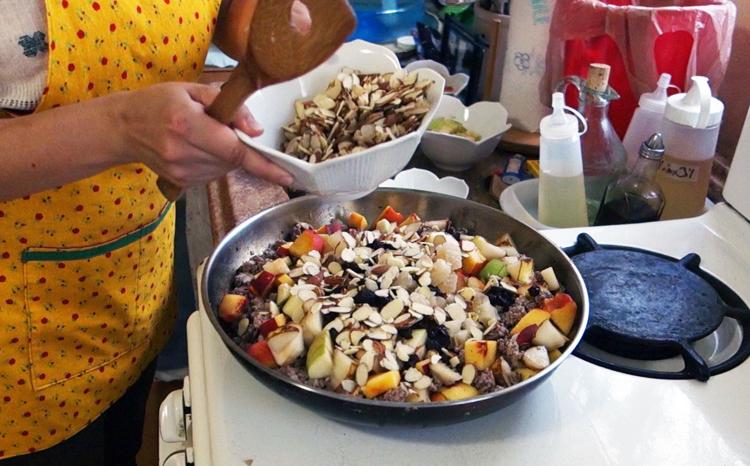 After allowing them to cool, Lim cleaned up the grilled chiles and carefully cut a slit into each.
In a blender, Encinas combined a mixture of goat cheese, cream and the dish's namesake ingredient: walnuts, or "nogales" in Spanish.
While the City of Nogales draws its name from the walnut trees that used to grow abundantly in the area, Lim said that local black walnuts aren't the best for the dish.
"There's not a lot of meat if you crack them open," he said, "so it's really not quite suitable."
By the time the sauce was ready, the picadillo had cooled and Lim spooned hefty portions of filling into the chiles, placing them first into a glass casserole dish, then onto plates.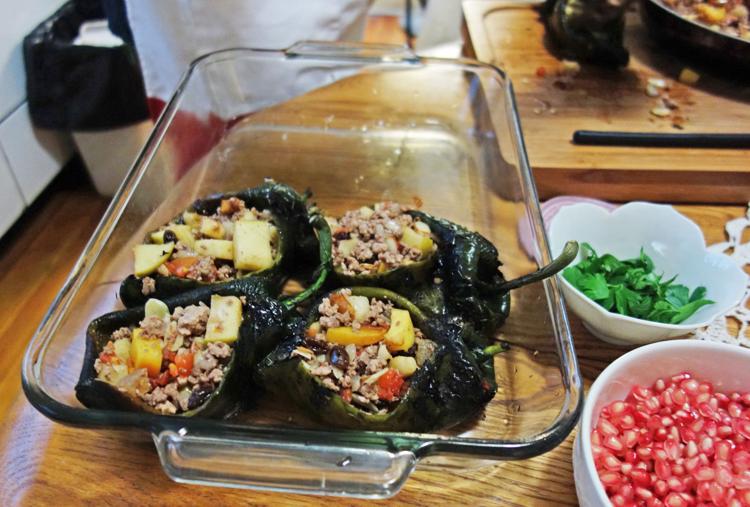 Encinas covered the chiles with sauce, pouring over the middle of the peppers to leave the stems exposed and allow the sauce to pool on the plate.
She sprinkled handfuls of pomegranate seeds over the top and finished the plates with fresh parsley.
With around two centuries of history, it's hard to point to a definitive original recipe for chiles en nogada, but Encinas noted that the dish stands out for its long list of ingredients.
Lim said their rendition of the recipe was a "practical" one, using ingredients that were readily available.
He cracked a smile: "Nuns from Puebla, they'll be horrified to see this!"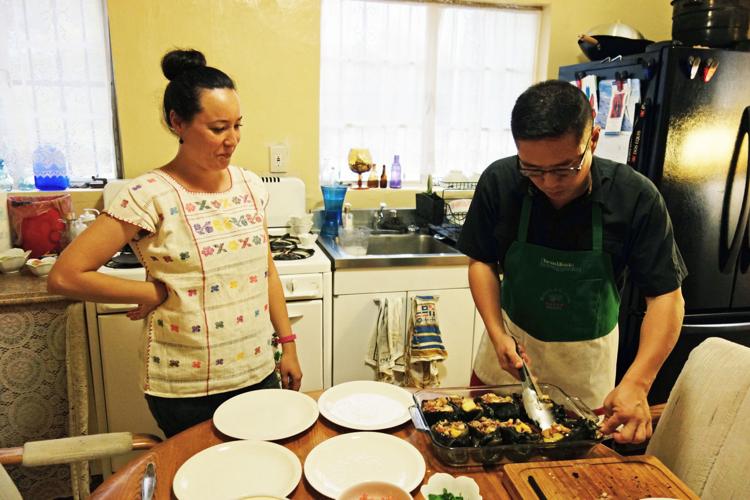 ---
Chiles en nogada, courtesy of Cristina Encinas and Alex Lim
100 grams (3-1/2 ounces) of shelled walnuts
30 grams (1 ounce) goat cheese
3 tablespoons half-and-half
1/2-shot sherry
Pinch of cinnamon
Sugar to taste
1/4 cup evaporated milk
1/2 onion, finely chopped
2 cloves of garlic, finely chopped
200 grams (1/2 pound) ground pork
200 grams (1/2 pound) ground beef
1/2 kilogram (1.1 pounds) tomatoes, grilled and peeled with seeds removed
2 apples, cut into small cubes
1 peach, cut into small cubes
25 grams (~1 ounce) sliced almonds
1/2 cup raisins
30 grams (1 ounce) candied biznaga cactus (acitrón), finely chopped
Pinch of cinnamon
1/2 cup rum
6 chiles poblanos grilled, ribs and seeds removed
Salt and pepper to taste
1 pomegranate (for seeds only)
6 branches fresh parsley, finely chopped
In a blender, combine walnuts, goat cheese, half-and-half, sherry and cinnamon. Mix. Taste and add sugar as desired.
To thin the nogada, add evaporated milk until reaching desired consistency.
Fry onion and garlic in oil. Add meat and let cook five minutes, the meat will be ready when it releases its juices, which is when the color changes.
Add tomatoes and cook on low heat for five minutes, stirring occasionally.
Add the apple, peach, almonds, raisins, candied cactus, spices and rum. Cook on medium heat for five minutes.
Remove from the stove and let cool.
Once the filling is cool, fill the chiles and place them on a plate. Add the nogada sauce and garnish with parsley and pomegranate seeds.