Just over a mile southeast of the Dennis DeConcini Port of Entry, in the Heroes neighborhood of Nogales, Sonora, eight men sought refuge from the cold inside a makeshift shelter for the homeless on Wednesday afternoon.
The shed, which had previously served as a parking area with two brick-and-cement walls and a tin roof, was now fully enclosed by two new tin walls and plastic tarps to keep the wind from seeping through the cracks.
Inside, a couple of the men slept bundled up on foam mats piled on top of wooden pallets on the floor, with gas heaters beside them. Several others sat near the entrance talking and arguing with each other, as supervisor Humberto Schiffer gently asked them to lower their voices and act more respectfully.
It was the fifth consecutive day that Compassion Home, a nonprofit organization aiding homeless people in Nogales, Sonora, had been welcoming guests during the day and night to shelter them from the harsh winter temperatures that had dropped as low as 26 degrees the previous night.
"Last night we had 16 people arrive and we gave them shelter so they could sleep here. Some of them left in the morning," 41-year-old Schiffer said, adding that he lives inside a house standing only a few feet away from the shed.
"They're not obligated to stay here. It's mainly for them to sleep at night, but we're allowing them to come during the day if they get too cold," he said.
The concept that ultimately led to Compassion Home began with four friends who rented a three-bedroom house in March 2018. Their intention was to allow six homeless people to live there at no cost in order to get them out of the streets and into a dignified living space.
The two friends remaining with the project by the end of that year were Bigvai Flores Ballinas and Oscar Medina, who realized that their good intentions weren't enough, and they needed to shift gears to a more sustainable structure, Flores said.
By the beginning of 2019, Flores was the last remaining member of the project. That's when she founded what is now known as Compassion Home, a nonprofit focused on providing services to homeless people in Nogales, Sonora with the goal of reuniting them with their families.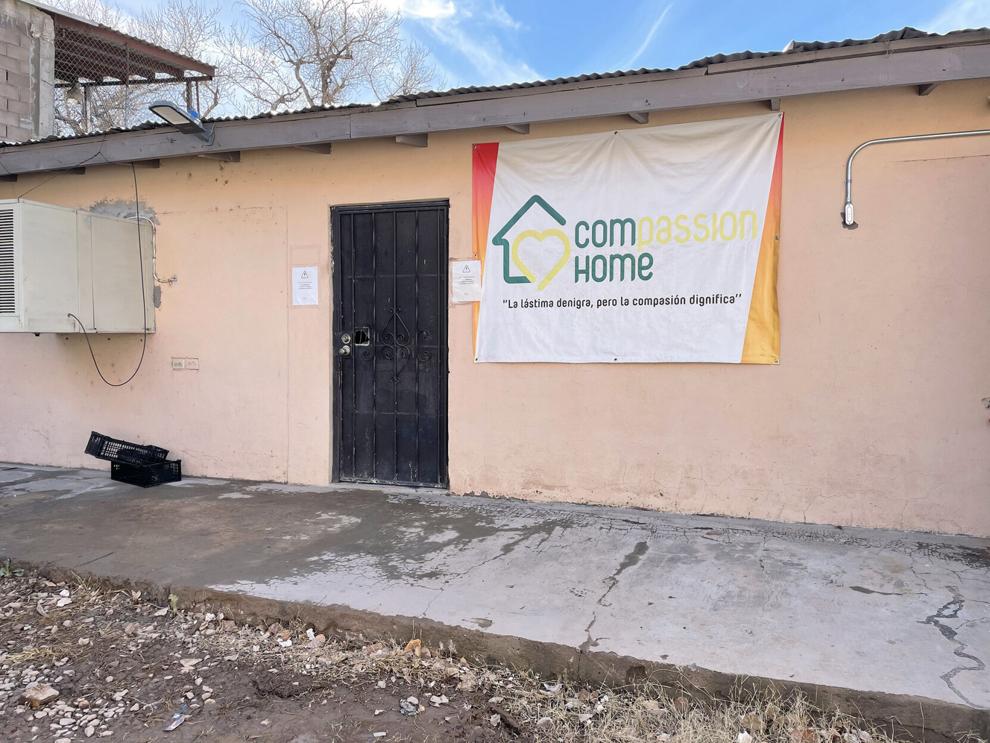 "I started working with family reintegration, which consisted of keeping the house where we would continue our activities like storing food, blankets and clothes for them. We would also bring them here to have them shower and give them haircuts," Flores told the NI during a phone interview Tuesday afternoon.
Since they didn't have the necessary resources to house people with drug addictions or mental illnesses, Flores said, the original three-bedroom home was reserved as Schiffer's living space. Still, it remained open for day-use for those who accepted Compassion Home's services, which included meals, use of a shower, a clean change of clothes and haircuts.
"We also try to have conversations with them, build a good friendship. Then, little by little, they start telling us about their lives, their families and that's how we start looking for their families," Schiffer said.
He noted that, having overcome a drug addiction himself back in 2005, he now takes satisfaction in helping others recover from their own addictions and build healthier lives.
By the end of 2019, the first official year of Compassion Home and its reintegration program, the team managed to reunite a total of 12 people with their families. Each person, Flores said, had a different story about how they ended up homeless.
One of those 12 people included Paula Mauricio, a woman with mental health issues who had been living on the streets after she walked out of her home in Ciudad Juarez 20 years earlier. After not hearing news of her for so long, her family had assumed she had died.
In 2020, the members of Compassion Home adjusted their operations yet again in response to the COVID-19 pandemic. They began driving throughout the city to provide portable showers and meals four days a week to the approximately 70 homeless people that they're aware of. By the end of the year, they had managed to reintegrate six of those people with their families.
But the number of people living on the streets consistently stays at around 70, Flores said, with new people coming to town as others leave. As for those who die with no family members to claim their bodies, she said Compassion Home also works to provide them a dignified burial.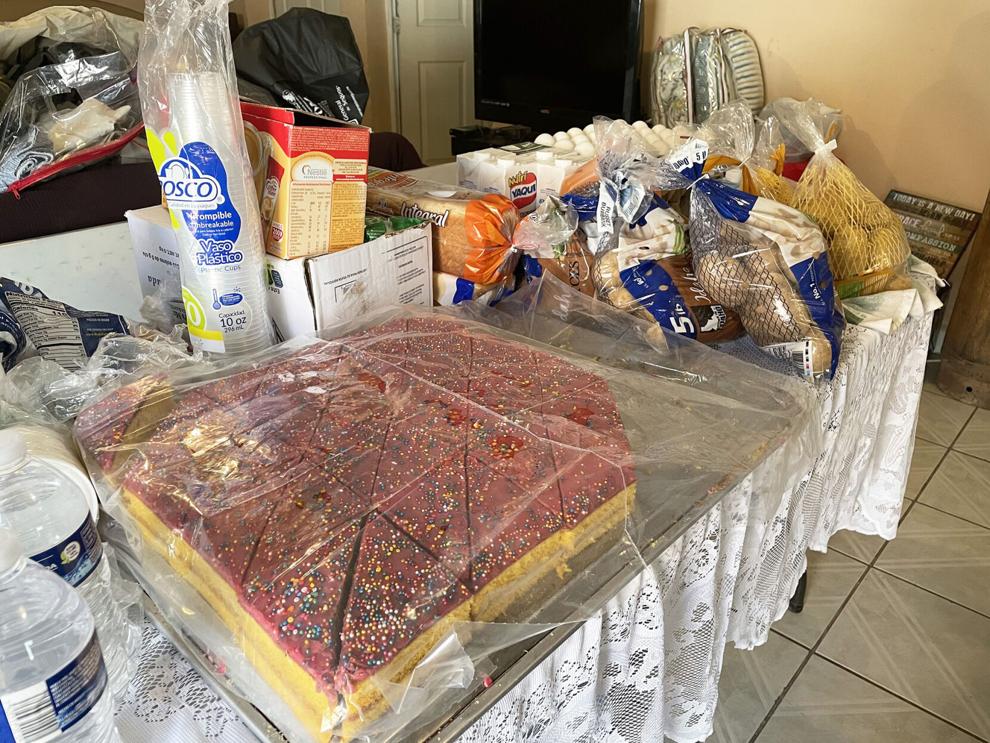 Most of the services that Compassion Home has been able to provide during the past three years have been made possible by donations and money out of their own pockets, Flores said.
On Wednesday, Schiffer displayed bags of donated clothes and blankets sitting in his living room. In the kitchen, a folding table was full of potato sacks, egg and milk cartons, and pan dulce – donations from local people who had dropped by that week.
At least as far back as 2018, the municipal government of Nogales, Sonora has sent out news releases about city police officers making the rounds through the city to take homeless people to shelters on harsh, cold nights or provide them with extra blankets if they refuse to go elsewhere.
However, Flores and Schiffer said the homeless individuals don't last long at the shelters, which primarily serve migrants, and say that they feel rejected by other people staying there.
"None of the three shelters in the city are trained to deal with homeless people," Flores said. Schiffer added: "Even just a facial expression or the way that you say something, they can detect that rejection."
Flores insisted that the city still needs a shelter specifically equipped with trained personnel to deal with the main issues that drive local people to homelessness. Those include mental illness and drug addiction, but there are other vulnerable populations as well, such elderly people with no family left to care for them, and juveniles who have grown out of the services provided by the governmental family development agency known as DIF.
This week, Compassion Home received help from the municipal police as they responded to the cold snap by allowing people to spend the night in their makeshift shelter.
The DIF, she added, has sometimes helped them as well by securing discounted bus tickets for individuals heading back home and providing provisional identification for those who don't have any.
But when she's asked for additional government funding or a parcel of land to begin building a properly equipped shelter, Flores said, her requests have gone mostly unnoticed.
In the meantime, Flores said, she and Schiffer plan to continue with their usual services and expand as their resources allow.
On Thursday, a post on Compassion Home's Facebook page reported that they had managed to buy a bus ticket for a man who had been living on the streets for three weeks. He was traveling to Hermosillo, Sonora, where his uncle had helped him get a job.
"They're not all lazy, not all of them like living this way. It was specific circumstances that led them to this situation," she said of the people she serves, adding that she hopes that some of the folks staying at their temporary shelter would come to trust them enough to participate in their efforts to reintegrate them into society.
"Pity belittles them, but compassion dignifies them," Flores said, repeating the Compassion Home motto. "We don't want them to become another statistic."