In a ceremony on Tuesday morning, the Nogales Police Department paid tribute to fallen officer Jesus M. Cordova, who was shot and killed while responding to a call three years ago.
More than 40 officers from NPD and the Sheriff's Office, as well as city staff and elected officials, community members and Cordova's family gathered in front of City Hall for the ceremony. Police Chief Roy Bermudez and Mayor Arturo Garino presented a black-and-blue wreath and Bermudez gave a brief speech.
"His duty was to serve, our duty is to remember," Bermudez told the crowd.
At the time of his death, Cordova had been with NPD for approximately a year after serving with the Santa Cruz County Sheriff's Office for 11 years. In 2011, while working as a detective for the Sheriff's Office, he was named the Public Safety Employee of the Year by the Rio Rico Rotary Club.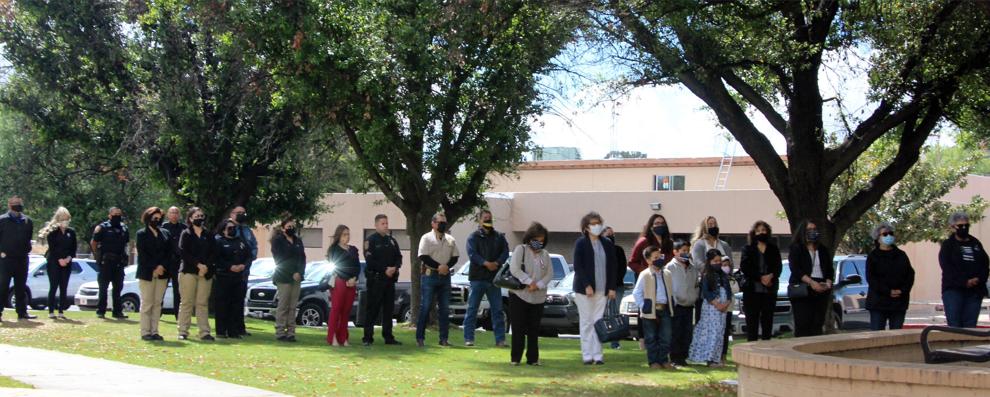 Cordova, 44, was killed on the afternoon of April 27, 2018 after responding to a report of a carjacking at the north end of the city. The suspect, 28-year-old David Ernesto Murillo, opened fire on Cordova with an AR-15 rifle after the officer tried to pull him over near the intersection of Grand Avenue and Mesa Verde Drive.
The next year, Murillo avoided a possible death penalty by pleading guilty to the first-degree murder of Cordova, as well as an array of other charges stemming from a spree of crimes that led to the murder. He was sentenced to three life terms in prison, plus another 119.5 years.
Cordova left behind his wife Alyssa, who was five months pregnant when he was killed, and three children, then ages 8, 2 and 1.