Nogales police say a man killed a woman, then held their infant child hostage during an hours-long standoff that ended with a SWAT team barging in to rescue the child and arrest the suspect.
Aaron Manuel Estrada-Buelna, 28, was booked into the county jail on charges of first-degree murder, kidnapping, unlawful imprisonment, child abuse and endangerment following the incident Monday at the Santa Carolina apartment complex on the west side of the city. His bond was set at $3 million.
The victim, Berenice Aguirre, 31, was found dead at the scene. The cause of her death is still under investigation, NPD Cpl. Oscar Mesta said.
According to a department news release, NPD received a call requesting a welfare check at the apartments at approximately 3:58 p.m. Monday.
When officers arrived at the scene, they entered the apartment in question.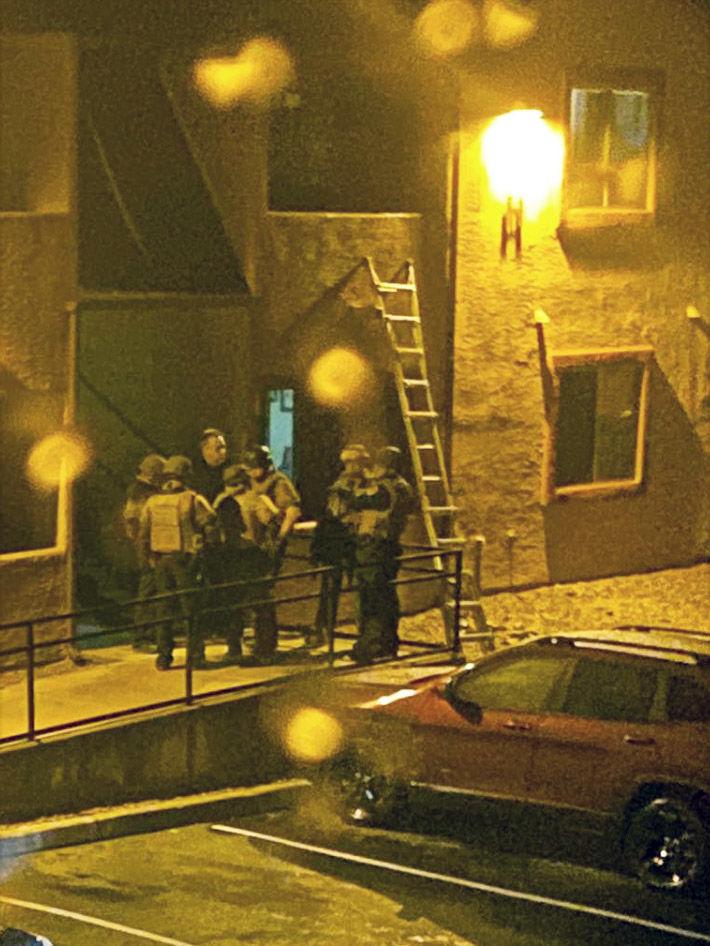 "Once inside the residence, a male informed officers that he was inside the bedroom with his infant child and he was not planning on coming out," the news release said. "Additional officers arrived on scene and secured the area."
When officers conducted a sweep of the other bedrooms, they found Aguirre's body. They then began negotiations with Estrada to release the child and peacefully resolve the situation, NPD said.
"As negotiations continued and no peaceful resolution was agreed upon, NPD SWAT made entry into the bedroom and took custody of the male suspect and the infant child was rescued unharmed," the news release said, adding that the child was turned over to the victim's family members.
Mesta said he was not certain about the duration of the standoff, but that it lasted "a while." A neighbor said police took the baby and Estrada from the home at approximately 9:30 p.m.
Estrada was unarmed at the time of his arrest, Mesta said.
A video circulating on Whatsapp on Tuesday morning that reportedly depicts the resolution of the incident shows a woman carrying a baby out of an apartment building and towards a row of at least two Nogales Police Department vehicles.
Shortly afterward, the video shows, a man was escorted from the building by law enforcement officers and walked towards the NPD vehicles.
The video shows at least a dozen law enforcement personnel, some wearing bulletproof vests and helmets, some carrying assault rifles, one apparently carrying a shield and another a battering ram. There was also a ladder set against the side of the building.
The video appeared to have been taken through a window on the second floor of a nearby apartment in the same complex where the incident occurred.
When a Nogales International reporter went to the apartment complex on Tuesday morning, an NPD officer threatened to arrest her for trespassing and suggested she delete any photos she had taken – something she declined to do.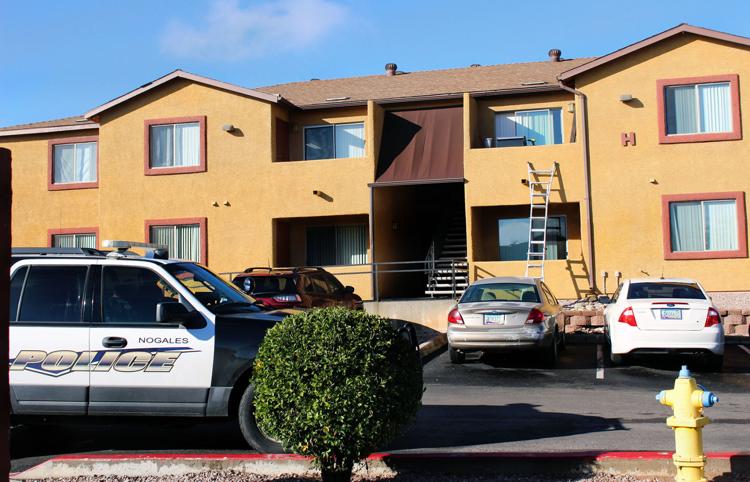 Mesta, the department spokesman, was unable to confirm the current relationship between Estrada and Aguirre.
Court record show that Estrada and Aguirre were involved in a paternity dispute at Santa Cruz County Superior Court that was filed in August.
The latest development in that case came on Dec. 3, when a judge issued an order for blood/DNA testing.
At the time of Monday's incident, Estrada was already facing a domestic violence aggravated assault charge at Nogales Justice Court stemming from an incident on Nov. 30, 2018 in which he allegedly assaulted a woman with the initials B.A. by impeding her breathing by "placing hands around B.A's mouth and nose."
He was charged with another count of aggravated assault in the same incident for allegedly touching a minor under age 15 "with the intent to injure, insult or provoke." A third charge accuses him of domestic violence trespassing.
A warrant was issued for Estrada's arrest in that case on Aug. 29, but online records do not show that it was ever served. Jail Commander Lt. Raoul Rodriguez of the Santa Cruz County Sheriff's Office said an outstanding failure to appear warrant was added to Estrada's current list of charges when he was booked for Monday's crimes.
Estrada was originally charged in that case with seven counts of threatening and intimidating while promoting the interests of a criminal organization, as well as two counts of disorderly conduct and one count each of criminal damage, escape, and aggravated assault on a peace officer.
The charges stemmed from a traffic incident on Dec. 5, 2010 that escalated into a physical confrontation during which Estrada allegedly threatened to use his drug cartel connections to have seven police officers murdered, disappeared or decapitated.
In 2013, Estrada was convicted at Santa Cruz County Superior Court of domestic violence aggravated assault and sentenced to three years and nine months in prison.
According to the charging document, he choked someone whose initials did not correspond to Aguirre, his most recent victim. He was also charged with the domestic violence assault of a victim who was bound or otherwise restrained.
The Arizona Department of Public Safety notified Santa Cruz County Superior Court of Estrada's release from prison in June 2018 and again in August 2019, online records show. According to Department of Corrections records, an absconder hold was placed on Estrada in October 2018 and then cancelled on Jan. 29, 2019, suggesting that he absconded while released on parole, and was then sent back to prison.