On the one-year anniversary of the shooting death of Nogales Police Officer Jesus Cordova, his friends at the City of Nogales took steps to make sure his name and memory will live on by christening a park in his honor.
With a large crowd of Cordova's family, colleagues, friends and admirers gathered in front of City Hall on Saturday, municipal officials dedicated the tree-and-fountain-filled green space as Jesus M. Cordova Park and unveiled a plaque memorializing him.
"This park is a staple of our community," NFD Chief Roy Bermudez told the attendees. "Growing up, where are we going to meet? We're going to meet at the City Hall park, right? Let's go to City Hall."
"From this point on," he added, "they're going to meet at Jesus M. Cordova Park."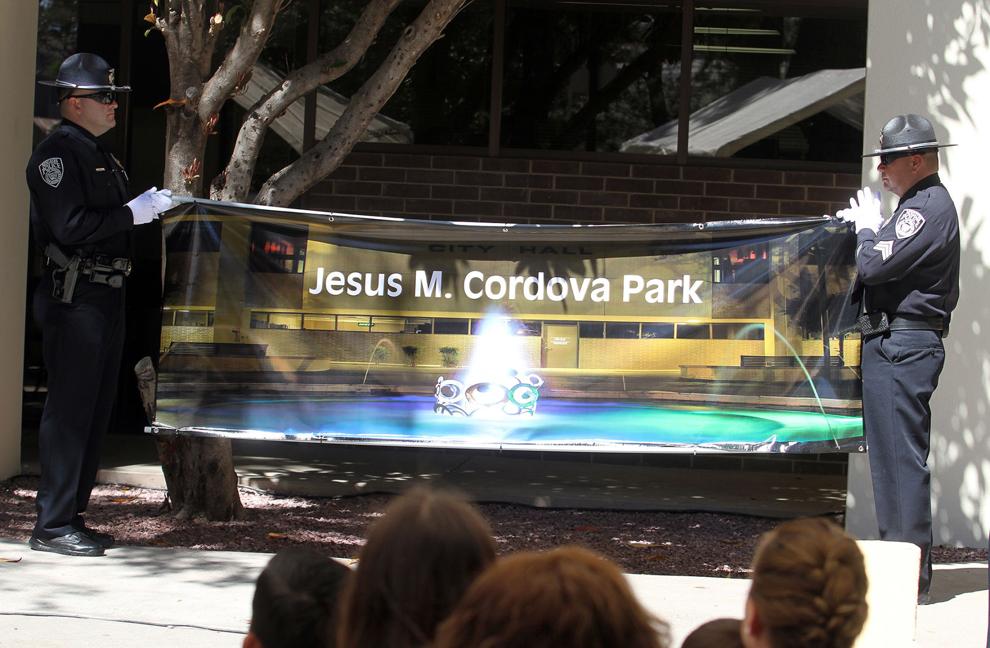 Cordova, 44, was killed on the afternoon of April 27, 2018 after responding to a report of a carjacking at the north end of the city. The suspect, 28-year-old David Ernesto Murillo, opened fire on Cordova with an AR-15 rifle after the officer tried to pull him over near the intersection of Grand Avenue and Mesa Verde Drive.
Murillo is now charged with 30 felony counts stemming from a crime spree that began with the attempted armed robbery of a taxi driver, followed by at least five carjackings or attempted carjackings. He is facing a potential death penalty if convicted of the first-degree murder of Cordova.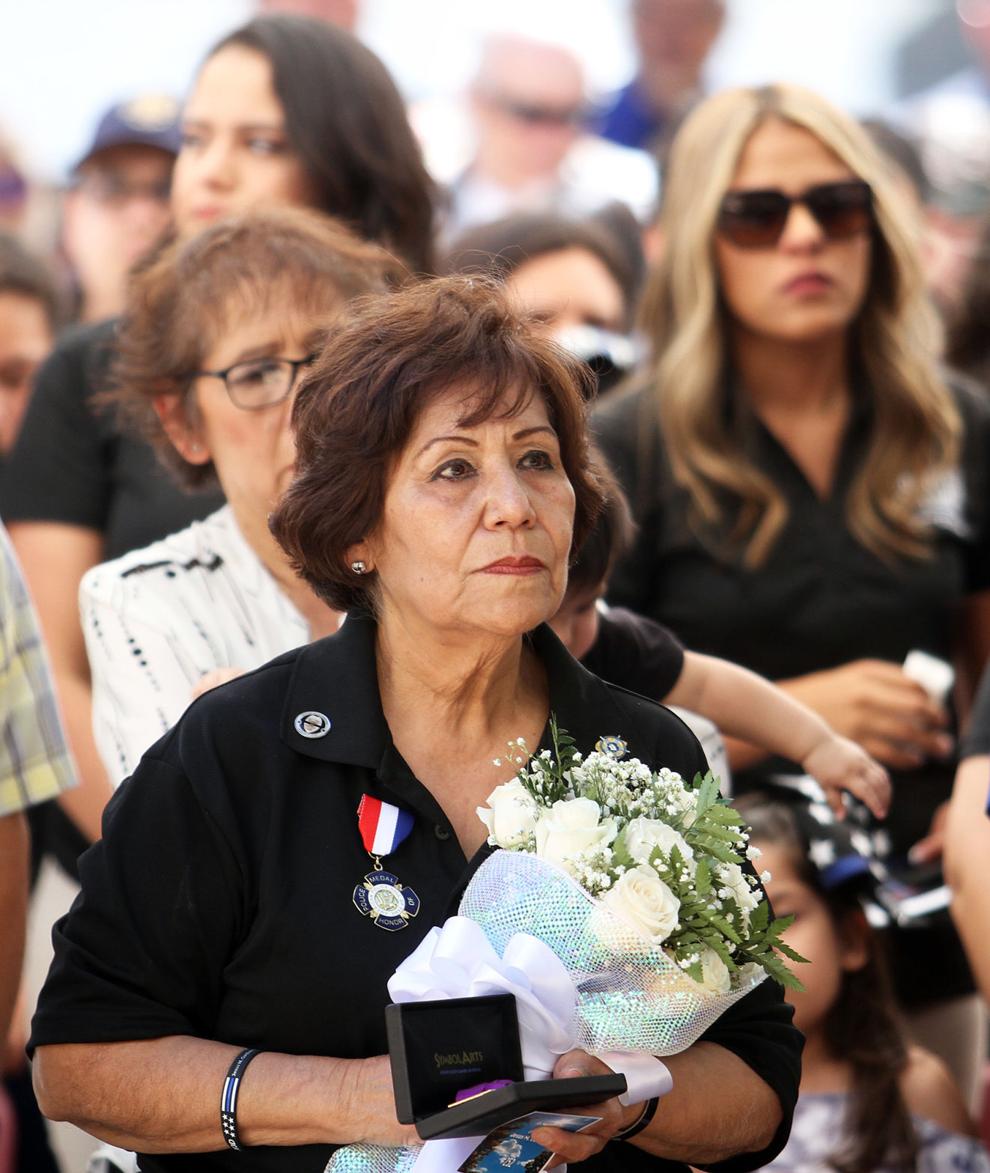 Bermudez told the attendees at Saturday's ceremony that Cordova didn't lose his life, he gave it to protect his community. And he recognized that sacrifice by presenting the Cordova family with the fallen officer's purple heart award, a distinction given to officers who are injured or killed while going above and beyond their call of duty.
A bleary-eyed Mayor Arturo Garino needed several moments to collect himself before he could begin to speak. When he did, he described looking out onto the park from his office window about a month-and-a-half earlier and seeing children playing, people getting married and the fountain gushing life-giving water.
"The first thing I thought by looking at that fountain and looking at the children and looking at the people that got married and everybody that came to take pictures by that fountain, was: "What can we do for Officer Cordova?" And that's when I thought, 'Let's name this park after Officer Cordova so that we can always remember him.'"
The other members of the city council backed the idea, approving the plan during a special meeting on April 17.
"We'll never forget him, and the citizens of Nogales will never forget him," Garino said.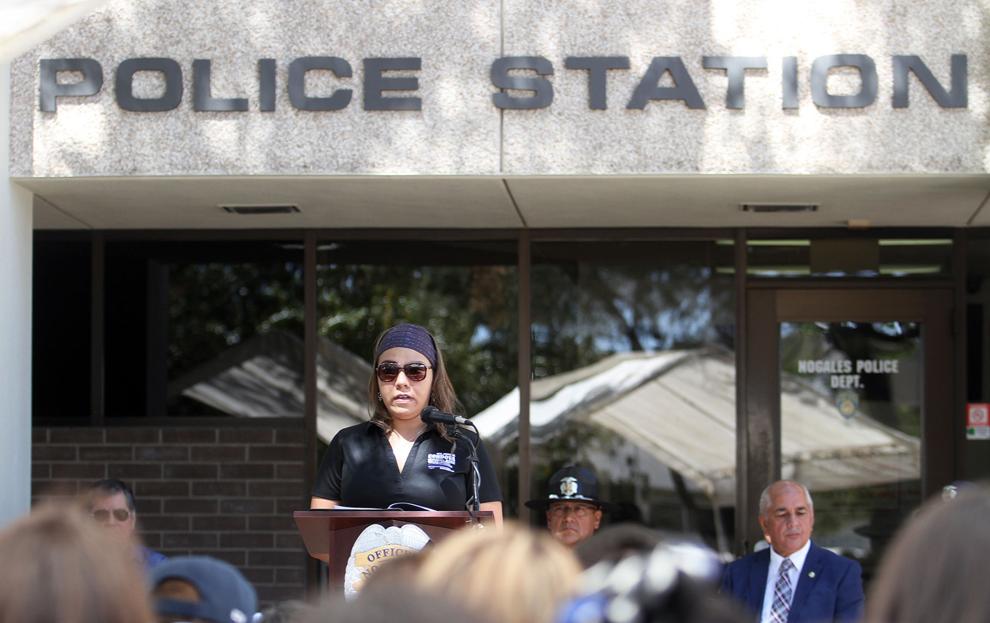 Alyssa Cordova, the officer's widow with whom he had four children, noted how the community of Nogales had united in the wake of the tragedy and taken the family under their wing.
"I stand here before you simply to express the gratitude for the unconditional love, support and prayers that have been given to our family – my mother-in-law, children and myself – throughout this difficult year," she said, adding later: "I'm sure he's looking down from Heaven, proud to be a Nogalense."
She recalled her husband as a kind and humble man who served others before himself. "His smile was so contagious and it could light up a room," she said.
Nogales Police Officer David Lopez had three pages of remarks prepared for the occasion, but was too overcome with emotion to read them.
"This is a hard day for me," he said, choking up. "Jesus was my best friend. He is missed every day."
The ceremony also included the presentation of colors by the Multi-Agency Color Guard, the singing of the national anthem by Karina Torres, prayers by Fr. Marco Carrasco and Deacon Francisco Padilla, and a flyover by a Lifeline med-evac helicopter crew.
Other events held over the weekend to honor Cordova's memory included a Mass at Sacred Heart Church, a fundraising softball tournament, a motorcycle poker run and a vigil at the site where Cordova was killed.