The Nogales Rotary Club honored 14 standout individuals for their efforts to protect the public's well-being during the Sixth Annual Santa Cruz County Public Safety Officers Awards Dinner last Friday at the Quality Hotel Americana in Nogales.
Oscar Berrellez of the Rio Rico Fired District was nominated as his agency's representative for his motivation and commitment, as illustrated in one case by his thorough research on a new fire truck purchase for the district, then driving it back from Florida with a co-worker. In addition, when Berrellez wanted to become a certified driver operator but couldn't find a course offered locally, he located one in Texas and spent many hours studying and driving back and forth to attend the program.
The Nogales Fire Department nominated Capt. Rudy Colunga, who serves as apparatus maintenance supervisor at NFD, overseeing preventive maintenance, annual certifications and repairs of the department's 18 vehicles and associated equipment. He also serves as the fill-in fire marshal, having recently obtained a fire inspector certification, and was charged with designing an emergency vehicle­ driving course and training program.
Officer Jesus Manuel Cordova, who was killed in the line of duty on April 27, 2018, was the Nogales Police Department nominee. On that afternoon, Cordova attempted to stop the driver of a suspected stolen car when the driver pulled into a grocery store parking lot, jumped out and began to fire at Cordova with an assault rifle before fleeing in another stolen car.
"If not for the heroic actions of Officer Cordova, the suspect would have entered the grocery store and the circumstances could have been catastrophic," his nomination read, adding that his sacrifice "is a testament to his pride, dedication and loyalty to his chosen profession, community and family.
Border Patrol Agent Pedro "Pete" Gomez, Jr. is credited with saving a woman's life while on his way to work on Nov. 27, 2018. On that date, he noticed a car flipped on its side on Interstate 19 and stopped to pull the driver out of her vehicle and render first aid. In addition, Gomez responded to the fatal shooting of Nogales Police Officer Jesus Cordova on April 27, 2018, and was first to place handcuffs on the suspected shooter.
The Tubac Fire District's nominee was Firefighter Hesley Guerrero, who has served as a paramedic during the past six years of his 13-year career with the district. He has been the lead advisor for the district's Explorer Program for five years and oversees TFD's electronic patient care, reporting tablet interface with cardiac monitors and "working diligently to resolve any issues as quickly as possible."
Sgt. Mario Guzman of the Arizona Department Of Transportation has several responsibilities within the enforcement and compliance division at the port of entry, "but is always the very first person to volunteer for additional committees" and services, according to his nomination. Guzman is the lead firearm safety instructor for the ADOT enforcement and compliance unit in Nogales and has "demonstrated overwhelming success in helping officers perform well on the range while always keeping safety as the number-one priority."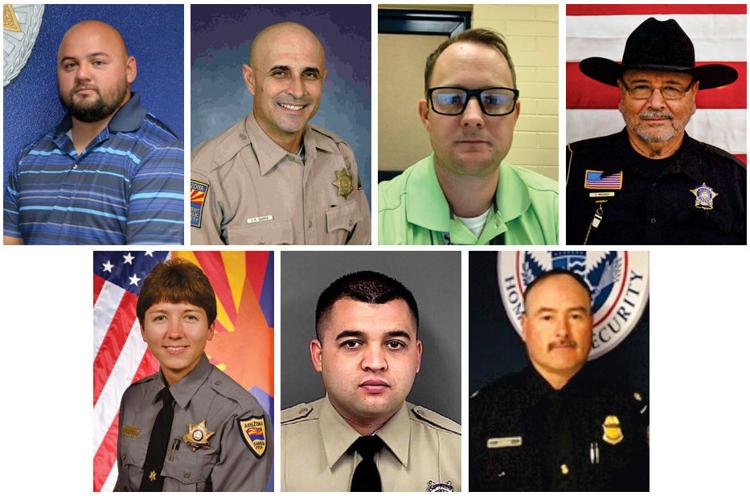 The Santa Cruz County Attorney's Office nominated Victor Huerta, its property/collection specialist. "When he is not busy seizing the assets of drug dealers and traffickers, he spends his time preparing those same assets for our quarterly auctions," his nomination states. "During our auctions, Victor is our auctioneer and his voice has become synonymous with our auctions. The once quiet, timid Victor is now the star of our office."
Trooper Cosme Ibarra of the Arizona Department of Public Safety conducted almost 2,000 traffic stops in 2018 "while maintaining a focus on removing dangerous impaired and distracted drivers from our roads," his nomination states, adding that he also focused heavily on enforcing seat belt use. What's more, Ibarra participated in multiple child seat safety clinics, safety talks at local schools and the Back to School Blitz in Rio Rico.
The Patagonia Marshal's Office recognized Deputy Joseph Johnson as its officer of the year, noting that in addition to his part-time position in Patagonia, he is a full-time criminal investigator for the Arizona Department of Corrections. "He is dedicated to helping others and providing a service to Santa Cruz County and the State of Arizona," his nomination states.
Lt. Ernesto Machado of the Arizona Rangers has multiple certifications as a firearms instructor and range safety officer, and serves as the firearms instructor and range master for the Santa Cruz and Madera companies of the Rangers. He also helps organize and train security teams for houses of worship.
Brittany Oleson, a wildlife manager for the Arizona Game and Fish Department, was credited with leading the agency's initial emergency response after a bear attacked and injured a man south of Patagonia in September 2018. She also tracked a bear through rough country after it charged a hunter in the Santa Rita Mountains in October 2018, and responded to a bobcat attack in Bisbee as well.
Since Special Agent Jeremy R. Shank joined the U.S. Drug Enforcement Administration's Nogales office in April 2015, his nomination states, he has conducted investigations that have resulted in the arrests of 15 high-level members of transnational criminal organizations, seized more than 157 pounds of heroin, 90 pounds of fentanyl powder, 70 pounds of methamphetamine, 21,000 heroin/tramadol pills, 3,000 fentanyl pills, and approximately $600,000 in U.S. currency destined for drug traffickers in Mexico. Shank has also participated in anti-drug outreach efforts at local schools.
Corporal Omar Velasco of the Santa Cruz County Sheriff's Office was nominated as a result of his actions on Feb. 25 after he received an emergency call regarding an unresponsive adult male at a residence in Rio Rico. Velasco arrived on scene within two minutes of the call and discovered evidence of a possible overdose. The anti-overdose medication Narcan brought the victim back to consciousness.
"There is no doubt a life was saved because of Corporal Velasco's quick response to the residence and his ability to quickly assess the situation during a stressful situation," his nomination states.
Robert Zuniga, a supervisor for U.S. Customs and Border Protection, was recognized for playing a crucial role in two lifesaving events.
On Nov. 14, 2018, Zuniga performed CPR on a 22-year-old California man who had been carried into the pedestrian area at the Dennis DeConcini Port of Entry and got him breathing again. Recognizing the signs of an overdose, Zuniga gave the man Naloxone, stabilizing him until paramedics arrived. Then on Feb. 24, Zuniga administered Naloxone once again at the DeConcini port to a 21-year-old man suffering from a drug overdose, stabilizing him until paramedics arrived.