The State of Arizona began online COVID-19 vaccination registration Monday for people in the 1B priority category, but Santa Cruz County vaccination events were not included in the process and will be open for registration at a later date, said County Health Services Director Jeff Terrell.
The state-level online registration that began at 9 a.m. Monday was for "health care workers, first responders, teachers, law enforcement officers, Arizonans over age 75 and others at the top of the priority list" for the vaccine, according to the Arizona Department of Health Services.
The online registration site offered people in those categories the chance to sign up for a vaccine at the state's first 24/7 COVID-19 vaccination site at State Farm Stadium in Glendale, as well as "several other sites throughout the state," the AZDHS news release said.
Terrell said Santa Cruz County would release a web link for people to sign up for a local vaccination event "when it is available for the groups."
"They would not be able to sign up yet since an event is not open down here," Terrell said in reference to the local options available to county residents Monday on the new state registration portal.
However, an AZDHS spokesman said that residents of Santa Cruz County and other areas of the state outside Maricopa County could sign up for and receive vaccines at the mass vaccination event at State Farm Stadium in Glendale, noting that one of his relatives from Tucson had successfully booked an appointment there.
The online registration portal is at podvaccine.azdhs.gov. Nearly 44,000 people signed up for appointments at the stadium during the first seven hours of the vaccination site's operation on Monday, an AZDHS news release said, adding that another 50,000 appointments were still available through end of January at State Farm Stadium.
Information about all vaccination sites in Arizona is now available at azhealth.gov/findvaccine. As of Monday afternoon, Santa Cruz, Graham and Greenlee were the only ones of Arizona's 15 counties to not have a site listed.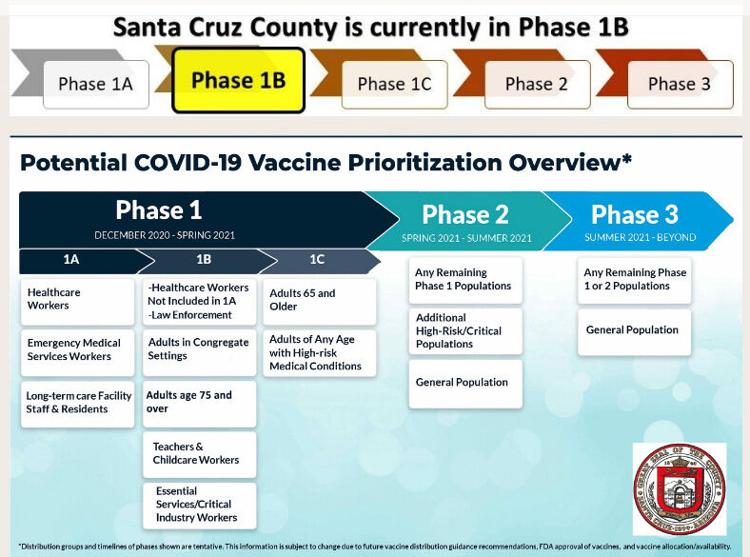 Last week, Santa Cruz County officials and health care leaders met to discuss the logistics of expanding the local vaccination program from healthcare workers and residents of long-term care facilities to the approximately 10,000 community members in the 1B priority group. They decided to begin with law enforcement officials and healthcare workers in the 1B priority group who were not vaccinated already.
From there, they planned to move on to people 75 and older. But they still needed to organize local points of distribution, or PODs, that could handle large volumes of vaccinations. They also needed to finalize a sign-up system.
Santa Cruz County had received 1,700 vaccine doses as of last week – all but 100 sent to Mariposa Community Health Center – with another 200 expected to arrive on Monday.
As of last Wednesday, Jan. 6, the number of people in the county who had received a vaccine dose was 572. Data posted by the state on Monday showed that 771 first vaccine doses had been given in Santa Cruz County. (The vaccination process calls for a second, boost dose given approximately four weeks after the first.)
Statistics updated by the County Health Services Department on Monday showed 6,679 confirmed COVID-19 cases in Santa Cruz County, an increase of 446 cases during the previous week.
The number of local deaths attributed to the coronavirus was 118 and hospitalizations were at 455 as of Monday. Those numbers marked one-week increases of 17 deaths and 32 hospitalizations.