Local voter participation on Tuesday was higher than it's been for a primary election in the past decade, as voters turned to early ballots in larger numbers amid the widespread presence of COVID-19 in the community.
Even so, less than a third of eligible Santa Cruz County voters cast primary ballots, despite several hotly contested and high-profile local elections on the Democratic ticket.
Unofficial results released by the County Elections Office on Thursday evening after all ballots had been counted showed that 8,669 of the county's 28,733 registered voters participated in the primary – a rate of 30.2 percent.
That was an improvement from the 22-percent local turnout for the August 2018 primary, and also better than the 25-percent rate reported for the primary elections in 2016, 2014 and 2012.
Statewide, primary election turnout was 33.9 percent, according to results  from the Arizona Secretary of State's Office. But there were plenty of ballots still to be counted in other parts of the state.
In Santa Cruz County, where the number of people on the early voting list has jumped more than 50 percent in the past two years, that trend was borne out in this week's results. Nearly 7,300 people participated in the primary via early ballot, as compared to the approximately 4,500 early ballots cast in the 2018 primary.
Angel Lopez, a 57-year-old Nogales resident, voted by early ballot, though he dropped it off at the vote center at Challenger Elementary School on Tuesday rather than mailing it in. He said he was interested in the Nogales City Council race, and voted for incumbents Nubar Hanessian and Jorge Maldonado because he thinks they've had good communication with constituents. He also voted for challenger Saulo Bonilla.
"I think Saulo has the desire to do something good for the city, which we need. We need people to have opportunities," Lopez said. "I think that these people that I voted for can make a good team to bring Nogales forward."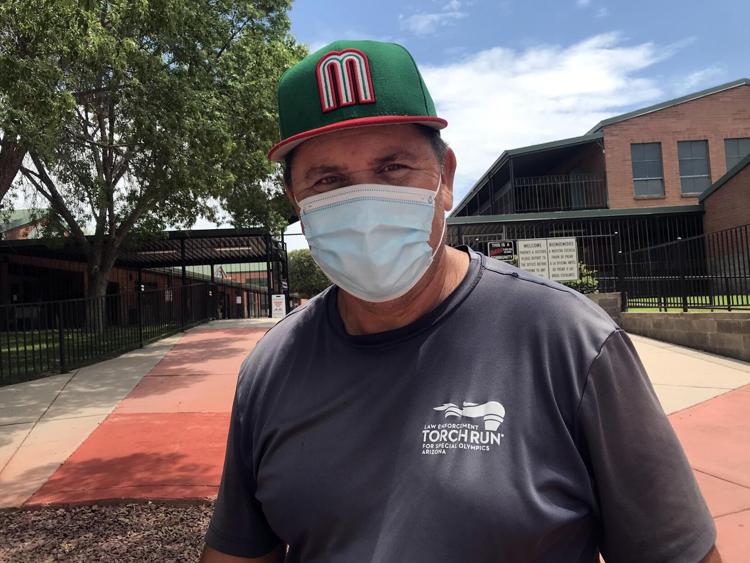 A significantly smaller number of local voters – 1,341 – participated the old-fashioned way on Tuesday by going to one of 12 vote centers around the county and filling out a ballot in the voting booth.
Lucette Garcia-Mimiaga, a Nogales realtor, said she cast her vote in person at the VFW Hall in Nogales, supporting Liza Montiel for the city council and Anita Moreno for the Democratic nomination for county recorder.
"I want to see our leaders make a change in Nogales," she said. "I haven't seen any development or any improvements that really make a difference."
While in-person voting was light, a short line formed outside the VFW Hall on Tuesday evening as people stopped in to vote after work. But the line, which measured approximately 10 people at its longest, was more a reflection of the precautionary measures at the polls than demand.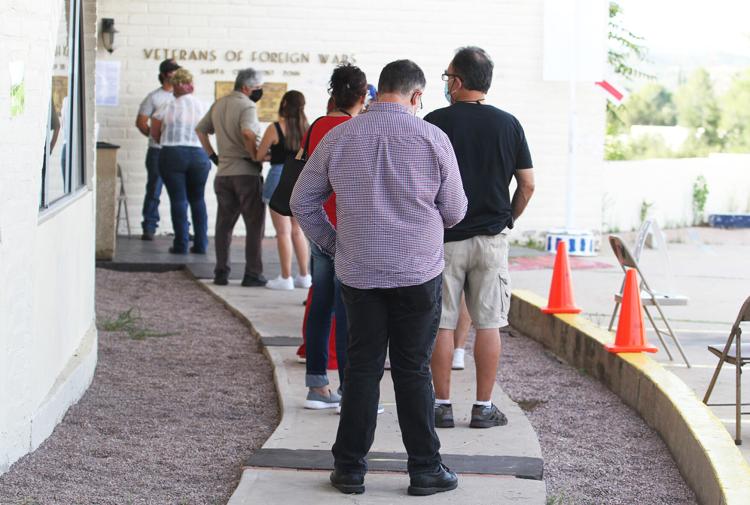 In order to preserve social distancing, the County Elections Office set a limit of two voters inside each vote center at a time, with a six-foot distance between the voting booths and electronic poll books.
In addition, poll workers were stationed outside to collect dropped-off early ballots, and to help with curbside voting – a new service offered this year to further promote social distancing.
County resident Viviana Munguia said she was planning to vote Tuesday at the polling place in her home community of Tubac. As for candidates she planned to support:
"Luis Parra, because I saw his platform, I've seen how he works as an attorney, all the border-related cases that he's worked on," she said in reference to the local lawyer who ran in the Democratic primary for the Arizona House of Representatives.
She also supported sheriff candidate David Hathaway, saying: "I asked around and I was told that he's the one with the most experience."
Rio Rico resident Dolly Legleu said on Tuesday afternoon that she still planned to head to the polls later in the day, where she was hoping her vote might help bring positive change to the local community.
"We need to stop complaining… and do something about it," she said.
But Legleu, an administrator at Santa Cruz County Superior Court, said she didn't want to mention exactly who she was supporting in the local races – a reluctance voiced by numerous other voters on Tuesday when asked for their comments.
The fact that there were no competitive local races on the Republican primary ticket may have kept some area GOP voters from participating on Tuesday. But there are less than 4,800 registered Republicans in the county – 16.6 percent of all voters.
Democrats comprise 50 percent of all registered voters in Santa Cruz County – more than 14,500 total. Another nearly 10,000 independent or unaffiliated voters could also have participated in Tuesday's primary by choosing one party's ballot.
(Reporting by Jonathan Clark, Genesis Lara and Nick Phillips.)