On Monday morning, 47-year-old Juan Carlos Barragan, dressed in orange-and-white-striped jail garb and a surgical mask covering his nose and mouth, stood at the podium in Courtroom 4 at Santa Cruz County Superior Court for a review hearing on two separate car theft cases against him.
"Mr. Barragan has decided that he wants to move forward with trial," said defense lawyer James Miller, who was appearing telephonically before Judge Thomas Fink.
Deputy County Attorney Caleb Wagner, also participating remotely, chimed in as well, confirming his preference for setting one case for trial before the other.
"OK," the judge said, quickly adding: "Before we go any further, let's discuss a couple things that the parties need to be aware of – and particularly the defendant."
Then he summarized the basic problem at hand:
"At the present time, we are not holding any jury trials."
Following an earlier order cancelling all jury trials in light of the coronavirus outbreak, Arizona Chief Justice Robert Brutinel announced on May 20 that the proceedings could resume at the state's superior courts beginning June 15, subject to the approval of each court's presiding judge and provided that social distancing measures were employed to protect the health of jurors.
Santa Cruz County Superior Court responded by preparing to hold a jury trial in a minor drug possession case starting June 23. But the County Attorney's Office dropped the charges, the trial was vacated and the pandemic got progressively worse in the local community, where an estimated one in 20 residents has now tested positive for COVID-19.
Under those circumstances, Fink, the county's presiding judge, has put jury trials on indefinite hold.
With COVID-19 infections surging throughout Arizona, there's been no great rush by other courts to resume jury trials, either. But there has been plenty of planning and a few experimental efforts to see how the proceedings can be held as the pandemic continues.
The Associated Press reported that the superior court in Mohave County recently held a two-day criminal drug trial in which the online conferencing platform Zoom was used for jury selection. Then, once the evidentiary phase of the trial began, jurors watched on Zoom from elsewhere in the courthouse in order to preserve social distancing.
Maricopa County Superior Court is planning to resume jury trials on Aug. 1, the AP reported, with changes in place that include the option of having some jurors serve remotely from home.
In Santa Cruz County, court officials got a taste of the challenges of empaneling a jury in the time of COVID-19 when they prepared for the drug trial that was ultimately cancelled in June.
Court Clerk Juan Pablo Guzman, who serves as the jury commissioner, said he was ordered to summon 45 prospective jurors for the trial. He and his staff were able to complete the task, he said, adding: "Obviously, it was a very different process from the last time we did it."
For starters, they had to call more people.
"When we have to call that number of prospective jurors, we use a list of 200 people on average, most of the time. This time we had to get a list of 300 people and obviously, the process took longer," he said.
In addition to their usual queries, Guzman and two other staff members asked prospective jurors about their situations relative to the COVID-19 pandemic. They also explained the preventative measures the court was taking – such as requiring the use of masks in the courthouse – and responded to people's coronavirus-related concerns.
On top of the usual issues that would excuse a person from jury service, such as long-term health issues or non-fluency in English, there were a range of new conditions that could cause someone's service to be deferred.
For example, people who had had contact with a known COVID-19 case or who were awaiting the results of a test were given a temporary pass. And a significant number of people were deferred because they were high-risk or served as a caregiver for a high-risk person.
One person also temporarily avoided jury duty after expressing his anti-mask beliefs and insisting he would not wear one inside the courthouse.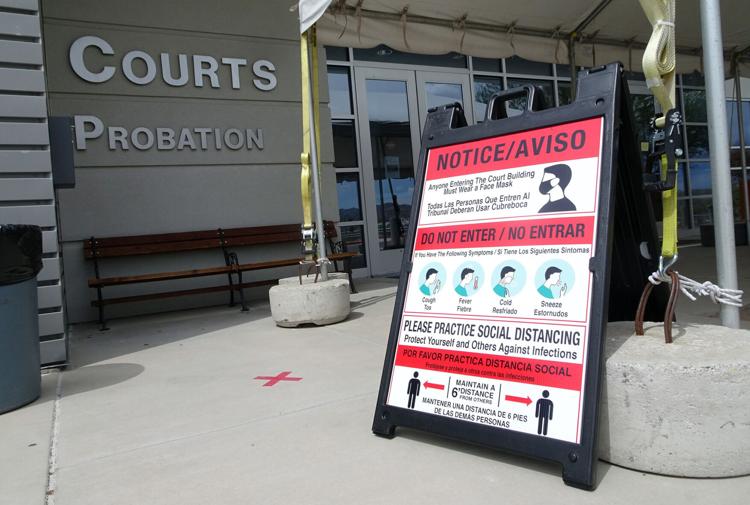 The final 45-member jury pool never made it to the courthouse – the trial was cancelled before in-person selection began – but the social-distancing plans called for using three courtrooms during the selection process: two for prospective jurors and one for the judge to meet with the lawyers and parties, if needed.
Going forward, Guzman said, court staff is considering following Mohave County's example and conducting jury selection via video.
As for the proceedings that follow jury selection, a task force committee has also been looking at ways to make safety-minded changes for when trials eventually return to Santa Cruz County Superior Court.
For one, Guzman said, jurors won't be able to sit together in the jury box. Instead, they'll be positioned in the public gallery, where they can spread out more. And they won't retire to the close quarters of one of the existing jury deliberation rooms, either.
"The jury deliberation room will be one of the courtrooms," he said.
Two other trials currently on hold at Santa Cruz County Superior Court involve defendants Aaron Daniel Kane and Rudy Ray Rojo, who each face an array of serious felony charges for the alleged kidnapping and assault of a man in Rio Rico in May 2018.
They're set to be tried separately in front of 12-member juries, with each trial expected to last two-to-three weeks.
Defense lawyer George Damon, who represents Rojo, said that once trials resume, he'd want to be sure that any social-distancing measures that are put in place don't compromise a defendant's right to a fair trial.
For example, defendants have a constitutional right to confront witnesses against them. Damon said that he would object to witnesses appearing remotely.
"It's one thing to confront somebody by video as opposed to in person," he said. "I think you can exercise social distancing by keeping distance from a witness in questioning the person."
A witness who is allowed to appear telephonically would be especially problematic, he said, since defense lawyers often rely on witnesses' facial expressions or movements to indicate deceptiveness.
"That's one of the things that attorneys will do is size somebody up and judge their credibility not only by their statements, but by their demeanor," he said.
Juries do that as well as they consider the evidence against a defendant.
"If you have a juror who's way in the back, or looking at things through video, I think it kind of compromises their ability to judge credibility, just as the attorneys are trying to do," Damon said.
Defendants also have a constitutional right to a speedy trial. However, for the time being, the Arizona Supreme Court has suspended the rules that determine the time limits for holding a trial.
"At what point do you say, 'Hey wait a minute?'" Damon asked. "And that's when you have to start perhaps considering the release of individuals that you normally wouldn't release."
Given the unusual circumstances of the pandemic and the potential for significant case backlogs at the court, Damon said, he'd like to see prosecutors start compromising more on the plea deals they offer defendants, "to get things resolved."
"I get that, and I understand why a defense attorney would make that statement," said County Attorney George Silva, adding: "As far as us, we are willing to compromise when there's room to compromise."
As an example of that willingness, Silva pointed to the decision to drop the charges in the drug possession case that was set for trial in June, just when the positive case numbers were starting to surge in Santa Cruz County.
"But we can't always do that, and with dismissing or pleading cases out, we also have to look at what our victim is telling us and the concerns that they express," he said, adding that prosecutors need to think about the community as well, and whether the deals they reach adequately serve as a deterrent.
When it comes to holding jury trials in cases that can't be resolved otherwise, Silva said he's concerned that a juror could have trouble focusing on the testimony and evidence in the context of the pandemic.
"What I believe 
COVID does is it creates that added distraction," he said. "You're in a room with a group of people and you hear somebody cough, you hear somebody sneeze, and immediately you start thinking, 'Should I stay away from that person? Should I even be here? Am I safe?'"
That concern extends to the deliberation stage as well.
"There are those (jurors) that will come and will do exactly what needs to be done," Silva said. "But with a jury, when you need a unanimous verdict, all it takes is one not to be focused."
Witnesses, lawyers and others involved in the proceedings can also be affected by their unease with being in the courtroom, Silva said, noting that he's already seen hesitation among support staff when their presence is needed in court.
"You see that distraction across the board and it affects everything that we're trying to do," he said. "If we're not focused, we're going to drop the ball, things are going to get by us."
With Santa Cruz County continuing to lead the state in per-capita infections and positive COVID-19 test rates, it's unclear when the time will be right to implement socially distanced jury trials.
Judge Fink, who will ultimately make that decision, told the NI on Wednesday in an emailed statement: "The persistent high rate of infection in this community is such that we cannot ensure the safety of those who respond for jury service at this time, even with extensive safety protocols in place. Jury trials will recommence only when we are confident that we can protect everyone involved in the trial process." 
During Monday's status hearing for Juan Carlos Barragan, who faces a total of three counts each of car theft and burglary, plus one count of resisting arrest and another of trafficking stolen property in the two cases against him, Fink explained that uncertainty while making clear that he wasn't trying to dissuade Barragan from going to trial.
"That's your constitutional right, and if that's what you want to do, we will have a jury trial in both of your cases as soon as possible," he said, adding: "Given the present circumstances, I don't know when that's going to be."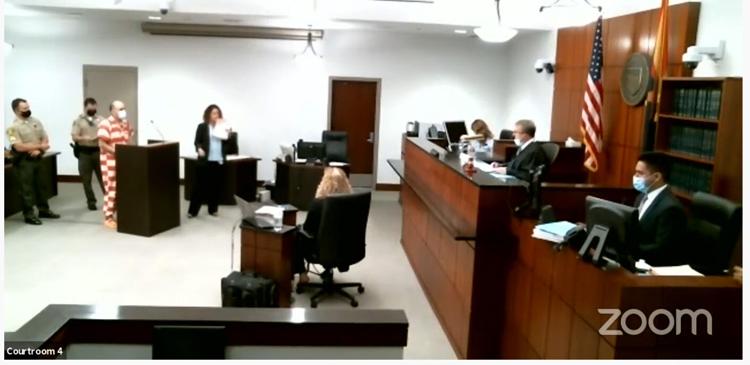 When criminal trials do resume, defendants who are in custody must be given priority. Fink told Barragan that two other defendants in custody on cases older than his – Rojo and Kane – are also awaiting trial. However, their trials are expected to be long, and his, which are anticipated to run only two or three days in front of smaller juries, could potentially be moved ahead.
Then Barragan brought up an alternative to a jury trial, telling the judge through an interpreter: "I wanted to be judged by you."
Defendants can waive their right to a trial by jury and ask for a "bench trial," in which the judge acts as the trier of fact – a potentially good solution to the problem of summoning a jury during a pandemic. Fink told Barragan that that's something he should discuss with his lawyer.
The judge set a review hearing for Aug. 31, the same day Rojo and Kane are set for check-ins on their cases.
"If things are as they are today, we're not going to be able to do anything on Aug. 31. If they're worse, then we're not going to be able to do anything on Aug. 31," Fink said. "But if they're better, we might be able to set one of these cases at least for trial."
Moments later, as the hearing wrapped up, Barragan sounded apologetic for insisting on his right to trial, telling Fink: "I don't want to cause problems for anyone."
"You're not causing any problems," the judge assured him.