Cars and semi trucks rolled by just a few feet away as Adrian Cadena and Gerardo Aranda walked along the gravel shoulder of Highway 15 on Tuesday evening.
It was a little after 5 p.m. and Cadena, 29, and Aranda, 27, had already been walking for hours. But they were just getting started.
The two men – friends from Nogales, Sonora – are among the thousands of people that made the annual pilgrimage to the shrine of Catholic Saint Francisco Xavier in Magdalena, Sonora in the days and weeks leading up to Oct. 4.
"We all have different motives," said Cadena. "Personally, mine is family-related: family, well-being, health. Each person depends on the personal favor they ask of the saint."
The pilgrims come by foot, car, or even bike, with some starting near Tucson, others in Cananea, Sonora, and many in Nogales. From Nogales, Sonora, the journey is about 53 miles, almost all of it along the busy federal Highway 15.
Like many walkers, Cadena and Aranda have made the pilgrimage before – it was Cadena's fifth time and Aranda's third.
Crowds of walkers form alongside the highway on weekend days in late September, but on Monday and Tuesday of this week, the road was still dotted with individuals, friends, and families making the trek south.
Many pilgrims leaving from Nogales, Sonora begin their journey at the shrine of San Ramon, located on the side of highway in the outskirts of the city.
The short, white structure has orange trim and a small cross on top and almost blends in with the industrial buildings that surround it on all sides.
It's where Cesar Renteria, 61, and Gilberto Suarez, 34 – friends and coworkers from Hermosillo – started their pilgrimage on Monday.
"We arrived at 2:30 in the afternoon in Nogales," Renteria said. "As soon as we got off the bus, about 20 meters away I saw the Capilla de San Ramon. We prayed, lit a candle, told San Francisco that we were coming to pay his 'manda,' and then we said goodbye to him, and started walking immediately."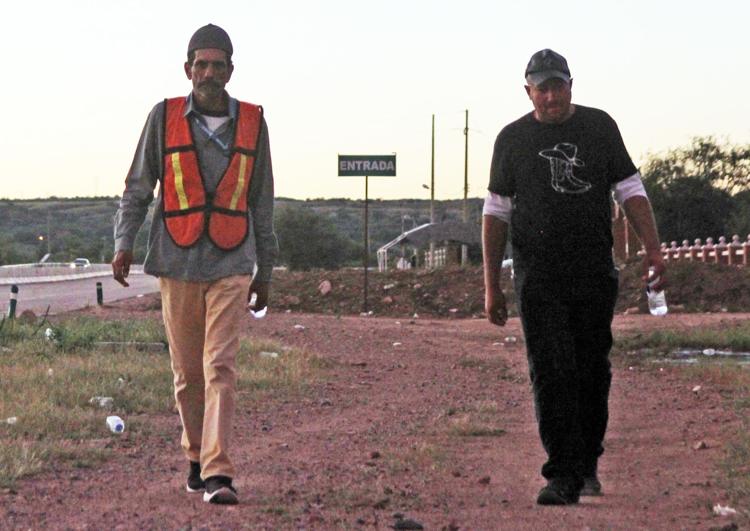 For some, the "manda" is a central part of the pilgrimage. It's a vow made to San Francisco, or a reason for making the journey. In return, pilgrims ask San Francisco for help, or for a favor.
Renteria was walking for the health of an aunt, who had suffered several heart attacks.
"This pilgrimage is to give her more support," he said. "For my saint, San Francisco, to put her at 100, to make her better."
Raul Cabrales, a 50-year-old resident of Nogales, Sonora, wore a wide-brimmed hat as he walked by himself. He said his son usually makes the pilgrimage, but was sick this year, so Cabrales was walking in his place.
He was walking to pay his manda to San Francisco and to build trust in his relationship with the saint.
"It's like with everyone," Cabrales said. "You have to earn the confidence of the person. You trust in him, and then he trusts you. Otherwise, if you don't trust anyone, really, you don't have faith."
Today, the pilgrimage to Magdalena represents a mash-up of native and imported traditions.
San Francisco Xavier arrived in Sonora by way of Father Eusebio Kino, a Jesuit priest who established missions in the Pimería Alta region – modern-day Southern Arizona and Northern Sonora – in the late 17th and early 18th centuries.
The pilgrimage figures prominently in the Catholic religious traditions of the Tohono O'odham Nation, whose ancestral lands straddle the U.S.-Mexico border.
It's also the subject of the 2010 song "Magdalena" by Brandon Flowers, the Mormon frontman of Las Vegas-based rock band The Killers.
And the events surrounding the pilgrimage aren't all strictly religious. As the small Sonoran city swells with the thousands of pilgrims in late September and early October, celebrations often last well into the night.
Juan Carlos Salazar of Nogales, Ariz. set out on Highway 15 early Tuesday afternoon with his friends Blanca Guzman and Raul Salazar.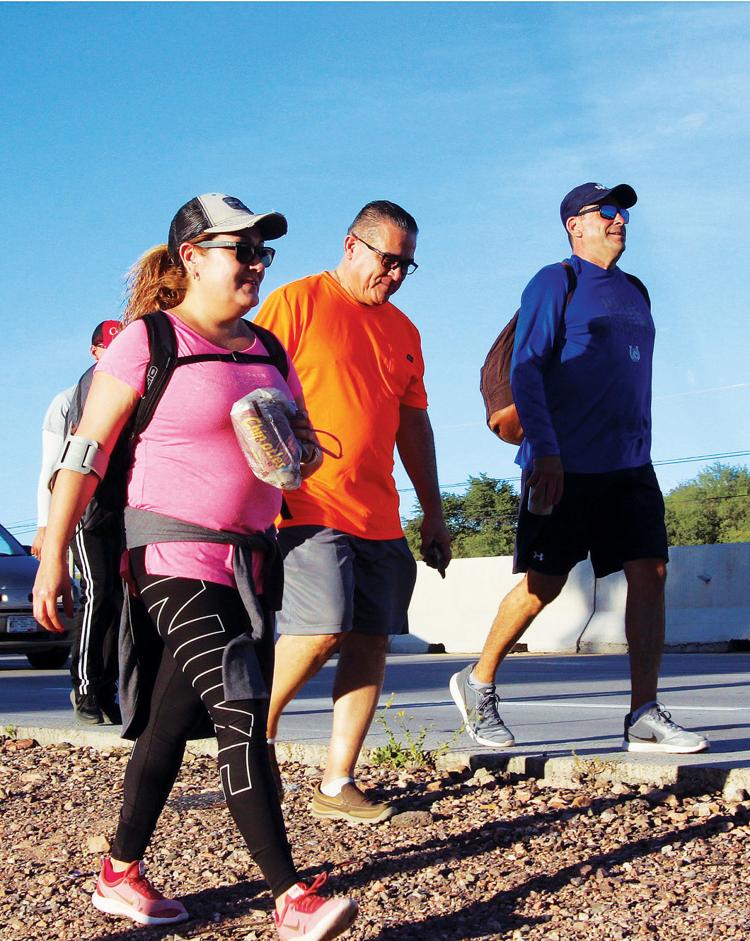 It was Salazar's fifth time making the trip in honor of his father, who died in 2015. He said he hopes that the pilgrimage gives him a little luck in his application for a Mexican customs broker license, allowing him to enter the family business.
When Salazar gets to Magdalena, he said, he plans to spend time at the chapel of San Francisco Xavier, reflecting and thinking about his dad.
Then, he added: "With the fiestas and everything, are we going to party afterwards? Definitely."
Despite the formidable distance between Nogales and Magdalena, many walkers carry nothing more than a water bottle or a light backpack.
They rely on food and drinks handed out by people along the way; these roadside samaritans are considered pilgrims, too.
"One gets there on pure faith, and the help offered by the pilgrims who give help," said Cadena, who had a small bag slung over his shoulder.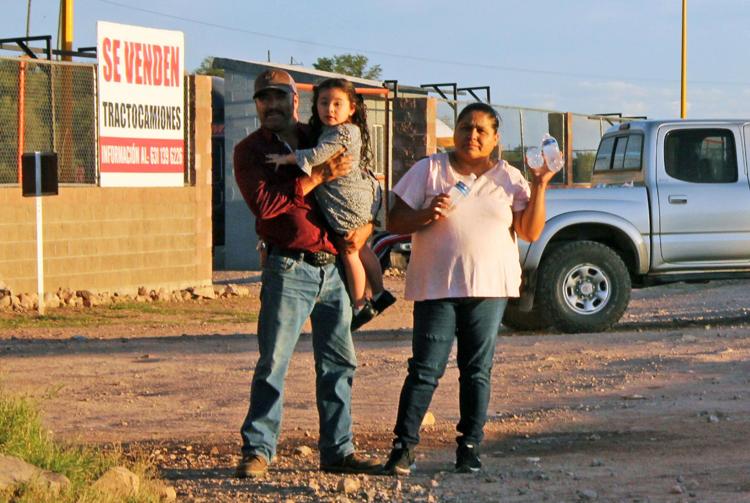 Standing in a dirt parking lot on the northbound side of the highway, Lucia Correa was giving out drinks and tortas to walkers.
Her husband Enrique Hernandez held their young daughter, Valentina, while Correa waved water bottles at passing pilgrims.
She caught the attention of Saira Najera Rodas, who was walking with three generations of her family on the southbound side of the road on Tuesday. A family member crossed the road to get some bottles.
Najera Rodas showed off a small figure of San Francisco in a plastic case that she was guarding in her shirt. She also wore a reflective vest, though she insisted she wasn't afraid to walk so close to the traffic.
The family had started walking before Najera Rodas' son, Jorge Luis Dominguez Najera, who was working that day, could join them. But they expected to meet him somewhere along the route.
Minutes behind the family group, 28-year-old Dominguez Najera, who sells corn and tamales from a car in Nogales, Sonora, was walking briskly.
He said he was walking for health for his children and family and added that this year was his seventh making the pilgrimage.
Asked how many times he had made the pilgrimage, Cesar Renteria, the Hermosillo man walking with his friend, couldn't remember, though he said it was at least 15.
Over the years, he's picked up a few tricks.
He said he always tries to walk on gravel rather than pavement, which helps his feet.
And he insisted that he gets faster each year.
"The older I get, the less time it takes me to get there! Curious, no?" he laughed.
But after stopping to talk for several minutes, he said it was time to go.
It's important to keep moving, he explained, "so the legs don't get cold!"