A police dog credited with rooting out more than 30,000 pounds of narcotics and $250,000 in currency during his six-year career was given a fond send-off by the city government this week.
Tractor, an 8-year-old Malinois-Shepherd mix, was awarded a plaque on the occasion of his retirement from the Nogales Police Department during a city council meeting on Wednesday.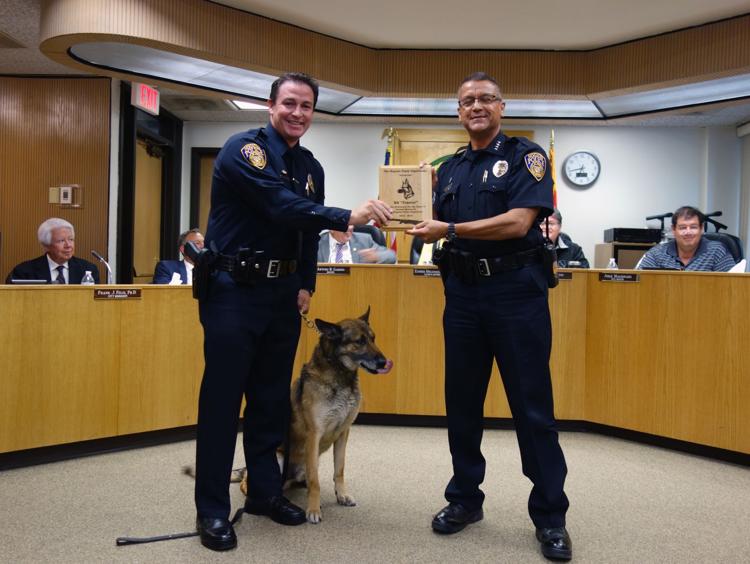 Police Chief Roy Bermudez told the mayor and council that Tractor, then 2 years old, joined the department in August 2013. Four months later, he graduated from the Arizona Department of Corrections Canine Academy after being trained in both narcotics detection and patrol apprehension.
In addition to sniffing out drugs and cash for NPD, Tractor also assisted agencies including the Santa Cruz County Sheriff's Office, DEA, Border Patrol, U.S. Customs and Border Protection, U.S. Immigration and Customs Enforcement and ATF, Bermudez said. He was part of dignitary security details, and once helped apprehend a fleeing home invasion suspect who stopped in his tracks out of fear that he'd be bitten by the dog.
However, Bermudez said, "Do not let Tractor's big size and huge teeth fool you. He can be the sweetest dog."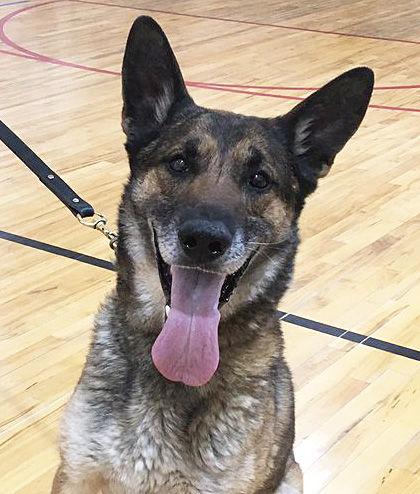 Tractor took part in numerous D.A.R.E. graduations, school presentations and outreach programs, the chief noted.
"As Tractor's tour of duty comes to an end, he leaves with an impressive career: apprehending suspects, locating drugs and serving his community," Bermudez said.
Tractor will spend his retirement with his handler, Officer Armando Moreno, who purchased the dog for $1 from the city.
Bermudez said NPD plans to replace Tractor on the force within the coming months. Police dogs can cost between $10,000 and $12,000, and the chief plans to approach the County Attorney's Office about using anti-racketeering funds to purchase a replacement, he said.