• U.S. Border Patrol agents encountered an unconscious Guatemalan woman as they tracked the footprints of a group of suspected illegal immigrants in a particularly rugged area west of Interstate 19. A Border Patrol EMT monitored the young woman's condition while agents moved her to a spot where she could be airlifted from Tumacacori Mountains. The woman was transported via helicopter to a local hospital for treatment and was released to be processed for immigration violations.
• Border Patrol agents at the Interstate 19 immigration checkpoint arrested a 29-year-old Tucson woman who had been traveling with a shuttle service. After the woman agreed to a search in a secondary inspection area, agents discovered a package of meth concealed under her clothing that weighed approximately 200 grams.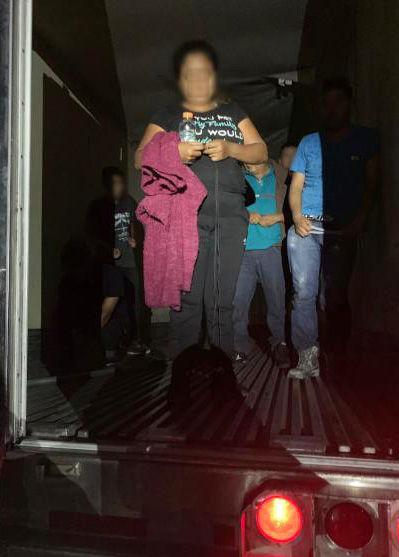 • A Freightliner semi-truck pulling a refrigerated trailer was sent to secondary inspection at the I-19 checkpoint after a Border Patrol canine alerted to the vehicle. Inside the padlocked trailer, agents discovered seven undocumented immigrants, all in good health. The driver was arrested and agents seized the truck.
• U.S. Border Patrol agents working at the Interstate 19 checkpoint north of Nogales referred a 31-year-old Tucson woman for secondary inspection of her Toyota Sequoia after a drug-sniffing dog alerted to the car shortly after 4 a.m. Upon inspection, agents discovered that over 207 packages of methamphetamine, weighing 227 pounds, were hidden within the doors, quarter panels, floor compartments and spare tire. The driver, drugs and vehicle were all turned over to U.S. Homeland Security Investigations for further processing and investigation.
• While patrolling near a residential area in Nogales, U.S. Border Patrol agents arrested 26-year-old Fidel Torres-Aguilar, a Mexican national, after he re-entered the country illegally. During processing, agents found that Torres-Aguilar had previously been deported after he was convicted of criminal sexual contact in New Jersey last February. Torres-Aguilar will face federal prosecution for immigration violations. Torres-Aguilar is the latest of several sex offenders, with convictions out of the northeastern part of the country, who have been arrested by Tucson Sector Border Patrol agents in recent months.
• U.S. Customs and Border Protection officers at the Mariposa Port of Entry referred a 31-year-old Mexican woman for further inspection of her Toyota sedan when she attempted to enter the United States from Mexico. A canine alert led officers to the discovery of a load of hard drugs inside of the fuel tank. More than 11 pounds of heroin, worth nearly $305,000 and a small amount of fentanyl were seized.
• A 19-year-old Tucson man was sent for further inspection of his Jeep SUV as he attempted to enter the United States through the Mariposa port. Acting on an alert from a drug-sniffing dog, CBP officers removed more than 90 packages of methamphetamine from the trunk. The drugs weighed almost 107 pounds and were valued at nearly $320,000. A search of the man revealed a small bag of personal-use cocaine that was hidden inside of his shoes.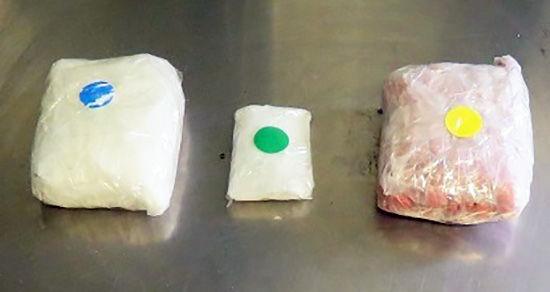 • CBP officers at the Morley Pedestrian Crossing referred a 60-year-old Tucson woman and her 40-year-old daughter for an additional search as they attempted to enter the country from Mexico. A search of the daughter led to the discovery of two packages of drugs concealed around her upper torso. A subsequent search of the mother revealed five packages of drugs around her waist.
The drugs found on the mother were determined to be more than four pounds of fentanyl, worth nearly $50,000. The drugs being carried by the daughter turned out to be more than two pounds of meth, worth $7,000, as well as a small amount of heroin, worth more than $1,500.