Since he was a high school freshman, Stephen Schadler has been a runner. For the past 25 years, he's shared that passion with dozens of Santa Cruz County youth, whom he's coached to high levels of cross country and track achievement.
Schadler, a Tubac resident, arrived to the local area in 1995 as a teacher, and later took positions as assistant principal, principal, curriculum director and assistant superintendent at the Santa Cruz Valley Unified School District. Meanwhile, as a running sports coach, he's helped develop exceptional cross country and track programs at Rio Rico High School.
"The first 20 years it was a passion that I discovered and it grew," he said of his involvement with the running programs. "And watching the kids develop their confidence and self-esteem and go on and prove that they can compete north of Santa Cruz County in whatever they choose, that's really what I get excited about."
Schadler said he believes it's key that the athletes have confidence in themselves.
"Anyone (from any other school) that comes to the starting line, we're ready. And that transfers over to life. We don't want them to take a back seat to anyone," he said.
When RRHS junior Roshan Tinoco-Miranda finished first last November in the boys cross country Division III state race, it marked the seventh-consecutive year and 14th time overall that a runner from Rio Rico High School won an individual state cross country championship.
The school's boys cross country team has won three state championships and the girls cross country team has won two state championships since Schadler started the programs in the 1990s.
Forty-six RRHS cross country and track athletes have won a total of 66 individual or relay team gold medals at state championship races since 1994, when the school opened.
What's more, 13 Rio Rico athletes have gone on to NCAA Division I universities on the basis of their academic and track/cross country abilities, said Schadler, who enjoys talking about student accomplishments and is able to keep the experiences of dozens of students fresh in his mind.
Schadler said he started running in high school in New Jersey and it led to a full scholarship to Stanford University in California, where he was on the cross country and track teams.
After working at Nogales High School from 1992-1995, Schadler moved to the new Rio Rico High School as an English teacher in 1995 and started the cross country program there. He also took over an existing track program.
Success for the RRHS boys cross country team wasn't long in coming.
"I remember my goal was to win the state championship in five years, and we did, we got there in four," Schadler said.
The girls cross country program was a bit slower to start.
"About three years in, we had a great freshman class and two strong seniors. Alex (Brasher) Hix was one of the freshmen, and we won the regional championship with those girls."
Hix is now an assistant cross country and track coach, as well as a sports medicine teacher at RRHS.
She said Schadler is a valuable asset to the community and that his "personality is very approachable, knowledgeable, and more importantly, he is always pushing his athletes and himself to do better and more.
"No matter how accomplished you become, you can always get better...that is definitely his philosophy," she said, adding: "He always says 'Kids are used to getting yelled at, they rarely get talked to,' and that's how he has been handling athletes and students for the past 25 years, by talking to them and caring about them."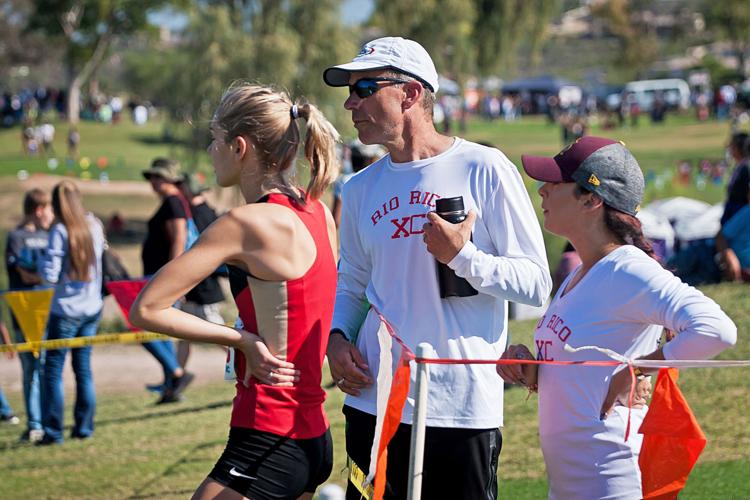 Not all of Schadler's time is focused on teenagers. He and others started the nonprofit Rich River Athletic Club 10 years ago, when he was principal at Mountain View Elementary School and "we needed things for the kids to do and no one else was doing it."
The club organizes two elementary school fun runs in November and an elementary track meet in March. "Last year was our second year of doing a summer track and field camp for grades 3-5, so we try and target them," he said.
Schadler recently transitioned from RRHS coach to overseeing the programs at the high school and middle schools. During the past season, the cross country coach was Jolanne Palumbo and the head track coach was Kevin Kuhm. Even so, Schadler was at practices and meets, he said.
Schadler's wife, Toni, a longtime SCVUSD teacher and coach, is assistant to the principal at Coatimundi Middle School.
Their older daughter, Allie, was a Nike All-American and four-time cross country state champion from RRHS, where she also won 15 state track medals before graduating in 2017. She's currently a cross country and track athlete at the University of Washington.
Their younger daughter, Samantha, was a Nike All-American at RRHS, where she won two state titles in cross country, as well as at least seven state track championships. She graduated in 2019 and is now a cross country and track athlete at Duke University in Durham, N.C.
Stephen Schadler's favorite quote is from Arthur Lydiard, a New Zealand runner and coach credited with popularizing the sport of running:
"You must realize one thing. In every little village in the world there are great potential champions who only need motivation, development and good exercise evaluation."