Elgin rancher Ralph Quiroz and his sons Ralphie and Jose Manuel mounted their horses last Sunday afternoon as they prepared to round up their cattle and herd them into small corrals just off State Route 82. His wife Angie and daughter Carolina waited by the corrals and watched as the three horsemen became smaller and smaller figures riding into the distance.
A few minutes later, as more than a dozen cows and calves stomped past the corral gates, Angie pointed out a black cow with bald patches near her neck and a blind eye that had now turned gray.
The cow, Angie said, was slowly recovering from a lead poisoning incident that killed a total of seven pregnant cows at the Quiroz's ranch over a month ago.
"First we found one dead one day, then another, and then two in one day, and it was like that until we reached a total of seven," she said. "This last one, she was really sick. One day we got here and we saw that she had just given birth, so we took them both to another property to be checking up on them more closely."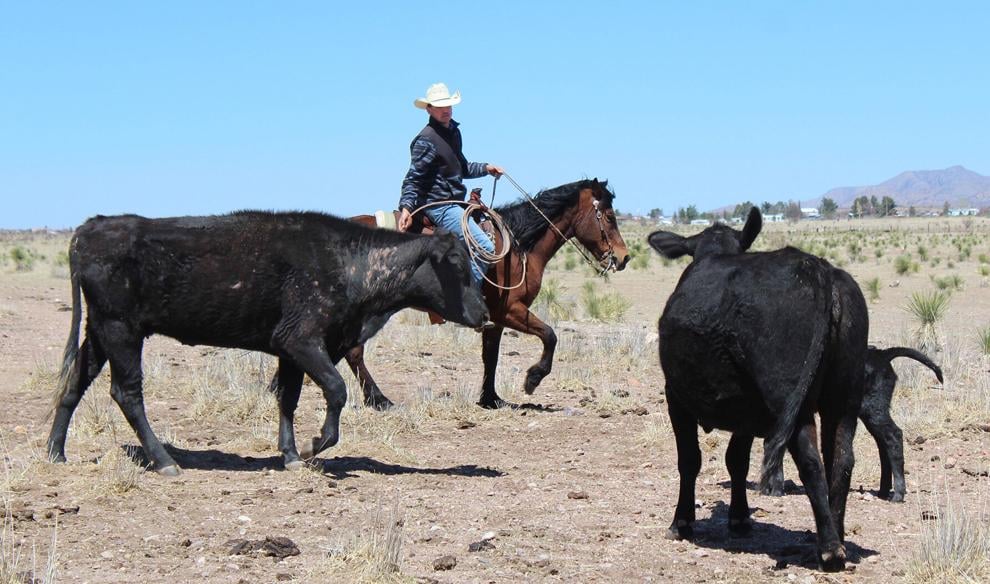 The 350-acre property just off of SR 82 is one of three grazing areas that Quiroz, along with his business partner Scott Corrigan, have been running for at least five years now. Altogether, Quiroz said, they run an operation of about 50 cattle throughout a total of 700 acres of leased land.
Recently, he said, new landowners took over the properties and began cleaning out a homestead dating to 1912 that had been used as a junkyard near the corrals for many years.
The homestead, which was almost fully cleared by Sunday, used to be surrounded by old cars, large batteries, old paint buckets, roofing tiles and mining rocks – all of which could potentially contain lead.
It now appears that as the cleaning project progressed, some of the materials became exposed and accessible to grazing cattle, which became ill after they consumed large amounts of toxins.
After two of their cattle died and others appeared sick, Quiroz called Hereford-based veterinarian Dr. Gary Thrasher to conduct a necropsy on the dead cows and examine the ill ones.
"When two died and he had two more that were acting very peculiar – running into fences, couldn't see, running in circles – he was concerned about it," Thrasher told the NI on Wednesday. "I'm sure if he talked to his neighbors, they were concerned, too, because they don't want that kind of thing happening to their cattle."
Thrasher said he and Quiroz searched the property for indications of what the problem could be, as he went down a list of possible diagnoses that included botulism and rabies.
During his first visit, Thrasher gathered blood work from the sick cows, which he sent for testing at a laboratory at Texas A&M University. He then sent one of the deceased animal's heads to a University of Arizona laboratory, where Ralph Quiroga also hauled a full body the next day.
But by the end of his visit, after seeing no obvious signs of illnesses in the bodies and witnessing the way the sick cows were behaving, Thrasher was almost sure he was dealing with a case of acute lead poisoning.
"Chronic poisoning means they had a little bit of lead for a long period of time and you can see different coloration on their gums," he said. "But you can't see that with acute lead poisoning, where they got a big dose real fast. It just affects their brain."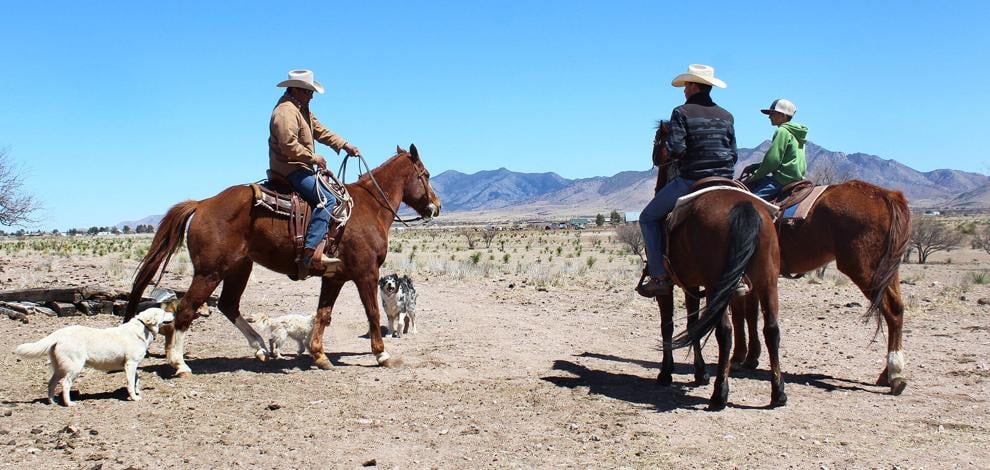 Peter Mundschenk, Arizona's state veterinarian, said on Thursday that the blood samples tested at the Texas lab confirmed that the cows had suffered lead poisoning. Quiroz added that the results showed the cows had three times the amount considered to be acute lead poisoning.
But while the cows' cause of death is now certain, as of Sunday, they were still waiting for the results of tests to see which particular items at the old homestead site contained the lead that killed them.
"We've gotten confirmation that it was lead poisoning, but we just don't know from where exactly they got it," Quiroz said.
Thrasher said lead poisoning hasn't been a common finding during his nearly 50 years of veterinary practice. But Mundschenk said that the Quiroz cattle was the second case of lead poisoning in Arizona so far this year.
"We had one in Northern Arizona as well, and that producer lost about three-quarters of his animals that were there," Mundschenk said. "In both cases, these animals turned out in areas that aren't normally grazed… The one up north, it ended up being a junk pile out in the field that had an old barrel of lead paint that they ate off of."
He added that the Arizona Livestock Incident Response Team, also known as the ALIRT program, helps cover the costs of testing for acute sudden deaths or sicknesses among cattle, as well as some of the early diagnostics for unexplained deaths or sicknesses in the state.
That was of some help for Quiroz, who was spared the high costs of the laboratory testing and necropsies. But the ALIRT program doesn't cover the regular veterinary visits and treatments, which Quiroz needs to continue with his cattle to ensure that they're clean before he's able to sell them.
And he also has to bear the loss of seven cows and their unborn calves, which he now won't be able to raise and sell.
His neighbors have stepped up to help. A community member created a GoFundMe page to help the Quiroz family's ranching operation rebound from the sudden adversity.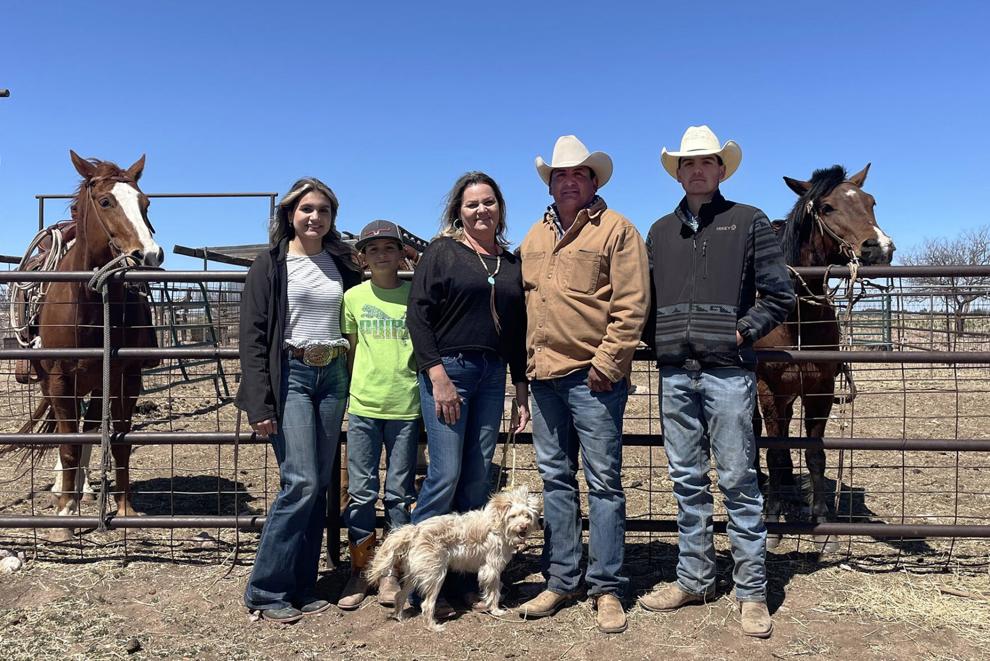 Taking it all in, Quiroz said it would take his family a few years to recover what they had lost.
"To recuperate the seven that we lost, which in reality were more like 14 heads, it's going to take us about three to four years," he said. "Those are calves that we didn't sell and cows that aren't going to produce more calves."
He added that he, his family and Corrigan also lost the time they had invested in caring for the cattle that died.
Still, he viewed the incident as being another part of the job, and said their unfortunate experience would at least serve as a learning experience for the rest of the community.
"It's all part of being a rancher," Quiroz said. "It helps us learn and tell our ranching friends who also have cows so it doesn't happen to them."