Carrying his possessions in a large plastic bag tagged with a U.S. Customs and Border Protection label, Cristian Javier Zuniga sat on a bench next to the National Migration Institute on the south side of the DeConcini Port of Entry.
In January 2019, the 25-year-old Honduran national said, he began a series of attempts to enter the United States and request asylum.
A year later, he said he'd already tried to cross several times and had been to multiple court hearings. In his most recent attempt, he crossed the border near Sonoyta, Sonora a few days earlier and was detained by Border Patrol agents.
But on the morning of Tuesday, Jan. 7, he found himself in Nogales, Sonora after being processed under the Migrant Protection Protocols, also known as the "Remain in Mexico" program, which was implemented at local ports on Jan. 2.
"I never thought the process would be this long and this hard," Zuniga said.
His frustration is no accident – MPP is widely seen as part of the Trump administration's effort to deter migrants from seeking asylum in the United States.
In a January 2019 press release announcing MPP, the Department of Homeland Security stated that the program was designed to address "those taking advantage of the immigration system," which generally released asylum-seekers into the United States while they awaited court hearings. "Migrants with non-meritorious or even fraudulent claims will no longer have an incentive for making the journey," the statement said.
In a Jan. 9, 2020 news release, U.S. Customs and Border Protection said that migrant apprehensions along the Southwest border had declined for the seventh straight month in December 2019. "This seven-month decline is a direct result of President Trump's network of policy initiatives and our ability to effectively enforce the law, enhance our border security posture and properly care for those in custody," Mark Morgan, CBP's acting commissioner, said in the announcement.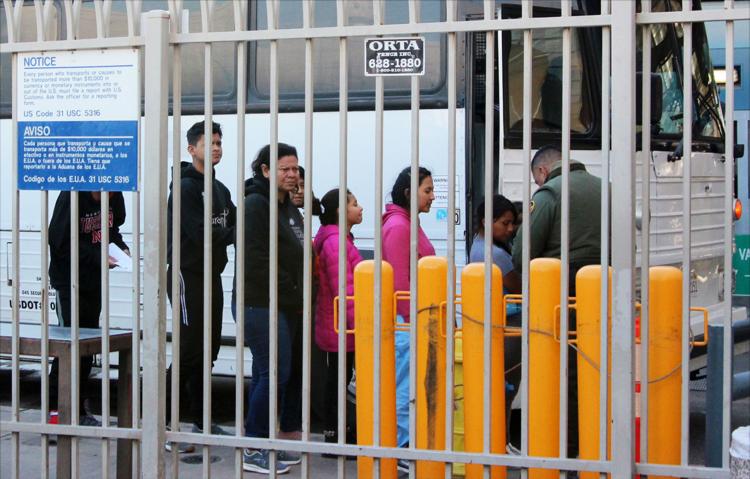 In Nogales, Sonora, migrants and their advocates say that MPP has caused some to give up their goal of seeking protection in the United States. Others, while frustrated, remain undeterred.
"It ranges from determination to keep going in spite of the long odds, to just wanting to give up and go home, to deciding to, you know, try another way," said Katie Sharar, director of communications for the Kino Border Initiative, a Jesuit ministry that serves migrants and deportees.
Under MPP, asylum-seeking migrants like Zuniga can be sent to wait in Mexico before their date in U.S. immigration court, rather than being released in the United States. It was first implemented in California and more than 56,000 migrants had been processed under the program as of November, according to data compiled by researchers at Syracuse University.
Sharar said that KBI has served several dozen migrants who've been sent to Nogales, Sonora under MPP. She said most were Guatemalan families, but they also include Ecuadorians, Venezuelans, and at least one Cuban.
Many of those returned to Nogales, Sonora under MPP have court dates in March in El Paso, Texas.
For Alicia Andrade, a 40-year-old Honduran mother who is seeking asylum with her three children, ages 10 to 16, making the journey through northern Mexico to get to her hearing represents another challenge. After being processed under MPP and released back to Nogales Sonora on Jan. 7, the family was told to appear in court on March 22 in El Paso.
"We don't have the the money" for the journey, said Andrade, who had been working at a supermarket in Nogales, Sonora while she waited for her family's number on the local asylum waiting list to be called. She said that she wasn't expecting to get turned back to Mexico, because MPP hadn't been applied in Nogales when she first arrived to the city and put her name on the list.
Now, with the additional hurdles standing in her way, would she consider giving up and going back to Honduras? She didn't say.
At the Albergue San Juan Bosco, a migrant shelter in Nogales, Sonora, about 30 migrants had arrived after being processed under MPP as of last Tuesday. Most were from Guatemala and Ecuador.
Francisco Loureiro, who runs the shelter with his wife Gilda, said most of them were still planning to make their court appearances.
"They're persistent," he said.
For those who are still waiting in Nogales, Sonora for their first chance to cross into the United States and ask for asylum, the possibility of being returned to Mexico via MPP is already a cause for concern.
Diosmany Safón López, 31, who is seeking asylum in the United States with his wife, said that both of them had been threatened in other parts of Mexico on their journey to the Nogales border and were afraid of being sent back to the country after making their asylum claim.
"What's hitting us is the MPP," he said.
And, shortly after MPP was implemented in Nogales, Ariz., the Nogales, Sonora government began a process that's asking migrants to show up to an in-person "pase de lista" to confirm their spot on the local asylum waiting list.
Rafael Garay, who coordinates the list for the Nogales, Sonora municipal government, told the NI that he will eliminate numbers from the list if migrants don't confirm their presence in Nogales. But he wouldn't say how many names he expected to eliminate or how many numbers were on the list.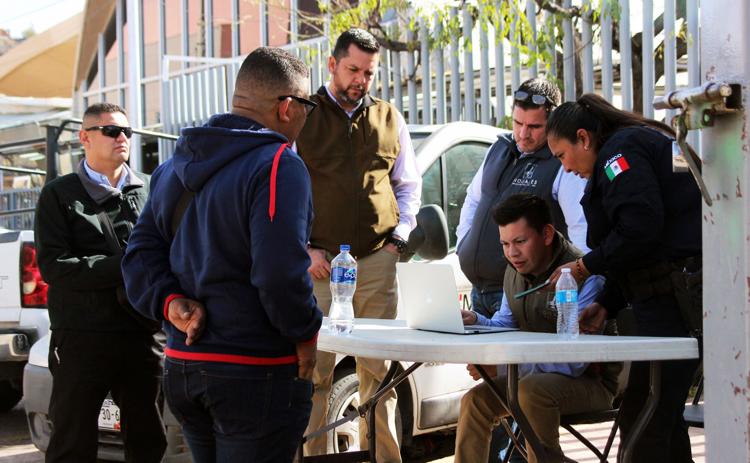 On the morning of Jan. 7, López was one of more than 150 migrants congregating in the Plaza Pesqueira, near the DeConcini port. Municipal police called numbers ranging from approximately 3,900 to 4,300. Afterwards, they called up anyone who hadn't been present when their number was called the previous day.
It's not clear what spurred the government to start reviewing the list last week, and Garay did not respond to multiple emails seeking comment. When this reporter saw him in person on Saturday morning, he said he didn't have time to answer further questions.
For López, fears about MPP and frustration with the municipal government had him fed up. "We're human beings," he said.
What's unclear is whether that frustration will translate to more asylum-seekers returning home, turning to illegal crossings through the desert, or deciding not to make the journey to the border in the first place.
While the number of migrants apprehended after crossing along the entire Southwest border continues to decline, the Border Patrol's Tucson Sector – which was one of the last to implement MPP – has seen four months of increases. That could change as word about MPP at the local border spreads.
López was waiting to confirm his number on the list and still planned to stick around for his chance to request asylum in the United States, where he eventually hopes to join a relative in Houston.
But for Cristian Zuniga, the Honduran who was released in Nogales, Sonora, all the trouble was starting to seem like it wasn't worth it. Like many asylum-seekers processed under MPP, he'd been given an out-of-state court hearing, though his was later this month in San Diego.
Last Tuesday morning, Zuniga didn't think he was going to make it.
"I want to go back now," he said.