The line in front of the Walmart Money Center in Nogales curved around the corner on Wednesday morning as people waited to pay their bills or transfer money to their loved ones' bank accounts.
For Juan Avelar, a 26-year-old from Los Angeles currently living with his wife in Nogales, Sonora, the visit was about taking advantage of the favorable dollar-to-peso exchange rate offered at U.S. money-transfer businesses like this one.
"As far as rent money goes and utility bills, I send the money from here to (Mexico) because it's a lot cheaper. It's a lot better than what you get over there," Avelar told the NI a few minutes after making a money transfer to his wife's Mexican bank account.
As of Thursday morning, the Banco de Mexico was reporting an interbank exchange rate of around 24 pesos to the dollar – a far cry from the 18.57 rate seen as recently as Feb. 17. Since then, falling oil prices and the impact of the coronavirus on world markets have pummeled the peso's value.
At the same time, the value of remittances sent to Mexico from abroad have shot up, defying predictions that the slowdown in the U.S. economy would result in a decline in the amount of money people here send to loved ones south of the border.
On Monday, the Banco de Mexico reported that the country had received $4.02 billion in remittances in March, a 36-percent increase from the $2.96 billion recorded in March 2019 and significantly more than the $2.69 million in February.
The Reuters news agency cited Goldman Sachs economist Alberto Ramos as speculating that "perhaps fearing a significant deterioration of the employment and income prospects in the U.S., many workers may have capitalized on a favorable (exchange rate) to send part of their accumulated savings in the U.S. back to Mexico."
That exchange rate was enough to convince Avelar, who decided to move to Mexico with his pregnant wife when California was put on lockdown in response to the coronavirus outbreak, to continue traveling across the border every two weeks to send his U.S. earnings to his wife's bank account in Mexico.
"All my money transfers, I just come over here (to Nogales, Ariz.)," he said. "I'm not working right now, but I'm still getting my check every two weeks, so I haven't had to dig into my savings yet."
A few weeks back, he said, his wife would receive between 1,700 to 1,800 pesos for every $100 he wired to her bank account. On Wednesday, his $200 money transfer translated into roughly 4,700 pesos in his wife's account, he said.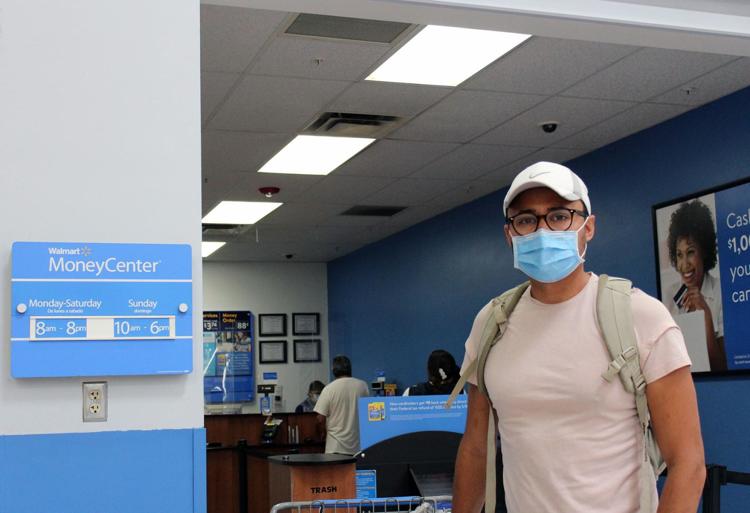 Avelar's trips to the northern side of the border also allowed him to make a few grocery purchases that were also more convenient in the United States than in Mexico.
"It's a lot cheaper to live over there (Mexico) than over here (United States), but it's also a lot harder to gather money over there than here," he said of his motivation to manage his money wisely. "So, right now it's a lot more convenient to cross the border and come on the bus."
In addition to the exchange rate, another factor that could be contributing to the healthy transfer of remittances from the United States to Mexico – at least in border towns like Nogales – is the ongoing restriction against non-essential travel between the countries.
Waiting in line just a couple spaces behind Avelar, 42-year-old Eugenia Verdugo of Nogales said her money-transfer routine was changed after the United States implemented the restrictions effective March 21.
Typically, Verdugo said, she would travel back and forth across the border from her home in Nogales, Sonora to her job at a produce warehouse in Arizona. As part of that commute, she would stop at a Mexican business on her way back home to wire money to her mother in Guasave, Sinaloa every week.
"It was just easier to exchange the money near the border, then stop at the first Oxxo," she said, in reference to the ubiquitous Mexican convenience stores that also offer a range of domestic bank-related services.
However, once the travel restrictions went into effect, Verdugo stayed in the United States out of fear that she wouldn't be able to go back to work. So now the money she sends to her mother comes from the United States, meaning it counts as a remittance from abroad rather than a domestic transfer.
In the process, she's able to take advantage of the especially good exchange rates on this side of the border.
"I wasn't able to leave, so I came here to transfer $50 to my mother's account and another $50 to my husband's," she said on Wednesday. "It really benefited them because the dollar was better paid that way."
Still, she worries that her job might be in danger and she won't be able to continue making the cross-border transfers.
"The thing is, it's just a bit complicated right now," she said