Students attending San Cayetano Elementary and Coatimundi Middle schools will see familiar faces at different campuses at the beginning of the new school year on Monday, after the two schools switched locations.
The move, which was partly influenced by the desire to provide a neighborhood elementary for eastern Rio Rico residents, had San Cayetano staff members unpacking boxes filled with classroom supplies at their new location on 490 Avenida Coatimundi.
On Wednesday morning, as San Cayetano teachers sat in their newly-decorated classrooms and waited for families to arrive at their "Meet the Teacher" event, they expressed some relief and a lot of excitement for the big changes in the new year.
"I had been, for 16 years, in the same classroom. At first it was scary. I thought about the packing — is everything going to be in my room, are they going to lose my boxes — and it was stressful," Liliana Montenegro, a first-grade teacher, said about the move. "Now I'm starting to love this place. It has a homier feeling because we're all together."
At their former campus, the elementary students walked through much bigger, outdoor corridors to go between classes, special activities and lunchtime. Now at their new campus, the classrooms are housed in one sole building, bringing everyone closer together inside the hallways.
The quiet hallways on Wednesday led to several classrooms at left and right, with some showing off views of the San Cayetano Mountains outside their windows.
For Montenegro, who would take advantage of their outdoor campus to add short science excursions for her students while walking between buildings, it was bittersweet to say goodbye to her former routine and second home.
However, like other teachers, she added that the new campus was more suitable for elementary students.
"I think one of the better qualities is that it's smaller and our kids are young. The distance that they have to walk now is so much shorter than it used to be, plus we won't be walking in the rain," said fourth-grade teacher Tania Barojas. "It's stuff like that that will give us the opportunity to take better care of them."
When staff members first started engaging in conversation with their students about making the big move, most of kids became nervous and concerned about attending a new campus, third-grade teacher Iliana Magallanes said.
But it was only a matter of clarifying small doubts and seeing the campus for themselves, to ease the students' worries.
"Some were excited because their sisters or brothers came here, so they kind of knew what it looked like," Magallanes said, adding that others were scared off by the thought that the campus previously housed middle school students. "I think that for the ones who hadn't been here, they thought it was going to be bigger than our last campus."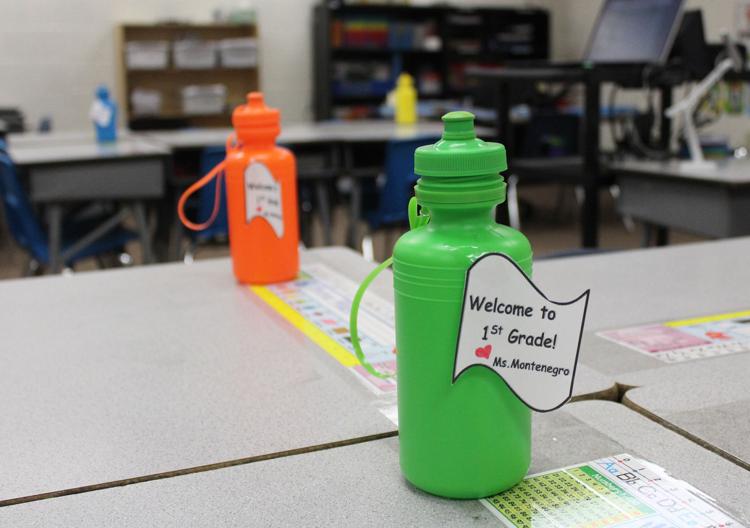 After unpacking their boxes and settling into new classrooms, the teachers also began to feel their worries ease away and the excitement slowly kick in.
The move also turned out to be an opportunity for teachers to clean out their cabinets and only pack the essentials moving forward, which for Montenegro meant packing up a total of 75 boxes.
"We're teachers and we save everything because we might need it sometime. Here, I had to get creative and also throw away a lot of stuff to make sure everything fit," she said.
"Teachers are hoarders, so it was a good opportunity for us to really look at what we had and let some things go," Barojas said with a laugh, adding that it was now time "to start out fresh."
Part of starting out fresh, San Cayetano Principal Mimi Renteria said, was maintaining close communication with families within the district to ensure that parents were aware and comfortable with the new arrangements.
Melisa Lunderville, assistant superintendent of the Santa Cruz Valley Unified School District, said the district took different measures to inform the community about the changes, including hosting three forums at different schools to engage in conversation.
"We also made phone calls, sent emails and mailed letters home," Lunderville said in an email, adding that they also posted notices in the newspaper, district website, and social media pages. "Now that the majority of families have attended orientation at their respective school, it seems that our communication efforts were effective."
Renteria added that parents were also very proactive in informing school administrators if there were any other families confused by the changes.
"It was really a village that addressed the whole situation, but the district was at the helm of it," she said.
The move included saying goodbye to a few former families who didn't fall within the new school boundaries and opted to enroll their kids at a different elementary. However, Renteria added that the school also welcomed several new families who found the new campus more suitable for their needs.
"We have about 70 boundary exceptions on our site, which are families who do not belong to us, but they're choosing to drive their children here," she said, adding that some of those exceptions are former students who wanted stay with them. "It kind of beautifully worked out on its own because families made that decision based on what worked best for them."
SCVUSD classes begin on Monday, Aug. 5. For more information regarding enrollment, call the district's Welcome Center at (520) 375-8281.