The Santa Cruz Valley Unified School District unveiled two new additions to the Rio Rio High School campus as it continues to build and complete an array of projects funded by a $22.55-million bond sale that voters approved in 2019.
Last Thursday evening, the district hosted a ribbon-cutting ceremony for a new $3.03-million performing arts center. On Friday night, the RRHS Hawks football team played its first game on a new artificial turf field that's part of a larger and ongoing $6.37-million renovation of the school athletic complex.
Rain Jade Miranda was among the students who displayed their artwork in the lobby of the performing arts center during Thursday's event. "This represents something special for a group I know and love that work in the different media – art, culinary, band," she said of the new center.
"To me," added freshman Alana Leonard, "this represents the professions we want to get into and that we are taken more seriously."
The facility includes a stage and 250-seat tiered seating area that, thanks to the retractability of the seating, can double as a learning space. There's also a lobby, public restrooms, ticket window and concessions area, as well as makeup rooms and restrooms for performers, a storage room and outdoor stagecraft area covered by a canopy. 
Work on the center got underway on Feb. 8, and was done by contractor SD Crane of Mesa. Speaking during the ceremony, Superintendent David Verdugo noted the construction time frame, but added that "it's really been an eight-year project" for him personally.
In addition to the art presentations and speeches, Thursday's ribbon-cutting event included hors d'oeuvres prepared by students in the RRHS culinary program, music by the four-piece student combo Grupo Rio, and performances by the Rio Rico Thespians and HawX dance troupe.
Junior Omar Lopez and other members of the school's Rotary Interact Club were on hand to help with the event.
"This is the start of something refreshing that was needed in Rio Rico," he said of the performing arts center. "It opens a lot of opportunities, not only for the students and the school, but the community."
Attendees included parents Ramiro and Ana Ceja of Rio Rico. Two of their four daughters have already graduated from RRHS, while a third, Sabrina, is currently a junior.
Sabrina Ceja is a an example of the keen interest among her peers in extracurricular arts programs. She performed with the HawX at Thursday's event and is active in photography, in addition to participating in the student council, student senate, National Honor Society and the Dirty Birds, a student organization whose activities encourage pride on campus.
Speaking of her fellow students who showcased their talents at the arts center opening, Leonard, the art student, said: "These kids have busted their (butts) to give all of you a good time and show you what they can do."
The overhaul of the athletic complex at RRHS is still very much a work in progress after Hellas Construction broke ground in May. Heavy machinery, piles of dirt and temporary fencing fill the construction site as crews work to install a new track with grass infield, a running path, six tennis courts – three of which will also have basketball hoops – and new baseball/softball dugouts and batting cages.
But one part of the project has now been completed: the installation of an artificial turf field for football and soccer. And last Friday night, the Hawks football team played its first game on the new surface when they hosted Catalina Foothills.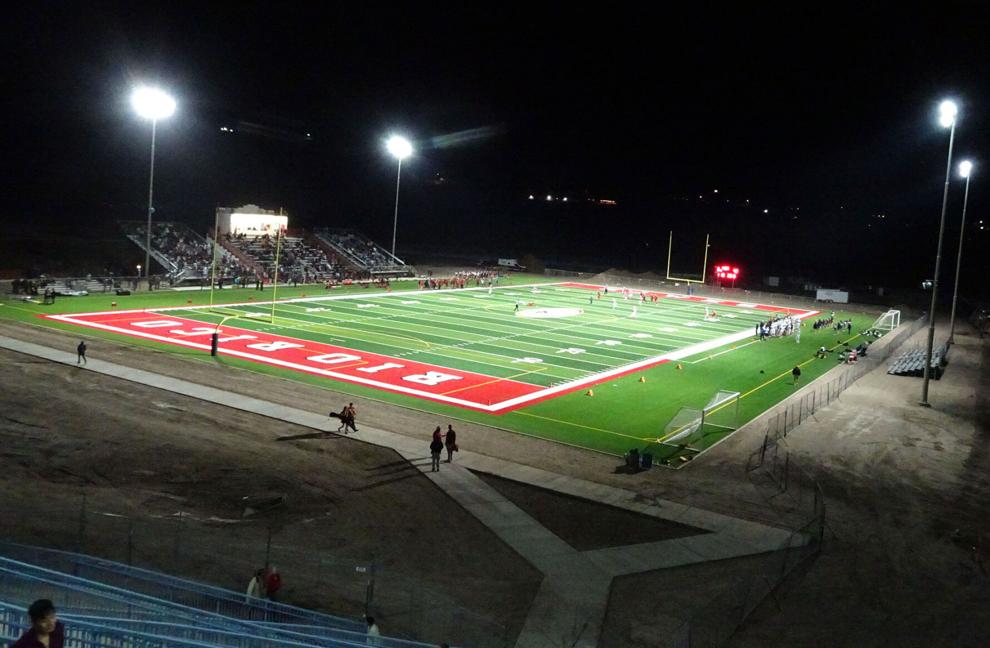 The matchup also served as the school's 2021 Homecoming game, and the RRHS Class of 1998, the first class to graduate from the school, was honored on the sidelines between the first and second quarters.
Marcos Bustamante, a member of the Class of 1998, said the athletic fields "looked nothing like this" back when he was a student. "It was pretty much a dirt field."
"It's amazing what the high school has done and how far it's come, and all the investment they've done in the community for the school," said Bustamante, who still lives locally and who has a daughter now attending RRHS. "The new theater that they have, the field, and everything they've done and how they're managing their school, I think it's come a long, long way from that first generation we started back in 1994."
The new playing field also served as a stage for several halftime performances on Friday that featured the creative talents of RRHS students. The marching band performed a medley of songs by the band Fall Out Boy, and the HawX put on a TV/movie-themed show that saw Indiana Jones and a tyrannosaurus rex cavorting with characters from "Coco," "The Avengers" and "El Chavo del Ocho," all of whom emerged from a giant television set.
There's still more to come at the football/soccer stadium, including new lighting and a new set of bleachers and press box for football field. The final set of works at the athletic complex also include a swimming pool and splash pad.
Alfredo Rodriguez of Rio Rico said his two oldest children, who are now in college, attended Nogales High School, in part because of the extracurricular offerings and facilities at NHS. But another son, now a high school senior, opted to attend RRHS, and his daughter, now in middle school, wants to go to RRHS as well.
"All these new improvements are attracting students to want to join the Rio Rico school district instead of the Nogales school district," said Rodriguez, a 1998 graduate of Rio Rico High.
As the Hawks football team battled Catalina Foothills on the field, they were rooted on by a contingent of cheerleaders from the high school, as well as from SCVUSD's two middle schools: Coatimundi and Calabasas.
Aide Mohinea was in the stands supporting her daughter, a RRHS cheerleader. She was impressed with the new field.
"It looks really nice, really professional," she said.
Another Rio Rico resident, Carlos Valenzuela, was on hand in support of his daughter, a Coatimundi cheerleader, and enjoying what he described as a very family-friendly and entertaining ambience. He was also enthusiastic about the appearance of the field, and fine with the fact that it's been funded by local taxpayers.
"It's a good thing because it's for the youth, it's for the kids, and they're enjoying it. It gives them a good path forward and I hope they continue with sports," Valenzuela said.
The Hawks were overmatched in the football game by Catalina Foothills, but they rewarded their fans who stayed until the end with a clock-beating scoring drive.
It started with a 44-yard pass completion from quarterback Angel Godinez to Nathan Villegas that gave Rio Rico a first down and goal to go on the Catalina Foothills six-yard line. Three downs later, and with time running out, Gabriel Romero-Davis booted a 24-yard-field goal to avoid a shutout and make the final score 42-3.
When the school district put the bond measure to voters in November 2019, it passed by 145 votes. However, an accompanying ballot question asking voters to to increase an existing maintenance and operations budget override from 7 to 9 percent failed by a 13-vote margin.
The override was meant to pay the additional operating costs necessitated by the bond-funded projects, such as staffing and maintenance of the swimming pool. When SCVUSD put the override back on the ballot in November 2020, it passed.
Fact sheets produced by the district in advance of the elections estimated that passage of the 20-year bond measure would mean that the owner of a home assessed at $109,050 would pay an additional $133.38 a year in taxes. The seven-year override would mean $130.85 per year for the owner of the same home.
A number of bond-funded improvements have already been completed, including parking lot repair and renovations at all SCVUSD sites; new playgrounds and shade structures at Mountain View Elementary and Calabasas K-8; an outdoor learning space, new bleachers and a renovated kitchen at Coatimundi Middle School; two special education buses and a delivery van.