A second suspect was arrested this week for the 2012 murder of Nogales-area native Inez Santa Cruz in Texas.
And the accused – 33-year-old Rosa Yareli Medina, most recently of San Antonio, Texas – is someone who was very familiar to Santa Cruz and her family.
"She used to live with us for a while, back when we were in high school. She played basketball with Inez and she was Inez's friend," said Erica Santa Cruz, the victim's sister. "We knew her — well, we thought we knew her – pretty well. We just never thought she would do anything like this to us."
Medina was arrested on Monday morning and turned over to Sheriff Pamela Elliott of Edwards County, the south-central Texas jurisdiction where the body of Inez Santa Cruz, then 27, was discovered on Sept. 2, 2012, abandoned in a remote area with two gunshot wounds to her head.
Authorities said at the time that Santa Cruz had gone to San Antonio to visit a fellow Nogales High School graduate and friend of 18 years. That person turned out to be Medina.
Less than two weeks after the murder, 38-year-old Troy Ray Ryder of San Antonio was arrested and charged with the crime, which police said had possibly been motivated by jealousy. Ryder, a friend of Medina, later pleaded guilty in order to avoid the death penalty and was sentenced in 2013 to 75 years in prison.
Reached by phone on Tuesday, Sheriff Elliott was hesitant to give many details about the role Medina allegedly played in the crime, other to call her "an accomplice, co-conspirator."
Medina is now being held at the Edwards County Detention Center with bond set at $1 million. It wasn't clear if she has a lawyer yet.
In a news release, Elliott said she had promised Santa Cruz's mother seven years ago: "I will never give up till we know who did this to your daughter."
Erica Santa Cruz said the family was aware that the investigation of Medina was proceeding, albeit slowly.
"Year after year, they just kept saying, 'We got a little more information, and we have a little more information and a little more information.' They just kept saying, 'We're getting a little closer, a little closer, and it'll be soon, it'll be real soon,'" she said. "And finally, we got a call (Monday) and they just said, 'You know what, we finally made an arrest and we have her here in custody and we'll give you a call with a little update a little later on."
Asked about the family's feelings upon hearing the news, she said: "It feels amazing, actually. It's unbelievable. Old feelings came back, the hurt came back. We were just happy that she got caught. We're just happy that there's going to be justice and we can be at peace."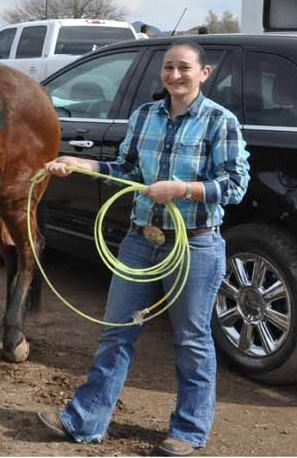 Inez Santa Cruz graduated in 2003 from Nogales High School, where she played on the girls' basketball and volleyball teams. At the time of her death, she was living in Sahuarita and working in Tucson, while also serving as a Naval reservist.
"My sister was in the Navy, she became a surgical tech. She was only 27 years old, I mean she had her whole life ahead of her. She was doing really well for being only 27," Erica Santa Cruz said.
While Inez was in the Navy and stationed in San Diego, her sister said, Medina went looking for her there because she needed some help.
"Anybody who needed help always knew that Inez always had an open door for them. She was just that kind of person who always helped everyone else," she said.
But the family doesn't know what Medina's motive might have been for turning on Inez.
"We've heard it was jealousy, but we honestly have no idea," she said.