The anticipation of being allowed to cross into the United States once again after the longest partial boarder shutdown in recent memory was manifested on Monday in Nogales as a mixed bag of shopping and reuniting with family.
For Janet Lizarraga and her son Rene, it was all about hitting the consumer hotspots in Nogales, including the strip malls on Mariposa Road and downtown on Morley and Grand avenues. This was their annual holiday shopping spree, which was put on ice by the pandemic in 2020.
Waiting for a shuttle outside of Ross Dress for Less and clenching to their bags of purchases, the Lizarragas said they had travelled nearly five hours from Guaymas, Sonora and crossed the border at 6:20 a.m. It took them about 10 minutes to get through the local port of entry, where U.S. Customs and Border Protection began at midnight to allow vaccinated Mexican tourists to cross for the first time since March 21, 2020.
The pair had more shopping to do downtown, Janet said, and they planned to go right back to Guaymas this evening.
Despite all the traveling and a relatively steep peso-to-dollar exchange rate of about 20-to-1, she said: "It's still worth the effort. The prices are OK and everything lasts longer."
Hilda, a Nogales, Sonora resident who asked that her last name not be published, said she used to cross once a week for gasoline, groceries and other goods, but hadn't done so since March 2020. On Monday, she crossed the port of entry in just a few minutes on her way to Ross.
"I love Mexico, but the quality of clothing doesn't compare to what we find on this side," she said. "But you know what? I would be perfectly happy had the restriction not been lifted. I got used to shopping in Mexico. It's true that quality is better here, but it would not bother me at all if I could not cross."
Alas, her children only want to drink Lucerne milk, and while Hilda says she can now find it in Nogales, Sonora, "it's a lot more expensive."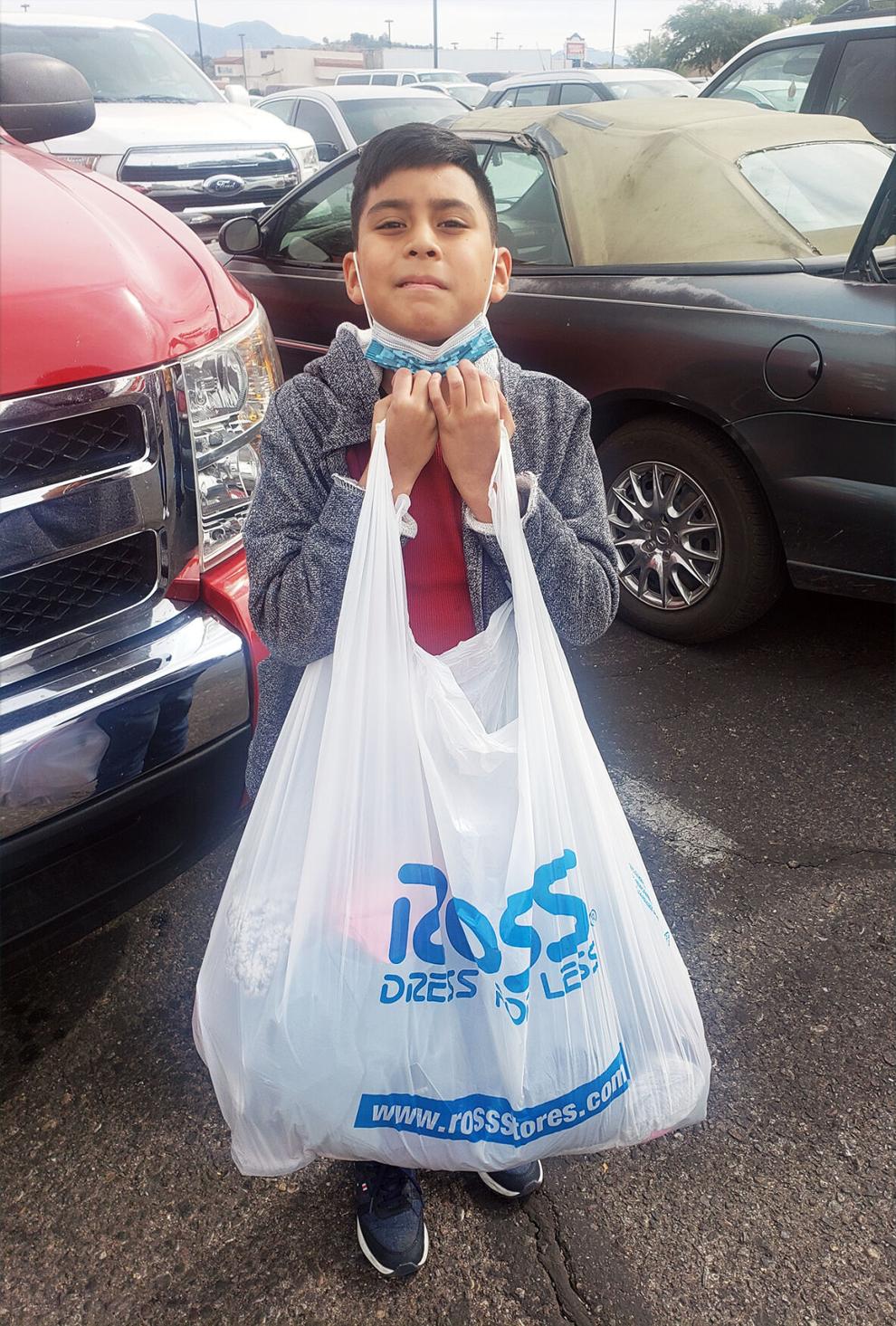 Alexis Ochoa, 9, agreed to be the face to represent his family members, who were putting their purchases into the trunk of their car outside Ross and were a lot shyer.
"I got new tennis shoes and clothes." he said.
Were the prices reasonable? "I don't know," his father quipped. "All I did was give them the money to pay. That's why they brought me."
Siblings Ernestina Armenta and Yolanda and Gabriel Hermosillo Romero were patiently waiting outside JC Penney in the Mariposa Mall for the store to open at 11 a.m. Yolanda and Ernestina are from Nogales, Sonora, but Gabriel traveled here from Tijuana.
"I noticed a lot of merchandise that we come for on this side is now available in Mexico," Yolanda said. "But it's just not the same and things are more expensive. At the Dollar Store, for example, a bottle of dish detergent cost triple – 60 pesos, or about $3 U.S."
"I think a big part of wanting to be able to cross is family," Ernestina said. "We missed family more than anything. We were unable to visit them when someone was sick, we missed a funeral of one of our relatives. We couldn't come."
Gabriel, who has lived in Tijuana five years, said the shopping isn't a big deal for him.
"Tijuana is huge and has many more things available than Nogales," he said. "What mattered to me was being able to visit with family."