About a half-mile south of the Dennis DeConcini Port of Entry, several customers browsed through the clothing racks at the Chulas Fronterizas clothing store on Wednesday afternoon, regularly asking the two sales clerks if they had more sizes in certain styles of jeans and shirts.
Across the street at the Sport Time athletic shoe store, employees helped a pair of customers find the right style and size among the wide selection of running and training shoes displayed on the walls.
The relatively lively activity on shop-lined Calle Obregon in Nogales, Sonora contrasted sharply with the scene a few blocks away on the Arizona side of the border, where stores selling clothes, footwear, blankets and other items popular with Mexican shoppers have been largely closed since the U.S. government implemented cross-border travel restrictions in March 2020.
The restrictions against "non-essential" travel from Mexico, meant to stem the spread of the coronavirus, also cut off a large number of Sonoran consumers from the Morley and Grand avenue stores they used to patronize. But as the old adage goes, one man's loss is another man's gain, and some employees working at stores on Calle Obregon on Wednesday said the losses that Arizona businesses have suffered have resulted in small gains for shops like theirs on the Mexican side of the border.
"People have no choice but to buy everything here, so that brings a rise in local consumption," said Jesus Antonio Moreno García, the manager at the Sport Time shoe store. "I think a lot of businesses here have improved their sales because people aren't crossing the border to shop (in Arizona)."
Israel Perez, manager of Chulas Fronterizas, also reported seeing a benefit from the border restrictions at his store, which has helped offset the impact of the weakened economy in the wake of the pandemic.
"It's difficult to quantify the difference, but we've been able to maintain similar numbers because people aren't shopping across the line anymore," Perez said. "It's been a lot of help because we've been able to brace through the tough times."
It's not just the usual customers doing more of their shopping locally, either. Some shops are seeing new faces as well.
"We've had a lot of clients that have told us things like, 'Well, since I can't cross the border anymore, it's the first time I'm learning of this store,'" Perez said. "There are a lot of people that are barely becoming familiarized with businesses here."
Nogales, Sonora resident Ernesto Salazar and his wife Yolanda Gastelum, who used to travel across the border to buy their groceries in Arizona, walked from store to store on Calle Benito Juarez on Wednesday in search of a few household items, comparing the prices at different establishments.
Salazar noted that some people who still have the ability to travel between the United States and Mexico have seized the opportunity to buy American products and sell them at marked-up prices in Sonora to residents who can't cross the border.
He added that he's also noticed some smaller, locally owned businesses raising their prices, which he suspected was meant to take advantage of local residents who have no choice but to shop locally.
Gastelum said the restrictions have meant that her family ends up paying more than they did in pre-pandemic times for products that she sees as lower quality.
"It's affecting my pocket because everything comes out more expensive," Gastelum said. "A lot of things aren't as tasty, but it's still more expensive."
Drawn by lower prices and differences in quality, Mexican citizens with U.S. tourist visas like Salazar and Gastelum have long crossed the border into Nogales, Ariz. to purchase products ranging from shoes and clothes to groceries and gasoline.
But there are other products and services that have attracted U.S. shoppers to Nogales, Sonora. And while U.S. citizens and permanent residents are exempt from the border restrictions, many have still curtailed their southbound crossings during the public health crisis.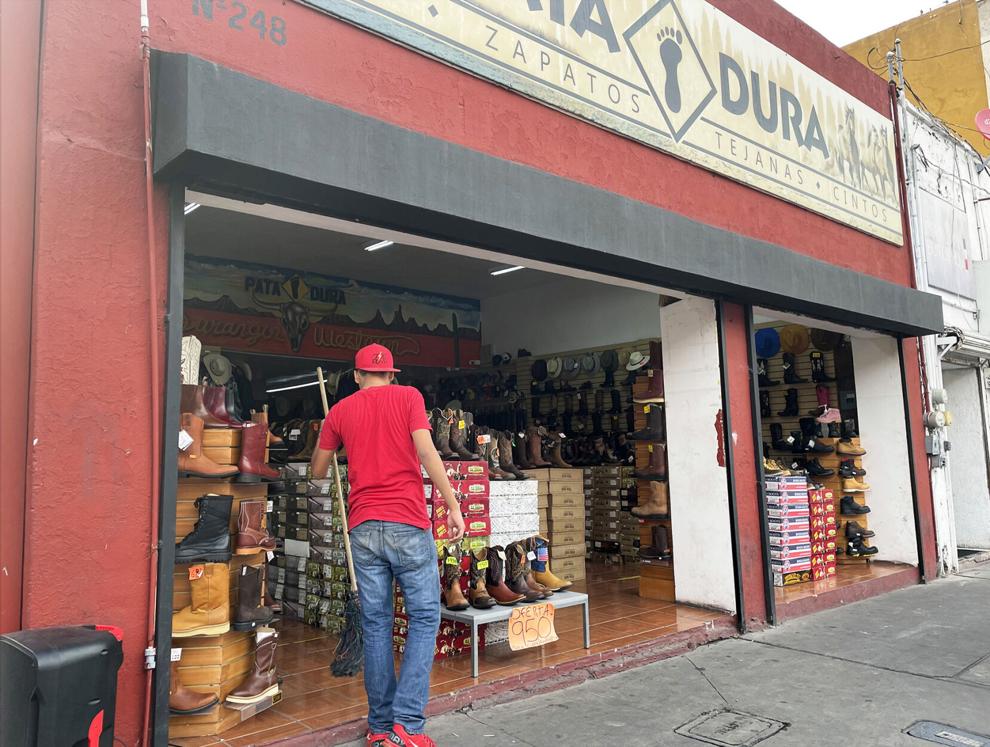 Ruben Cazares, who works at Pata Dura, a store that specializes in leather cowboy boots, said his shop has suffered a double whammy from the pandemic.
"We didn't see any increase because the pandemic caused a lot of people to get laid off from their jobs, which really affected the whole economy," he said, adding that he also saw a decline in American tourists, who normally make up half of the store's sales.
And while many Mexican citizens have been unable to buy groceries at stores like Food City and Walmart on the Arizona side – U.S. milk is an especially popular product with Sonoran shoppers – it hadn't made much of a difference for some locally owned grocery stores near the border in Nogales, Sonora.
Gabriel Campos, an employee at the Abarrotes y Carnicería La Nueva Frontera, a grocery and butcher shop a couple blocks from the DeConcini port, said the business' sales dropped to 30 percent of pre-pandemic levels due to the lack of cross-border traffic.
"We were really affected because we depend a lot on people from the U.S. side," Campos said. "For example, a lot of older people would come here to buy cheese, tortillas, carne machaca – all those products they can't find over there."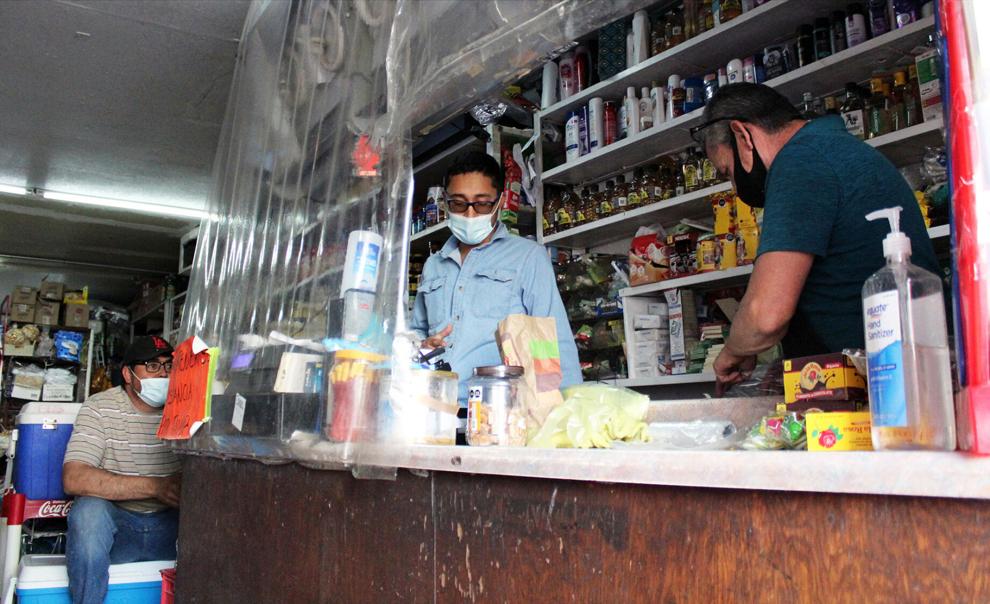 Street vendor Norberto Dueñas sat peeling and slicing nopales (cactus paddles) at his stand on Calle Benito Juárez on Wednesday, before packaging them into clear plastic bags. Also on his table, he offered bags of fresh-grown onions, tomatoes, zucchini and other vegetables for sale.
Dueñas said he also saw a decrease in sales, particularly in nopales, due to the lack of U.S. citizens visiting the area. And those losses came on top of the hit he took as a result of the restrictions stopping many local residents from crossing into Arizona.
"There used to be a lot of movement on the weekends. People on this side would cross the border to visit their family on the U.S. side, and take nopales and tortillas to not arrive with empty hands," Dueñas said. "I lost all of those sales with the border restrictions."
Sitting in the stand next to him, street vendor Lorenzo Mendoza, who proudly revealed that he had been vaccinated against COVID-19, said he's also suffered a slight loss in sales. But he was thankful that business has been good enough to keep him alive and healthy.
And business is slowly beginning to pick up again, Mendoza said. Wednesday was a particularly good day, as he sold most of the vegetables and tortillas he had set out.
Other food vendors on the block agreed that business was beginning to improve as more U.S. citizens became vaccinated and began visiting Mexico again.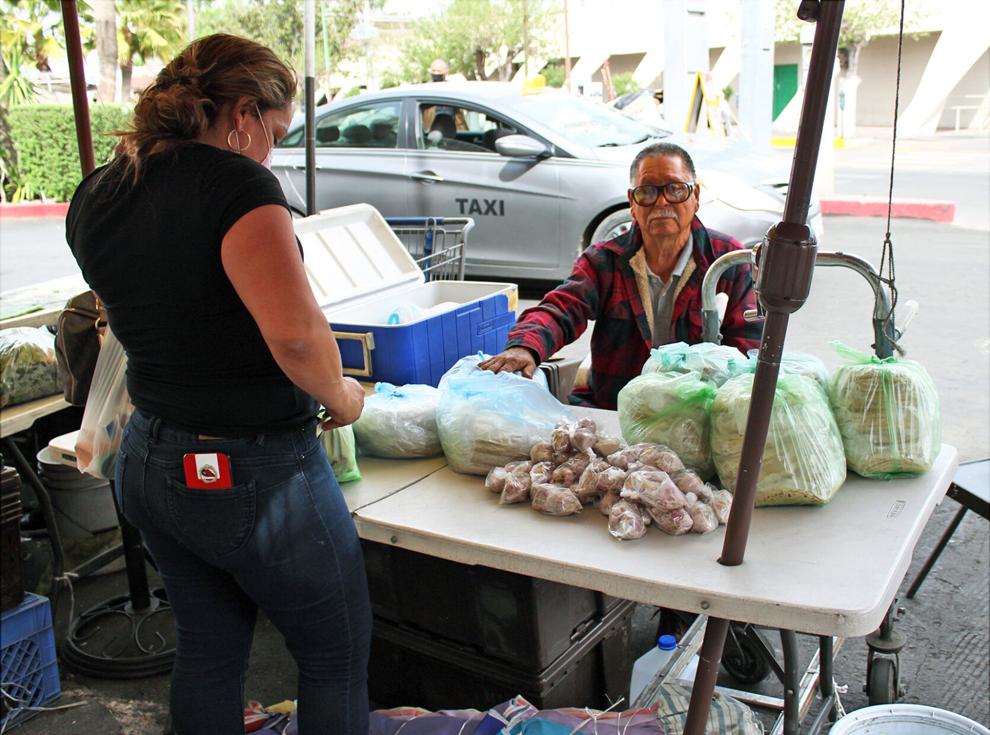 The U.S. travel restrictions, now in their 13th month, are set to expire April 21. And while they might be extended for yet another 30-day period, gains in the fight against the pandemic could also hasten their demise.
Still, while Moreno's and Perez's shoe and clothing shops have benefited from the travel limits, the potential lifting of the U.S. restrictions on Mexican tourists didn't cause too much concern with them.
"I think people have realized that our clothing is good quality," Perez said. "There's now a level of confidence that people who shopped in the United States will continue this new pattern of buying locally."