Sixth-grader Samuel Velasquez and his friend Christian Ibarra leaned over one of the benches at the Coatimundi Middle School field, focusing and pointing at two papers laid out in front of them before their classes started on Monday morning.
After a couple minutes of their eyes darting back and forth between the two pages, the two friends concluded that they had gotten four of six classes together for their first year of middle school.
"I'm excited to see what's new in our old school," Velasquez said, adding that he attended the same campus as a fifth-grader last academic year, when the site was still San Cayetano Elementary School.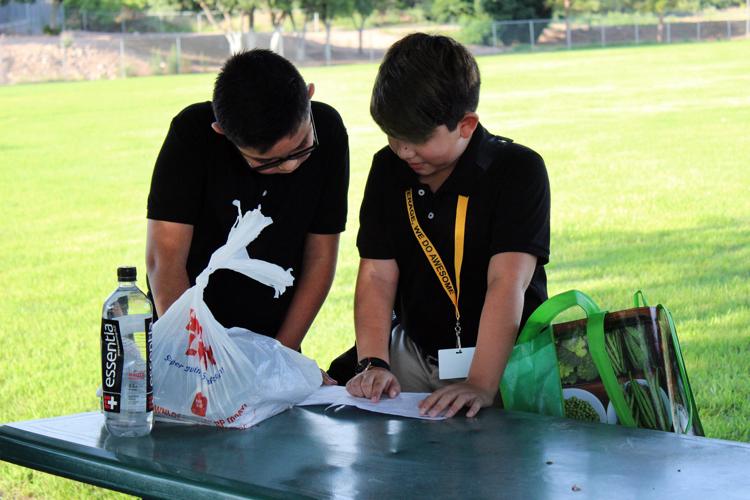 But after a big campus swap this summer, Coatimundi Middle School kicked off its first day of classes at their new outdoor campus on 1412 W. Frontage Rd.
Velasquez, who was already looking forward to attending a different campus this year, said the campus swap offered one downside.
"I'm kind of sad because the old campus was walking distance from my house, so I have to take the bus now," Velasquez said.
Still, he remained excited about delving into an entirely new school with different staff and teachers. Others walking around campus on Monday reflected the same attitude, showing a combination of fear and excitement.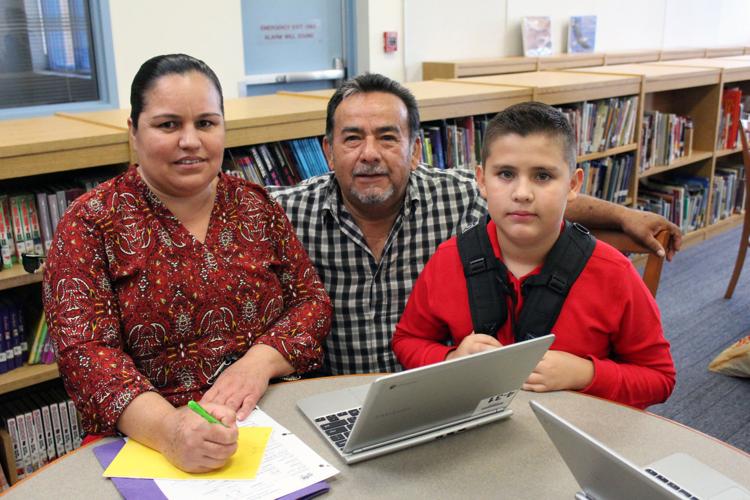 For parents Juan and Maria Mundo, who finished a few last-minute details for their son's enrollment in the sixth-grade on Monday, the move brought school closer to home, saving them the hassle of driving their son to the other side of Rio Rico every morning.
"It's beneficial to us because he still would've had to attend this school, just at the other campus. Now it's much closer to us," Maria said.
Savannah Bustamante, an eighth-grader at Coatimundi, said the bigger campus made her nervous after she had become accustomed to the smaller building at the former location.
"I liked the old campus, it was small and indoors. Now it feels scary because we don't really know (this campus). We might get lost because we don't know where half of our classes are," she said, giggling in between her words as she thought about the possibility.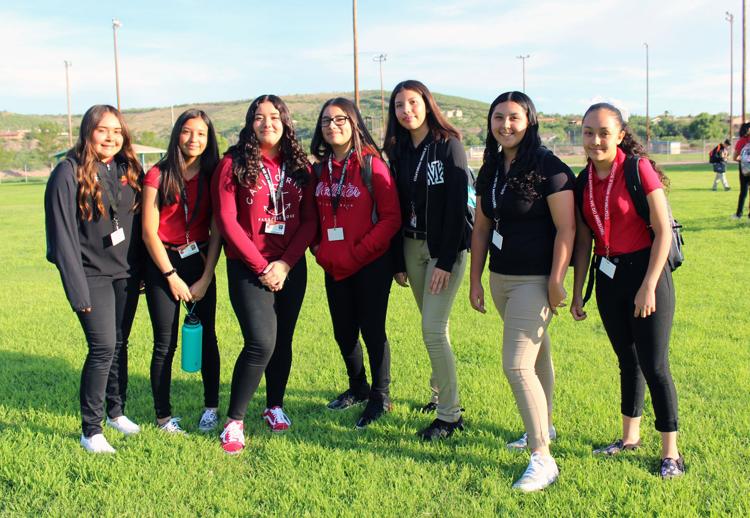 Coatimundi Principal Rebekah Cabrera agreed that the new campus would require the students and staff to adjust a bit, but felt confident that it would soon prove to be a positive change.
"Our other site was quite small, so this just gives us space, it gives our kids the opportunity to be outside," she said, adding that several students showed their excitement weeks before heading back to school.
Some families, Cabrera said, had made visits to the campus before Monday to help teachers and staff get settled in their new buildings and classrooms.
"I have to say, the community has been amazing. They've all been very positive," she said.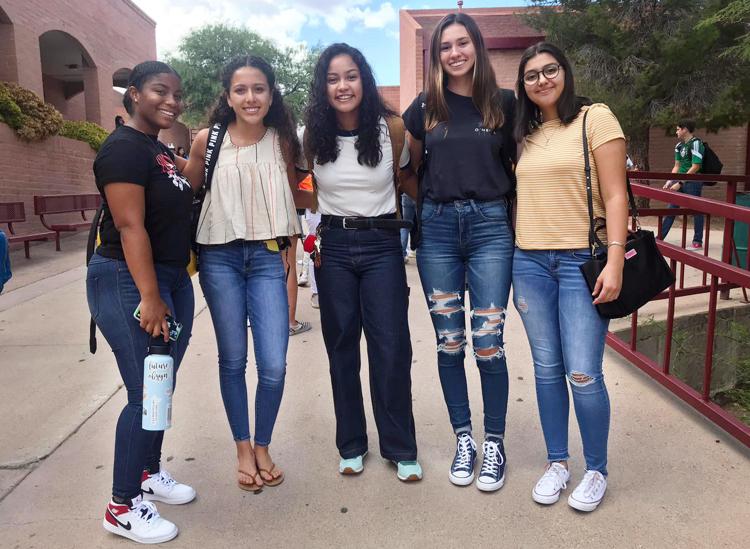 While the Santa Cruz Valley Unified School District welcomed their students back to school on Monday, the Nogales Unified School District had a slightly later start on Wednesday morning.
At Mary Welty Elementary School, staff were dressed up in Olympics 2020 shirts, the theme for the new school year.
Students participated in Olympics-themed activities on the first day, with each grade representing a different continent.
And at Nogales High School, the school's eldest students were decked out in bright orange shirts with one word: "SENIORS."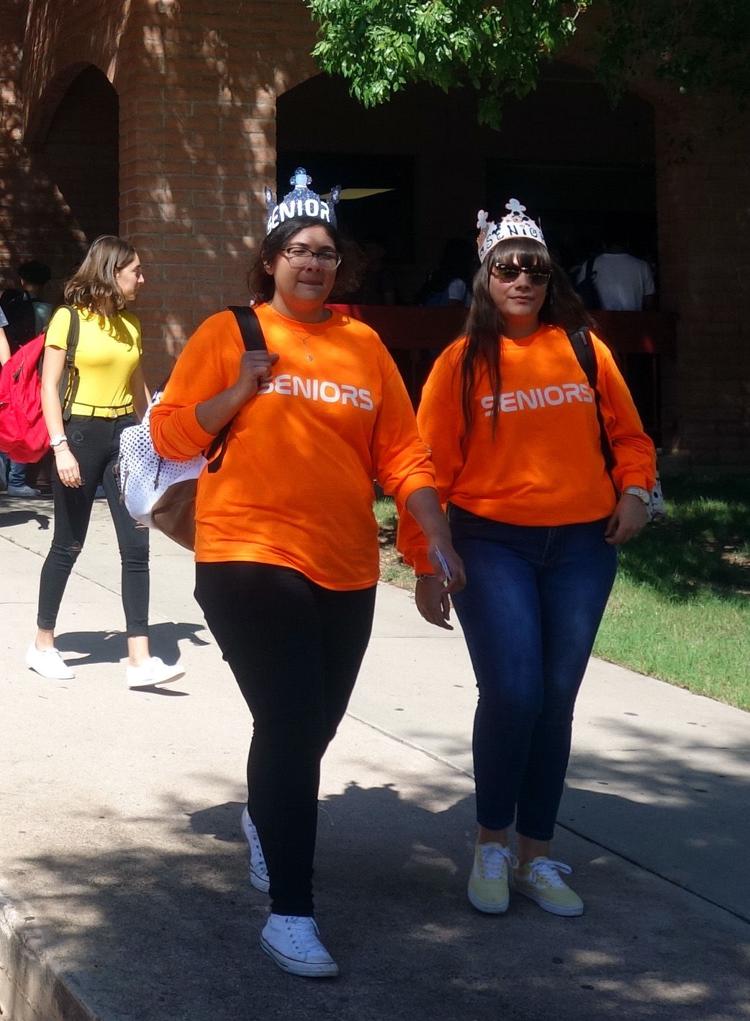 Sporting their matching "Senior" shirts, NHS students Giselle Franco and Valeria Reyna chatted as they walked out of their second period class on Wednesday.
Reyna said she was excited about several of her classes and looked forward to "making all the fun memories" in her last year at NHS.