When Abiel Guerrero, a 6th grader at Wade Carpenter Middle School in Nogales, was taking his math class online last year, he often felt anxious and had difficulty learning. Now, Guerrero is one of many local students attending summer courses both in-person and online.
Guerrero's math teacher, Kamla Chauniyal, said that although some kids adapted well to online learning over the past year, many did not. "There is no replacement for in-person education," she said.
Summer school enrollment in schools across Nogales and Rio Rico has increased dramatically as schools offer summer classes to a wider range of students and, for the first time, provide summer instruction for free to help mitigate learning loss caused by the COVID-19 pandemic. 
According to school administrators, 1,350 students have enrolled in summer school at the Nogales Unified School District this year compared to 650 last year. Meanwhile, the Santa Cruz Valley Unified School District anticipates that almost 900 students will enroll in summer classes, twice as many as the previous year. The districts confirmed that enrollment is also up from previous years but exactly how much remains unclear.
At NUSD, this year brings the return of summer school for elementary students, something that was discontinued several years ago. Administrators said one goal is to help kids who fell behind over the past year.
"The focus of (summer) elementary school will also be to address the learning loss suffered by students as evidenced by grades and benchmark assessments," NUSD Assistant Superintendent Angelina Canto said in a news release.
NUSD is offering in-person summer instruction for elementary and middle school, while students in high school are completing summer school online.
And even though there was also a significant increase in summer school enrollment at the district's high schools, the highest numbers were concentrated at the elementary and middle school levels, Canto said. 
"K-7 enrollment increases may be due, in part, to the inclusion of English Language Arts instruction with math instruction this summer, although I would suspect that the in-person option was likely the real draw," she said.  
In Rio Rico, SCVUSD is offering credit recovery in math, English, social studies, science and electives, according to an announcement published on the district's website. Shannon Enciso, the district's spokeswoman, said the highest enrollment across schools is in math.
SCVUSD is offering in-person summer classes in all campuses except Rio Rico High School. But an art workshop will be held on-campus at RRHS. In an announcement online, SCVUSD added that there will be learning spaces on campus that can be used by students with technology issues and that Wi-Fi, hotspots and laptops will be provided based on need.
Online vs. in-person learning
One of the factors driving summer school enrollment is the different experiences students had with online learning.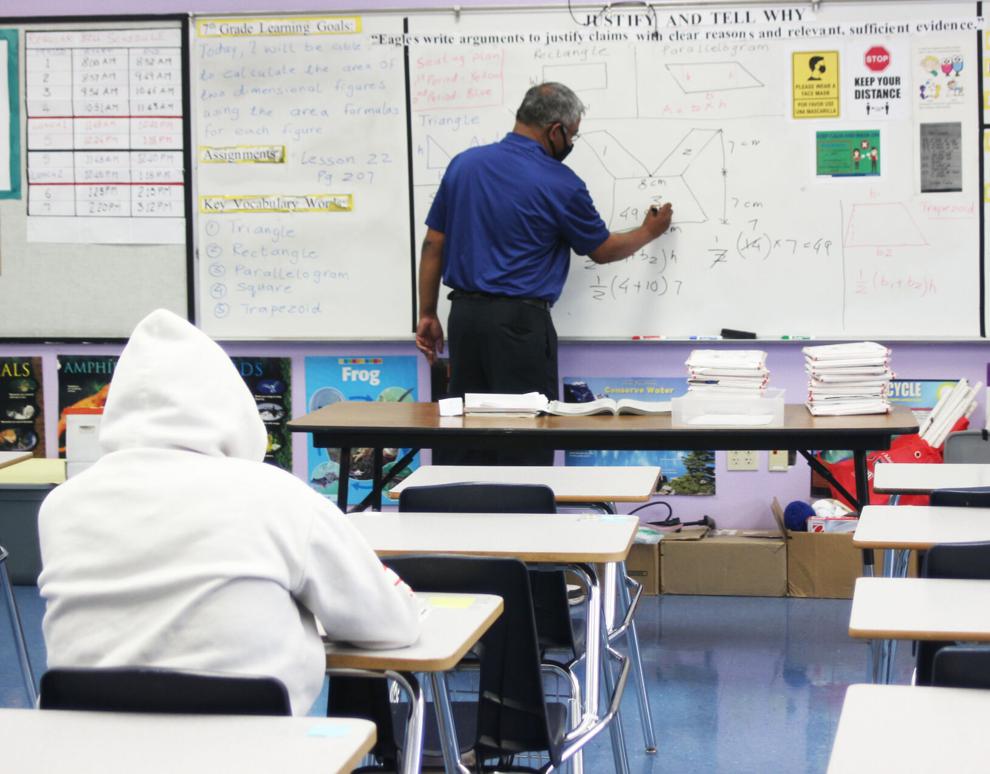 Bettina Damon said her two daughters had varying success with remote learning last year.
Her older daughter Mikayla Lindsey, who just completed her sophomore year at Nogales High School, thrived in an online setting and chose to enroll in summer school this year to get ahead. But her youngest daughter, who just completed 6th grade, struggled with online instruction so much that she decided to skip summer school. And even though in-person instruction is available for elementary and middle school grades this summer at NUSD, Damon decided to give her daughter a break.
"She didn't do very well and she is normally an A student," she said.
Educators and experts say the pandemic and online learning have negatively impacted students' learning retention and academic achievement in a number of ways.
M. Jeanne Wilcox, an early childhood education professor and researcher at Arizona State University, said that beyond the shift to remote learning, the pandemic restricted other types of learning opportunities, which also contributed to academic setbacks. 
"A great deal of learning takes place outside of school settings through the experiences students have with their peers, family, and community families," she said. "Some students have likely regressed and experienced learning loss, while others have not necessarily regressed, but are definitely in a learning pause," she added. 
Chauniyal estimated that 80 percent of her students need in-person instruction because, as she put it, "they want to share with their friends and teachers and they want to feel motivated." 
During a visit to their summer school math class last Friday, sixth-grader Guerrero and his peers said in-person interaction with their teachers has made a big difference for them.
"In summer school, being around the teachers helps out a lot and being online doesn't explain things like summer school does," said sixth-grader Santiago Jasso. 
"They are helping each other"
In Chauniyal's summer class, students are doing things a little differently than usual. She said she is taking full advantage of in-person classes by pairing students who are more advanced in math with those who are still recovering.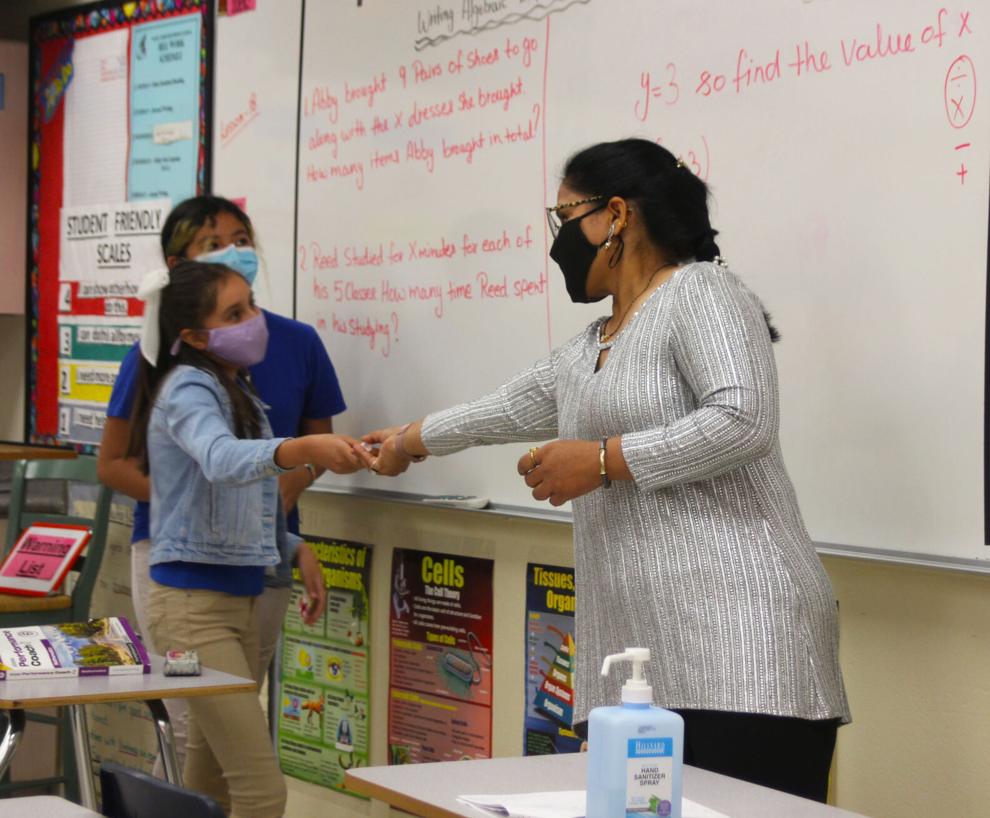 As one of her students struggled to find the value of X, classmate Hazel Gonzalez got up to help him figure out the steps necessary to solve the equation on the board, without giving away the answer. 
"They are helping each other," said Chauniyal. 
Learning among students is a component that has been absent since pandemic restrictions began, and though in-person instruction was briefly brought back in the fall, most students have been attending school online for more than a year. 
According to Wilcox, summer school, though a necessary step, will not be sufficient to make up for the learning loss or pause that many students are facing. What's more, the impact will be greater for certain grade levels compared to others. "I suspect that the most profound effect is observed during the early childhood years (preschool through 3rd grade) and the junior and senior years of secondary school," she said. 
At NUSD, students in lower grades enrolled in summer school at higher rates than older students, Canto said in an email to the NI. The factors driving enrollment, she said, can vary from technological setbacks to learning preferences and available classes. 
"Over the last year, all of our students have become very comfortable with online platforms … coupled with the district's ability to provide support through the loan of devices to students, enrollment has increased in the online summer school program at the high school level," she said. 
Like at SCVUSD, math was one of the most popular classes for summer enrollment at Wade Carpenter Middle school. 
"In math it's not possible to learn by watching videos, doing questions and answers in the same way, no. Some kids are hesitant to ask us but with their friends they are feeling comfortable so they're learning together," said Chauniyal. 
During an interview with the NI in April, Stephen Schadler, SCVUSD's superintendent of curriculum, said that schools throughout the state are uncertain about the real consequences of the pandemic on the academic standing of students and that schools are trying to prepare for what is to come in terms of academic recovery. 
"I think that's the concern of course nationally, about learning loss and how far back the kids have been set and what steps can we take to recover that learning loss and so we're having those conversations right now, going into the summer and next year and recognizing it will take time," said Schadler. 
One local school that's skipping summer instruction this year is The Little Red School, which operates independently as the only school in the Santa Cruz Elementary School District. But SCED Superintendent Kathy Romero explained that the school is still working on plans to make up for learning loss during the pandemic.
Because the campus is small in comparison to other schools in the area, school administrators are focusing on designing a curriculum for the upcoming academic year which will prioritize one-on-one instruction.
"It's not that there was no need for summer school … we want to focus on the needs of students one-on-one," she said, adding that the school is accounting for the diverse needs of students which can vary from household environments to learning styles.
As the next academic year approaches, school administrators and educators prepare to continue tackling the academic challenges left behind by the pandemic.
Wilcox, the education expert at ASU, said that despite the difficulties that come with changing education models and curricula, there is a need for modification moving forward in order to help students maximize their learning.
"For the most part, public education in the United States, for example, conforms to a 'one size fits all' format," she said. "This approach will not be the best for students who have experienced significant learning loss, hence it is very important for teachers to understand and use differentiated instruction."