In the latest chapter of what they say has been a years-long dispute with the City of Nogales, local taxi drivers met with Mayor Arturo Garino last Friday afternoon to demand more parking spaces to satisfy the large number of cabs in town.
For about five years now, taxi driver Jose Jesus Hernandez said, city officials have only granted a total of three parking spaces on the second block of Terrace Avenue in downtown Nogales, all to be shared among roughly 30 drivers.
"We came here to see if they'll give us more space where we can park our taxis because the city is always concerned about charging us an annual permit and a chauffeur's permit… but they don't give us the space to park," Hernandez, a driver of more than 30 years, told the NI a few minutes prior to the meeting.
Altogether, the two permits have an annual cost of about $660, Hernandez and his fellow taxi drivers explained, adding that the city has been quick to grant more permits each year, but hasn't considered that the increase in service would mean a need for more parking spaces.
Newcomer Alejandro Grijalva, who became an independent taxi driver about a year ago, said that while three drivers can use the granted parking spaces at a time, the rest of them have to pay for a space inside private lots or continue feeding the city parking meters until they land customers.
"We each pay $5 on a daily basis – some even pay $10," Grijalva said. "We're always up to date, paying what (the city) asks for even if we don't find it fair. Now we need them to fulfill their part."
As the informal meeting began inside the city council chambers, about 10 drivers quickly began voicing their frustration, a few talking over one another as they tried to make their points heard.
Miguel Angel Arvizu, a driver of more than 25 years, stood up from his chair and walked a few steps forward, trying to instill order amongst the chaos in the room as he laid out the drivers' common concerns.
There are several metered parking spaces along the second block of Terrace Avenue that are usually empty, he said, as well as more street parking on the first block, closer to the border – all which could be used by the local taxi drivers to offer their services to people crossing from Mexico.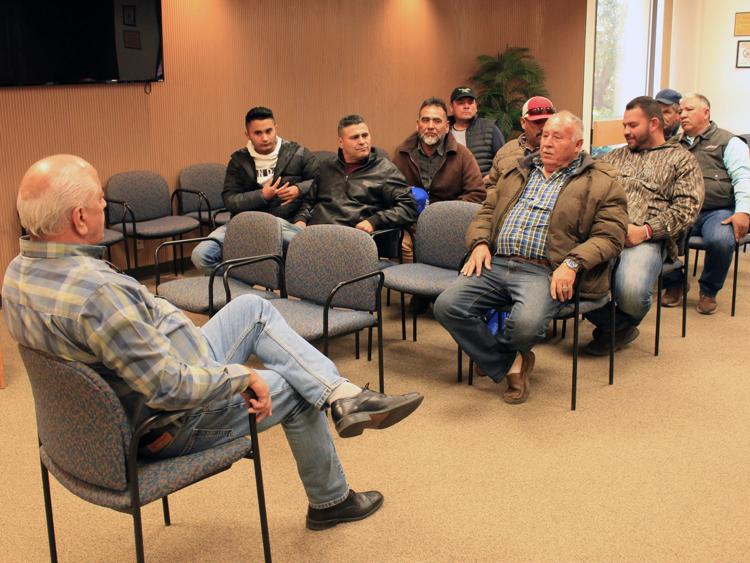 "Forget about Terrace, just forget it. You're not going to get anything on Terrace from Crawford to the port," Garino interrupted, explaining that there are plans for that first short block to be turned into a full pedestrian zone in coming years.
Garino recounted that during his first administration from 2011 to 2014, he had granted space for the drivers in two different areas in downtown Nogales – on International Street near the Morley Crossing, and three spaces in front of Karam Park. However, the former has since become U.S. Border Patrol territory and the latter was taken away by the previous administration, he said.
The mayor suggested that the taxis drive around town to look for potential customers out on other streets deeper in the city, but the drivers countered that Nogales doesn't offer that type of business for them.
"It isn't like Nogales, Sonora. People over there will lift their arm and call you out on the street, but not here," Grijalva told the NI, adding that the drivers would only waste gas for no purpose by following that tactic.
The drivers collectively insisted that their spaces need to be close to the ports of entry because that's where they find most of their clientele. One of the local taxi companies, they said, had even made a private deal with the Ueta duty-free store on the first block of Terrace Avenue to use part of their property for parking and land customers near the port.
Meanwhile, the rest of the drivers are left to share the limited city-owned taxi parking on the second block of Terrace.
Garino said he would soon discuss with other city officials to explore the possibility of adding more taxi parking spaces on the first block of North Grand Avenue, second block of Terrace Avenue and on Morley Avenue.
However, he added, more parking near the Mariposa Port of Entry would not be likely to be granted due to issues surrounding which areas belong to the federal, state and local governments.
"But I'm going to tell you guys one thing: if you're going to park, there has to be a time limit. If you park, you can stay for 15-20 minutes, then you have to move and drive around and then park again," Garino said, insisting that the drivers need to do their part as well.