Morley Avenue in downtown Nogales has been struggling to survive through the coronavirus pandemic during the past several months, with most of the area's retail clothing stores shutting their doors as a result of the lack of customers.
Like Morley, the first block of Terrace Avenue – a street near the DeConcini port of entry that also serves Mexican tourists, but with slightly different services including transportation and money exchange houses – was also bracing through tough times last Friday afternoon.
Several money exchange houses remained quiet and empty through the late afternoon, while shuttle and taxi drivers stood idly along the sidewalk, offering rides to Tucson and Phoenix for the few pedestrians that walked north from the port of entry.
Javier Guerrero, a 39-year-old shuttle driver, set up his camping chair outside of Sahuaro Shuttle at noon on Friday, prepared to stick around for a while until he gathered enough passengers to drive up to Tucson. As of 4 p.m., he had barely managed to line up one passenger in his van.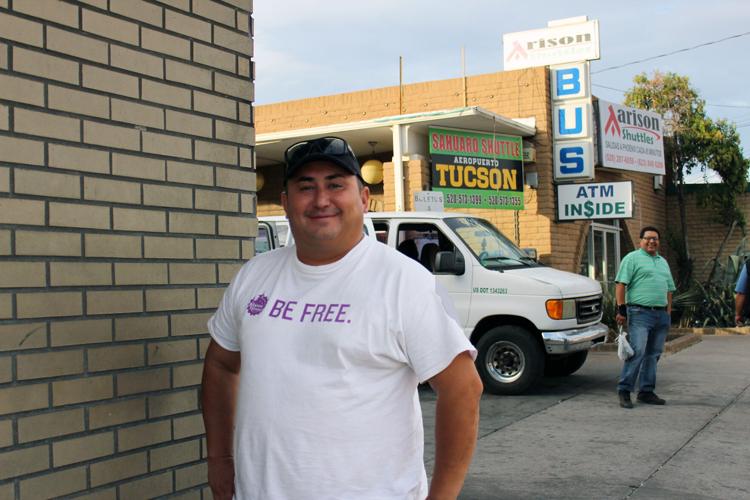 "Right now we're living day by day. Unfortunately, there's no money left over at the end of the day, but we're trying to move forward," Guerrero said. "I haven't made a single trip today, but I'm still here because I have hope."
The federal travel restrictions at the U.S. southern border, which were implemented on March 21 and have been renewed every month since then in an attempt to minimize the spread of COVID-19, have impeded foreigners with tourist visas from entering the country.
That has meant that businesses like the shuttle and taxi services on Terrace Avenue lost their main clientele base that was comprised of Mexican tourists visiting the country to do their shopping in Nogales and further north.
"The truth is we really need that tourism. We need people with visas to begin crossing (the border) again," Guerrero said.
He added that taxi drivers in the area, located next to Sahuaro Shuttles, were also struggling to survive the tough times, sometimes waiting up to two hours to score a trip of $10 or $6.
"Taxi drivers used to move a lot of students around, so they've also been affected by that," he said in reference to the school closures, adding that he knew that side of business because he had worked as a taxi driver for several years before switching to the shuttle service.
A few feet down the street from Guerrero, Santiago Tavares of Premier Shuttles said the fear of contagion and the slow business due to the travel restrictions drove his employer to close down for two months in March.
When they opened back up in April, he said, the company decided to keep only two of eight vans rotating for service, which meant several of his colleagues were laid off.
Tavares said that his typical routine consists of working three days a week, with two round trips from Tucson to Nogales.
Before the pandemic, he would gather six to eight passengers for every trip. On Friday evenings, which were always his busiest days, he would score a full van that carried 10 to 12 individuals.
Now, on good days, he shuttles four to six people each trip. But during the late afternoon last Friday, he hadn't gathered a single customer to make a worthwhile trip back to Tucson.
He added that their location, farthest from the port compared to the other shuttle companies, was a big disadvantage for them.
"Mexicans make up 90 percent of our client base, so we have the remaining 10 percent of U.S. citizens and residents to split among three shuttle companies," Tavares said, adding that long wait times at the port were also playing a big role. "People wait up to three hours in line and choose the first shuttle they see, even if they've always been our customers."
Guerrero, whose company is located only a few feet from the port of entry, agreed with Tavares, adding that the drivers with different shuttle companies have recently gotten into arguments over the lack of customers.
"We're all fighting for our jobs, right?" Guerrero yelled at one of the shuttle drivers looking for potential customers a few feet away.
At the corner of Terrace Avenue and Crawford Street, the Factory-2-U had its doors open on Friday afternoon after previously being closed for several weeks at a time.
Employees Joselyn Cardona and Leslie Avilez said they had been forced to close the store for a couple months at the start of the pandemic in March or April. The store reopened a couple months later, only to close again over the lack of customers and low budget for operations.
Cardona added that although the downtown retail store had recently reopened for the second time this year, she and Avilez expected to close down again within the following days and be transferred to a new location on Mariposa Road.
"Our customers generally come from Mexico, so sales have decreased drastically," Cardona said, adding that the store was operating under shorter hours. "It would be very convenient for us, in terms of work, if they were to reopen the border for tourists."
Like the two shuttle drivers, Cardona and Avilez agreed that November would typically signify the start of the holiday shopping season, with heavy traffic of Mexican tourists swarming the area to spend their money and boost the economy on Terrace Avenue.
But with no word on whether the current set of travel restrictions will be lifted or renewed on Nov. 21, the local employees didn't get too excited about the possibility of seeing Mexican tourists in the area soon.
"I don't want to get my hopes up anymore," Guerrero said, adding that he's been disappointed after the renewal of the travel restrictions every month since March.