The Town of Patagonia says it has taken unspecified action after Marshal Joseph Patterson was video-recorded telling a pre-teen journalist that it was against the law for her to put his image on the internet during an interaction in which he also allegedly threatened to have the girl arrested and jailed.
The video by Hilde Kate Lysiak, reporter/publisher of the website Orange Street News, was reportedly recorded at around 1:30 p.m. Monday while she was biking down Roadrunner Lane in Patagonia in pursuit of a news tip. In a story posted to the site, Lysiak wrote that Patterson stopped her and asked for ID, and she identified herself as a member of the media.
"I don't want to hear about any of that freedom of the press stuff," he reportedly told her during a portion of the conversation that does not appear in the story's accompanying video. Patterson also allegedly told the girl: "I'm going to have you arrested and thrown in juvey."
The video recording begins with Lysiak asking the marshal to confirm his threat to have her thrown in juvenile detention and asking him what she was doing that was illegal. Patterson begins to respond, then asks if she's taping him.
"You can tape me, OK. But what I'm going to tell you is if you put my face on the internet, it's against the law in Arizona, OK?" he says. "So I'm not giving you permission to use my picture or my face on the internet. Do you understand all that?"
Federal courts, including the 9th Circuit Court of Appeals that includes Arizona in its jurisdiction, have established that citizens have a First Amendment right to take video of the police in public. In 2016, Arizona State Sen. John Kavanagh (R-Fountain Hills) introduced a bill that would have required people to be at least 20 feet away while recording law enforcement activity, but he withdrew the measure following a fierce backlash.
Dan Barr, a lawyer with the First Amendment Coalition of Arizona, called Patterson's assertion that Lysiak couldn't post his photo on the internet "complete nonsense."
"It is perfectly legal to post such a photo online," he wrote in an email, adding: "I hope this is not reflective of the Patagonia marshal threatening people with other nonexistent criminal violations."
Lysiak's video of the encounter with Patterson had generated more than 8,380 views on the Orange Street News YouTube page as of Wednesday evening. A version of the video posted to the YouTube page of News Now Houston had generated nearly 33,000 views and more than 500 comments. It also included a phone number for Patterson.
A message posted to the Town of Patagonia's website on Wednesday said the town had received "many comments" regarding Patterson's interaction with Lysiak.
"The matter has been carefully reviewed and we have taken action we believe to be appropriate for the situation," it said, adding: "We do not publicly disclose personnel actions including discipline and will have no further comment on this matter."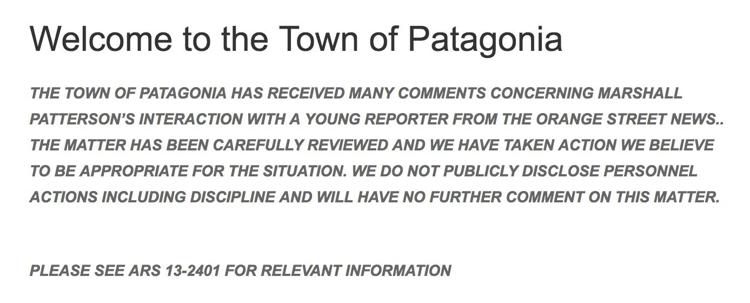 The town's message also pointed readers to a state law, A.R.S. 13-2401, "for relevant information."
However, that law only makes it illegal to post a police officer's personal information, such as their home address, home telephone number and personal photograph, "if the dissemination of the personal information poses an imminent and serious threat to the peace officer's … safety or the safety of that person's immediate family and the threat is reasonably apparent to the person making the information available on the world wide web to be serious and imminent."
Patterson has previously tried to claim legal protection from being recorded while performing his police duties.
In October 2013, Peter Pototsky of Elgin was protesting the Border Patrol checkpoint on State Route 83 with a sign reading "YouTube Border Patrol" when Patterson pulled up, Pototsky told the Weekly Bulletin at the time. When Pototsky began videotaping Patterson, he said, the marshal told him that videotaping a law enforcement officer is against state law, and if he put the footage on the internet Patterson would prosecute him "to the full extent of the law."
Asked by Weekly Bulletin reporter JB Miller about the threat, Patterson said that putting a police officer's face on the internet in an attempt to hurt the person's image and reputation is "against the law."
During this week's encounter with Lysiak, Patterson also told the young reporter that he was concerned for her safety because she had followed him as he responded to calls. He also told her that a mountain lion had been seen in the area.
"Well, thank you very much, you have a great day, I'll be getting ahold of your parents. Thank you," he tells her before driving off.
According to an October 2017 profile in The New York Times, Lysiak, who was 10 at the time, began covering family news on notecards soon after she turned 6. With the help of her father, a former reporter with The New York Daily News, she later began publishing a newspaper focusing on events in her hometown of Selinsgrove, Pa. that inspired a series of Scholastic chapter books based on her experiences.
A story posted to the Orange Street News on Feb. 14 notified readers that Lysiak is currently reporting from Patagonia.
(Correction: This story initially reported Lysiak's current age as 10. However, that was her age at the time of her NYT profile in October 2017.)