On Wednesday afternoon, Mike Gonzales stopped at a couple of mailbox businesses in Nogales, Ariz., then drove his car across the border into Nogales, Sonora with about 45 packages in his possession, most of which were addressed to people other than himself.
After transporting the packages from the United States to Mexico, his next steps were to deliver some to addressees residing in Nogales, Sonora, and mail the others to recipients in other parts of Sonora or Mexico.
Gonzales, a 41-year-old Ambos Nogales native, is one of a number of local residents who have discovered a business opportunity in providing cross-border mail delivery services for Mexican citizens who can't cross through the U.S. land ports of entry as a result of ongoing travel restrictions.
"It all happened without me searching for it," Gonzales told the NI on Wednesday. "I saw an opportunity and, thank God, it's been going very well."
The U.S. government implemented the restrictions impeding non-essential travel at its land ports of entry in March 2020 in an attempt to contain the spread of the coronavirus. That meant that many Mexican nationals with tourist visas who regularly crossed the border through the local ports could no longer do so.
Gonzales said his business started off slowly that same month when his neighbor, who had packages delivered to a mailbox in Nogales, Ariz. and was no longer able to retrieve them due to the restrictions, asked him to pick up his mail here in exchange for a small monetary compensation.
That same neighbor then recommended Gonzales' delivery services to others, and his customer base grew with each passing week. As Gonzales became familiar with owners and employees at the mailbox businesses, he began getting even more requests and referrals.
During the first few months after the restrictions, he said, his clients grew in number from eight to 20 people. As of Wednesday, his customer base had reached 120 people in Nogales, Sonora and other regions of Mexico.
"Everybody needs their stuff. It doesn't matter what kind of product it is, whether it's clothes, perfumes, food," he said, adding that his customers include print shops, dentists, large corporations in Hermosillo and local citizens making smaller purchases.
There are a number of reasons why people in Mexico might want to have their packages delivered to a mailbox in a U.S. border town rather than their own home.
For one, it costs more to have some online purchases shipped to Mexico. It can also take longer. And some people feel more confident that they'll actually receive the package if it's shipped to a U.S. address.
What's more, some popular online retailers don't even offer the option of shipping to Mexico.
As a result, businesses offering to receive mail and packages for people in Mexico have existed for years in Nogales, Ariz. But administrators at two local mailbox businesses – Paisanos Mailboxes and Kayak – said the auxiliary cross-border courier service now being provided by people like Gonzales has become a much more popular trend since March 2020.
At Kayak, located in a shopping plaza a few blocks north of the Dennis DeConcini Port of Entry, manager Maritza Romero said that sales have decreased by about 50 percent over the past year and a half, given that several of her customers have cut back on their online purchases and others who can't cross have entirely given up on placing U.S. orders.
Still, she said the business has been sustained in part by Mexican customers who have found other people to pick up and deliver their packages for them.
"The clients, owners of the mailboxes who can no longer cross because they have tourist visas, have turned to hiring services of people who can cross and pick up their mail for them," Romero said. "They're personal arrangements that the clients make themselves."
Owner Kenneth Larriva of Paisanos Mailboxes, noting that the majority of his customers are from Mexico, said the restrictions made everyone rise to the task of finding solutions.
"Once we all heard that the restrictions were being extended for another month and then an additional month, I think we all knew that we could not continue waiting under a rock forever and we had to get back to reality and find solutions," he said. "It's a necessity."
Larriva said that some of his customers found their own people to pick up their mail for them. But employees at Paisanos Mailboxes have also created a list of people who have begun offering the service, in case any new customers need recommendations.
Some couriers declare the goods at Mexican customs and pay necessary taxes, while others provide informal services on a smaller scale within their circle of acquaintances, Larriva said.
"Everybody does this differently. Some people are more professional and report everything, and other people do it more in a friendly manner," he said.
Larriva said he believes the location of his business, only steps away from the border on the corner of Crawford Street and Terrace Avenue, is also a big advantage in attracting Mexican customers making both small and large online orders.
He noted that he recently decided to expand his business from the 3,000-square-feet space it occupied prior to the pandemic. Now, Paisanos Mailboxes fills the entire 20,000 square feet of the building that it used to share with Factory 2-U.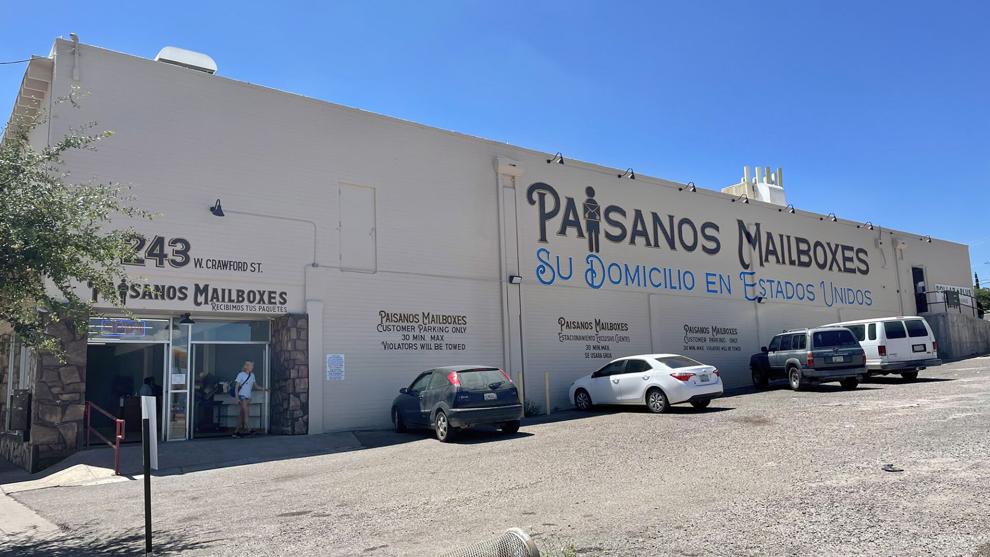 Larriva said that while the move was not a reflection of sales booming at the moment, the larger space allowed his team to try to take advantage of the trend of cross-border deliveries, and hopefully attract more customers.
"Today, is the demand there? Yes," Larriva said. "But so many people don't know we exist, so we have to work much harder to show presence and let the clients know that we are available. The potential is so big that it works both ways."
Gonzales, who resigned his former job to make cross-border deliveries his full-time profession, agreed that there is potential to continue growing his enterprise. And he said he's not worried about the eventual end of the border travel restrictions affecting his business.
He noted that several of his local customers pay for his service simply for the convenience of not having to waste time crossing the border themselves. And most others, he said, are customers located farther south in Mexico who do not want to pay for international shipping.
"About 85 percent of my customers are from farther south in Mexico… And international shipping fees are extremely expensive," Gonzales said. "So it's easier for people further south to receive their mail packages in Nogales, Ariz., then I take them across (the border) and mail them through Mexican courier services."