On Monday morning, Martina Martinez, a longtime kindergarten teacher at Coronado Elementary School, was moving furniture around her classroom and making final preparations for the first day of school on Wednesday.
Working with some of the youngest students in the Nogales Unified School District, Martinez said she is prepared for some aspects of her kindergarten curriculum to translate more smoothly than others to an online Google classroom, where NUSD students will be attending class until at least Aug. 17.
She pointed to a giant wall calendar, where she'll hold the class' daily "morning meeting." Via the video stream broadcast from her computer to the devices used by her students at home, Martinez plans to talk about the date, the number of the day and the letter of the day, as well as counting to 100.
"Everything is there and I'm thinking of setting up my computer (next to the calendar)," she said.
Teaching social skills, which Martinez said is an important part of kindergarten, won't be so straightforward: "That could be very hard to do online."
This fall, teachers at NUSD will have more tools, as well as more time to prepare for remote learning, than in March, when in-person learning was abruptly called off at the end of Spring Break.
But uncertainty about when students will return to physical classrooms means there are still lots of unanswered questions about the upcoming year.
"It's just something that requires a lot of planning. I need to be prepared," Martinez said.
NUSD Superintendent Fernando Parra said that state orders could force the schools to provide some in-person instruction as soon as Aug. 17, though he said he doesn't think it's safe to bring kids back to classrooms yet and the district is still waiting to see updated state guidance on reopening, set to be released on Friday, Aug. 7.
In the meantime, Parra said, he's seeking county approval to apply for a waiver that would allow NUSD to keep kids at home until the positive test rate for COVID-19 in the area drops below 5 percent, regardless of state guidelines.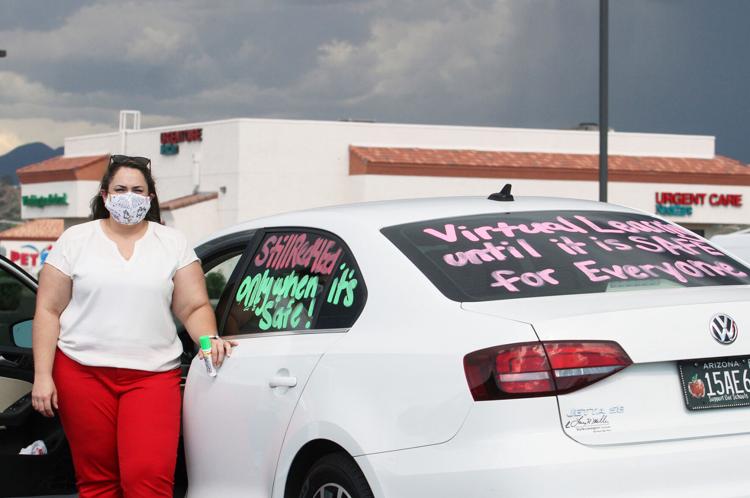 A handful of NUSD teachers expressed a similarly cautious attitude last Friday, when they staged a "motor march," painting their cars with statements calling for school safety during the COVID-19 pandemic and driving from the Mariposa Shopping Center down Grand Avenue.
"Virtual learning until it is safe for everyone," declared the back window of one sedan.
On Monday, staff at Coronado Elementary were getting ready to distribute supplies to students: Welcome packets and forms, laptops for students who requested them, and bags with tangible supplies for younger students.
Across the district's nine schools, 4,072 laptops were set for pickup as of last Friday, according to NUSD. Families were also set to collect 800 "MiFi" wireless internet hotspots, with an order for 300 more devices on the way.
Martinez's kindergarten students were set to receive packs of flash cards, a notebook with erasable pages and a shape-learning card game.
With the benefit of planning over the summer, teachers are learning to replicate more aspects of their regular programming in a remote environment.
Even before the first day, students would typically come to their schools for a "meet the teacher" day; this year, Coronado students will receive "meet the teacher" handouts with personal information about the instructors that they can peruse at home.
NUSD teachers are also customizing the Google classrooms where they'll meet students each day – "giving them our own little touch," said Vanezza Gallego, a third-grade teacher at Coronado, who put a digital "Welcome to third grade" banner in her classroom space.
The online learning format means that lessons might need some extra fine-tuning, Gallego added. But that's not out of the ordinary.
"Even when school (is held in-person), a lot of the times you plan a lesson and you realize with your group of kids you have to re-teach it, because it didn't go the way (you expected)," she said. "We plan and change as needed throughout the school year, so I think that's something that we're still going to have to do, whether it's virtually or in-class."
The question that remains is: When will students head back to classrooms?
In response to a survey, about half of district parents said they would prefer to stick to online-only learning, with the other half split between in-person and hybrid learning models, according to NUSD.
Larry Frederick, advocacy chair for the Professional Educators of Nogales, the group that organized last week's motor march, said on Friday that nearly all of the more than 300 faculty and staff who responded to a PEN survey wanted to "delay in-person teaching until it is objectively safe."
But in response to a separate survey distributed by the school district, only 9 percent of teachers asked for an accommodation to return to work.
While the nearby Santa Cruz Valley Unified School District, which began its school year Monday, has said it will offer online-only learning through at least the end of August, Parra said that, without a waiver, NUSD could be required to open on Aug. 17. The state guidance expected on Aug. 7 could change that, as could a waiver allowing NUSD to keep its doors shut.
In a potential preview of upcoming state guidelines, Arizona Superintendent of Public Instruction Kathy Hoffman said in a Twitter post on Monday evening that it's "unlikely that any school community will be able to reopen safely for traditional in-person or hybrid instruction by August 17th."
Santa Cruz County has the highest number of cases per capita among Arizona's 15 counties, as well as the highest positive rate on the test that detects COVID-19 infections.
"What we're afraid is going to happen, is that if we start when the governor said to start, then we're going to have to close down," Frederick said.
Parra agreed that the recent spread of COVID-19 in the local area and the high positive test rate for local residents mean it's not safe to open schools until the situation improves.
"We always hope the state continues to provide that flexibility" to continue with online learning until it's safe to bring students back, he said.
But, Parra added later: "At some point, people have to return back to work."
Martinez, the kindergarten teacher, said she's preparing for that day, making plans to enforce new rules when students return to her classroom. They'll follow health guidelines that recommend social distancing, as well as limiting communal use of classroom materials.
"In kinder, what do we say? We share… We share everything," she said. "This year, it's going to be: Do not share. It's going to be very different."