Alexandra Salas, a 25-year-old U.S. citizen living in Nogales, Sonora, was crossing into the United States through the Dennis DeConcini Port of Entry on Wednesday when she saw U.S. Army troops blocking off northbound vehicle lanes with steel shipping containers.
She thought the troops might be sealing the port – a potentially serious problem for her since she crosses the border practically every day for work.
"It makes you worry because you don't know what's going to happen, if they're going to close it, if they're going to let people through," she said.
Salas was one of many Ambos Nogales residents who were left feeling unsure by the unexpected developments Wednesday at the port that included maneuvers by CBP officers in riot gear in addition to the closure of two vehicle lanes with containers topped with concertina wire.
At the same time, soldiers were welding pickets to the metal bollard fence immediately west of the port, then using the posts to string concertina wire just below the top of the barrier.
Photos and rumors about the actions circulated throughout the day on social media, and finally in the evening, U.S. Customs and Border Protection issued a statement that land ports of entry throughout the state had begun to "ramp up operational readiness exercises" in preparation for the possible arrival of large numbers of asylum-seeking migrants from Central America. The preparations included "training exercises, deploying additional CBP personnel and partnering with the U.S. military to harden ports of entry," the agency said.
The statement did not address the more specific questions buzzing through the community – Would other lanes be blocked? Might the ports be closed completely? How much concertina wire would be installed, and where? – and a media event on Thursday in Nogales, while offering reporters a look at troops in action as they "hardened" the ports in support of CBP, was also short on specifics about the controversial military deployment that has largely been surrounded by uncertainty.
"Everything's evolving at this point, so that remains to be seen," CBP Officer Teresa Small, the agency's border community liaison in the Tucson Sector, said in response to the question of whether more port lanes might be closed off in Nogales.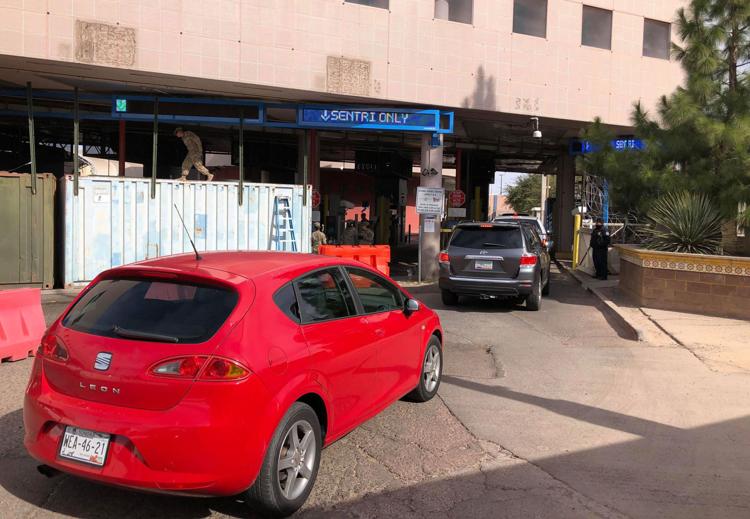 A big part of the ambiguity stems from the fact that it's not clear yet how many, if any, of the migrants will end up at the local border and how they'll behave when/if they get here. The first wave of migrants from a thousands-strong caravan began arriving this week in Tijuana, approximately 475 miles west of Nogales, Sonora by highway, but others could potentially splinter off and head for U.S. ports of entry in Arizona.
The two vehicle lanes at the DeConcini port were blocked off in an effort to "streamline" any asylum-seekers who try to rush into the United States on foot into a smaller, more manageable opening, Small said Thursday.
"Essentially, there is a streamline to where there's openings," she said. "So that helps us be able to control the situation … because ultimately the message that we want to get to them is that we will process them accordingly – if, in fact, they come – through the proper channels."
The concertina wire – which CBP and the Army insist is not razor wire, despite its razor-sharp barbs – is obviously meant to deter fence-climbers. But some local leaders and residents have complained that it presents a bad image in a community that's so closely tied to Mexico. Will it be taken down once the migrant caravan situation is diffused?
"The wire will be here until DHS and the department of border protection asks for it to come down," Sgt. Jeremy Bunkley, an Army spokesman, told reporters as Army engineers continued adding coils of wire to the fence along West International Street. "So that's not an 'us' thing, that's not an Army thing. We're here to support them, we're putting up the concertina wire and then that's their determination when it comes down."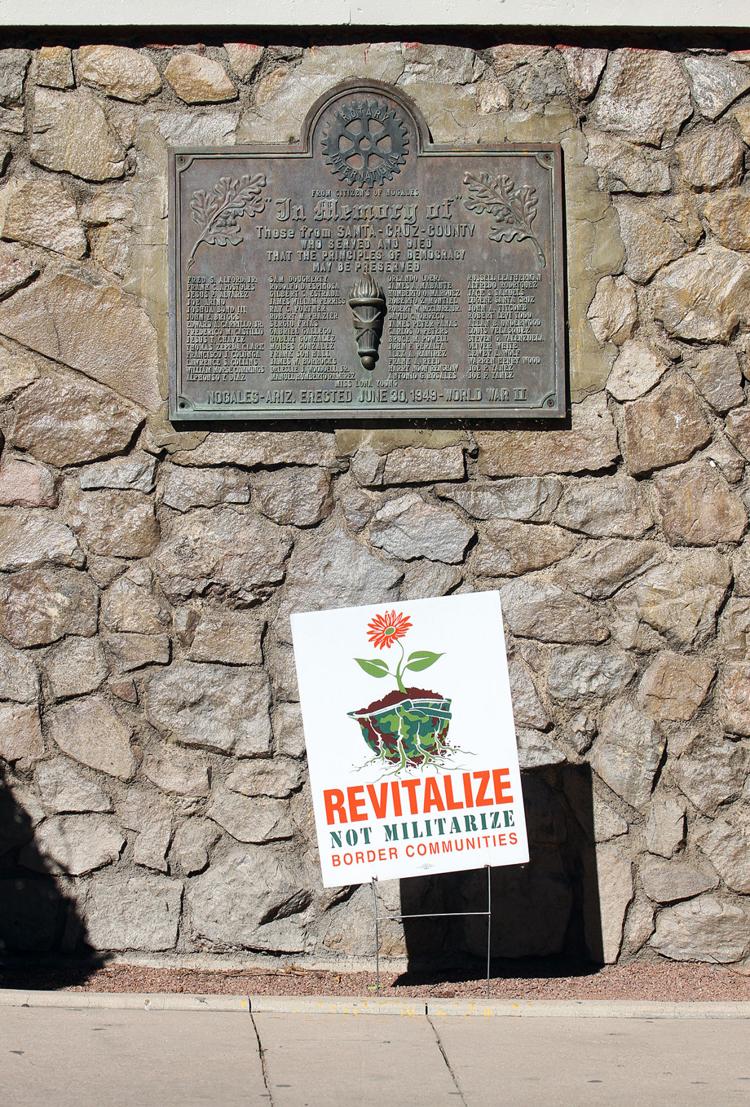 Asked by a reporter if there was any indication of when the barriers at the port and the wire on the fence might be removed, Small, the CBP spokeswoman, said there was "no indication at this point because right now we're still waiting for the caravan to arrive at the different locations, so we'll have to assess at that point."
On Thursday afternoon, U.S. Rep. Raul Grijalva, a Tucson Democrat who represents Nogales and all of Santa Cruz County, called for an investigation of the military actions at the local ports, citing images of "military units blocking access to two lanes of traffic, installing razor wire and conducting military exercises."
"Treating Nogales as a war zone because of a manufactured crisis from the Trump administration is nothing short of an outrage," Grijalva said in a statement. "Although Trump's hysteria-inducing 'caravan' is weeks away from arrival at the border of Arizona, the consequences of his reckless military deployment are having an immediate impact on border communities. New barriers and longer lines divide families, hinder economic activity and further militarize the Nogales community."
From a community perspective, the lack of timely outreach from CBP and its military partners has also helped engender confusion and uncertainty. Many locals were taken aback when the troops first arrived in Nogales on Nov. 6 to begin installing concertina wire atop the border fence around the Morley Avenue pedestrian gate without prior warning. And the lane closures and riot police drills on Wednesday were also conducted without previous announcement.
Small acknowledged that it would have been helpful if CBP had issued a statement about Wednesday's efforts in advance, rather than after the fact, and said the delay in outreach hadn't been intentional.
"There was just some obstacles we had to get through and red tape in order to get that out. That was our intention. We didn't want to leave anybody hanging. We had all good intentions to do that. Unfortunately it just didn't happen," she said.
Going forward, she said, CBP will continue to be sensitive to the community's concern over the border buildup.
"We are not only sensitive at this time, we've always been sensitive to the communities on both sides of the border because we do understand how the ports of entry affect the border communities," she said.
Bunkley, the Army spokesman, said the troops are also trying to be good neighbors as they carry out their assigned duties in Nogales. He noted that the engineers welding the concertina wire to the fence had put tarps over cars parked along the barrier to protect them from falling embers.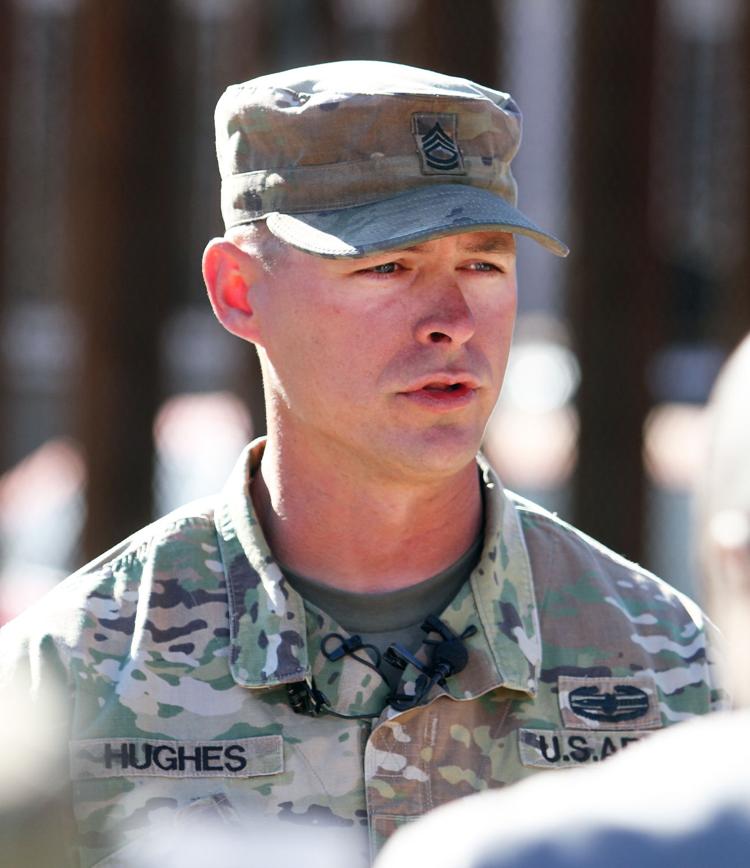 "Nobody wants the bad image of the damaging of people's property and stuff, so we're taking all the necessary efforts to make sure that our soldiers are safe, and that we're working safely out here. And that's the biggest thing," he said. "When you put soldiers doing jobs like this, doing engineer jobs, you want to make sure that they're safe and that the folks in the area around them are safe as well."
Military police armed with handguns have been standing watch over the soldiers as they work, but Bunkley said he hadn't heard of any problems with people hassling or threatening them.
As for how many troops are here, he said there are more than 1,500 deployed in Arizona, and they are staying at Davis-Monthan Air Force Base in Tucson and Fort Huachuca in Sierra Vista. But he couldn't put his finger on a specific number of soldiers working in Nogales. "It changes based on what the mission requirements are," he said.
How long will the soldiers be here? "Right now it's stated as Dec. 15, but we're here as long as necessary to support Customs and Border Protection," Bunkley said.
Mariposa port preparations
As the troops continued to put up razor wire on the fence Wednesday mornings, life along the barrier continued almost as normal. People passed through the ports by foot or car – though perhaps after enduring a longer-than-normal wait time – and a man stood next to the fence on West International Street and chatted with family members standing on the other side.
Just west of the Mariposa Port of Entry, as media members, soldiers and law enforcement officers watched the soldiers at work, someone suddenly pointed to a male subject jumping from the fence in the distance.
A Nogales Police Department vehicle approached, and the illicit crosser ran back to the fence and climbed over to the Mexican side in a matter of seconds.
"Hence the concertina wire," said Border Patrol Agent Felipe Jimenez. "It's not going to stop them from jumping the fence, but it will slow them down to give us time to respond."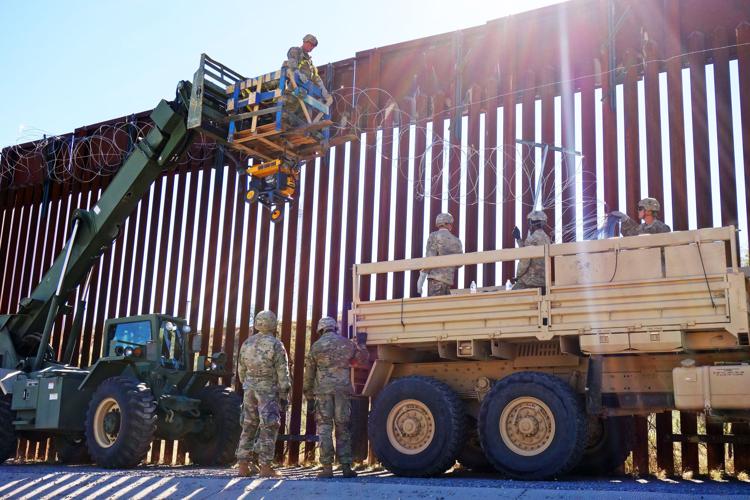 At the Mariposa port itself, only one vehicle lane – a cargo lane – has been sealed off so far, Small said. But that could change any day.
"If we see any need to close any more, we will end up doing it, but it's not something that we want to do. We don't want to negatively impact the communities, but we will do what we have to do based on what comes our way," she said.
With Army troops providing support meant to free up more CBP officers for law enforcement duties, and CBP officers from Texas headed to Arizona and California ports to provide reinforcements, might this mean that the agency could keep more vehicle passenger lanes open at Mariposa?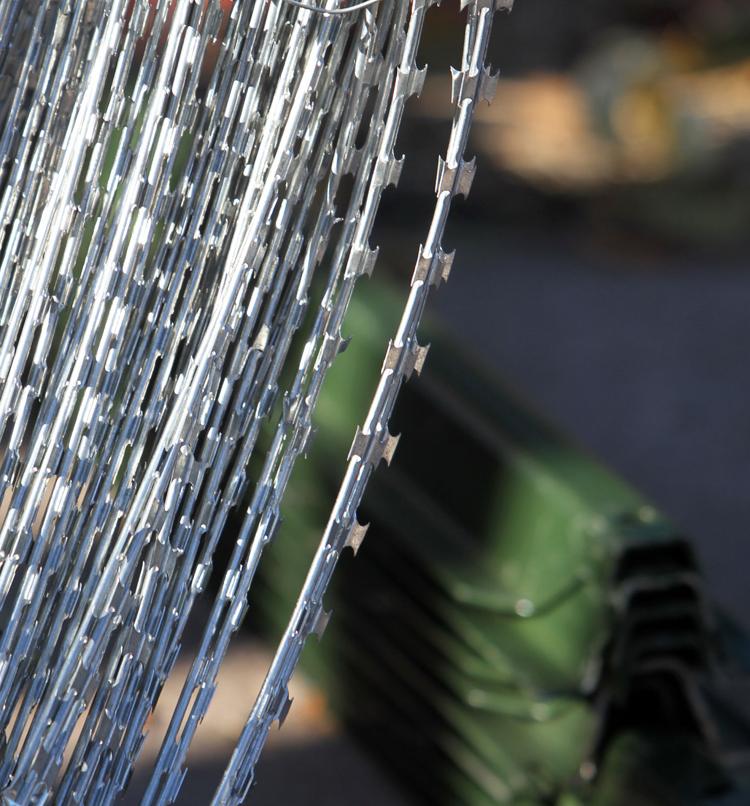 "That would be the hope, but we just have to assess each situation. And as I mentioned before, it's a constantly evolving situation and we just have to assess it every time," Small said.
Asked by a reporter about the negative effect that security measures might have on the local produce industry, which is entering its high season of importing fruits and vegetables from Mexico through the Mariposa Cargo Facility, Small said that "it is unfortunately one of the natural consequences that occur."
She added that CBP has been communicating with the local produce businesses to avoid complications, but there's only so much that they can do.
"They are very well aware that we are in support of their successes. We are still going to ensure that we are going to do what we can to continue the facilitation of trade and travel, as well as protecting our nation's borders, all simultaneously," she said.
Lance Jungmeyer, president of the Nogales-based Fresh Produce Association of the Americas, said in a phone interview Wednesday that local produce importers hadn't experienced any issues so far, but are "certainly preparing for the possibility."
"Basically, we're working with the authorities on both sides to let them know that the produce is very important for the jobs, for feeding people," Jungmeyer said. "Mostly, it's about creating those lines of communication and being able to adapt if or when something happens."
He added: "This isn't the first time that troops have been sent to the border and it won't be the last."