Like many Santa Cruz County residents, Bob Kullgren of Tubac is ready to roll up his sleeve for a COVID-19 vaccine at the first opportunity he gets.
The 74-year-old Kullgren and his wife have spent the past year playing it safe as the coronavirus pandemic has swept across the globe and taken a particularly deadly toll on people in their age group.
"I have children and grandchildren and I'm not willing to take that risk," Kullgren said. He sees a vaccine as the ticket that could save him from hospitalization, or worse.
But for Kullgren and some other community members, the vaccine rollout has brought more questions than answers about how many doses are available, who gets inoculated and where their own spot is in the line.
"It seems to be a huge mystery," he said.
As of Thursday, more than 5,500 vaccine doses had been administered in Santa Cruz County, according to Arizona Department of Health Services data. More than 500 people had already received a "full series" – two vaccine doses – and nearly 5,000 had been given a first shot.
A total of 7,500 doses have been allocated to the county by state authorities, and local officials are expecting another 1,600 first doses and 200 second doses next week.
Beginning in late December, the county started registering individuals in Arizona's 1A priority group for vaccination – frontline healthcare providers like doctors and nurses, emergency medical personnel and the residents and staff at long-term care facilities. They moved on to law enforcement officers and people 75 or older – two of the eight subgroups in the 1B priority category – in early January.
Then last week, the county announced that it had started giving shots to teachers and people working in the produce business, subsets of two more of the subgroups in the wide-ranging 1B group that could potentially include tens of thousands of residents in a county of 46,500 people.
Considering the large number of potential 1B recipients, County Health Services Director Jeff Terrell said last Thursday that the county had chosen to focus on inoculating teachers and produce workers.
And some of them, even if they weren't cops, teachers, produce workers or seniors 75 or older, got the call to receive a vaccine, even as some in the aforementioned categories didn't.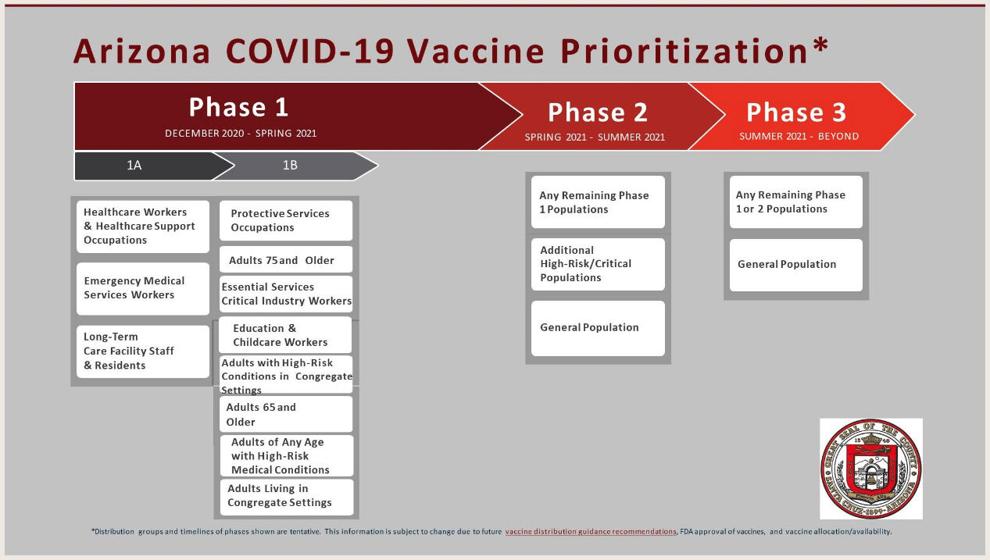 Terrell said the county's approach is meant to give everybody a shot at getting in on the limited vaccine supply.
"We decided we're going to spread it out" to different people in the 1B category, he said.
But what's the process for deciding who, exactly, those doses get spread to?
Terrell said he didn't have more details, other than that decisions were made in consultation with local leaders and doctors.
"To give you a clear-cut answer, it's really tough… we're trying to get people in through all the groups the best we can and spread it out the best we can," he said.
Among the local residents who recently received a COVID-19 vaccine were Mayor Arturo Garino and other members of the Nogales City Council, who talked about their inoculation at a public meeting on Wednesday evening.
Several members who spoke sounded a positive tone about the vaccination process and praised healthcare providers and county officials who are handling the effort.
"Getting the vaccine is a good council event to be part of," Garino said in response to Councilman Hector Bojorquez's comments about getting the shot.
"They're doing a great job, it's very professional and they're going by the rules," said Councilman Jorge Maldonado, who indicated he was vaccinated last week.
Acting City Manager Robert Thompson told the NI that 78 city employees and elected officials were scheduled to receive the shot or had already received it during phase 1B.
The city's decision to prioritize council members for vaccination points to another aspect of the county's approach. In some cases, the county has notified a business, school district, or government about vaccine availability, but left it up to that organization to decide which individuals to send for a shot.
"We ask that they prioritize some of their workers that have a greater risk," Terrell said, noting that businesses and organizations might be aware of individual risk factors that county officials don't know about.
The City of Nogales has just over 250 employees, and Thompson said the city prioritized them based on work assignment, location, level of responsibility, age and underlying conditions. He didn't specifically address the criteria that gave priority to the elected officials who, aside from the mayor, do not work regularly at City Hall and whose primary responsibility is to participate in a monthly meeting.
At the Santa Cruz Valley Unified School District, Assistant Superintendent Melisa Lunderville indicated at a school board meeting last week that people affiliated with the district had been divided into five priority categories for vaccination. She said the first category, which included workers who keep schools and learning spaces open, totaled 171 people.
For produce businesses, Terrell suggested they might have prioritized workers who are 65 or older.
He also said people with more opportunities for exposure to the virus should be prioritized.
"It doesn't matter what industry, somebody that's got greater contact with the public, somebody that's got a greater risk of exposure, you want to get them done first. Somebody that's sitting in a back office… what's their risk?" he said.
Terrell added that the county doesn't simply leave it up to businesses to pick who they want to be vaccinated.
"It's all part of a discussion, it's not just anything they say," Terrell said, but added that so far, he didn't think the county had turned away any individual that an organization had put forward for vaccination.
For Kullgren, it all adds up to a confusing picture. He said he'd like to know how many people in different employment categories within 1B are registered and have been vaccinated – for example, how many educators and childcare workers, how many food industry employees, how many power and utility workers, and so forth – as well as where he fits into the queue.
More information could give him some peace of mind, or not.
"It could make me feel better, could also make me feel worse," he said.
Either way, it might help him make a decision about whether he'd be better off trying to get the shot back in Michigan, his home state where he spends part of the year.
"If somebody said, 'You're not getting it until June,' we'll pop in the car as soon as the weather turns and drive back," he said.
Terrell insisted that the county's hands are tied by state authorities who determine vaccine allotments, saying he'd be able to quickly ramp up vaccination efforts if more doses came to the local area.
"We're working the best we can with what (vaccine doses) they've given us, it's just, please be patient with us, we will get to you," he said when asked what he'd say to residents who are feeling confused about how the vaccination plan is working.
As for more details on the county's prioritization process, he said that it was complicated.
"I can't tell you an exact science, there's nothing I can tell you that's going to give you the answer you want to hear, or people may want to hear," he said.