"Keep going! You need more practice," cycling coach Alberto Romero yelled out to a group of about 10 teenage bicyclists as they finished a third lap around the one-kilometer loop at the newly created Monte Carlo Trails in Nogales.
The cyclists, already familiar with the rocky path winding through the mesquite and scrub brush, slowed their speed only slightly as they took a water bottle from their coach's hand and continued with another lap, passing the yet-to-be-assembled sections of a large bicycle-themed sculpture lying on a nearby slope.
Although the Monte Carlo Trails has yet to be completed or officially inaugurated, Edgardo Muñoz, project leader and cofounder of the 0S3 biking group, said people have already begun making use of the new recreational park that also features an artistic component.
"It's going to get done in three phases and the first one isn't finished yet, but it's basically open already," Muñoz said, adding that he expects the first phase to be completed by late November. "For example, we're using it for the youth training and every once in a while you see other people biking or walking their dogs."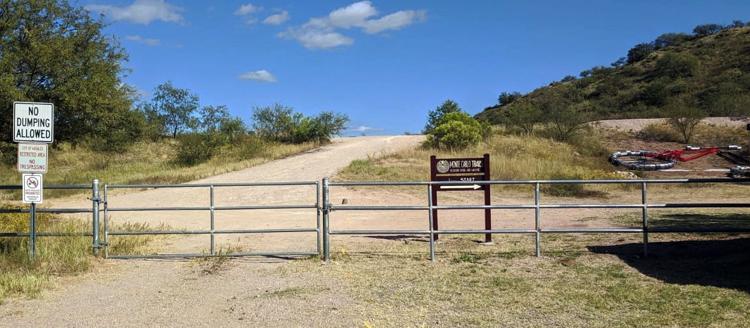 Working in collaboration with the City of Nogales, which owns the empty swath of land on the southeast side of the Monte Carlo neighborhood, 0S3 recruited a number of volunteers to help cut the paths for the new park in April.
While Muñoz and 0S3 cofounder Karla Osete expected to find support from local community members, Muñoz said they were surprised by the interest they received from people and organizations outside of city limits, from areas including Patagonia, Green Valley and Tucson.
Approximately 50 volunteers have put in their time and effort at various stages of the project, Muñoz said, adding that they held working sessions every weekend for about three months before taking a break during the summer and picking up their work again in September.
Leading the artistic portion of the project, Osete gathered other volunteers to nearly finish three different art projects that were made possible through a grant from the Arizona Commission on the Arts that was matched by the City of Nogales.
"When we first started talking about this project, I started coming up with all of these ideas and it was all approved," Osete said, adding that she received help mainly from women and children volunteers, as well as her father Carlos.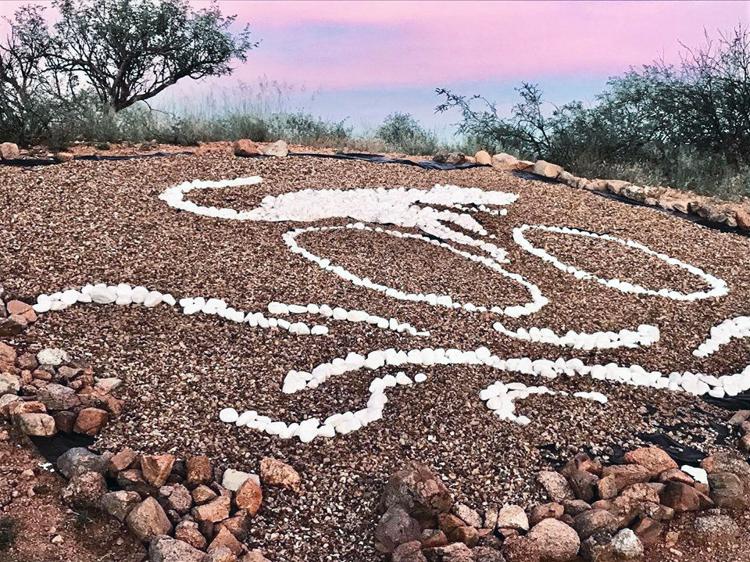 The first and only art installation that has been completed in the park consists of a stone mosaic in which white rocks were glued together to form the logo of a 0S3 subgroup – a lizard on a bike. Beside it, the volunteers added more white rocks as borders around various small cacti that they planted.
"We've had some problems with the javelinas because a family lives right around here, so they've taken out the plants to eat the roots," Osete said. "We've been able to rescue them before, but hopefully they last a little longer."
The last art portion of the project, she said, will involve setting up signs around the park to identify the area's flora and fauna, including the different kinds of cacti and the javelinas' home. There will also be a motivational sign at the end of the loop.
"Even though it's just one kilometer, it's difficult for a lot of people to complete the entire loop, so it's something worth recognizing," Osete said. "So hopefully the sign will remind them that if they did it once, they can do it many more times."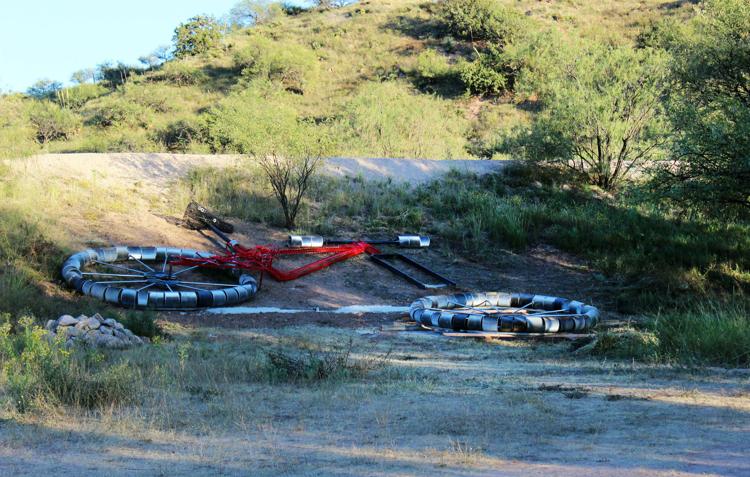 But the most ambitious art project at the park, which Osete mainly completed with the help of her father, is a 19-by-33-foot sculpture of a bike made entirely out of recycled material, including old air turbines, scrap metal from trampolines, pieces from old bikes and utility poles.
"My dad was like my coach and he taught me how to weld, so we've been cutting the pieces and building it from scratch at my house," she said, adding that a few experienced welders also took a small part in the sculpture and helped transport it to the park. "Hopefully it will be up and standing by the first weeks of November."
While he doesn't expect the Monte Carlo Trails project to be completely finished for another two years, Muñoz already has the plans in mind for the remaining phases.
The second phase, he said, will include installing benches that the City of Nogales has made available for the park, and carving out a "pump track" where the community can practice and develop a BMX culture – something he has already seen an interest in among locals.
"The only thing we're worried about is that we're struggling with motor vehicles, motorcycles in the area," Muñoz said.
He explained that volunteers have repeatedly asked motorcyclists to not drive inside the park, but their efforts have not proven effective. Volunteers posted three signs prohibiting the use of motor vehicles in the park, he said, but two had already been knocked down less than 24 hours later.
"We're not trying to fight with motorcyclists, but they can't use this area anymore. The motorcycles destroy the paths and most importantly, it's for security," he said.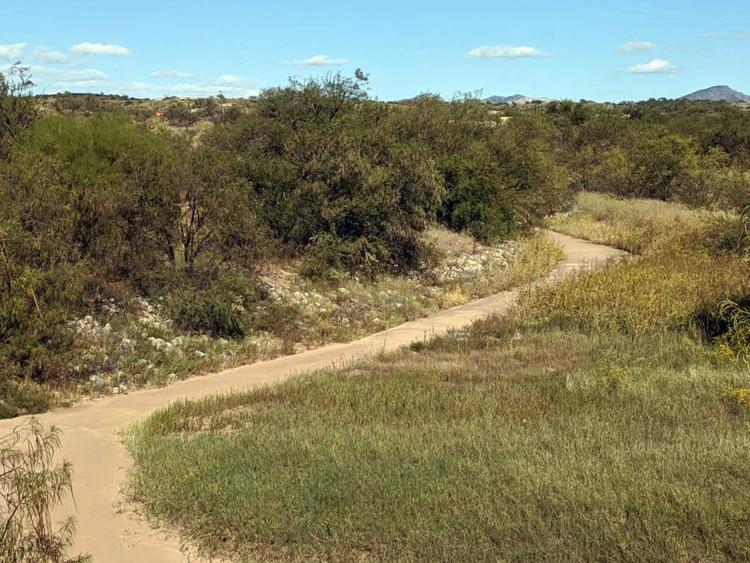 In the future, the plans are to build more trails around the park to ensure the safety for all those participating in different activities.
"For phase three, we want to add another trail specifically for walking, so that people don't have to worry about the bicyclists coming up behind them," Muñoz said. "But phase three is in the longer run, we have a long way to go."
Eventually, he hopes that the new park will open doors for schools to get involved in cycling groups and slowly build a more active culture among community members.
Romero, the local youth cycling coach for the Arizona Interscholastic Cycling League, shared the same hopes, adding that he has already seen a positive difference with his own students.
"If you stay after practice you'll see that the kids keep playing around, but they're no longer playing around with this," he said, tapping his own cellphone. "It reminds me a lot of when I was younger, it's just like we played."