Three women carrying bags filled with school supplies walked up a long set of stairs to a shelter for migrants on a hillside in Nogales, Sonora.
When they reached the top, a group of children from countries including Honduras and Guatemala and ranging in age from approximately 3 to 10, welcomed the women at the shelter's entrance with knee-level hugs and big smiles on their faces.
There, inside one of the small cinder-block buildings at the La Roca shelter that's used as the dining room and, most recently, as the men's dormitory, the women started the first exercise in the children's weekly English class last Thursday morning.
"Hello, my name is Patty. What is your name?" Patty Glogowski, a retiree from Tubac, asked the kids as she wrote their names on white-and-blue name tags. Upon receiving their tags, the seven children repeated after her, introducing themselves in English.
Glogowski and the other two women, Maggie Parker and Sarah Bibbey, are part of a larger group of volunteers from Tubac, Green Valley and Patagonia who have been traveling to migrant shelters in Nogales, Sonora once a week for the past two-plus months to teach English classes to the children. Their pupils are part of the wave of families from Central America, South America, Southern Mexico and elsewhere who began arriving in the border city last year in hopes of requesting asylum in the United States.
"We realized that the political asylum-seekers were taking up to three months to enter into the United States, and felt that it was necessary for the kids, and also the adults, to get some kind of education," said Francisco "Panchito" Olachea, a paramedic based in Nogales, Sonora who brainstormed the idea with Voices From the Border, a nonprofit organization based in Patagonia.
Olachea provides the transportation for the volunteers to the Hogar de Esperanza y Paz (HEPAC) and La Roca migrant shelters each week for the classes. He also takes advantage of the trips to make medical rounds with the migrants and teach his own English classes for the adults, with the expenses covered by donations collected by Voices From the Border.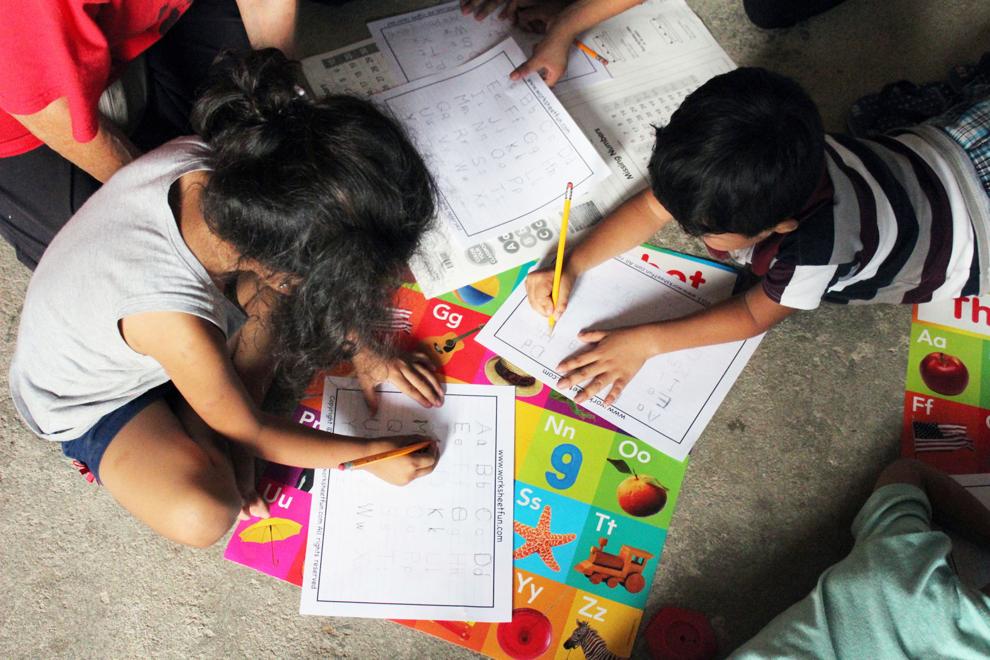 Last Thursday, the classes focused on basic English-language skills such as greetings and introductions, rather than phrases specific to immigration law and their asylum claims.
As Olachea put it, the main goal of the classes is to ensure that the migrants "stay occupied and educated" while they wait to be heard by U.S. immigration authorities.
Those waits have gotten longer as more and more asylum-seeking migrants arrived at the border during the past year and the Trump administration has responded with tougher policies.
In Nogales, where the migrants have mostly sought to make their asylum claims at the ports of entry rather than crossing the border in large groups between the ports, U.S. Customs and Border Protection, citing limited detention capacity, has restricted entry to a handful of asylum-seekers per day. The "Remain in Mexico" policy now being rolled out all along the U.S.-Mexico border requires people to wait in Mexico for their U.S. asylum hearing, and last week, the administration announced it would require asylum-seeking migrants who travel through a third country on their way to the United States to apply for asylum in that country rather than at the U.S. border.
But the new policies don't worry Yoxandri Paz, a 30-year-old migrant who arrived at HEPAC on July 16 with her husband and 6-year-old son after they fled their home in Venezuela.
"My sister's lawyer in New York says that the new law won't affect us, that it mainly targets Central Americans, but we'll see what happens," Paz said, adding that she has some friends who are already going through the asylum process in the United States and feels hopeful that her family will have the same luck.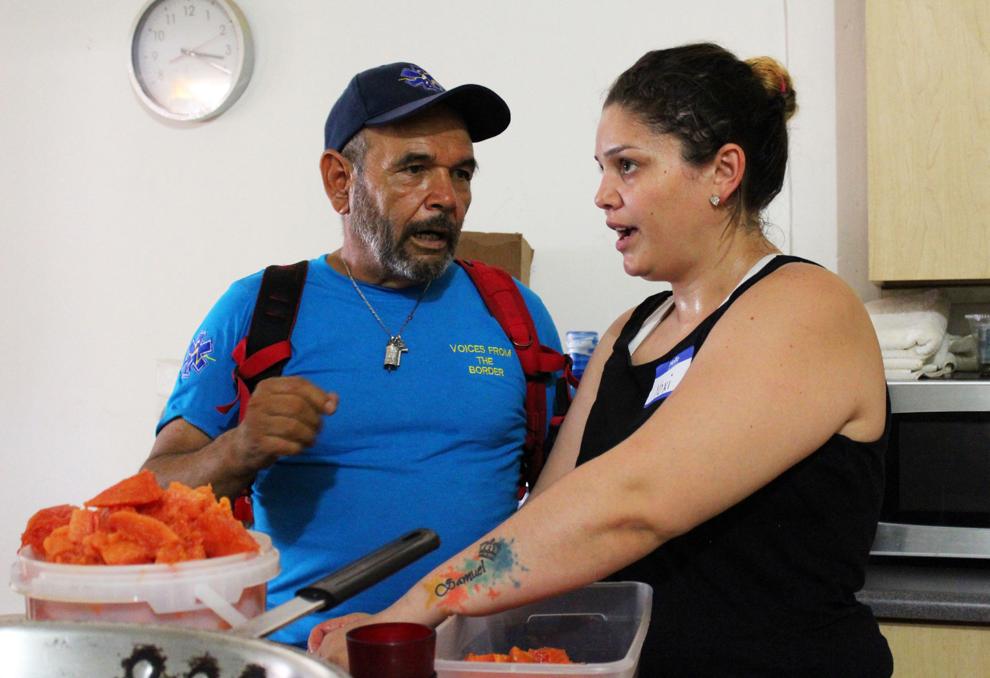 As her family began their potentially months-long wait at the migrant shelter, Paz was the first of the adults to seize the opportunity last Thursday to learn a few English phrases in Olachea's English class.
"We're going to a country where you really need to know English to communicate with everyone," she said, adding: "I'm also interested because English is a universal language, so it wouldn't hurt."
When the English-class proposal reached the Green Valley Samaritans, an organization that offers humanitarian aid to migrants in the Arizona-Sonora area, Glogowski and Parker were quick to join as teaching volunteers, both citing their love for children and desire to help as their motivation.
"I always have a love for people in the world. It was just a wonderful, God-sent opportunity," said Glogowski, a former elementary school teacher with 36 years of experience. "You can just see the love that's down there. They're our family."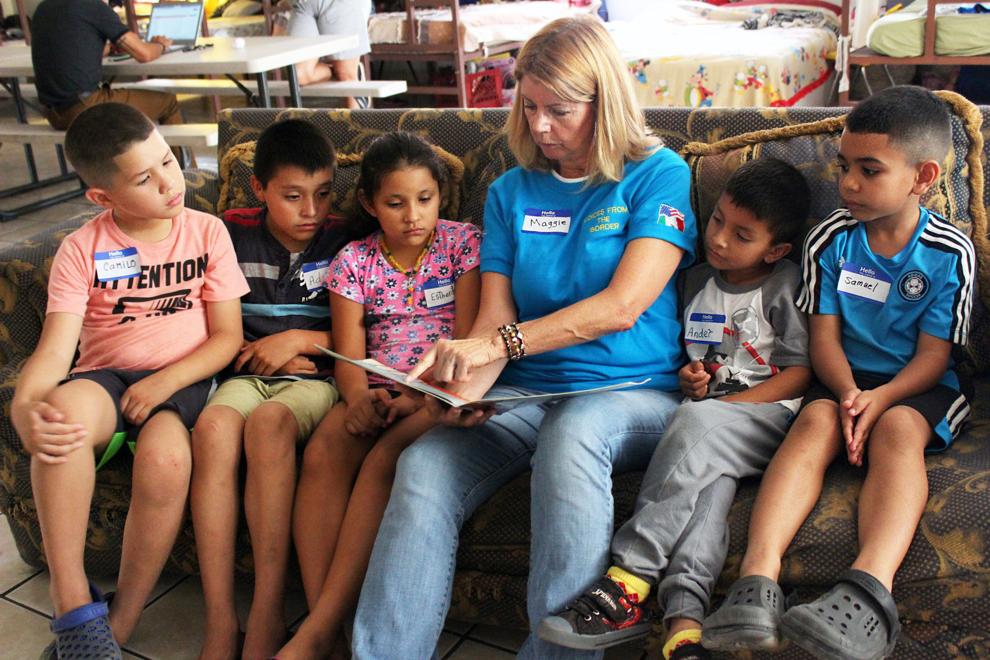 For her part, Parker didn't have any teaching experience prior to starting the classes. But you wouldn't have known it watching as five kids at the HEPAC shelter huddled around her on a couch to read a Spanish-English translation of a children's book.
The classes kicked off with dancing to songs including the "Hokey Pokey" and "Head, Shoulders, Knees and Toes," with the youngsters keeping their eyes on the teachers for instruction on how to dance along. Other classwork consisted of counting to 100 and tracing the alphabet on a sheet of paper while repeating each letter in English.
Bibbey, a recent graduate of Colorado State University and the youngest of the three volunteers making the rounds last Thursday, was traveling with the group for the first time. But she was already familiar with one of the shelters after spending several weeks at HEPAC as part of a Spanish-language immersion program.
Now living temporarily with her grandmother in Green Valley, Bibbey said she didn't hesitate to join the teaching effort.
She noted the practical role that the classes can play in the migrants' journey, in addition to keeping them busy and intellectually stimulated.
"There's going to be a lot of hardship that these families will face on their journey and just being prepared in small ways, being able to speak a few words of English when they get across, I think that's really important," she said.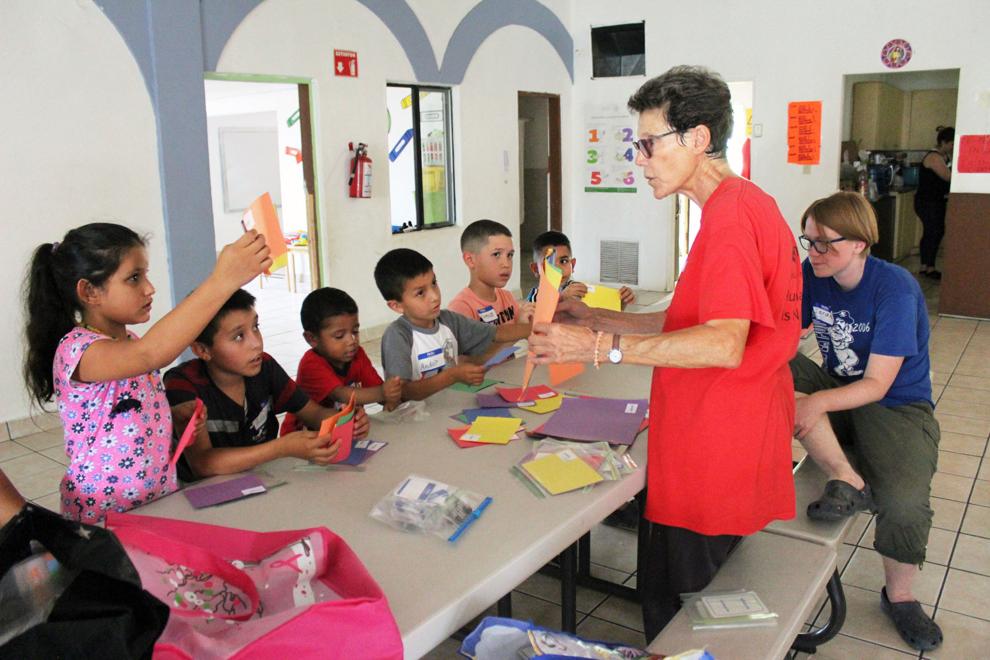 After nearly three months of classes, the volunteers said they have seen discernible progress in some of their students' reading and pronunciation skills.
"The little ones pick up the accent very quickly. They're like little parrots. They're like little sponges soaking up love and language and singing with us, and it all just brings me so much joy," said Parker, also a retiree from Tubac.
For David Alejandro Miquilena Diaz, a 13-year-old staying at the HEPAC shelter, the classes were an opportunity to continue practicing the language after his family left Venezuela, interrupting his schooling before the academic year was over.
"I actually have some material on my tablet, practically everything that they taught me (in Venezuela)," he said. "So when people from the United States come to visit us, I can put it all to practice."
While five children gathered around Parker for a group-reading of children's books, Miquilena sat at a nearby table for a one-on-one lesson with Glogowski. He read the Spanish portion of the books smoothly, then intently focused on the English pages, with his teacher occasionally correcting his pronunciations.
"So far I've learned the numbers, colors, months. I've read some books in English, and a few other things," Miquilena said, adding that "there's still a few words I don't know" in the children's books.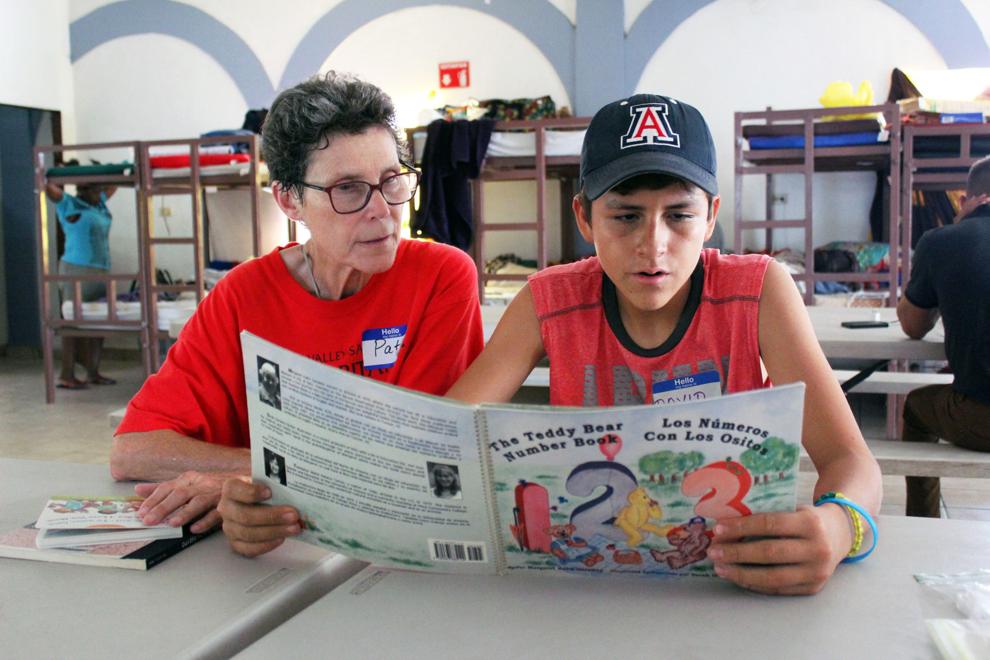 Miquilena and his younger sister Esther were among the families who had been at the shelter for an extended period, already going on two months. But Parker and Glogowski insisted that time isn't a concern for them – they'll continue bringing education to the shelters for as long as it's needed.
"Whatever happens from here because of their decision, at least we were here to change this one moment and share a little happiness," Olachea said.