"Is there a long line?" That was the question of the morning at Challenger Elementary School in Nogales on Tuesday as local residents approached the school gates to cast a ballot at one of 13 voting centers set up around Santa Cruz County.
Once they cleared the gates, the new arrivals had the answer to their question: Throughout the late morning, the line of people stretching back from the polling place at the school library fluctuated between 10 and 20 voters.
Most chose to join the queue, taking up a spot six feet behind the voter in front of them, proudly walking out later with their "I voted" sticker stuck to their shirts. A few decided to come back at a later time, saying they didn't want to spend their lunch hour waiting in line.
It was a similar scene across town at the VFW Hall, where one voter said it took about half an hour for him to reach the front of the line at around 10 a.m. But at other voting centers in the area, there was little or no wait.
Bernie Stewart, a retiree from Rio Rico, voted Tuesday morning at the county public works building on Rio Rico Drive, where there was no line. Asked how it went as he walked back to his car, he said: "Easy," adding: "I'm surprised."
County voters who hadn't already sent in an early ballot or voted early had their last chance to participate in the 2020 general election on Tuesday. Many headed to the voting centers to cast a traditional ballot or drop off a completed early ballot before the 7 p.m. deadline.
And while long-standing voting locations such as Challenger Elementary and the VFW Hall saw the highest demand, poll workers reminded waiting voters that they could cast a ballot at any of the 13 centers.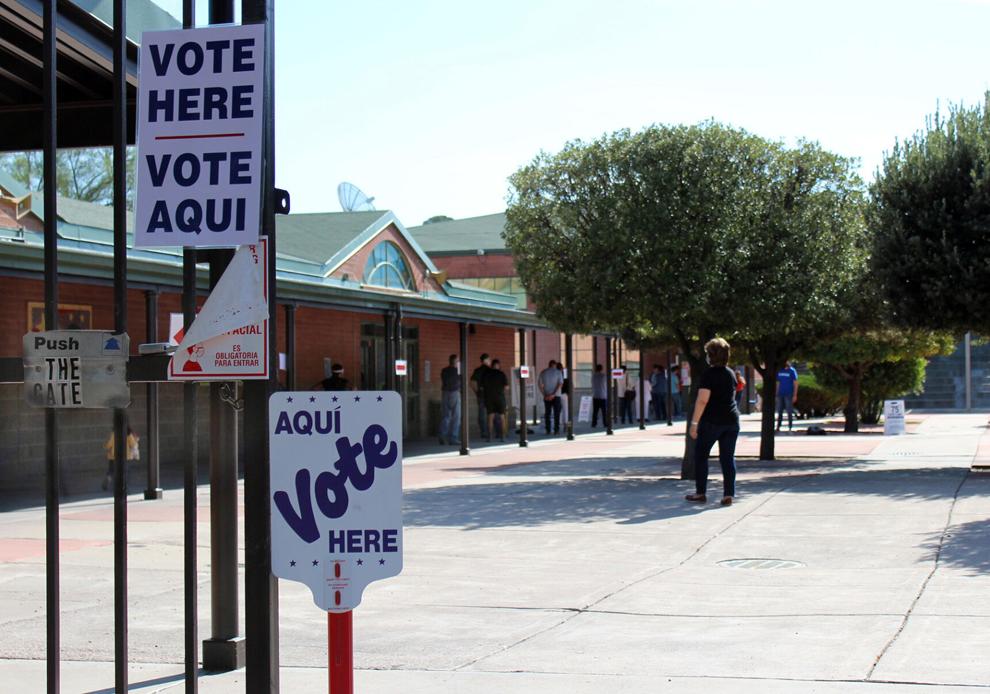 When David Romero showed up to vote at the VFW on Tuesday morning, the line was about 20-people deep. After a poll worker told him about different voting centers that might have shorter lines, he decided to try his luck elsewhere.
As the workday came to a close, more voters streamed in to popular voting locations like Wade Carpenter Middle School in Nogales. At approximately 5:15 p.m., there were about 15 people in line and one voter said she'd waited 30-40 minutes to reach the front of the queue.
Nogales resident Evelia Robles, who stuck out the morning wait at Challenger Elementary, said afterward that she felt "really good" about having participated.
"I think these elections will be very important in history," she said. "Before, not many people would vote, but now they're paying much more attention to both Democrats and Republicans. I think people here really care about the economy."
Final and official tallies from the County Elections Office showed that 19,807 of Santa Cruz County's 29,951 eligible voters cast ballots in the 2020 general election – a turnout of 66.1 percent. That surpassed the approximately 64-percent participation rates of the 2008 and 2016 presidential elections, which saw the highest turnout in recent memory. 
Of the total ballots cast, 78 percent were early ballots and 22 percent were cast at polling places.
Susan and Robert Maurer, retirees from Tubac, cast their votes in person on Tuesday at their local community center, where traffic was light but steady at around 9 a.m.
Asked how they were feeling about Election Day, Susan said they found it anxiety-provoking and were concerned about the outcome, especially in the presidential race.
"It's been very contentious, very hostile and ugly, and we're very concerned about the threat of having fights over ballot counting," she said, adding: "We would like it to be a clear and clean transition of power."
It didn't take long after polls closed for the Maurer's fears to come true.
Rodolfo Ley of Rio Rico said he felt excited, since it was his daughter's first time voting. The pair cast their ballots in person at the Rio Rico Community Center so they could have the experience of voting together at the polls, he said.
Miguel Angel Rangel had a similar experience at the Challenger voting center, where he was joined by his son, who exercised his right to vote for the first time. Rangel said the two were happy to fulfill their civic duty and participate in the voting process.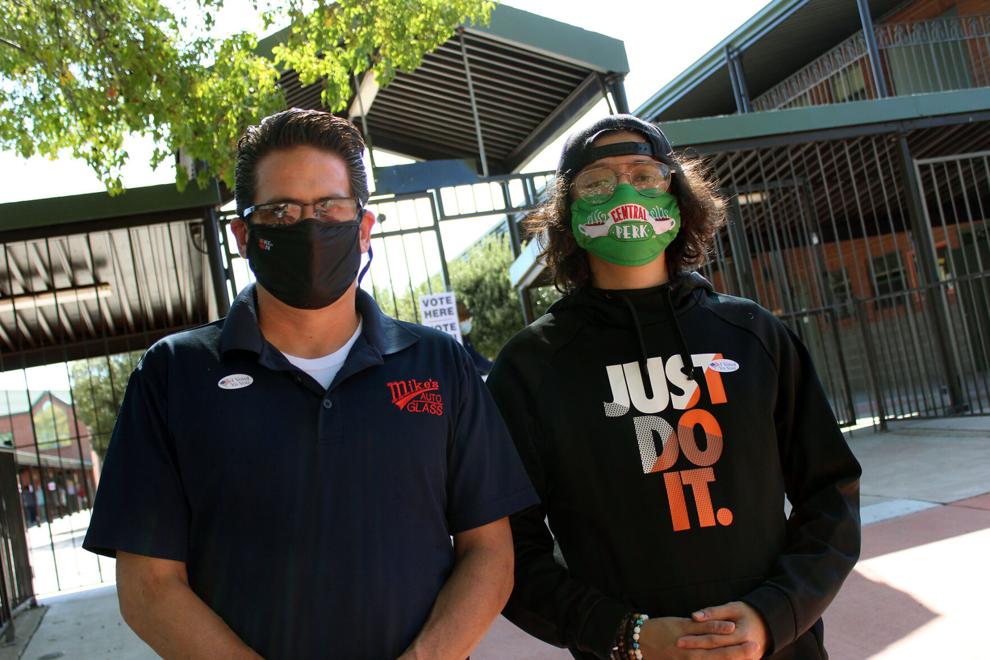 Another first-time voter, 18-year-old Emmanuel Rodriguez, a college student from Rio Rico, turned in his ballot at the Tubac Fire District Station at Peck Canyon.
"It's kind of a surreal experience knowing that this is one of the most important elections in U.S. history, and it's my first time voting," he said. "So just being able to say, 'Yeah, I voted in that,' is a privilege and an honor."
Jose Alvarado, 31, became a U.S. citizen two years ago and was excited to vote in the country for the first time on Tuesday.
"I feel a bit happy, because we're part of the decisions of the country, even if it's in the smallest way," he said after casting his ballot Tuesday at Wade Carpenter Middle School in Nogales.
With voting centers set up in Nogales, Rio Rico, Tubac, Patagonia, Sonoita and Elgin, most in-person voters didn't have to go far on Tuesday to cast their ballots. But Rodolfo Garivay said he'd come all the way from Guadalajara, Mexico to exercise his right to vote in the election.
"It's something difficult for me, but here I am," he said as he waited his turn at the VFW Hall.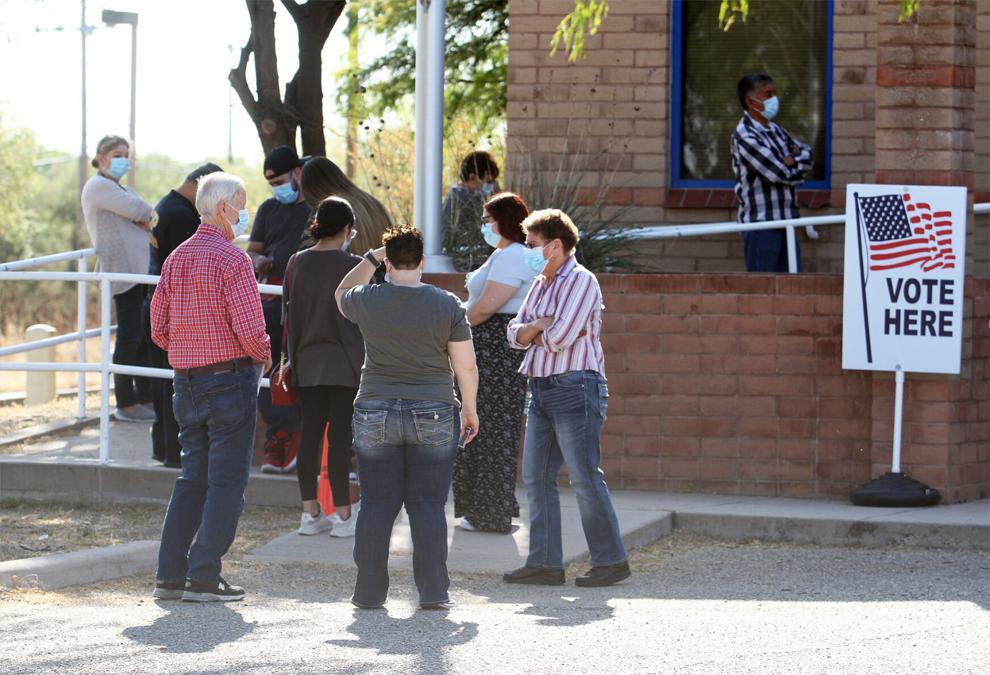 And while a number of voters interviewed on Tuesday expressed feelings of apprehension about the contentious presidential election and how it would turn out, Martin Lopez of Rio Rico, who voted at the Rio Rico Community Center, downplayed the tension.
"I think the mainstream media politicizes everything, so that's why a lot of people think it's a big deal," he said. "I mean it is a big deal, but I think it's overblown in regard to the two candidates and how different they are."
In any case, Lopez said he was glad to see people interested and participating in the electoral process.
"It's a good thing that there's more voters out here today. It looks good," he said. "At least a lot of people are going to be able to say what they feel when they vote."