A small water company that services residents in Sonoita is raising its monthly price tag, citing a decline in local groundwater supply.
"Water is being pulled in every direction," said attorney Steve Wene, who represented Sonoita Valley Water at a hearing Tuesday with the Arizona Corporation Commission.
The following morning, the ACC unanimously approved a request from Sonoita Valley Water to add an emergency surcharge to its monthly bill.
Sonoita Valley Water services just 73 accounts. Still, the price hike offers a possible glimpse into the future as groundwater dwindles in certain areas of Santa Cruz County.
"This is going to be more and more of a long term problem, I think," said David Mitchell, an expert on environmental economics and director of the Bureau of Economic Research at Missouri State University.
Speaking to the NI, Mitchell said that water could become more costly for residents living in drought-stricken areas, including those in Arizona.
Communities vary, however. In Nogales, wells are continuing to pump high quantities of groundwater – in part fueled by the Santa Cruz River's aquifer, according to Rudy Heredia of the city's water department.
"Right now," Heredia said, "we're doing good."
In Sonoita, a diminishing supply
In May 2021, well production began declining for Sonoita Valley Water, according to Wene. The most pertinent reason for the well failure, he said, is that "the aquifer in this area is dropping."
Pumping large quantities of groundwater can affect or deplete an underground water table, also known as an aquifer. As the aquifer sinks, companies and landowners must drill deeper into the ground for water access.
Since groundwater is not visible, "people don't think about it very much," noted Kurt Vaughn, executive director of Borderlands Restoration Network in Patagonia.
Unlike a dry riverbed or creek, he said, a lack of groundwater is not immediately obvious. Still, it's a crucial resource.
"All of our communities in the area are reliant on groundwater," Vaughn said.
The Nogales Water Department – which services thousands of residents – is not facing the same problem, according to Heredia.
Heredia estimated that local wells near the Santa Cruz River and the Meadow Hills area are pumping between 1,000 and 1,300 gallons per minute. The wells, which range from 100 to 1,000 feet deep, are monitored on a monthly basis.
Last summer, Nogales, Ariz. even had water to spare. The city sold large quantities of water to Nogales, Sonora, where several wells had malfunctioned.
"​​We're even thinking about helping Nogales, Sonora again this year," Heredia added.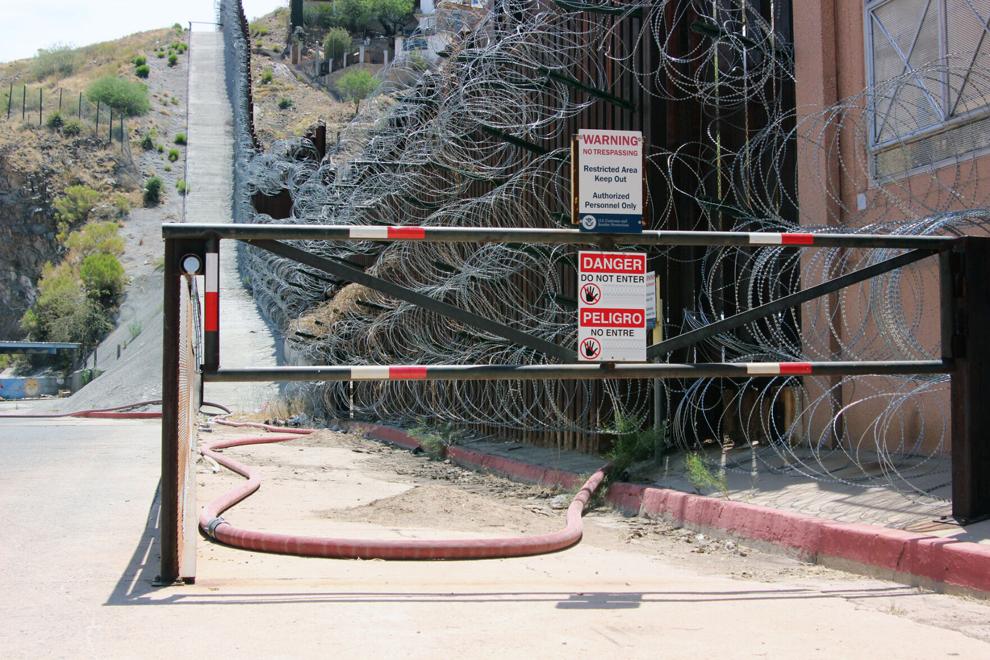 With its well producing alarmingly low quantities, Wene said, Sonoita Valley Water turned to a different tactic to service its customers. The company began hauling water – pumped from a separate well in a different location.
And water hauling is a costly practice, according to Mitchell, the economist at Missouri State.
"It takes a lot of energy to move water that distance," he said.
Water is heavy, Mitchell pointed out, at more than eight pounds a gallon. Shipping it requires additional equipment, vehicles and fuel costs.
Eventually, Sonoita Valley Water consulted with a hydrologist and repaired its existing well. The repair cost nearly $20,000, according to documents filed as part of the ACC hearing. Still, the company's attorney says its well is not pumping enough water to meet demand.
Over the last three weeks, water use has risen among the company's consumers, Wene said – a natural pattern for summer months. To service all its accounts, the company is hauling water once again.
"Not only in the weekdays, but also on the weekends," Wene said. "People are working overtime to get this done."
What's more, Wene said, Sonoita Valley Water has received six new service requests from residents whose own private wells are beginning to run dry.
"The issue is not only as the water levels and tables drop in this area," Wene said. "You also have more demand for water."
In the long term, Wene told the ACC, Sonoita Valley Water intends to drill another well and "repair the system." Still, he added that getting approval for a new, large-scale well is a months-long process.
According to its application, Sonoita Valley Water plans to implement a monthly $11.03 surcharge per customer over a 24-month period. In its application, the company also requested an "emergency augmentation tariff."
Wene emphasized that the company only intends to use the surcharge to cover the cost of last year's well repair – about $19,320.
The tariff, he explained in an email to the NI, would constitute an additional charge to help cover the costs of water hauling. However, Wene added, "there are still steps that need to be taken before this charge would apply to customers."
In any event, the cost is rising for customers.
"Some people could afford it," said Tricia Gerrodette. "And they'll pay more attention to the water they use, which I think is a good thing. But clearly, some people will not be able to afford this."
Gerrodette is a water activist based in Cochise County, where similar stories of sinking aquifers are unfolding. Earlier this year, residents in the Sulphur Springs Valley described difficulty in pumping groundwater, the Sierra Vista Herald/Review reported. And drilling a deeper well costs money.
Under Sonoita Valley Water's price hike, "the people that are going to be hit the hardest are going to be the ones that can't afford to drop their own well," said Donna Federici, a resident and business owner in Sonoita.
Mitchell, the economist with Missouri State, asserted that as water scarcity continues, smaller companies will be prone to more dramatic price hikes, simply because those entities will have fewer customers to split the cost of water-pumping practices.
"You could see some serious price increases," he noted.
As drought continues in the West, Mitchell predicted that in coming decades, communities like Phoenix could become less habitable, with people moving out due to water scarcity and subsequent costs.
Still, area conservationists and residents are attempting to reverse that trajectory.
On a daily basis, members of the Borderlands Restoration Network are building small systems in an effort to replenish Santa Cruz County's aquifers.
Vaughn, the BRN's executive director, describes it as a "natural sponge."
Using materials that are native to the landscape – like rocks and wood – BRN creates structures in local creeks and washes that can slow down runoff water. That way, when rain falls, the water can travel more slowly, pooling in certain areas and sinking into the ground.
While it can be difficult to monitor the success of the recharging efforts, similar projects have unfolded at varying scales around the country. West of Tucson, for example, water from the Colorado River is stored to sink into the ground, recharging the city's water supply.
"Water in the west has long been a huge issue," Vaughn added. "It's only going to continue to be a bigger issue."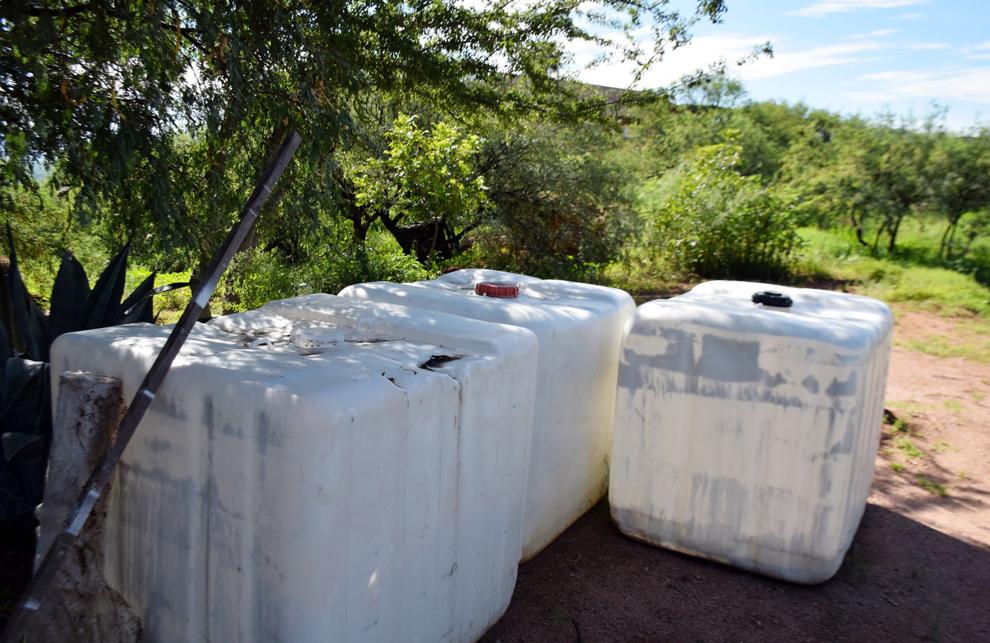 At her Sonoita home, Federici stores rainfall in two 5,000-gallon tanks. Water capture – also known as rainwater harvesting – allows a household to take advantage of heavy monsoon seasons. As a result, residents are less reliant on groundwater.
The county, she added, could even mandate water capture, or implement tax incentives for those who choose to do so.
"There should be rewards," she added, "for doing the right thing."