Wearing her convenience store uniform and with her daughter skipping along beside her, Nogales, Sonora resident Zuleyka Mendez walked down Pasaje Morelos, an alleyway filled with tourist shops and stands – though only a few of them were open by mid-afternoon last Thursday.
Several feet ahead, at the northern entrance of the alleyway, street vendor Cristina Torres tried to win the attention of the only three tourists in the area. She pointed out the wide variety of colorful handmade bracelets, wallets and purses covering her table and hanging from racks leaning against the side of a building.
In a city deeply impacted by the COVID-19 pandemic, the two women wore face masks and made their best efforts to keep their social distance from others, even as some of the tourists hung their own masks on one ear or below their chin as they pondered purchasing Mexican handicrafts.
"Since the virus hasn't hit me or anyone close to me, I still feel calm," said Mendez, the store clerk. "It hasn't affected my health, my finances or anything, thank God."
But facing a different reality, which includes a husband who suddenly fell ill and a sharp hit to her finances, Torres said: "I honestly didn't believe any of this. I thought it was just in people's heads. But no, this is something very scary."
In many ways, the residents of Nogales, Sonora have had a similar pandemic experience to that of their neighbors on the U.S. side of the border. They've seen restrictions placed on businesses like restaurants and gyms, schools switch from in-person instruction to distance-learning models, and authorities urge social distancing and other preventative measures.
They've also seen their local economy take a significant hit.
But while safety nets such as expanded unemployment benefits, a stimulus check, small business loans, and free computing devices and wifi hotspots for students have helped some Santa Cruz County residents weather the storm, people in Nogales, Sonora have had to confront the crisis with less public assistance.
That can put additional stress on working-class people, especially those who labor in Mexico's vast informal economy.
The cases of Mendez and Torres, the two women whose paths crossed briefly in Pasaje Morelos last week, illustrate that reality, with Mendez enjoying the small benefits of working for a national corporation and Torres struggling to maintain her informal business.
Those struggles were exacerbated further by a COVID-19 infection close to home.
Torres said that her husband tested positive for coronavirus several weeks back, forcing her to stop working and stay home to care for him, while her four daughters lived elsewhere to avoid catching the virus.
Thankfully, she said, her husband was able to push through the bad days and defeat the virus without infecting any other family members. But after digging into her small savings during his sickness and now facing a weak economy, Torres said it remains very difficult to get by and cover her daily expenses.
"Sometimes we sell a bit, even if it's just enough to cover the essentials at home," she said, adding that lately she has only been earning about a third of what she made before the pandemic, which was already a small amount.
"But other days it's not enough because electricity is very expensive, there's the water bill and paying for internet so our kids can do their school work. It's very difficult."
Similarly, other businesses and their employees on the first blocks south of the Dennis DeConcini Port of Entry have felt the effects of the pandemic.
Adileine Balza, a waitress at a small restaurant near the port called El Pollo Chuky, said there were about eight employees when she began working there last November. Now, there are only three.
"Before, our clients were students, tourists and workers," Balza said, adding: "Now it's only nearby workers."
She added that she came from Venezuela to Nogales, Sonora in an attempt to seek asylum in the United States. Now that U.S. authorities have stopped processing asylum cases in light of the outbreak, she said she planned to stay in the border city.
But if she were to need economic assistance, she's not sure she would be eligible for any government programs as a foreign national.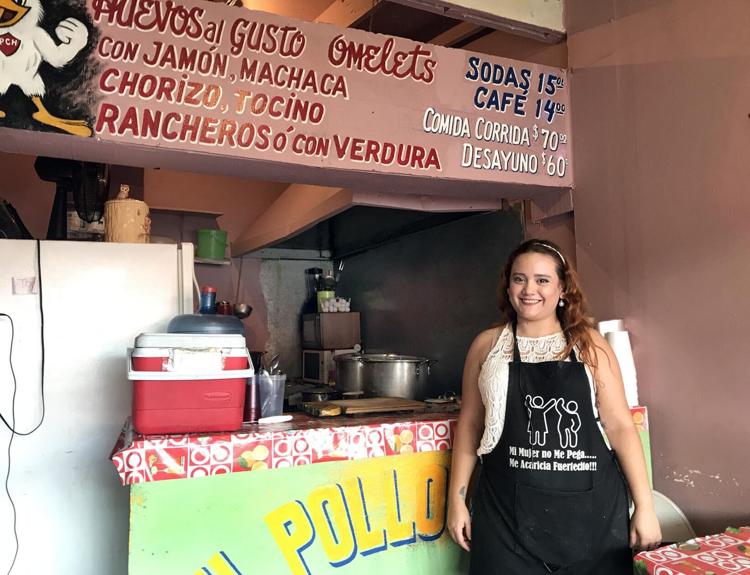 For Mendez, going on her third year of working for the national chain of OXXO convenience stores, she said her employer began giving employees a monthly bonus stipend of 500 pesos (US$22) for continuing to work during the pandemic.
She added that since her employer and city officials implemented face mask mandates, she's faced opposition from customers who refused to wear a mask when shopping in the store.
"There are people who still don't respect the social distancing measures, using hand sanitizer, all that stuff," she said.
As for her daughter, who is preparing to begin the third grade this fall, Mendez said that school officials had informed the parents that classes would begin online on Aug. 24. As of last Thursday afternoon, she said, there was no word if or when classes would resume in person.
Still, Mendez wasn't worried about any obstacles to her daughter continuing her education since she has a computer, internet and the means to help her continue her studies.
"I have the means, but there's people who don't. I imagine that it's going to be very difficult for those who don't," Mendez said about the new model for the coming school year. "The only thing that it will complicate for me is my work schedule… but I have the flexibility to change my hours."
Torres, whose daughter was keeping her company and helping her run the souvenir stand on Thursday afternoon, said her daughter's school was also going to follow an online curriculum.
But her daughter, who's set to begin her first year of university studies at the Instituto Tecnológico de Nogales, doesn't have her own device or connection. She'll have to pay to use a computer with internet by the hour at a cyber-café, small shops that offer hourly rentals of desktops with internet connection.
Torres added that her family wasn't aware of any aid that the university was offering to students without the means to continue the school year.
"She has to pay for everything and if she can't, then she can't continue studying," Torres said.
While the school hasn't offered any help, she noted that city officials had offered assistance. Still, it was limited.
In May, the municipal government of Nogales, Sonora launched a program in which they handed out bags of food to low-income families within city limits who applied for the help. An official news release issued in late July stated that the city had ended its effort after helping feed a total of 12,541 families.
Torres said her family had benefitted from the program, although it still wasn't enough to fully feed the family of six.
She added that the local government had also offered monthly stipends for families in need, but she wasn't eligible for the assistance because she doesn't have a bank account.
"We're hopeful that they'll find the medication or a vaccine for this virus. That's what we're waiting for, to go back to normalcy," Torres said. "For now, I have to stay strong because if I don't, who else will look after us?"