Frank Baek and his four-member staff at Sam's Perfumes and Fashion were busy at work on Tuesday, preparing to open the store for the first time since March 2020.
They were stocking the approximately 3,500-square-foot retail space on Morley Avenue with all new merchandise and getting displays in order ahead of what they hope will be the enthusiastic return of their customer base.
"We're ready to open for next week," Baek said.
Beginning on Monday, Nov. 8, the "non-essential" travelers from Mexico who have long been the key clientele for stores on Morley Avenue will once again be allowed to cross through the U.S. land ports of entry. They've been prohibited from crossing since the U.S. government restricted travel at its land ports effective March 21, 2020 in an effort to slow the spread of the coronavirus.
Now with their customer base poised to return, some of the many shops in downtown Nogales that closed their doors in early 2020 in the wake of the pandemic and travel restrictions have been readying for a re-opening. Late Tuesday morning, activity was visible again in five or six previously shuttered shopfronts on Morley Avenue, and store employees pointed to several others there and on nearby Grand Avenue that, while quiet at that moment, had also begun to show signs of life.
The rejuvenated stores are joining another handful of downtown businesses that either stayed open throughout the pandemic or re-opened late last year. Still, the majority of the 40-plus storefronts on the first two blocks of Morley remained dark less than a week before the new crossing rules were to take effect, and it remains to be seen how much the change will revive a shopping district that was already struggling prior to COVID-19.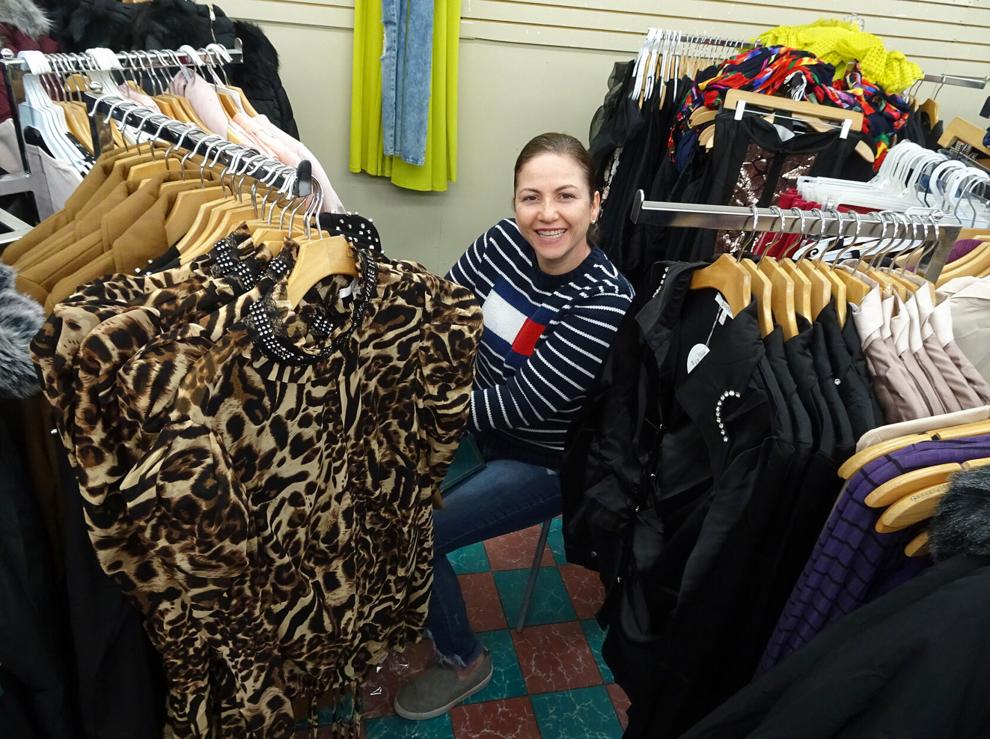 Irma Ornelas of Nogales was one of two employees working on Tuesday to prepare one of the Morley Avenue storefronts operated under the name Pink to return to business. Of the five related women's apparel shops, only three are re-opening, she said.
As was the case at Sam's Perfume and Fashion, staff were replacing the merchandise that had been left on the shelves when the Pink stores closed their doors in March 2020.
"When we closed, we closed in the summer season and all the merchandise was for the summer. And now we're going to open in winter, so it's like starting all over, taking out everything from summer and putting in everything for winter," Ornelas said.
The process also involved a fair amount of cleaning.
"If we had opened for Halloween it would have been better, because there were lots of cobwebs, lots of dust," she said jokingly.
Across the street, a car stereo shop was prepping for a Nov. 8 re-opening, though the owner was out of town and store employees were shy to comment. A few shopfronts north of Pink, owner Paul Chuang and his staff at New Fashion Link were sweeping and stocking the shelves at the entrance to the footwear shop, which had been closed since March 2020.
"On this street, we depend on people from Mexico, almost 95 percent," Chuang said. So when the travel restrictions were implemented, there was no reason to stay open.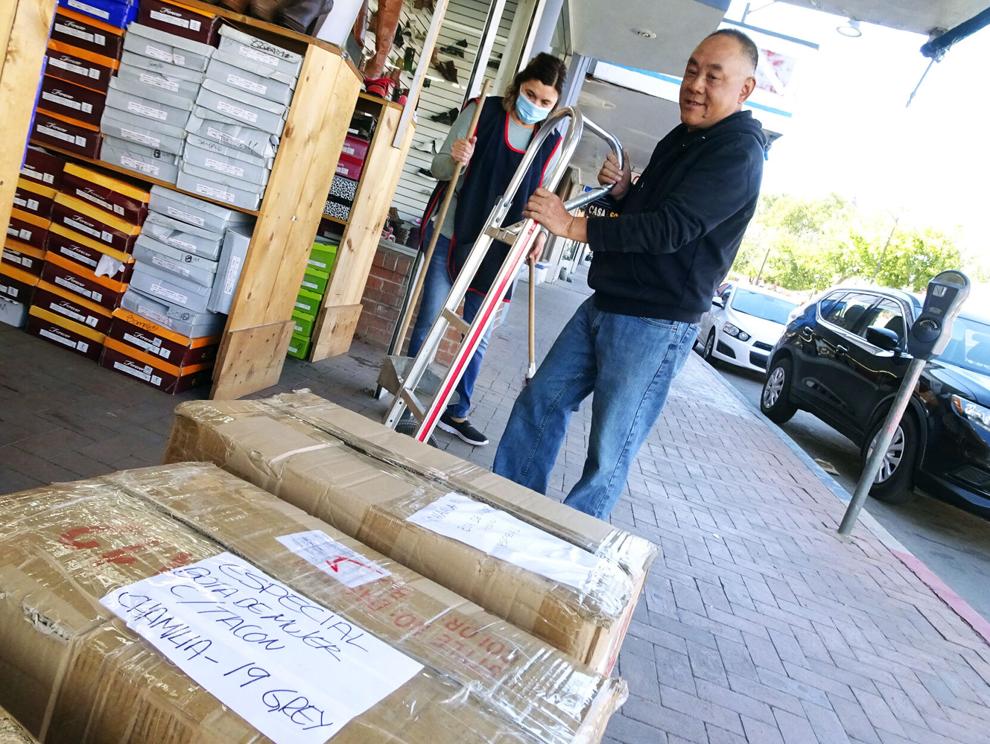 Even before the arrival of COVID-19 and the border restrictions, downtown retailers were facing a number of challenges, including competition from online and from Tucson, as well as long lines at the ports of entry that discouraged people from crossing. Now as they prepare to re-open, business owners are facing another obstacle: product shortages and rising prices resulting from the ongoing supply chain backups, especially at the California sea ports.
Chuang, who buys from suppliers in Los Angeles, said he's purchased some new merchandise for his re-opening, but not as much as he would have in the past.
Speaking of the costs for shoes, he said: "Compared to before, it's almost $3, $4 more for one pair. Because the shipping costs more."
Baek, owner of Sam's Perfume and Fashion, also complained about the rising prices for new merchandise, which compounds the losses he sustained from being closed for nearly 19 months.
"I'm really behind right now with my budget," he said.
With some businesses preparing to re-open and others anticipating an increase in customer traffic starting Nov. 8, it's created employment opportunities in the downtown area, either for returning employees or new ones.
Luz Alvarez, who was out of work during the pandemic, said she walked along Morley Avenue looking for opportunities and ended up finding a job as a clerk at New Fashion Link. She said she was feeling "very content" to be employed.
Patricia Martinez, one of the four employees at Sam's, was back at work on Tuesday, stocking shelves with perfumes. She also endured a long period of unemployment after the March 2020 closures. "There wasn't any work," she said.
In order to save money, Martinez moved across the line to Mexico as she waited out the pandemic. But now, she said, she's moving back to the U.S. side.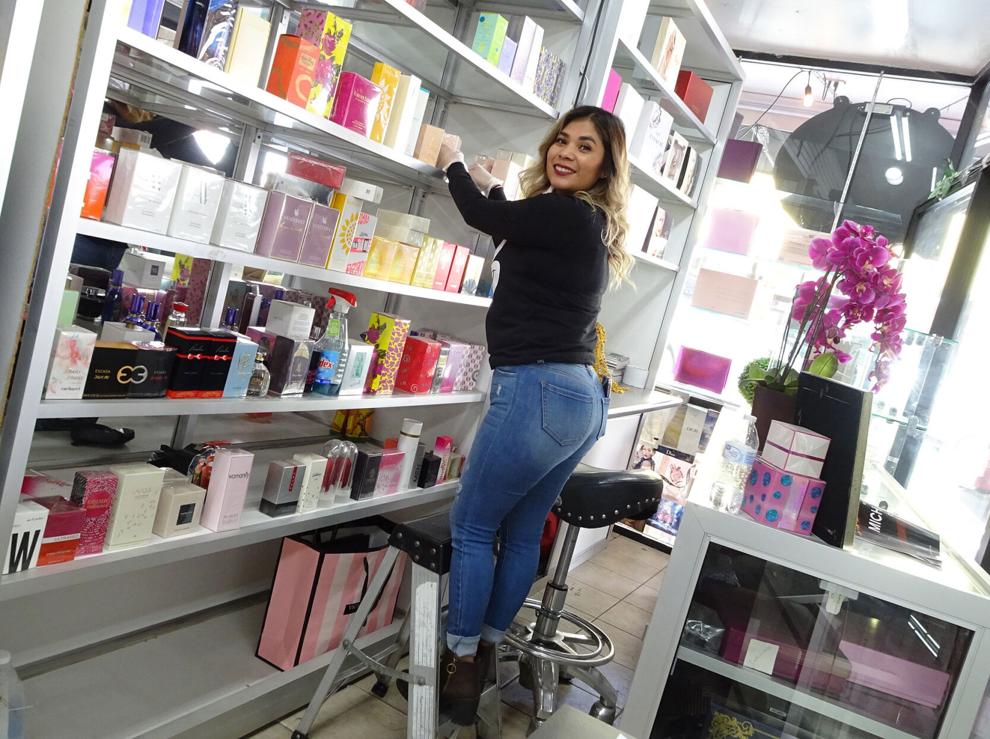 The local McDonald's restaurants – one downtown on Crawford Street and the other uptown in the Mariposa Road shopping district – both cater significantly to visitors from Mexico. Owner LeAnn Richards said they extended the hours last week to prepare for the border-crossing change.
"In addition, we have hired and trained new staff for the past four weeks to ensure we had well-trained people by the time the border opened," she wrote in an email, adding that as of now, they're projecting a 5-to-7 percent increase in sales after Nov. 8.
"We are prepared to adjust hours again as we see what happens from the 8th going forward," she said.
The Nogales-Santa Cruz County Chamber of Commerce has been preparing for the change in border-crossing rules by producing a pair of videos promoting local businesses, according to chamber president Olivia Ainza-Kramer.
The first is set for launch on Nov. 8, and features welcoming messages for visitors both from Mexico and Canada, which has also been impacted by the U.S. land port of entry rules. It will be be played on a TV station in Sonora, and plans call for a radio spot in Mexico as well, she said.
In addition, the chamber has been trying to help members of the public and media in Mexico understand the rules and procedures by which non-essential travelers will be allowed to cross the border. "There's a lot of misinformation," Ainza-Kramer said. "They are asking all kinds of questions, so there's a lot of confusion."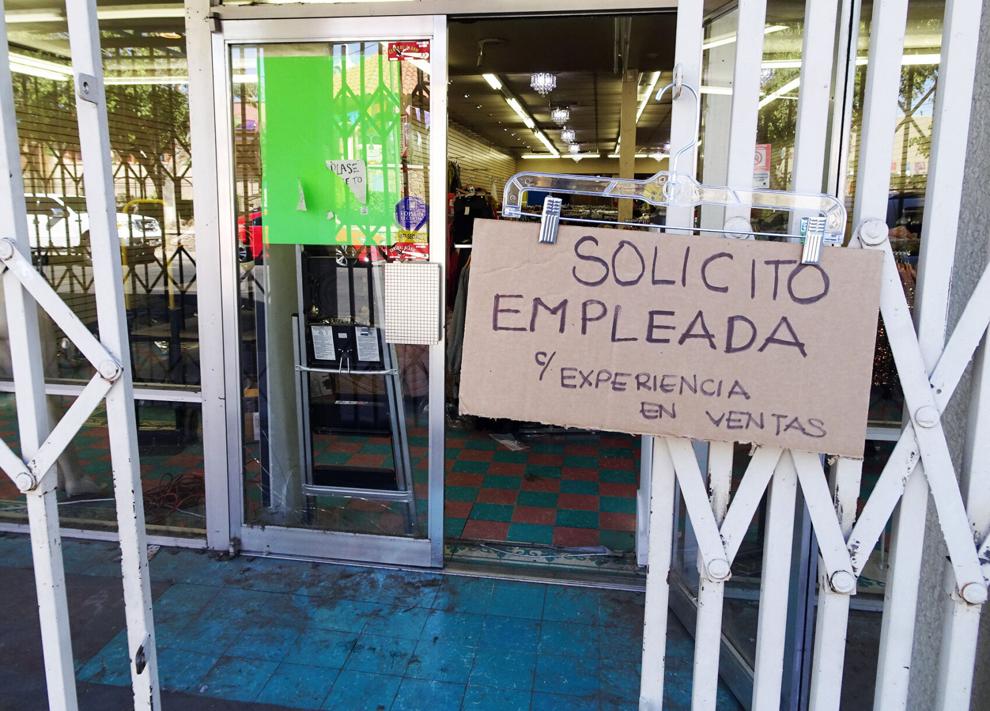 Month after month, people in Ambos Nogales have been asking and wondering when the travel restrictions would be lifted. Now that the question has been answered, another one takes its place: To what extent will the shoppers from Mexico return?
"I don't think that everybody's going to come the first day just because it's open, no," said Ainza-Kramer, pointing to difficulties people in Mexico might face in acquiring proof of their vaccination status. She also noted changes in the marketplace as a potential challenge.
"Everybody is ready to come and do their shopping. But it's like, 'No, you know what? Don't expect the stores, or don't expect the retailers to have everything like before. It's not like that right now,'" she said. "There's a lot of things that we're missing, there's a lot of new ways of purchasing, buying."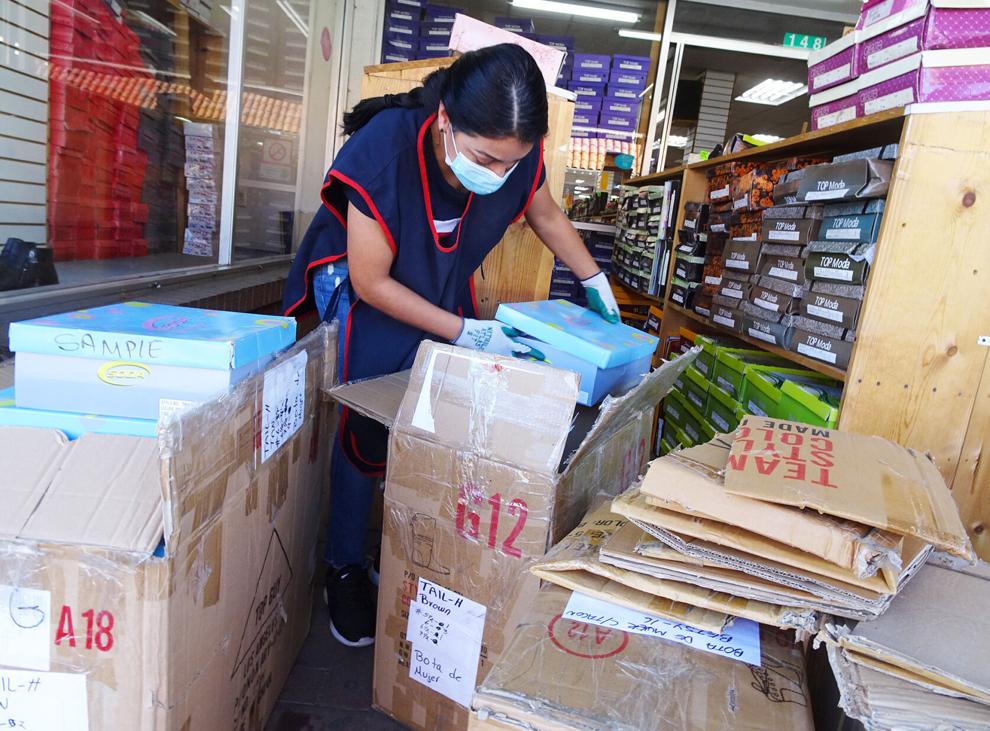 Ornelas, the store employee at Pink, expressed optimism as she put clothes racks in order on Tuesday.
"The people with whom I've spoken, they're all really excited," she said. "So I think the ones who are vaccinated will return, they're waiting for that day – God willing."
Asked if she thought the Mexican shoppers would return, Alvarez, the clerk at New Fashion Link, let out a long sigh and said: "Esperamos que si." – "We hope so."