Construction is scheduled to begin "in earnest" this week on a $134-million revamp of State Route 189 (Mariposa Road) in Nogales, the Arizona Department of Transportation said.
The 3.75-mile road connects the Mariposa Port of Entry with Interstate 19, while also serving as a major retail corridor.
Crews have already been clearing brush from the path of the first of two flyover ramps that will connect northbound SR 189 with northbound I-19, and construction on the flyover ramp will begin "almost immediately," ADOT said.
The ramp will begin west of Frank Reed Road, curve south of SR 189, and cross over I-19 and SR 189 before connecting with I-19 just north of the current entrance ramp.
"Flyover ramps connecting with both directions of I-19 will eliminate the need for commercial trucks to stop for as many as three traffic lights before beginning the trip north toward Tucson and markets across the U.S.," ADOT said, adding that flyover ramps also will improve safety by reducing truck traffic on SR 189.
"Most trucks will leave SR 189 before reaching Frank Reed Road, the primary entrance to Nogales High School, improving safety for students and their parents," it said.
Drivers using SR 189 are advised to watch for short-term lane closures for exploratory drilling. No other lane restrictions are planned in the near future, the department said.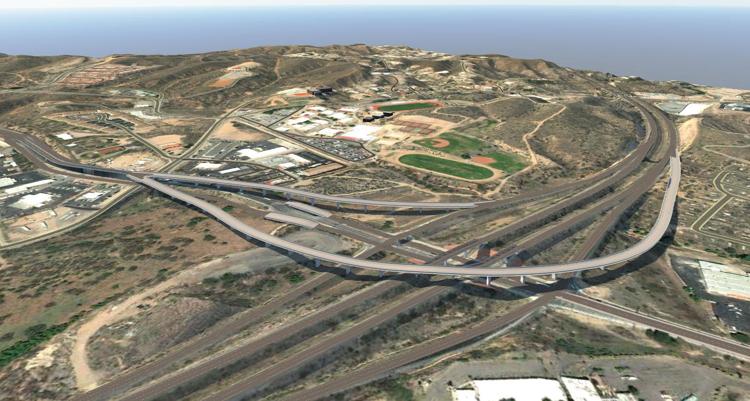 The project also includes building a roundabout at SR 189 and Target Range Road as well as a traffic signal, drainage upgrades and improvements east of I-19 and on Grand Avenue.
The existing freeway on- and off-ramps will remain in use until the project is completed, ADOT said. The work is expected to take about 18 months.
"The improvements coming to State Route 189 are not only going to support international commerce and economic growth but make Mariposa Road safer for the local community," ADOT Director John Halikowski said in a news release. "When everything is finished, these improvements are going to make it even better to live and do business in Nogales, Santa Cruz County and Southern Arizona."