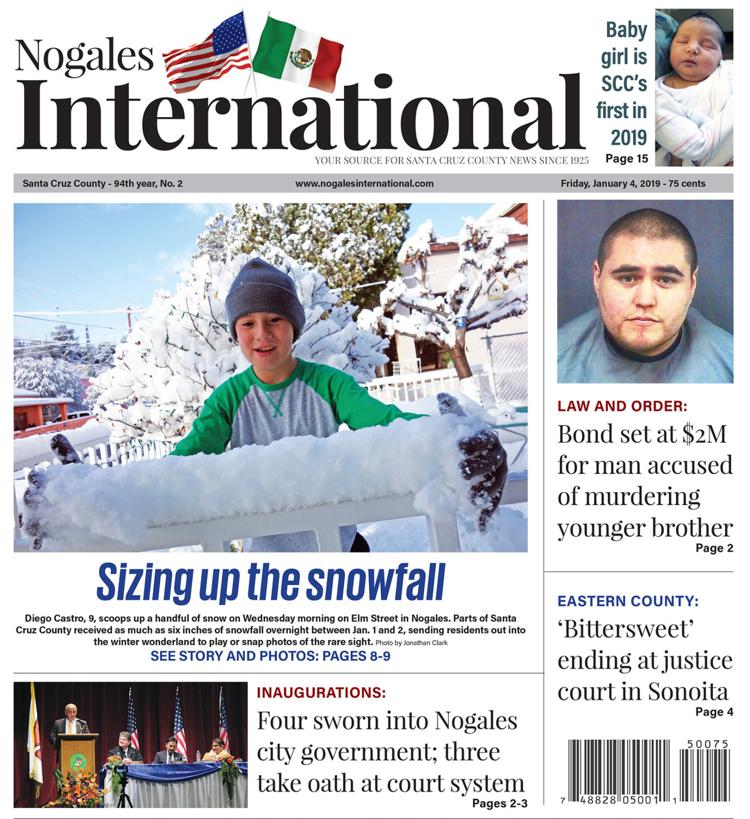 Jan. 1-2: Record snowfall blankets local area, delighting residents
Santa Cruz County was hit with up to six inches of snow in a record-breaking storm that began New Year's Day and continued into the morning of Jan. 2, according to reports received by the National Weather Service in Tucson.
Ana Lopez, a 22-year-old Nogalian, said she was delighted to wake up and find the city blanketed 
in snow.
"I was really excited because I'd never seen anything like this. I've never seen the ground covered with snow," she said as she and her husband Leo Lopez, 24, frolicked in the white stuff at West and Plum streets with their dog Bella.
The Santa Cruz County Sheriff's Office received at least 11 calls about snow-related vehicle incidents, and an 18-wheeler slid off the road near Milepost 9 on State Route 82, causing a temporary closure of the highway. However, no serious injuries were reported as a result of the storm, and the sun came out mid-morning Jan. 2 and quickly melted much of the accumulated snowfall.
Jan. 25: Warnings begin about cross-border sewage leaks
State officials warned that untreated wastewater containing raw sewage was being intermittently released into a tunnel that transports stormwater across the border from Nogales, Sonora, then exiting into the Nogales Wash in Arizona.
Six days later, the U.S. Section of the International Boundary Water Commission identified the problem: four of five pumps supplying the Los Alisos Wastewater Treatment Plant in Nogales, Sonora were malfunctioning due to excessive grit and improper maintenance, causing a feeder pipeline to back up. The problem, and the foul smells that came with it, would continue throughout the year.
During a meeting in Nogales on Sept. 12, an engineer said Los Alisos was struggling to reach 50 percent of its wastewater processing capacity as authorities continued to repair and replace faulty equipment. And on Oct. 8, the state reiterated its warning about the health hazards of cross-border sewage in area washes.
Jan. 26: Park re-opens as five-week partial federal shutdown ends
Tumacácori National Historical Park resumed regular operations, five weeks after it closed when a lapse in federal funding triggered a partial government shutdown.
President Trump, whose demand for $5 billion to build a border wall led to the shutdown, signed a bill on Jan. 25 to temporarily re-open the government. That meant Tumacácori and other affected facilities could resume service and their furloughed employees could return to work.
It also meant employees of agencies such as U.S. Customs and Border Protection, who had remained on the job without being paid, could start receiving paychecks again.
As the funding lapse dragged on, some federal employees in Santa Cruz County had begun turning to food banks and other community assistance to keep food on the table.
"We have received a lot of calls from Border Patrol, asking if we have any food for them," said Efrain Trigueras, site director at the Community Food Bank in Nogales.
Jan. 26: CBP seizes record-setting fentanyl load in Nogales. Or did they?
U.S. Customs and Border Protection said its officers seized a record stash of more than 250 pounds of fentanyl and nearly 400 pounds of meth at the Mariposa Port of Entry.
The bust, with an estimated total value of $4.6 million, represented the agency's largest-ever seizure of fentanyl and the third-largest seizure of meth at an Arizona port of entry, CBP Nogales Port Director Michael Humphries said at a news conference on Jan. 31.
However, a revised indictment filed in July against the driver of the truck listed charges for transporting a combined 47 pounds of fentanyl and its chemical relative, valeryl fentanyl, among other drugs. A CBP spokeswoman said she was uncertain why the amount of seized fentanyl differed so greatly between the initial reports and the indictment, and a spokesman for the U.S. Attorney's Office in Phoenix declined to comment.
Feb. 2: Despite complaints, soldiers add more wire to Nogales border fence
Amid calls from local officials to remove the existing concertina wire attached to the border fence, U.S. Army troops began installing new rows of wire on the fence near downtown ports of entry and in residential neighborhoods of Nogales, giving the barrier top-to-bottom coverage in some areas.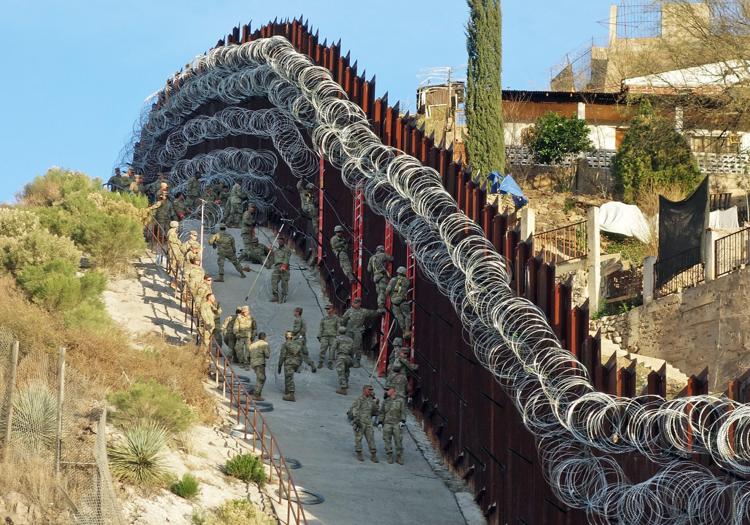 The installation of the wire began downtown on Election Day 2018, and in the weeks following, military personnel installed additional coils on remote sections of the fence, including south of Kino Springs, east of city limits. Starting Feb. 2, they added up to four new rows of concertina wire to the two rows that were hung on the 25-foot-tall bollard fence in Nogales in November.
Local elected officials were left in the dark about the plans.
"They never had the courtesy of talking to the administration here," said Mayor Arturo Garino, who had asked Sen. Martha McSally (R-Tucson) during a visit on Jan. 22 to do her part to help get rid of the existing wire.
Feb. 6: Nogales mayor and council formally condemn fence wire
The City of Nogales mayor and council voted unanimously to approve a resolution condemning the new concertina wire strung on the local border fence and demanding it be taken down.
A delegation of city leaders led by Mayor Arturo Garino walked out of a meeting with Border Patrol representatives earlier that afternoon after the Border Patrol officials said new barbed concertina wire installed on the border fence in town would not be removed, the mayor said.
Speaking at that night's city council meeting, Garino said: "I don't know why (Nogales is) being used as their concertina poster city. This is not right."
The resolution passed by Garino and council called the wire "lethal" and says the new installation puts it "in the immediate proximity of our residents, children, pets, law enforcement and first responders."
Similar resolutions were subsequently passed by the Tucson City Council, the Bisbee City Council and the Southeastern Arizona Governments Organization, but the wire remained in place throughout the year.
Feb. 6: Supes back manager's decision to reject proposed conference center in Tubac
During a regular board meeting, County Supervisor Bruce Bracker motioned to "uphold the determination of the county manager," referring to Jennifer St. John's decision to withdraw an application for a proposed conference center in Tubac on Dec. 19, 2018 after deciding that the proposed center did not meet the definition of a guest ranch or lodge. Bracker and Supervisors Manuel Ruiz and Rudy Molera then voted in favor of the motion.
Prior to the vote, the board met behind closed doors in executive session to discuss the possibility of granting a conditional use permit for the proposed Puma Club conference center on Cerro Pelon, an area designated as a general rural zone west of Interstate 19.
Emmett McLoughlin, one of the project developers, protested St. John's decision to withdraw the application, arguing that it was illegal since only the Planning and Zoning Commission has the power to make that decision.
But other Tubac residents insisted during the Feb. 6 meeting that the county had the right to stick to its previous ruling.
A month later, St. John fired community development director Jesse Drake for unspecified reasons, though McLoughlin alleged that Drake was fired in connection to the Puma Club project.
Feb. 7: CBP officer shoots driver in the head; no explanation given
A U.S. Customs and Border Protection officer shot 21-year-old U.S. citizen Angel Mendivil Perez in the head as he tried to drive a Ford pickup with mismatched plates into Mexico through the Dennis DeConcini Port of Entry.
Mendivil survived the shooting, but was having memory problems and difficulty walking six months afterward, according to a story in the Huffington Post. But CBP has yet to explain why the officer shot him, saying only in a news release the day after the incident that "During questioning, the driver accelerated the vehicle towards Mexico. At this time, the officer discharged his firearm."
No criminal charges related to the incident had been filed against Mendivil as of December, according to federal and state online court records. The officer involved in the shooting was not identified and it was unclear if he or she faced discipline or charges as a result of the shooting.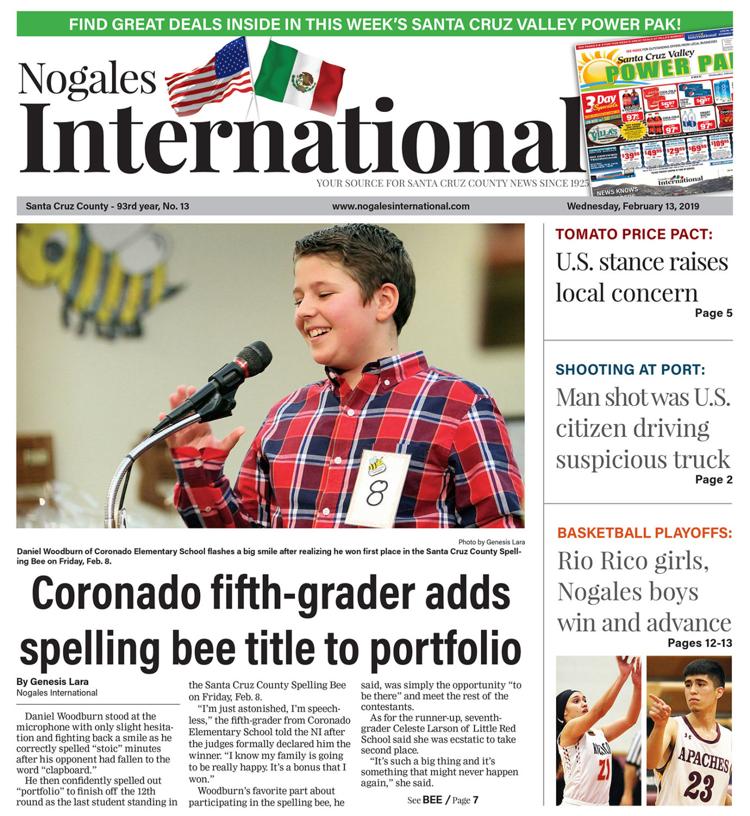 Feb. 8: Coronado fifth-grader wins county spelling bee
Daniel Woodburn stood at the microphone with only slight hesitation, fighting back a smile as he correctly spelled "stoic" minutes after his opponent had fallen to the word "clapboard."
He then confidently spelled out "portfolio" to finish off the 12th round as the last student standing in the county spelling bee.
"I'm just astonished, I'm speechless," the fifth-grader from Coronado Elementary School told the NI after the judges formally declared him the winner. "I know my family is going to be really happy. It's a bonus that I won."
Feb. 14: County attorney to seek death penalty in Murillo murder case
County prosecutors formally declared their intent to pursue the death penalty against David Ernesto Murillo, the man accused of the first-degree murder of Nogales Police Officer Jesus Cordova.
Chief Deputy County Attorney Liliana Ortega filed the notice at Santa Cruz County Superior Court, five days prior to a deadline that had already been extended from last Dec. 21.
Murillo was charged with 30 felony counts stemming from a crime spree on April 27, 2018 that began with the attempted armed robbery of a taxi driver, followed by at least five carjackings or attempted carjackings. He reportedly killed 44-year-old Cordova by opening fire with an AR-15 rifle after the officer tried to pull him over near the intersection of Grand Avenue and Mesa Verde Drive.
Feb. 22: Storm blasts Santa Cruz County with more snow
Santa Cruz County was hit by its second major snowstorm on the year when heavy, wet snow caused power outages and a spate of school and government closures.
The Patagonia area was hit especially hard, with snow piling up approximately seven inches deep on the ground and bringing down tree branches onto power lines and vehicles. Some customers of the Sulphur Springs Valley Electric Cooperative lost power for several hours, leading the Patagonia Volunteer Fire Department to open its station to the public as a "warming center."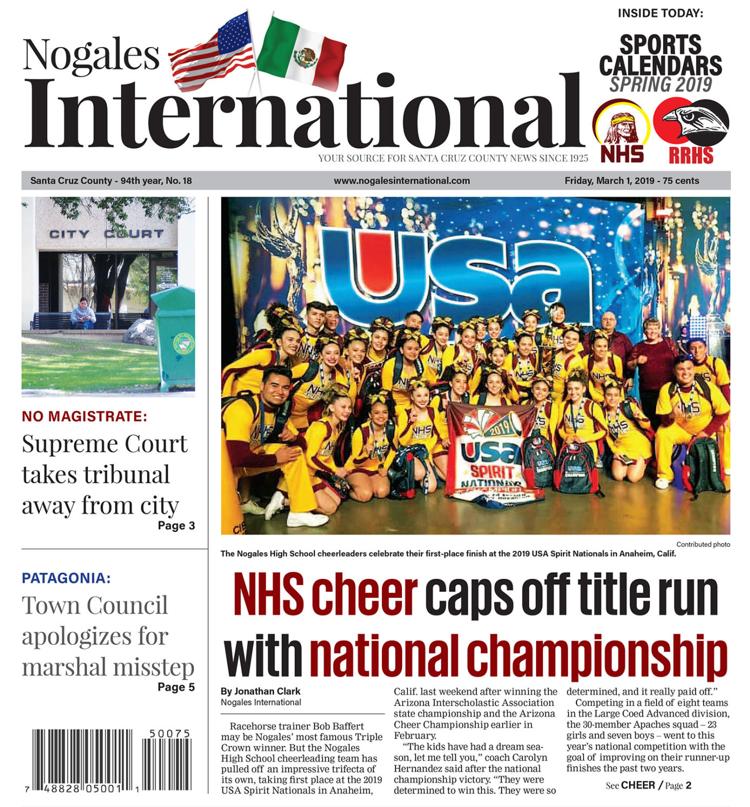 Feb. 23: NHS cheerleading team wins national championship
The Nogales High School cheerleading team took first place at the 2019 USA Spirit Nationals in Anaheim, Calif. after winning the Arizona Interscholastic Association state championship and the Arizona Cheer Championship earlier in February.
"The kids have had a dream season, let me tell you," coach Carolyn Hernandez said after the national championship victory. "They were determined to win this. They were so determined, and it really paid off."
Competing in a field of eight teams in the Large Coed Advanced division, the 30-member Apaches squad – 23 girls and seven boys – went to the 2019 national competition with the goal of improving on their runner-up finishes the past two years.
Feb. 27: Arizona Supreme Court gives presiding judge control of city court
The Arizona Supreme Court turned over control of the Nogales Municipal Court to the county's presiding judge, a day after the mayor and council declined for the second time to approve a contract for a new magistrate.
The Supreme Court turned the court over to Judge Thomas Fink, saying the city could have it back once it successfully hired a magistrate.
The council had initially identified Deputy County Attorney Joe Rueda as its top candidate for the job, but contract negotiations broke down after the two sides could not agree on the severance payment that Rueda would have been due if he were dismissed or if his contract were not renewed.
Finally, on March 18, the mayor and council voted to hire Vanessa Cartwright, also a deputy Santa Cruz County attorney, as the new municipal judge.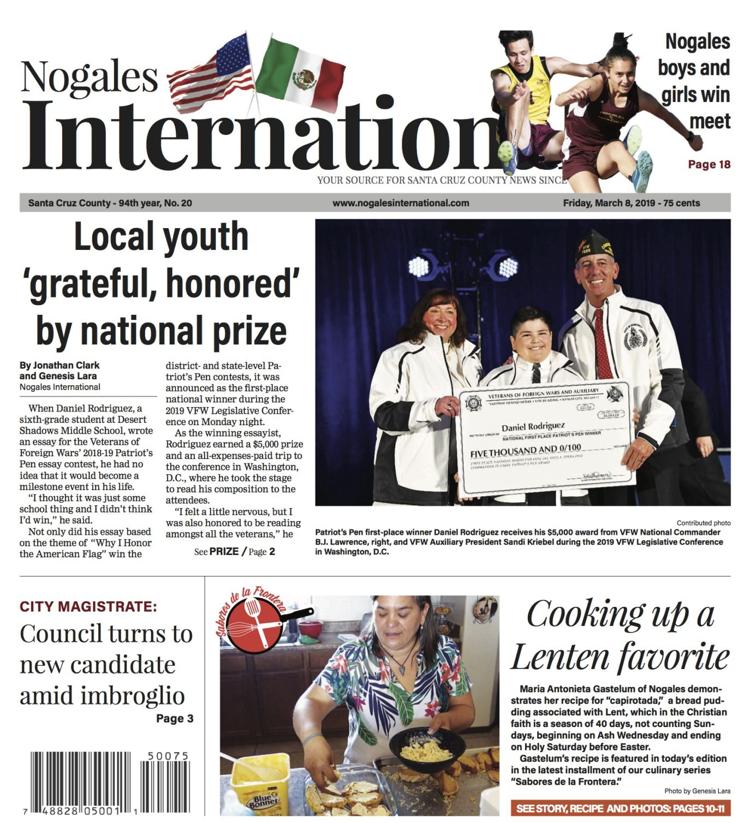 March 4: Local student's essay wins top national prize
When Daniel Rodriguez, a sixth-grade student at Desert Shadows Middle School, wrote an essay for the Veterans of Foreign Wars' 2018-19 Patriot's Pen essay contest, he had no idea that it would become a milestone event in his life.
"I thought it was just some school thing and I didn't think I'd win," he said.
Not only did his essay based on the theme of "Why I Honor the American Flag" win the district- and state-level Patriot's Pen contests, it was announced as the first-place national winner during the 2019 VFW Legislative Conference.
As the winning essayist, Rodriguez earned a $5,000 prize and an all-expenses-paid trip to the conference in Washington, D.C., where he took the stage to read his composition to the attendees.
March 9: Electrical smoke damage forces closure of presidio museum
The Tubac Presidio State Historic Park temporarily closed its museum building after rodents chewed through wires under the roof, causing smoke damage.
It took eight months, but the museum finally re-opened in November after undergoing a $90,000-plus rehabilitation project.
The state's long delay in soliciting and awarding a bid for the work had created growing frustration at the park, which reduced its entry fees from $7 to $5 per person as a result of having fewer open exhibits. Revenue declined as a result, and key attractions including the historic Washington Press that printed Arizona's first newspaper were unavailable to visitors, including school groups.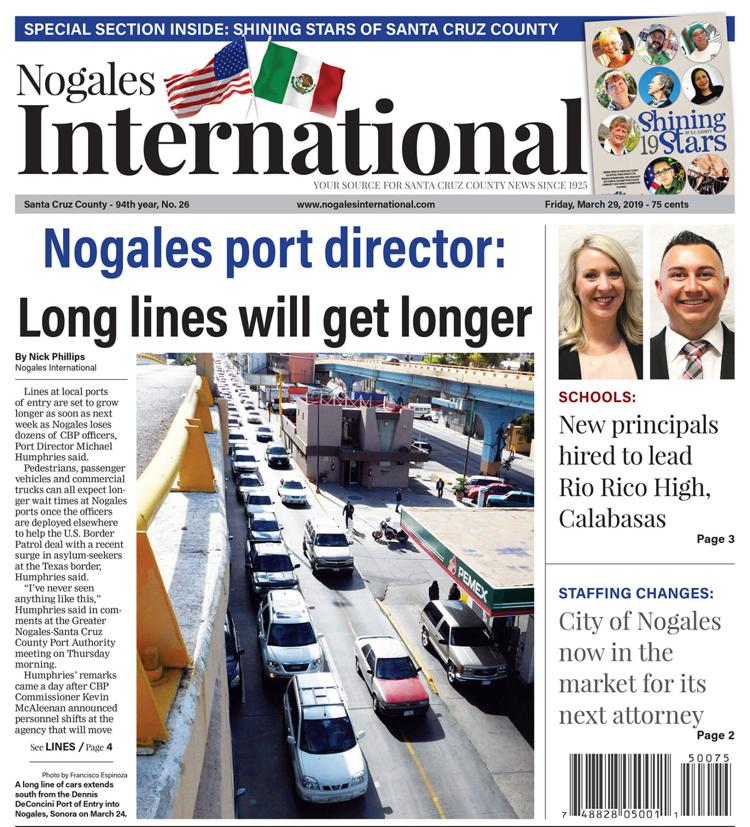 March 28: Long lines at Nogales ports will get longer, CBP director says
Michael Humphries, port director for U.S. Customs and Border Protection in Nogales, told attendees at a Greater Nogales-Santa Cruz County Port Authority meeting that lines at local ports of entry would grow longer as soon as the following week due to the loss of dozens of CBP officers.
Pedestrians, passenger vehicles and commercial trucks could all expect longer wait times at Nogales ports once the officers were deployed elsewhere to help the U.S. Border Patrol deal with a recent surge in asylum-seekers at the Texas border, Humphries said, adding: "I've never seen anything like this."
Humphries' remarks came a day after CBP Commissioner Kevin McAleenan announced personnel shifts at the agency that moved hundreds of officers away from ports in response to what he called an "unprecedented humanitarian and border security crisis."
"Right off the bat, this weekend I'm losing 28 officers," Humphries told the meeting attendees, adding that in recent years, CBP in Arizona had received "up to 100" temporary duty officers from other parts of the country. "By Wednesday they'll all be gone," he said. "No replacements."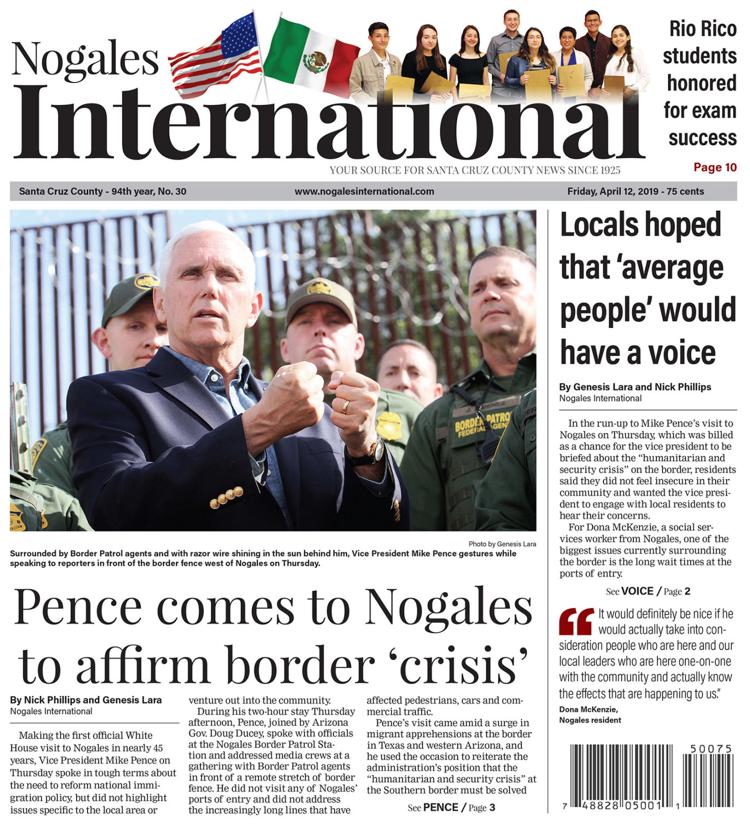 April 11: Pence comes to Nogales to affirm border 'crisis'
Making the first official White House visit to Nogales in nearly 45 years, Vice President Mike Pence spoke in tough terms about the need to reform U.S. immigration policy, but did not highlight issues specific to the local area or venture out into the community.
During his two-hour stay, Pence, joined by Arizona Gov. Doug Ducey, spoke with officials at the Nogales Border Patrol Station and addressed media crews at a gathering with Border Patrol agents in front of a remote stretch of border fence.
He did not visit any of Nogales' ports of entry and did not address the increasingly long lines that have affected pedestrians, cars and commercial traffic. Instead, the vice president used the occasion to reiterate the Trump administration's position that the "humanitarian and security crisis" at the Southern border must be solved by ending the "catch and release" policy that he said is exploited by human traffickers.
He also said the United States must "close the loopholes in our asylum laws."
It was not immediately clear when the last time was that a U.S. vice president had come to Nogales – if ever. The last sitting president to visit the city was Gerald Ford, on Oct. 21, 1974. 
April 17: City moves to ban handheld phone use while driving
The Nogales City Council took the first step in prohibiting all but "hands-free" cellphone use for drivers by approving the first reading of an ordinance that would impose fines on people who operated their phones while behind the wheel.
The council passed the municipal ordinance after a second reading on May 1. It took effect on June 1 and the Nogales Police Department began enforcing it with fines in July. During the first month of full enforcement, NPD said, its officers stopped 49 drivers, ticketing 40 of them.
The city's hands-free ordinance is similar to a statewide regulation that was passed earlier in 2019 year, but police cannot issue tickets under the state law until January 2020.
In January, the local ordinance will be superseded by the state law.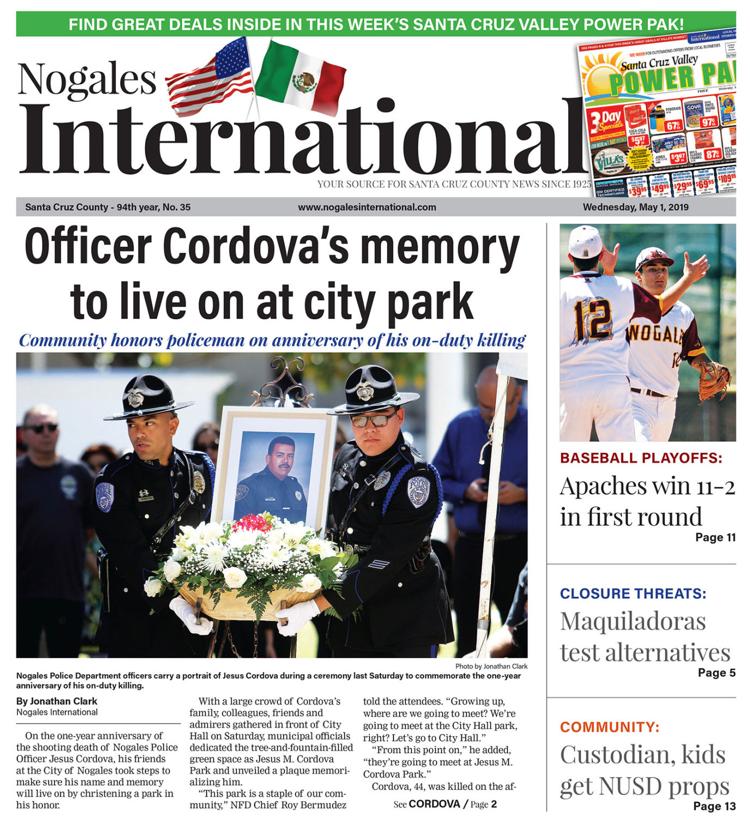 April 27: Officer Cordova's memory to live on at park in front of City Hall
On the one-year anniversary of the shooting death of Nogales Police Officer Jesus Cordova, his friends at the City of Nogales took steps to make sure his name and memory live on by christening a park in his honor.
With a large crowd of Cordova's family, colleagues, friends and admirers gathered in front of City Hall on a Saturday morning, municipal officials dedicated the tree-and-fountain-filled green space as Jesus M. Cordova Park and unveiled a plaque memorializing him.
"This park is a staple of our community," NPD Chief Roy Bermudez told the attendees. "Growing up, where are we going to meet? We're going to meet at the City Hall park, right? Let's go to City Hall."
"From this point on," he added, "they're going to meet at Jesus M. Cordova Park."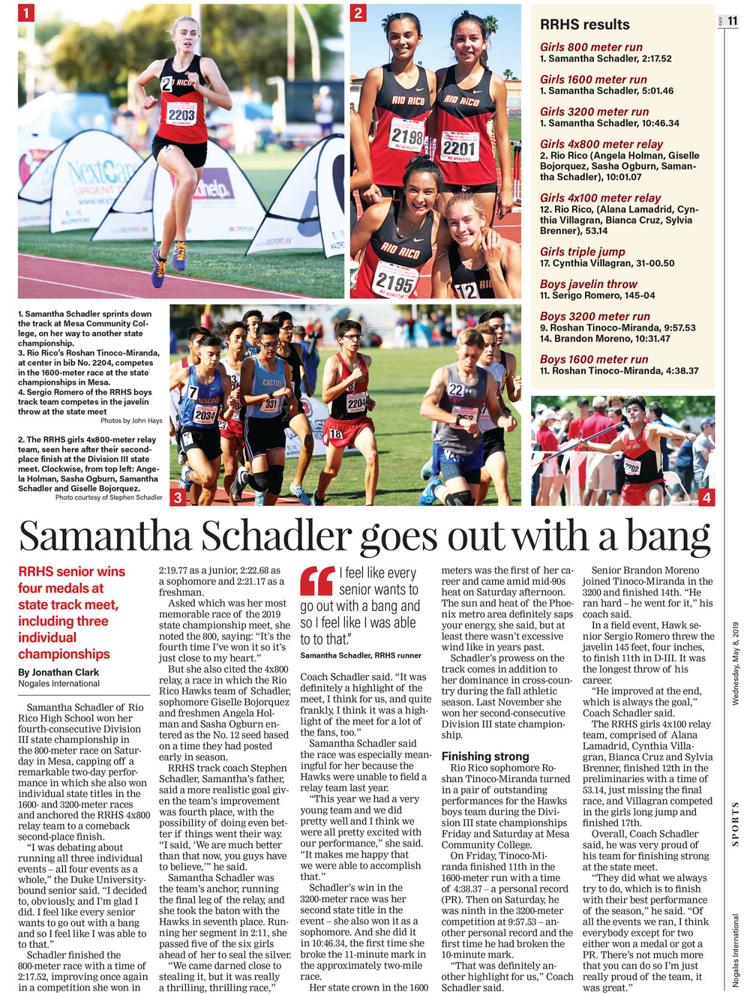 May 4: Schadler goes out with a bang; Romero wins high jump crown
Samantha Schadler of Rio Rico High School won her fourth-consecutive Division III state championship in the 800-meter race on Saturday in Mesa, capping off a remarkable two-day performance in which she also won individual state titles in the 1600- and 3200-meter races and anchored the RRHS 4x800 relay team to a comeback second-place finish.
Schadler's prowess on the track came in addition to her dominance in cross-country during the fall athletic season. In November 2018, she won her second-consecutive Division III state championship.
Following her graduation from RRHS in May, she enrolled at Duke University in North Carolina to continue her academic and athletic careers.
Also at the state meet, Nogales High School sophomore Sabina Romero won the Division II championship in the high jump, clearing a height of five feet, six inches. "What's so impressive is that she didn't have a single miss. It was pretty amazing," NHS coach Liz Thomson said.
May 7: Tomato tension builds as U.S. pulls out of deal with Mexico
The U.S. government terminated its tomato pricing agreement with Mexico, setting off a months-long dispute as local importers and their allies warned that the move would mean higher prices for consumers and potential job losses for thousands of American workers.
As a result of the termination of the so-called Tomato Suspension Agreement, the U.S. Commerce Department re-started an investigation into whether Mexican growers had "dumped" their product in the U.S. market at unfairly low prices and undercut their mainly Florida-based domestic competitors.
It also imposed a new 17.5-percent tariff on Mexican tomato imports.
A draft version of a new Tomato Suspension Agreement was signed by the United States and Mexico in August, eliminating the tariff, raising the minimum prices for imported tomatoes and implementing a new policy on inspections of the imported produce. But the Fresh Produce Association of the Americas, a Nogales-based trade group that represents local produce importers, said that parts of the new deal could create "a non-tariff trade barrier" that would drive up prices and hurt importers' business.
May 14: NHS baseball team falls in marathon title clash
It took a record-setting 16 innings of grueling, suspense-filled baseball to determine the Arizona 5A Conference state champion in Tempe. And despite a valiant effort by the Nogales Apaches' starters and reserves alike, it was their opponent who got to raise the trophy in the end.
No. 1-seeded Nogales and No. 2 Horizon of Scottsdale faced off in an epic showdown that saw Horizon come back from a 3-0 deficit to force extra innings, Nogales plate a run in the bottom of the 15th to tie it at 4 and keep the game alive, and Horizon break through with three runs the next inning to win 7-4.
The Apaches were trying to win their third-consecutive state baseball championship – this time in the larger-school 5A Conference after taking the 4A title in 2017 and 2018.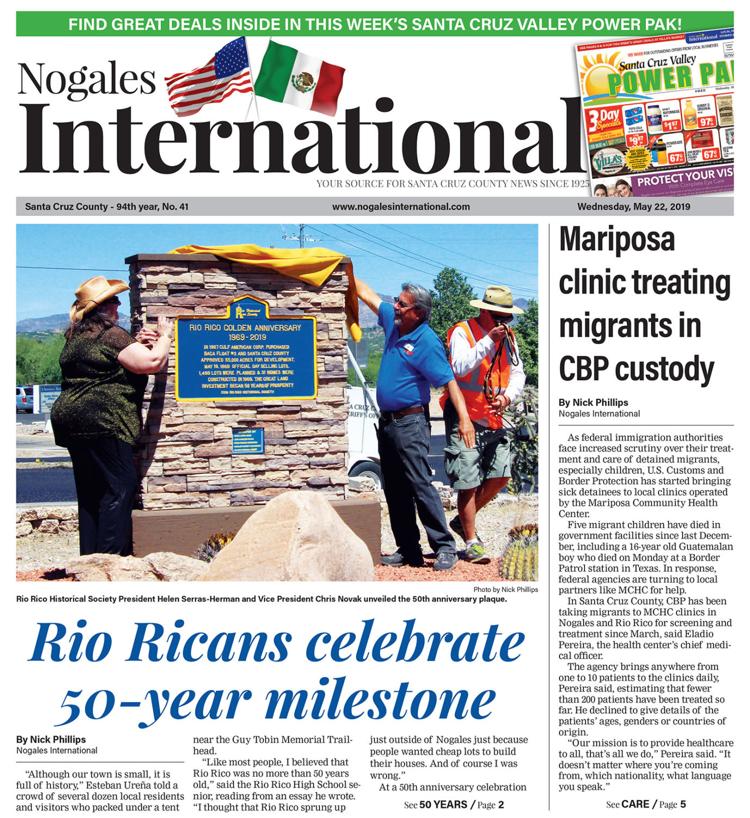 May 18: Rio Ricans celebrate 50-year milestone by unveiling monument
Community members gathered for an event that celebrated the 50th anniversary celebration of Rio Rico, as well as the much longer history of the local area.
"(Rio Rico's) history stretches back to when the Native American tribes lived here, followed by the Spanish and Mexican eras," Rio Rico Historical Society President Helen Serras-Herman told the crowd. "The town was baptized Rio Rico during the 1960s reinvention and development of the area."
During the event, representatives from the historical society presented a monument in front of the Santa Cruz County government building on Rio Rico Drive commemorating the community's naming in 1969. It was loaded with a pair of time capsules to be opened in 2069.
May 19: Former Rio Rico Golf Club sold; new owner later says he plans to turn it into a ranch
The former site of the Rio Rico Golf Club sold for $730,000 to a company controlled by local property owner Andrew Jackson. Soon after, heavy machinery began leveling the land, raising concern among some neighbors who were unsure what Jackson had planned for the property.
The NI finally reached Jackson in October, and he explained that his plan was to redevelop the golf course as a ranch.
"It's a beautiful property and we just couldn't bear to see it die," he said. "We didn't think it made a very good statement in the community as another failed business, so we were anxious to kind of save it from dying off."
New Mexico-based company Heritage Hotels and Resorts put the golf course and affiliated Esplendor Resort in southwest Rio Rico up for sale in November 2018. CEO Jim Long told the in October 2018 that the resort was originally put on the market for $2.5 million and the golf course at $1.5 million, and that they could be purchased together or separately.
The resort had yet to be sold as of December 2019, though a deal was rumored to be in the works.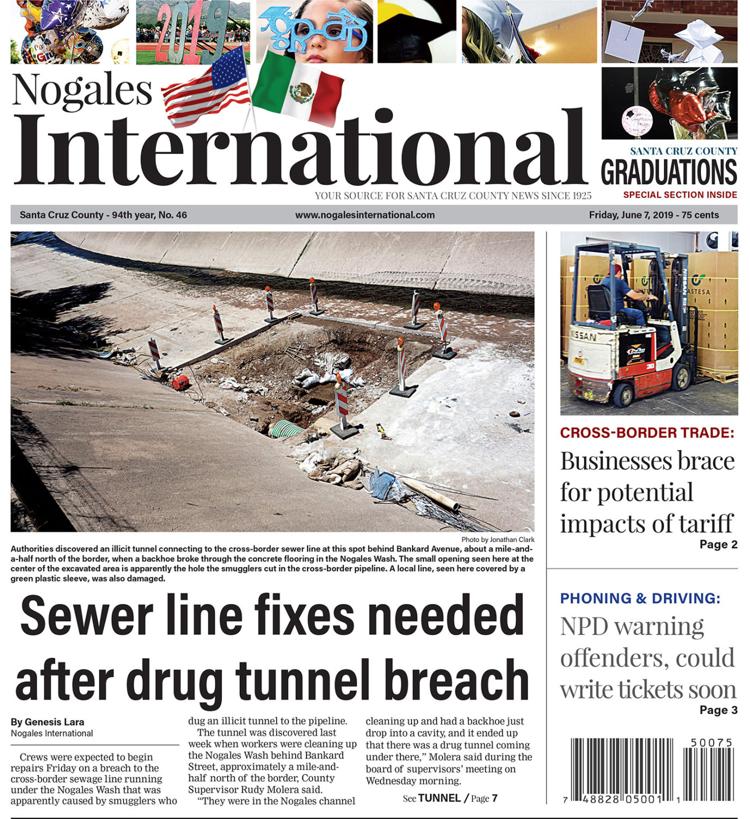 June 7: Sewer line fixes needed after drug tunnel breach
Crews began repairs on a breach to the cross-border sewage line running under the Nogales Wash that was apparently caused by smugglers who dug an illicit tunnel to the pipeline. The tunnel was discovered a week earlier when workers were cleaning up the Nogales Wash behind Bankard Street, approximately a mile-and-half north of the border.
The smugglers, who tunneled under the wash from a property on Bankard, damaged both a city sewer pipe – which they apparently mistook for the cross-border line – and the so-called International Outfall Interceptor that runs from the border to a treatment plant in Rio Rico.
June 10: 'Best outcome' of tariff threat still included local stress
Local leaders breathed a sigh of relief after a deal was brokered to cancel President Trump's plan to levy punitive tariffs on all Mexican goods imported to the United States, but said the threat had already had an impact on businesses.
The increasingly stiff tariffs, which Trump first proposed on May 30 in an effort to strong-arm Mexico into halting the flow of Central American migrants reaching the U.S.-Mexico border, were called off at the last minute in exchange for Mexico taking "strong measures to stem the tide of migration through Mexico, and to our Southern border," the president tweeted.
"Under the circumstances it was probably the best (outcome) that we could have hoped for," said Guillermo Valencia, co-owner of the Valencia International customs brokerage and chair of the Greater Nogales-Santa Cruz County Port Authority. "We couldn't imagine any worse scenario than having duties and then having to contemplate getting higher duties on down the line."
But, he added, the threat alone sparked a flurry of costly activity as local businesses attempted to rush products across the border before the tariff's scheduled start date on June 10.
June 14: Head-on crash leaves Nogales woman dead, two others injured
Maria Gonzalez, 43, of Nogales died and two other people were injured as the result of a head-on collision on Mariposa Road between a maroon 2002 Hyundai Santa Fe and a silver 2008 Ford Expedition. Gonzalez was the driver of the Santa Fe. Two other occupants of the Santa Fe were treated for their injuries at a hospital.
A Nogales Police Department spokesman said that a preliminary investigation had revealed that the driver of the Ford Expedition was possibly texting or using social media when his SUV crossed the median and drove into oncoming traffic, eventually colliding head-on with the other vehicle. However, no charges had been filed as of December.
June 18: City turns to cuts, partial hiring freeze to offset rising costs
A tentative budget passed by the Nogales mayor and council allocated $62.5 million in expenditures for fiscal year 2020, a 12.5-percent increase from the $55.6 million in expenditures budgeted for fiscal year 2019.
The increased spending was reportedly driven by factors such as rising payments for employee health insurance.
To even out the ledger, city officials opted to axe $50,000 contributions that have been made to both the Greater Nogales-Santa Cruz County Port Authority and the Greater Nogales-Santa Cruz County Chamber of Commerce in recent years, as well as put a hiring freeze on 11 open positions with a combined budget of $871,000.
Olivia Ainza-Kramer, president and CEO of the chamber of commerce, said her organization would close the Nogales Visitor Center the first week of July and lay off a staffer as a result of the lost funding. That change did not materialize, though Ainza-Kramer said in August that the center's future was still in doubt.
June 28: Child killed by truck in Nogales
A 6-year-old Nogales boy died after being run over by a pickup truck in the area of Walnut Street and MacNab Drive.
Police and fire department personnel gave medical treatment to Diego Emiliano Lezama Hernandez at the scene and then transported him to Holy Cross Hospital, where the boy died from his injuries. An NPD investigation later determined that his death was the result of an accident.
June 29: Community shocked by woman's death at hands of abuser
A 25-year-old Rio Rico native, Marilynn Patricia "Matty" Pacheco, was shot and killed while riding in a car on Interstate 19 in Green Valley with her 7-year-old daughter, a 29-year-old man and his 3-year-old daughter.
The victim's mother, Susie Stemper, said her daughter had been trapped in a cycle of domestic violence for at least two years with the shooter, Mateo Zavala, 21, of California.
June 30: Man succumbs to injuries sustained in fall from border fence
A 47-year-old man died from head injuries he sustained in a fall nearly two weeks earlier from the border fence in Nogales.
Authorities did not identify the man by name, but a woman who reached out to the NI via social media and who identified herself as a family member, said the man was trying to return to his family in the United States after being deported. She said he had lived in Arizona and California since he was 2.
He was at least the fourth person to die from a fall from the Nogales border fence since 2011.