July 3: City manager, P&Z director both resign abruptly
Nogales City Manager Frank Felix tendered his resignation the same day that a city council meeting exposed divisions among the councilmembers about his future at City Hall.
In a letter dated July 3, Felix stated that he would leave his role effective Aug. 2. His 18-month contract was set to expire on Aug. 7.
Also in a July 3 letter, Planning and Zoning Director and Assistant City Manager Frank Dillon wrote that his last day at the city would be July 26.
It was not immediately clear whether the resignations were related, and neither Felix nor Dillon responded to multiple phone calls and emails requesting comment.
Soon thereafter, Dillon was hired as the community development director for the county government. The city was still in the process of trying to replace Felix as the year ended.
July 4: Community celebrates independence; fireworks display sparks fires near Fleischer Park
Santa Cruz County swelled with patriotic spirit as people in Nogales, Patagonia and Tubac dressed up in red, white and blue and celebrated Independence Day with parades, picnics and pyrotechnics.
The fireworks display in Nogales turned more dramatic than usual when falling embers ignited brush fires on the hills behind Fleischer Park.
Two small fires, one on the northeast side of the park and the other near the soccer field, eventually joined to make one big fire that burned 57 acres, a Nogales Fire Department spokeswoman said. However, crews from NFD, Patagonia, Tubac, Rio Rico, Fry Fire from Sierra Vista, the U.S. Forest Service and Arizona Department of Corrections contained the blaze before it could damage any structures, and no injuries were reported.
July 17: Monsoon storms arrive with a vengeance
Monsoon rains were late to arrive this year, but when they finally did, they came in the form of a blustery afternoon thunderstorm that toppled trees, brought torrential downpours and caused flooding in the local area.
Some of the worst storm damage came at A.J. Mitchell Elementary School, where one large tree was completely uprooted and several others had branches lopped off by strong winds.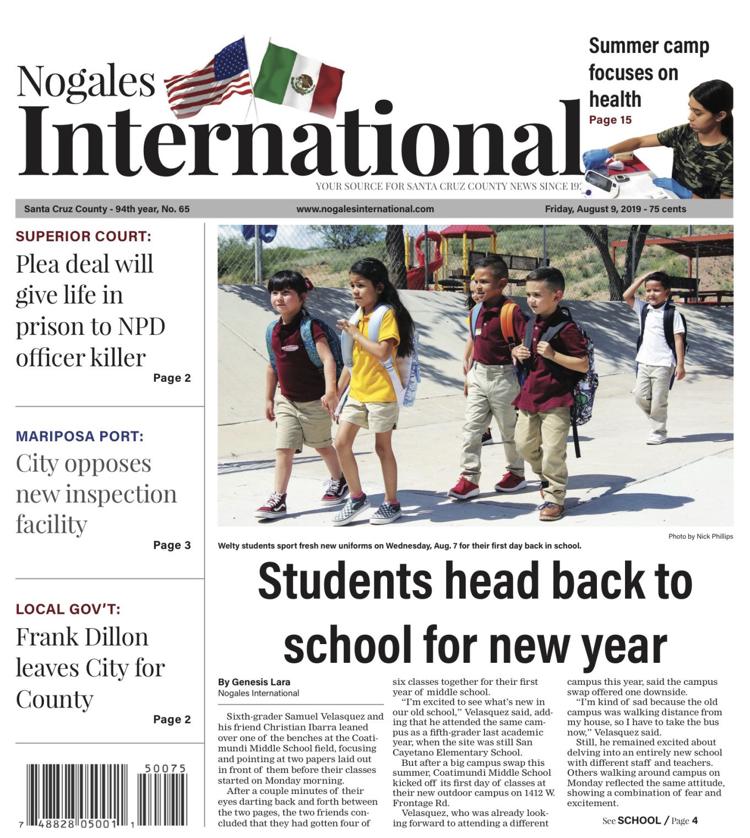 Aug. 5: School year begins with new campus locations, principals
Students returned to class at the Santa Cruz Valley Unified District, where San Cayetano Elementary and Coatimundi Middle schools had swapped campuses over the summer.
The move was meant to give eastern Rio Rico its own neighborhood elementary school and put Coatimundi on a campus that provides more extracurricular opportunities for middle school students. "We're excited about this move. We think it will be the next step in our district really focusing and allowing us to get people in the right areas, as well as provide an opportunity to grow," Superintendent David Verdugo said at the SCVUSD board's March 26 meeting, at which the campus swap and boundary re-draw both passed unanimously.
The new school year also began with new principals leading a number of local schools.
In SCVUSD, Hector Estrada took over as the top administrator at Rio Rico High School and Bethany Patterson assumed leadership of Calabasas School.
In the Nogales Unified School District, Tim Colgate began his first school year as principal of Nogales High School, Joanne Vigilant took the principal's chair that Colgate vacated at Robert M. Bracker Elementary School, and Christopher Miranda assumed leadership of Desert Shadows Middle School.
Aug. 7: Murillo avoids possible death sentence with guilty plea
David Ernesto Murillo pleaded guilty to more than 30 felony charges, including three counts of first-degree murder for the killing of Nogales Police Officer Jesus Cordova in April 2018.
With his guilty plea, Murillo avoided the possibility of being sentenced to death if convicted at trial.
Aug. 7: Supervisors approve final budget with tax increases, despite opposition
The County Board of Supervisors faced a roomful of opposition when they met with constituents to discuss and approve the final budget for fiscal year 2019-2020, which included tax increases.
The final budget, which the supervisors approved unanimously, included a 10-cent increase to the primary property tax, raising the rate to $3.98 per $100 of assessed value. The secondary tax rate also included a raise of 2 cents, setting it at $0.89.
"We've really tried to be very conscientious about not even going up to the maximum, (which is) about $2. We're just asking for 10 cents," Supervisor Manuel Ruiz said after Finance Director Mauricio Chavez explained that the county was looking at more than $1 million in additional expenses for the coming year – all state-mandated costs that county administration has no control over, such as the voter-approved minimum-wage increase, and a rise in healthcare and retirement costs, he said.
Eastern county resident Britta Appel voiced her frustration with the supervisors' "dismissive" attitude towards the new tax increase. "When you sit there and you say, 'It's only 10 cents,' I ask you for a reality check because my checkbook says something completely different," Appel said.
Aug. 8: Rio Rico's Villarreal takes gold at Pan American Games
Carlos Villarreal, a 2015 Rio Rico High School alum and current student at the University of Arizona, came from behind to win the gold medal in the men's 1500-meter race at the Pan American Games in Lima, Peru.
Villarreal — who was born in Puerto Peñasco, Sonora and moved to Rio Rico at age 6 — finished in first place with a time of 3:39.93 while running for the Mexico national team.
His win filled the community with pride and photos of Villarreal jubilantly crossing the finish line ahead of competitors from the United States and Canada, his arms stretched wide in triumph and broadly smiling, went viral online.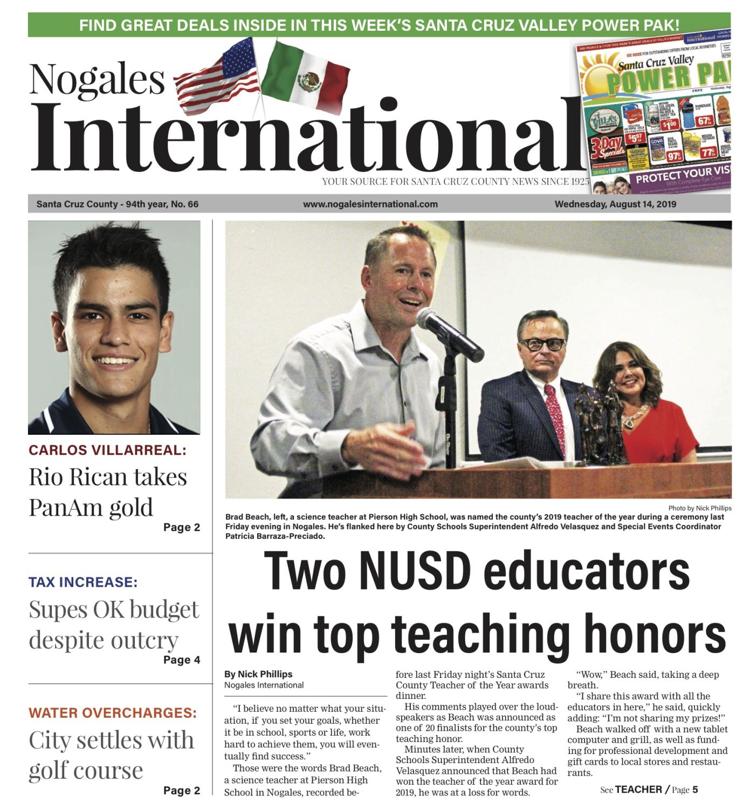 Aug. 9: Pierson science teacher wins top recognition
"Wow," was the reaction of Brad Beach, a science teacher at Pierson High School in Nogales, upon being named the 2019 Santa Cruz County Teacher of the Year during an awards dinner.
Beach walked away with a new tablet computer and grill, as well as funding for professional development and gift cards to local stores and restaurants.
"I share this award with all the educators in here," Beach said, quickly adding: "I'm not sharing my prizes!"
Jeffrey Gudenkauf, a social studies teacher at Desert Shadows Middle School, was named the runner-up.
Aug. 26: Three found dead in Nogales area after being swept away in Sonora
The bodies of two people, one male and one female, were recovered from north-flowing waterways in and around Nogales, bringing the total number of suspected drowning victims found in Santa Cruz County that week to three.
All three of the victims were believed to have been swept away in Nogales, Sonora and carried across the border by runoff from a powerful downpour on the late afternoon of Aug. 21. Two were identified Alfredo Villarino, 50, of Rio Rico, and Arleth Flores Lopez, 27, of Nogales, Sonora. The third was not immediately identified.
Another man who was swept with the others into a drainage tunnel approximately two miles south of the border told Radio XENY that he had survived the strong currents and debris-strewn waterways and was able to extract himself from the wash in Nogales, Ariz., approximately three miles north of the border.
Aug. 27: Ancient human remains discovered at golf course
Workers installing water pipes at the Kino Springs Golf Course discovered human remains, and an expert in prehistoric anthropology at the University of Arizona said they belonged to a Native American who was buried at the site of a longstanding Hohokam settlement.
Having determined that the bones corresponded to the Hohokam community that occupied the present-day site of the golf course from roughly 640 A.D. to 1450, professor James T. Watson said, he brought the remains back to Tucson to arrange for returning them to the appropriate claimant community – in this case, probably the Tohono O'odham Nation, which was preceded in the region by the Hohokam.
Sept. 4: Drilling proposal gets frigid reception from Patagonia-area residents
Four years after a federal judge halted the Sunnyside project over concerns about wildlife impacts, drilling company Arizona Standard started the permit process again. But while the U.S. Forest Service previously tried to fast-track the project without allowing public input through a process called a "categorical exclusion," this time, they are opening it to community for comment.
At a public hearing on the proposal held at Patagonia Union High School, around 60 community members showed up – and most were not happy about the plans.
The slogan printed on one man's shirt captured the tenor of the room: "Don't mess with my mountains."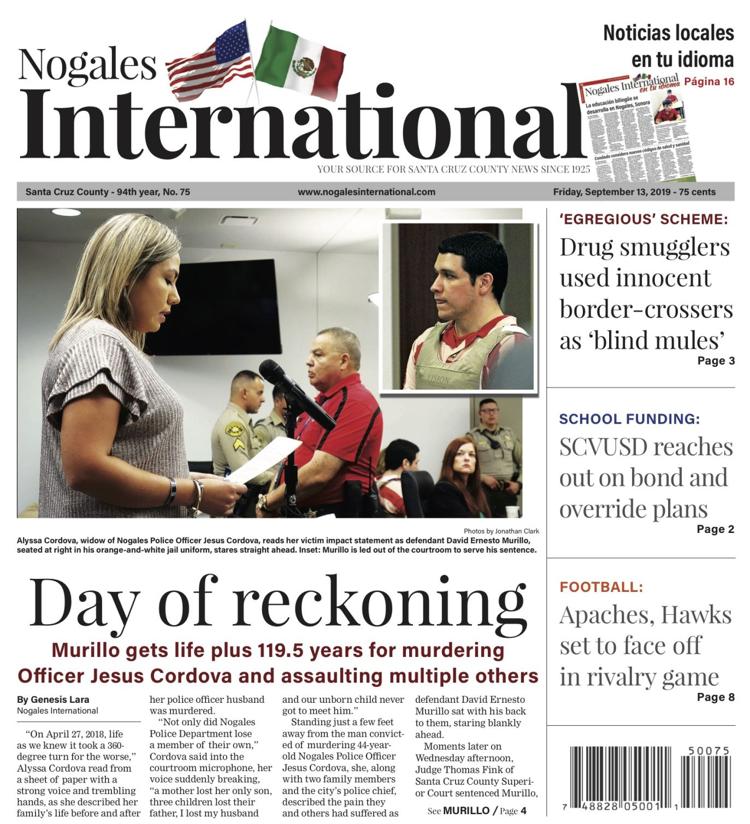 Sept. 11: Reckoning day for David Ernesto Murillo
David Ernesto Murillo, 29, was sentenced to three terms of natural life in prison plus another 119.5 years behind bars for murdering NPD Officer Jesus Cordova and committing an array of other violent crimes on April 27, 2018.
"There's nothing that I can do, as part of this sentence, that will alleviate the trauma that we as a community here have experienced because of what happened," Judge Thomas Fink of Santa Cruz County Superior Court said as he handed down Murillo's sentences.
A roomful of family members, friends, victims, law enforcement officers and members of the media were on hand to witness Murillo's punishment for 39 criminal convictions.
"Not only did Nogales Police Department lose a member of their own," Officer Cordova's widow Alyssa Cordova said into the courtroom microphone when it was her turn to speak, her voice suddenly breaking, "a mother lost her only son, three children lost their father, I lost my husband and our unborn child never got to meet him."
Sept. 24: Community answers call for help in caring for historic cemetery in Rio Rico
After years of working alone, David Goodman started getting some help.
The county resident had spent the past four years cleaning and maintaining the Calabasas Cemetery, a roughly 2.5-acre Rio Rico property with graves dating to the 19th and 20th centuries, by himself. But when the NI published a story about his efforts called "Cemetery upkeep is lonely mission for Rio Rico man," about 25 people reached out to him and 12 or 13 ultimately came out to help with the work.
"After the newspaper put my email on there, people started contacting me left and right," he said.
Sept. 25: Rio Rico bank scam leads to multiple arrests
A branch manager at the Wells Fargo bank in Rio Rico was charged with conspiring to open fraudulent accounts that were used to funnel millions of dollars in cash from the United States to Mexico.
According to the complaint against 39-year-old Carlos Antonio Vasquez, a co-conspirator allegedly brought recruits to the bank, where Vasquez or another co-conspirator would help them apply for an account in their name that would then receive large incoming cash deposits.
After the cash was deposited into the so-called "funnel accounts," Vasquez or his co-conspirators allegedly sent the funds, totaling approximately $10.3 million, to Mexico via wire transfer.
At least five other people who participated in the scam – Enrique Monarque Orozco, Kenya Martinez Tello, Maria De Los Angeles Duarte, Modesto Rodriguez Armenta and Fernanda Molina Lopez – were charged in local court. Another woman, Maria Concepcion Gonzalez Garcia, was named as a co-conspirator with Vasquez in a five-count federal indictment.
Oct. 6: Sonoita-based Border Patrol agent dies in the field
A U.S. Border Patrol agent died after responding to sensor activity in the Patagonia Mountains.
Robert Hotten, a 44-year-old agent posted to the Sonoita Station, died of atherosclerotic cardiovascular disease, the area's chief medical examiner said.
According to Border Patrol reports, Hotten and two other agents went to investigate a sensor activation on Mount Washington at around 1 p.m. on Oct. 6. When Hotten could not be reached for an extended period of time, the other agents went looking for him and found him unresponsive at approximately 4:15 p.m.
Because of the ruggedness of the terrain, agents were unable to evacuate Hotten to a helicopter landing zone a quarter-mile away until approximately three hours later. From there he was transported to the hospital in Nogales, where he was pronounced dead.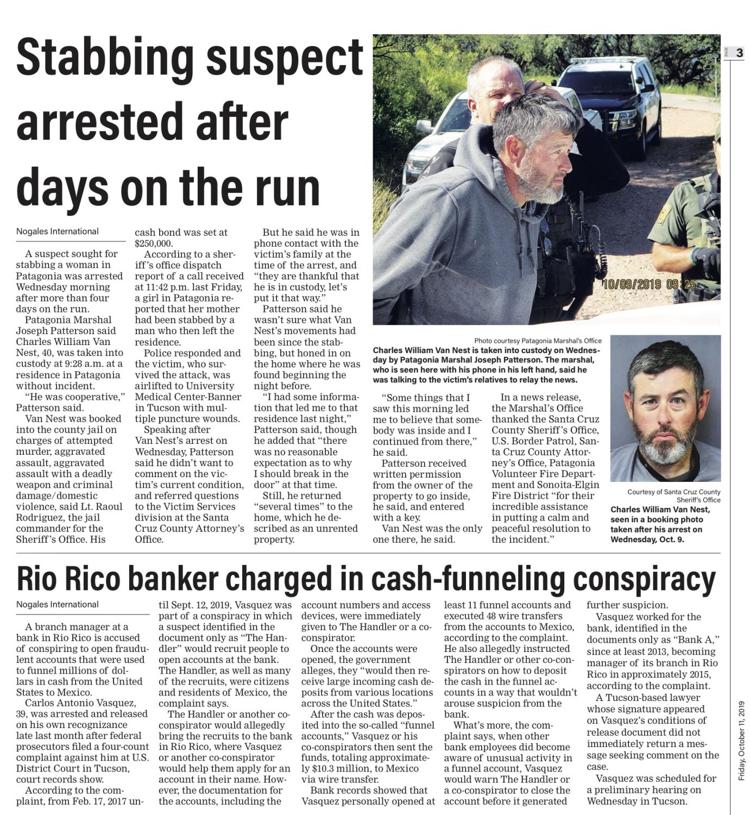 Oct. 9: Fugitive stabbing suspect arrested in Patagonia
A suspect sought for stabbing a woman in Patagonia was arrested after more than four days on the run.
Charles William Van Nest, 40, was taken into custody at a residence in Patagonia without incident, Patagonia Marshal Joseph Patterson said.
During a court hearing a few days later, a county prosecutor told Justice of the Peace Emilio Velasquez that on the night of the crime, the woman victim was at home with three children, ages 8, 9 and 11, when Van Nest arrived uninvited. The woman ran to the bathroom and locked the door, but Van Nest kicked it open and repeatedly stabbed her in the back of the neck with an ice pick. The 11-year-old child tried to fight him off and also grabbed a phone from him, but Van Nest grabbed it back.
The woman, who was flown to UMC Banner hospital in Tucson after the attack, was unable to walk and was suffering facial paralysis as the result of her injuries, Deputy County Attorney Gary Redente said at the time..
Oct. 9: Prominent community members busted at ports of entry
A man who as past president of the Nogales Rotary Club had helped hand out awards to law enforcement officials during the club's annual Santa Cruz County Public Safety Officer Awards Dinner, was arrested on charges that he tried to smuggle a large load of hard drugs into the United States from Mexico.
Abelardo Elias Duran, 45, of Nogales, was arrested after U.S. Customs and Border Protection officers at the Dennis DeConcini Port of Entry discovered 179 pounds of heroin and 2.5 pounds of fentanyl hidden in the spare tire of his 2014 Chevrolet Silverado, according to court documents. During a post-Miranda interview, Duran reportedly told investigators that he was going to be paid $4,500 to drive the truck and its drug load to a Food City store in the Phoenix area.
At the time of his arrest, Duran was listed on the Nogales-Santa Cruz County Chamber of Commerce website as the vice-chair of the chamber's board of directors. He had served as president of the Rotary Club as recently as 2017.
Later in October, Juan German Martinez Dabdoub, a 64-year-old Ambos Nogales businessman and brother of a former mayor of Nogales, Sonora, was arrested for allegedly trying to smuggle a little more than $475,000 in undeclared cash into Mexico through the Mariposa Port of Entry in a Chevrolet Equinox.
Oct. 29: Secession study committee hears from Sonoita-Elgin residents
At the first public meeting of an ad-hoc state committee formed to study moving part of Eastern Santa Cruz County into Cochise County, state lawmakers heard a lot of complaints from Sonoita-Elgin-area residents about their representation from the Santa Cruz County government.
Even so, of the 10 people who spoke up at the meeting, only two said they definitely supported a move to Cochise.
The meeting, which drew about 30 community members to the Sonoita-Elgin Fire District station, marked a public step forward for a movement that has been percolating in the eastern part of Santa Cruz County for several years.
State Rep. Gail Griffin (R-Hereford) stoked the annexation flames earlier in 2019 when she introduced a bill in the state House of Representatives that would have formed a committee to study the consequences of a potential move. After the bill failed in the Senate, Griffin formed a special legislative committee called the Joint Ad-Hoc Committee on County Boundaries, saying that she was acting on behalf of concerned residents.
The Oct. 29 meeting was the first gathering of the special committee stacked with Republican state-lawmakers and pro-secession residents. The group is tasked with reporting on its findings by the end of 2020.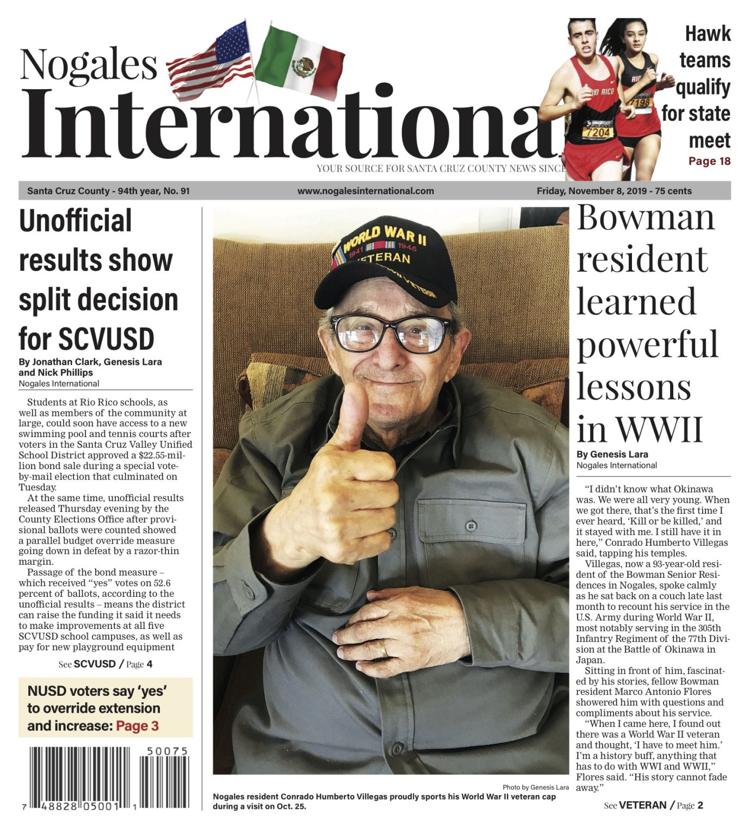 Nov. 5: Mixed result on SCVUSD ballot measures; NUSD override approved
Voters in the Santa Cruz Valley Unified School District approved a $22.55-million bond sale by a margin of 145 votes during a special vote-by-mail election that culminated Nov. 5.
At the same time, a parallel budget override measure went down in defeat by a razor-thin margin of just 13 votes.
Passage of the bond measure – which received "yes" votes on 52.6 percent of ballots – means the district can raise the funding it said it needs to make improvements at all five SCVUSD school campuses, as well as pay for new playground equipment at Mountain View Elementary School, field lights at Calabasas School and a remodeled fine arts facility at Rio Rico High School.
Plans at RRHS also call for a new football stadium, a synthetic field and track, and a swimming pool and tennis courts for shared school-community use.
The second measure on the SCVUSD ballot, which would have let the district override its budget limit by 9 percent for seven years beginning in fiscal year 2020-2021, was meant to help pay for the operational costs associated with the bond projects.
"The positive thing is that we have our 7-percent (override)… so that will still be in place and those programs will not be affected," Superintendent David Verdugo said when asked if SCVUSD would have to cut programs as a result of a finalized "no" vote on the 9-percent override.
As for the district's plans for implementing the bond-funded projects without the 9-percent override and extension, he added that SCVUSD would first move forward with "anything that would not necessarily incur additional costs," to allow more time for planning the construction of new facilities.
Meanwhile in the Nogales Unified School District, voters gave an emphatic thumbs up to NUSD's request to raise property tax rates to help pay for school programs and teacher recruitment and retention. Results showed that 59.5 percent of election participants voted "yes" to extend an existing budget override for seven years beginning in fiscal year 2020-2021, and to increase the amount of the override from 6.39 to 8 percent.
Nov. 16: RRHS athlete wins state cross country title
Roshan Tinoco-Miranda, a junior at Rio Rico High School, won the state Division III boys cross country state championship in Phoenix with time to spare, crossing the finish line 16 seconds ahead of the second-place finisher.
"It's a feeling that's hard to describe right now but it's made up of pure bliss and gratefulness. I really enjoyed it," he said during a phone interview shortly after winning the five-kilometer (3.1-mile) race with a time of 15:53.4.
Nov. 24: Woman dies in fifth fatal roadway collision of year
A four-vehicle collision near Amado on Interstate 19 resulted in the death of a local woman, identified as 27-year-old Maritza Campa of Nogales. Police said Campa was driving a Chevrolet Malibu northbound on I-19 when it left the roadway, crossed the median and entered the southbound lanes of travel. The Malibu then struck a Chrysler 200 that was traveling southbound.
It was the fifth fatal crash on local roadways in 2019, with all but one coming on I-19:
• Tomas Lopez, 58, of Rio Rico, died on Sept. 29 when he was involved in a three-vehicle crash on the northbound side of the interstate near Kilometer 25.
• Maria Gonzalez, 43, of Nogales died and two other people were injured as the result of a head-on collision on Mariposa Road between a maroon 2002 Hyundai Santa Fe and a silver 2008 Ford Expedition on June 14. Gonzalez was the driver of the Santa Fe. Two other occupants of the Santa Fe were treated for their injuries at a hospital.
A Nogales Police Department spokesman said at the time that a preliminary investigation had revealed that the driver of the Expedition was possibly texting or using social media when his SUV crossed the median and drove into oncoming traffic. However, no charges had been filed as of December.
• Marie Elena Del Rasso, 63, of Nogales, was killed on May 4 when the 2005 Kia Spectra she was traveling in as the front seat passenger went off the roadway and into the median north of Kilometer 12 and rolled. A 15-year-old male passenger in the rear seat was badly injured after being ejected from the car.
• Andres Vargas, 30, of Nogales, was killed on Feb. 5 after being ejected from his SUV during a rollover on southbound I-19 at Kilometer 27.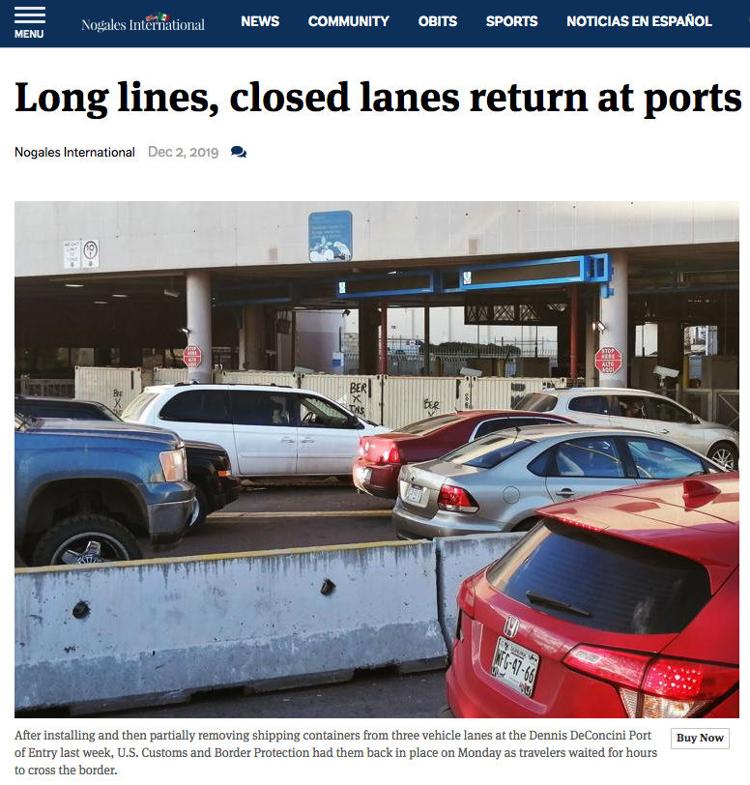 Nov. 26: CBP blocks off vehicle lanes to thwart asylum-seekers, and wait times skyrocket
U.S. Customs and Border Protection began closing off vehicle lanes at Nogales ports of entry starting the Tuesday evening before Thanksgiving in response to "a significant increase of asylum-seekers using vehicle lanes to circumvent the immigration process."
Some of the closed lanes re-opened in the following days, only to be closed again after an apparent resurgence in lane-rushing. As a result, post-holiday traffic and sealed-off vehicle lanes spelled miles-long backups and waits of up to five hours at the DeConcini and Mariposa ports of entry on Monday, Dec. 2.
CBP offered few details on the problems that led to the lane closures, but officials in Mexico said that some asylum-seekers had rushed the vehicle lanes at the ports on foot, while others had approached the ports by car, then abandoned the vehicles one they reached U.S. soil.
In an apparent effort to discourage the tactics, CBP announced that it had started implementing the Migrant Protection Protocols, a program that forces people who request U.S. asylum at the Southwest border to wait out their claims in Mexico, in Nogales.
The previous lack of implementation of the program in the area had drawn an increasing number of asylum-seekers to Nogales, Sonora, and fears that it would soon be put in place here appeared to have contributed to people's decisions to rush the vehicle lanes rather than wait for months for a turn to meet with a CBP officer at the ports.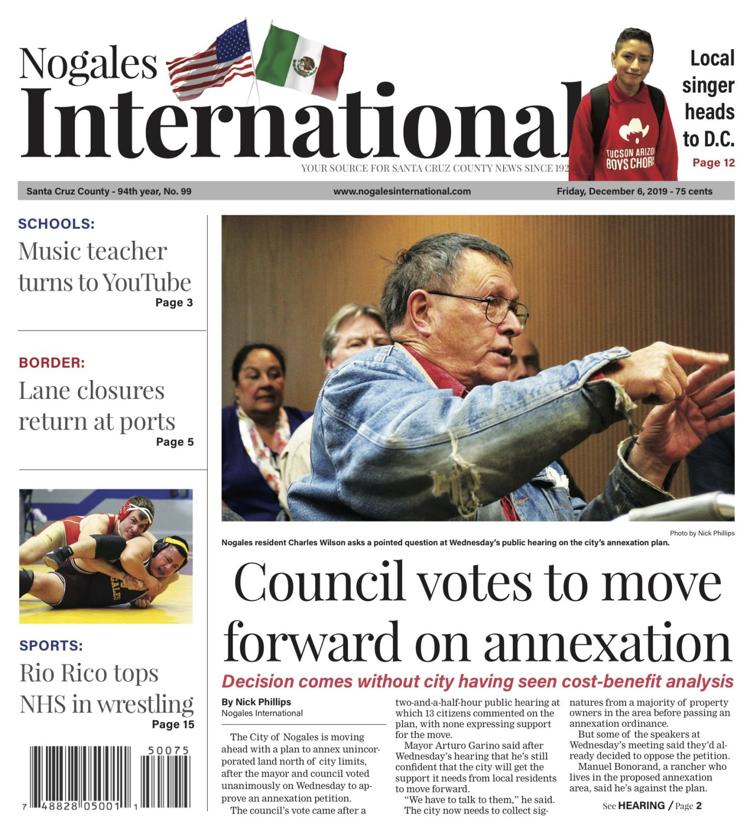 Dec. 4: City to seek annexation, but skeptics abound
The City of Nogales is moving ahead with a plan to annex unincorporated land north of city limits, after the mayor and council voted unanimously to approve an annexation petition.
The council's vote came after a two-and-a-half-hour public hearing at which 13 local residents commented on the plan, with none expressing support for the move.
Mayor Arturo Garino said after the hearing that he's still confident that the city will get the support it needs from local residents to move forward.
"We have to talk to them," he said.
The city now needs to collect signatures from a majority of property owners in the area before passing an annexation ordinance.
Dec. 9: Man accused of murder, kidnapping in DV attack
Nogales police said a man killed a woman, then held their infant child hostage during an hours-long standoff that ended with a SWAT team barging in to rescue the child and arrest the suspect.
Aaron Manuel Estrada-Buelna, 28, was booked into the county jail on charges of first-degree murder, kidnapping, unlawful imprisonment, child abuse and endangerment following the incident at the Santa Carolina apartment complex on the west side of the city. His bond was set at $3 million.
The victim, Berenice Aguirre, 31, was found dead at the scene. The cause of her death has yet to be publicly disclosed.
Records showed that Estrada-Buelna had a history of domestic violence, including pending criminal charges resulting from another assault on Aguirre on Nov. 30, 2018.
Dec. 16: Luis Aguilar of Nogales named nation's top place-kicker
Luis Aguilar of Nogales, a junior member of the Northern Arizona University football team, was named the winner of the 2019 Fred Mitchell Award recognizing the nation's top collegiate place-kicker.
Also on Dec. 16, Aguilar was named to the HERO Sports 2019 All-America first team following his breakout season for the NAU Lumberjacks in which the 2016 Nogales High School graduate made 20-of-21 on attempts under 50 yards and was successful from 57 and 54 yards out.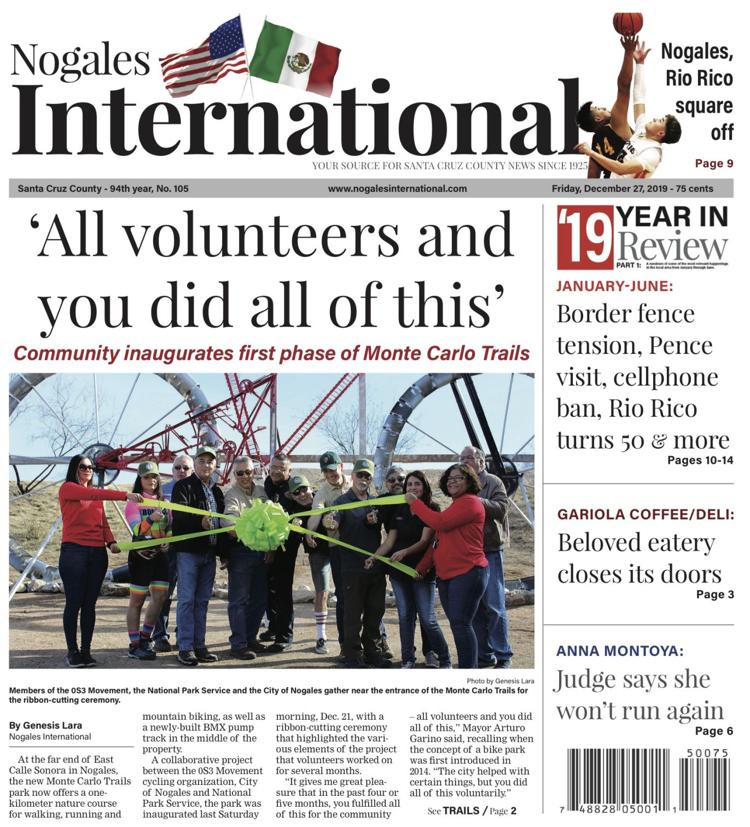 Dec. 21: New multi-use trails park inaugurated in Nogales
Community members gathered for the inauguration held for the new Monte Carlo Trails park, which offers a one-kilometer nature course for walking, running and mountain biking, as well as a newly-built BMX pump track in the middle of the property at the east end of Calle Sonora.
A collaborative project between the 0S3 Movement cycling organization, City of Nogales and National Park Service, the park also features artistic elements, including a 19-by-33 foot bicycle sculpture towering near the entrance of the park by artist and 0S3 cofounder Karla Osete.