Two local law enforcement agencies in the county – the Nogales Police Department and the Santa Cruz County Sheriff's Office – police similarly sized populations in quite different geographic settings.
And statistics provided by the two departments show that NPD officers, who patrol a largely urban environment, and sheriff's deputies, who operate in rural areas, respond to different types of calls.
Auto theft, for instance, is more prevalent in the city: NPD responded to 53 such calls in 2019, while Sheriff's Office deputies responded to just 11 motor vehicle thefts last year.
But drivers in the county were more likely to get nabbed for driving impaired. Sheriff's deputies logged 51 DUI calls last year, compared to 27 at NPD.
"We averaged about one a week… and I think we've been doing that for a couple years now, and I know that's probably a lot more than what the police department has," said Sheriff's Sgt. Santiago Gonzales. "We do focus on DUIs because we know what the results of impaired driving can be."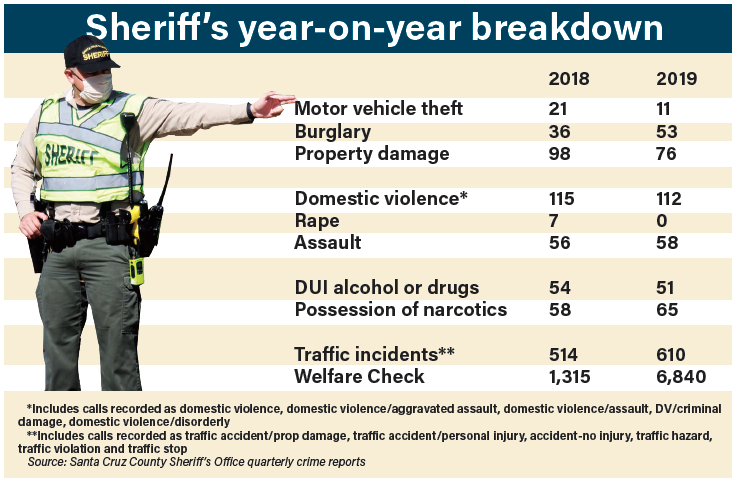 Overall, statistics for calendar year 2019 provided by the Nogales Police Department and the Santa Cruz County Sheriff's Office show a year without major changes in most categories of calls for service.
Both Gonzales and NPD Lt. Robert Thompson said their departments review crime data, but didn't point to any major operational changes in response to the 2019 stats.
And in some areas that showed change, the spokesmen were hesitant to attribute the stats to a larger trend.
At the Sheriff's Office, the 11 calls for stolen vehicles in 2019 was down from 21 in 2018.
"In any given year we can see a spike in them, and then next year we won't have as many as before. It's just one of those stats that can fluctuate year to year… These guys that steal vehicles and take them down south, they can really be busy and active – and then one year not as much," Gonzales said.
Assaults and calls for criminal or property damage stayed relatively flat in both the city and county. Ditto for drug possession-related incidents.
Calls for one violent crime dropped by half in the city and fell to zero in the county: rape.
But Gonzales said that it's hard to draw conclusions from that figure. "Obviously, there's probably cases out there that go unreported," he said.
As for homicides, NPD recorded one in 2019 – the domestic violence killing of 31-year-old Berenice Aguirre by Aaron Manuel Estrada-Buelna, 28, last December – following two in 2018 and none in 2017. The Sheriff's Office did not investigate any homicides in 2019 after responding to one in 2018.
In Nogales, three measures of stolen items – theft, auto theft and burglary – ticked down slightly in 2019 after rising in the previous two years.
"We did have the Community Action Team deployed all of 2019 versus 2018 and 2017," Thompson said, referencing an NPD program that sends officers on foot patrols around the city. "But I don't know if that was a direct (cause) of these numbers."
Calls categorized as "domestic incident" also fell at NPD, from 202 in 2018 to 112 last year.
"That's a significant change," Thompson said, but added: "I really wouldn't be able to say why, absent of any data or interviews or surveys."
Both Gonzales and Thompson said that their departments tracked calls for thefts and stolen items to target their efforts.
"There's been times where we've sent plainclothes guys out to the area to try to develop information, drive around, extra security checks, extra police presence… we are mindful of our stats and try to adjust accordingly depending on the trends that we're seeing," Gonzales said.
Thompson said the NPD Community Action Team is usually the first to be sent to an area with a string of thefts.
"(If) we've seen a rash of burglaries… from people's yards in whatever subdivision, we deploy those officers to that subdivision to deter it from happening further," he said.
A few areas of routine action did spike in 2019.
At NPD, officers recorded 5,998 traffic contacts in 2019, up from 3,475 the previous year. The 2018 number represented a major drop, so the 2019 figure marked a return to 2017 and 2016 levels.
Thompson said he wasn't sure what was driving the change in traffic contacts, but said that there hadn't been any policy change around how or why officers conduct stops.
He added that NPD officers working Operation Stonegarden shifts can also conduct traffic stops. Stonegarden, a federal program that pays local cops for border-related enforcement work, updated its policies last year to allow officers to cover a patrol area rather than stay at a fixed location during their shifts.
The Sheriff's Office logged a major bump in welfare checks, which Gonzales said can result from resident requests or deputies initiating a check. The department recorded 6,840 welfare checks in 2019, more than a 400-percent increase from the 1,315 it logged in 2018.
But that could largely be a result of a new bookkeeping style – last year, deputies started recording every action related to a welfare check, rather than a single recording for a repeated check-up.
Now, Gonzales said, "if a security or a welfare check is requested, say it's three times a day – in the morning, afternoon and then during (the night shift), each time it's cleared as a separate call for service. So in one day you could have three times response to that same welfare check, and that would explain the increase as well."
Welfare checks can stem from reports of suspicious people or vehicles, or residents asking deputies to check-up on their homes while they're out of town.