"Be humble to see your mistakes, courageous to admit them, and wise enough to correct them." – Amine Ayad
I'd like to commend Mayor Arturo Garino and the City Council for postponing the date of the Fiestas Patrias in honor of Mexico's Independence Day until Saturday, Sept. 18. The original date of the event was Sept. 11, the 20th anniversary of the 9/11 attacks.
The Nogales International ran a publisher's note on Friday, July 16, suggesting that the event not coincide with the anniversary of the terrorist attacks in 2001. That same day, Garino called the NI and advised us that he had met with two of the organizers, Councilmembers Esther Melendez-Lopez and Saulo Bonilla and told them to change the date.
Garino, a veteran of the Vietnam War who served in the Navy, said, "I told them that it was a mistake to put the Fiestas on the 11th. I said that's something we should never do."
Unfortunately, it wasn't the first time organizers have intended to overlap the Fiestas and 9/11. In 2010, the same thing happened but officials quickly backpedaled and set it for another date. Hopefully, there won't be a third time and city leaders will always put country before fiestas in the future.
We heard from some of our readers who agreed that the Mexican holiday should never coincide with 9/11. A 30-year Marine summed it up, saying this would "definitely (be) in bad taste as this is one of, if not the, worst day in U.S. history. Though not a federal holiday, 9/11 has been made into a day of remembrance known as Patriot's Day. Would they have this Mexican celebration on Veterans Day (or) Memorial Day?"
Instead, on the morning of Saturday, Sept. 11, 2021 the city will follow its annual tradition of holding a 9/11 remembrance ceremony in front of City Hall, Garino said. A Mass is scheduled later that evening at San Felipe de Jesus Parish Church.
Mariposa Community Health Center has a billboard on Grand Avenue that says, "Violence Happens. Let's Stop the Silence." They also distributed flyers around the county with that message and with little tear-out tabs that have a phone number to call for information.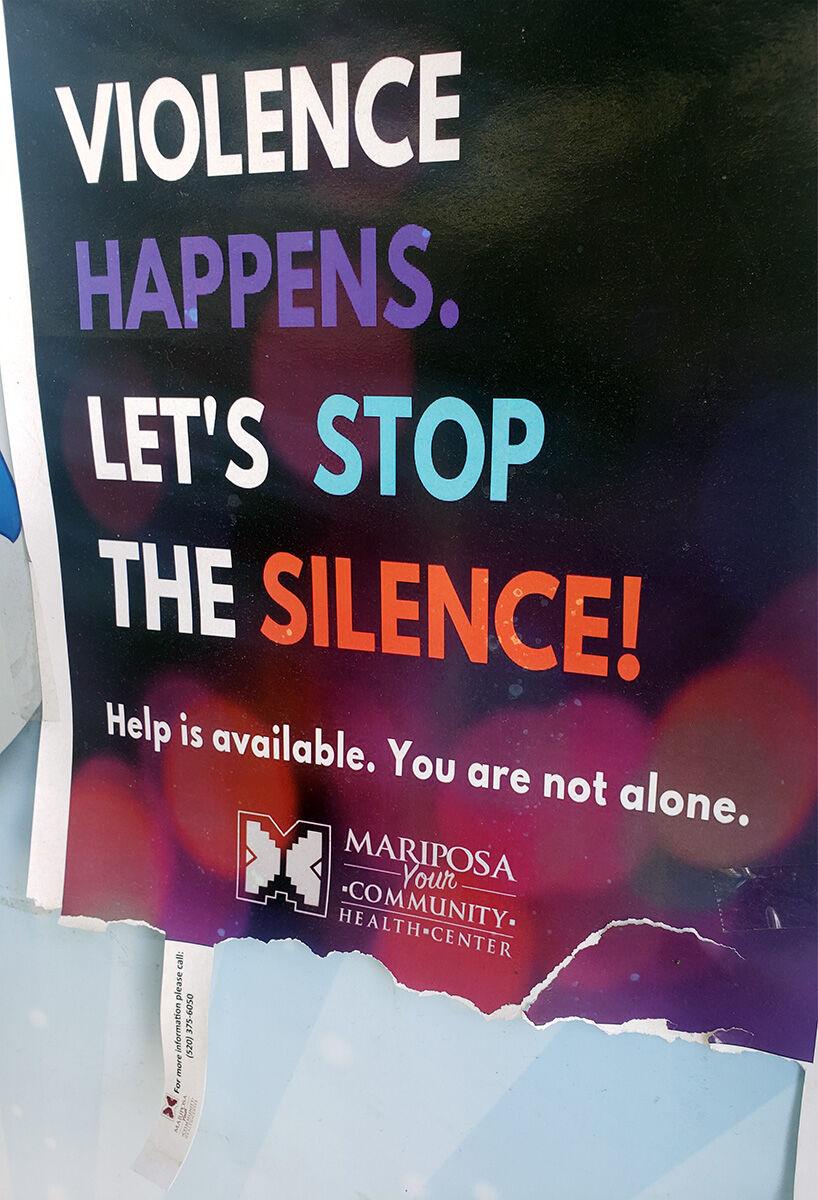 On Tuesday, I went to a local market and spotted one of the flyers. All except one of the tabs had been torn off and taken. That stark image underscored the tremendous problem we confront and it stirred up ugly ghosts of several tragedies this newspaper has had to report on over the years.
Talk to Sheriff David Hathaway or Nogales Police Chief Roy Bermudez and they'll tell you that large number of their calls involve domestic violence and mental-health issues. Many times those two overlap, and too often children are involved.
According to the New England Journal of Medicine, one in four women and one in 10 men are victims of violence inflicted by their intimate partners. The pandemic has exacerbated the problem for some people forced to shelter in place with their abusers. Much work needs to be done to ensure that people who experience abuse can have access to support, shelter, and medical care. Kudos to Mariposa for this grassroots effort and other measures to try to stem the tide.
For more information about stopping the violence, call MCHC at (520) 375-6050.