With Nogales having won four of five singles matches on Wednesday, all eyes turned to the No. 2 court, where Gabriel Corella of NHS was locked in a third-set battle with Zach Daniels of Tempe McClintock High.
If Corella could win the match, it would seal a first-round Division II state championship win for the No. 3-seeded Apaches without having to go to doubles play.
And with the home crowd rooting him on, Corella came through in the clutch to win 6-2, 2-6, 6-4.
"I'm so happy that I have a team, my family, everyone who's got my back, giving me encouraging words. And I know that I can trust them. They've come up to me, they've said, 'good job, do your best,' and they've always kept my spirit up," an emotionally drained Corella said afterward.
He said serves played big part in his win over Daniels. "Most of my serves had been in, so I think consistency in serves was a big thing. I was a little scared because overall, he's a really good player – forehand, backhand, his serves are pretty strong – but in the end, I think it just came down to consistency."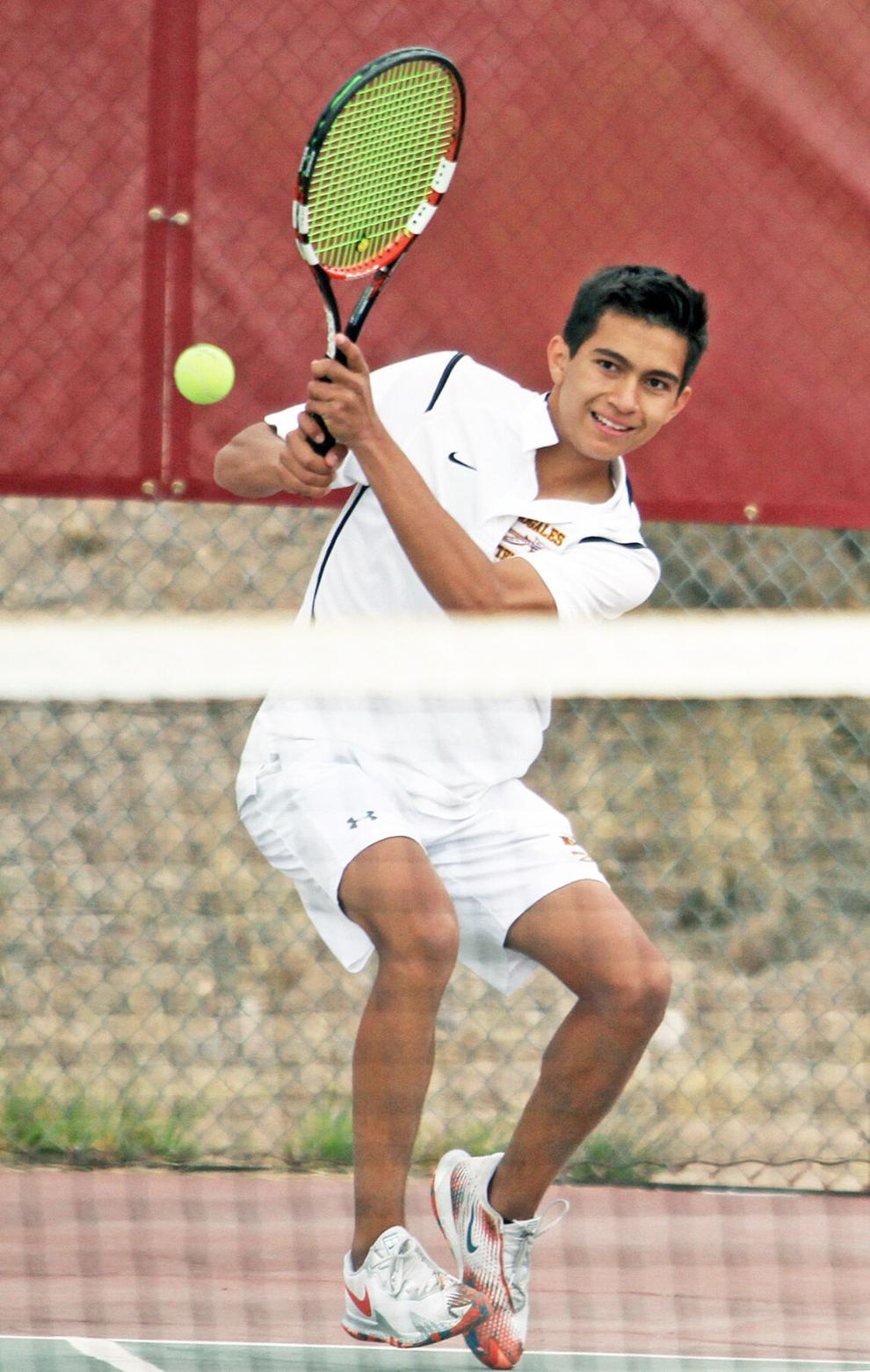 Corella's was one of two singles matches that went to a decisive third set on Wednesday, both of which were won by Nogales. Jose Rubio was the winner at No. 4 by a score of 4-6, 6-4, 7-5.
Gustavo Acosta took the No. 3 match, 7-6, 7-5. Gonzalo Armenta picked up another win for the Apaches at No. 5 singles, 6-1, 6-2; and Jacob Molera was the No. 6 winner, 6-0, 6-2. Emilio Heredia fell in the No. 1 match, 2-6, 1-6.
The Apaches, who entered the playoffs with a perfect 12-0 record, will now host No. 6-seeded Arcadia High School of Phoenix at 3 p.m. on Wednesday, May 5, in the quarterfinal round.
As the NHS team waits for the next round of team competition, Corella will play in the state D-II singles tournament on Friday, April 30 at the Phoenix Tennis Center.
That same day, Heredia and Acosta will play in the D-II doubles tournament as the No. 1 seed. Molera and Rubio will compete in the doubles tournament as well.