The Nogales Apaches struggled in their first season after moving up a level to the 5A Conference, finishing 2-8 in 2018. But senior offensive lineman Daniel Lopez promises NHS fans that they'll see a "whole different team" in 2019.
"More teamwork, bonding, more clicking," Lopez said. "We're going to be different, better energy this year. We're ready for the season."
The season, which starts Aug. 23 at Cholla in Tucson, includes rematches with Empire and Desert View, two teams the Apaches felt they should have beaten last year, as well as a home game against Walden Grove, which has become a backyard rival along with Rio Rico.
Jake Teyechea, now in his second season as head coach, said he's especially looking forward to an Oct. 4 home game against 5A Southern Region rivals Ironwood Ridge, after the Apaches stood tall against the perennial powerhouse in a seven-on-seven preseason scrimmage.
"We're looking forward to surprising people with Ironwood Ridge," he said.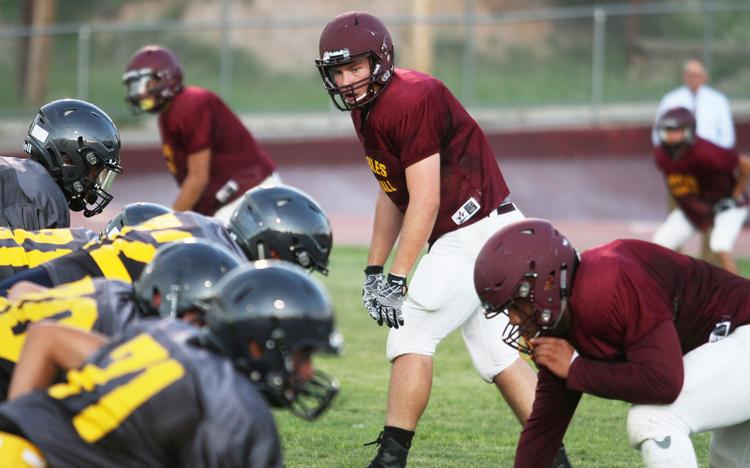 Ivan Camerlin, a senior defensive end, was also feeling optimistic about the team's preparation when interviewed prior to an Aug. 14 scrimmage against Flowing Wells.
"Last year was pretty rough, but we came back into it. We had more time, more time to practice, more time to start getting back into the weights," he said. "It just takes a team and it's all about the team."
Returning starters: Oscar Felix (senior, QB/WR), Richard Hanlan (junior, RB/WR), Paul Gracia (senior, RB), Pedro Rodriguez (junior, QB), Hernan Ortiz (senior, OL), Johnathan Mendoza (senior, C), Christopher Mejia (senior, OL), Heriberto Barnett (junior, WR) and Daniel Lopez (senior, OL). 
Key newcomers: Christopher Correa (junior, QB/LB), Rene Urias (junior, FB), Santiago Andrade (senior, FB), Aiden Luevano (senior, TE/LB) and Gael Martinez (senior, OL).
Two juniors – Christopher Correa and Pedro Rodriguez – have been competing during the pre-season for the Apaches' quarterback spot.
"They're both great kids, it's just going to come down to who fits the offense," Coach Teyechea said.
"Chris has a great arm and he's a heck of a linebacker, so he can play both sides of the ball," he said of Correa. As for Rodriguez: "He's athletic. He's surprising."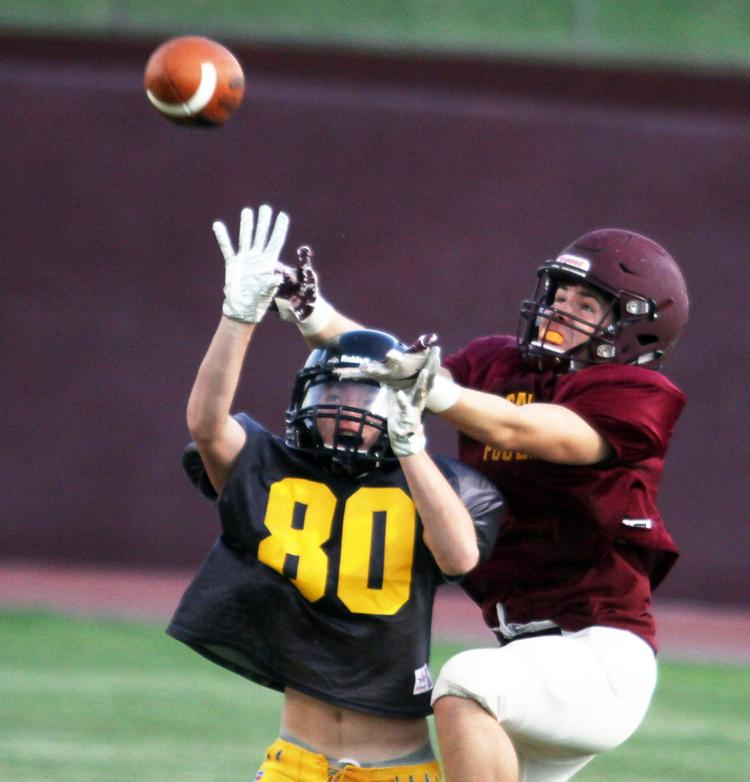 Senior Oscar Felix was pressed into duty as at quarterback last year, but this year, watch out for him at wideout, Teyechea said. "He's just phenomenal. Once he gets popped, he becomes a completely different player. Very physical, goes after the ball, good speed off the ball."
The coach called Ricky Hanlan the team's "Swiss Army knife," adding: "That kid is receiver, wingback, running back – he'll play line if we need him to."
The Apaches' overall approach on offense is to be fundamentally sound, said Teyechea, who also serves at the team's offensive coordinator.
"Taking care of the little things is my big philosophy," he said. "I'm not looking for a touchdown every play; the kids need to understand that some plays are going to work, some plays aren't, but we can't get off track. We've got to trust in what we've been working on and trust in each other and just make sure that we are fundamentally sound and just key on the little things and work together."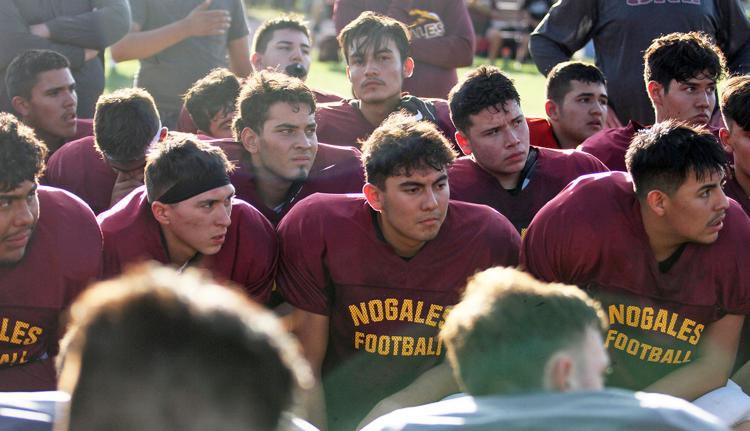 Returning starters: Genaro Parra (junior, CB), Abraham Aldaz (senior, LB), Gerson Galeano (senior, DL), Paul Gracia (senior, S), Heriberto Barnett (junior, CB) and Miguel Hernandez (junior, DE). 
Key newcomers: Victor Lugo (senior, DL), Albert Ramirez (senior, DL) and Chris Campuzano (senior, LB).
Asked about his philosophy, NHS defensive coordinator Gerardo Garcia used terms such as "fundamentally sound," "great tackling defense," "swarming defense," "aggressive to the ball" and "attack the ball."
"We run a basic four-four, so it's just putting the best athletes in the best possible positions," Garcia said, adding: "We play a lot of teams that run the ball, so that's what's we've focused on the most. We're pretty solid there, especially with the boys in the middle."
The Apaches return three defensive players who were named second team all-5A Southern Region performers in 2018: linemen Hernan Ortiz and Gerson Galeano, and defensive back Genaro Parra.
"Hernan's probably our best defensive player," Garcia said, with Teyechea adding: "That kid's just football smart."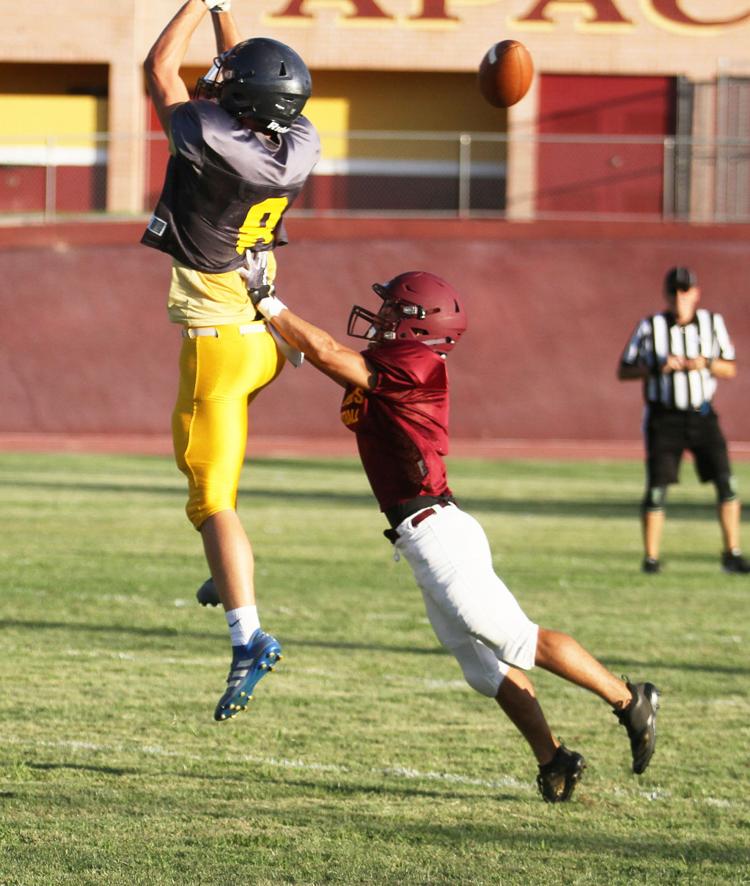 Speaking of Parra, a three-year starter at cornerback, Teyechea said: "I think he's the only 5-foot-6 cornerback to pick off Jamarye Joiner twice," in reference to the 2018 Cienega High School graduate who's now a quarterback for the University of Arizona Wildcats.
Garcia called Abraham Aldaz, a senior linebacker, "something to watch," and said he's hoping for double-digit sacks from junior defensive end Miguel Hernandez.
"He's a big boy and he's got a lot of speed," he said of Hernandez.
Key returners and newcomers: Esteban Ruiz (junior, CB/WR) Jorge Felix (senior, P/RB/LB) and Juan Velasquez (junior, K).
Placekicker Maile Vasquez, who made history last year as the first female to play varsity football at NHS, opted to focus on club soccer during her senior season, leaving the team in need of a replacement. So Teyechea turned to junior Juan Velasquez, whom he had previously coached on the freshman team, and talked him into returning.
"This kid has booted 75 yards and made it," the coach said.
Jorge Felix, a senior coming back from a knee injury, will handle the punting duties. "The dude has a boot," Teyechea said.
Goals: "I'm not going to give records or anything, but my main goal is to be competitive, be physical and be excited to play the game," Teyechea said. "And my philosophy is one play at a time, one game at a time. Our goal for the season is to try to be 1-0 every week."
Teyechea has stressed character-building as a key component of the program, as well as a desire to strengthen the bond between the football team and the community.
"I think what Nogales is going to see is a great group of young men that were raised by them, around them, that show that Nogales is a strong-willed community that is bound by family. I think that if they come out (to the games), they're going to see that everything they've done to make Nogales is paying off with the student-athletes we're getting now," he said.
"It's a hardworking town and a bunch of hardworking boys," added Garcia, the defensive coordinator.