Nogales Apaches pitcher Gerardo Martinez had a lofty goal going into his first-ever postseason start.
"During school, he was telling everybody that he wanted to throw a complete game," his teammate Jorge Bojorquez said.
And that's just what Martinez did, throwing a three-hit complete game against Desert Mountain in the 5A Conference semifinal at Tempe Diablo Stadium on Thursday, leading No. 1-seeded Nogales to a 4-1 victory and a spot in the state championship game on Tuesday.
"It feels better than I expected," Martinez said after the game. "I've never experienced this … it feels amazing."
The junior righthander, a second-team all-state selection, had missed the past two-and-a-half weeks with a shoulder injury. But he said his shoulder didn't bother him at all on Thursday as he needed only 80 pitches to record the seven-inning win, striking out four and walking one.
"The first inning, I was honestly really nervous, my legs were shaking," he said. "But after that, I got my mindset for the game and just tried to focus on what I had to do, nothing else."
But while Martinez kept No. 4 Desert Mountain scoreless through the first five innings, the Apaches offense was having trouble getting any runs for him to work with.
Nogales put runners on second and third with no outs in the bottom of the first on a leadoff walk to Ricky Maytorena, a single by Bojorquez (the first of his four hits on the night) and a balk, but they still couldn't push a run across. NHS had runners on base again the second, third and fourth innings, but still couldn't score.
They finally broke through in the bottom of the fifth.
Maytorena led off by getting hit by a pitch and Bojorquez followed with a bunt single. One out later, Jesus Lopez walked to load the bases, bringing up Mario Duarte.
The Apaches tried to fool Desert Mountain with a fake suicide squeeze. But instead of throwing home, the pitcher tossed the ball to third, catching Bojorquez too far off the bag.
"Right there I thought I was a dead duck," Bojorquez said. "But I saw him kind of lob it over there, so I was like, 'This is my shot,' so I just headed home."
Bojorquez slid head-first into home, beating the relay throw from third base and giving Nogales a 1-0 lead.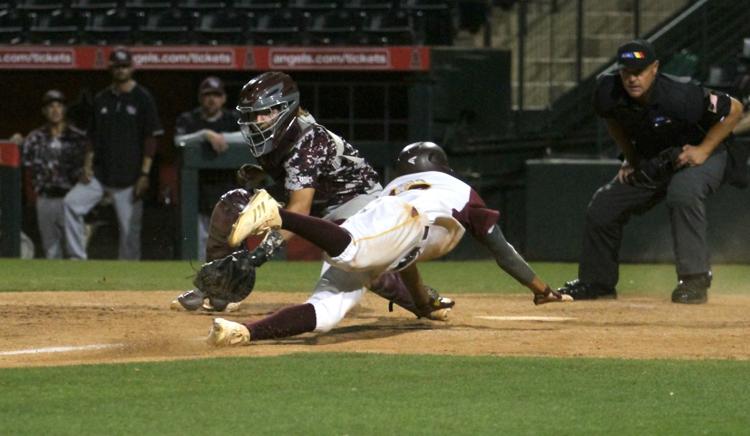 "We got lucky, and sometimes it's better to be lucky than good," Apaches coach O.J. Favela said.
Duarte ended up walking, and when Kenneth Jimenez was hit by a pitch and Miguel Vega drew a walk, it forced in two more runs and gave Nogales a 3-0 advantage.
"We got a couple more big runs off walks," Favela said. "We just said, 'Put pressure on them and see what they do,' and they made a couple mistakes and at this point in the season, you make mistakes and it comes back to hurt you."
Desert Mountain got on the board in the top of the sixth on a leadoff triple and a groundout, but the Apaches got that run back in the bottom of the inning when Maytorena doubled with one out, went to third on another Bojorquez single and scored on an error by the Desert Mountain shortstop.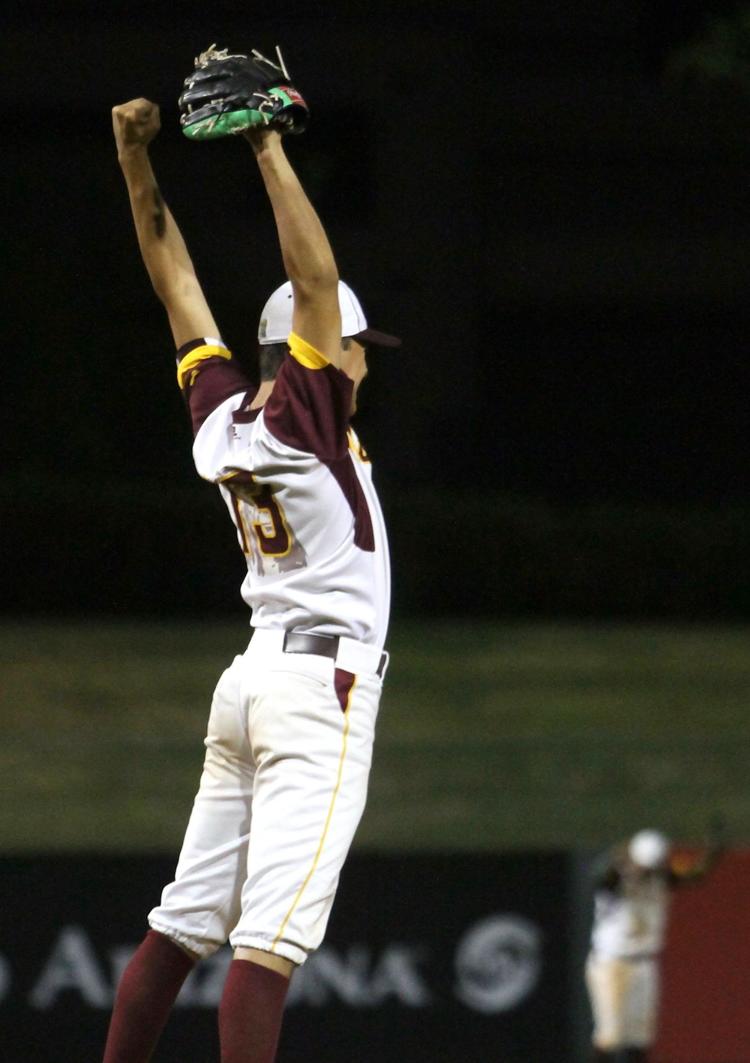 Leading 4-1, Martinez set Desert Mountain down 1-2-3 in the seventh on a grounder to second baseman Alec Ibarra, a pop out to Bojorquez at shortstop and a fly out to Alex Ramos in right.
"In the sixth inning, three outs away, I said, 'Go ahead and do what you said you were going to do,'" Bojorquez said in reference to Martinez's assertion earlier in the day about wanting to throw a complete game. "And he pitched a hell of a ballgame. He did his job, hit his spots and he was just unhittable."
Favela said Martinez's performance was especially impressive given the offensive prowess of the Desert Mountain lineup, which features four players batting over .400 and a No. 3 hitter with an average above .500.
"He throws strikes," the coach said. "He competes and that's a heck of a performance."
The Apaches, seeking their third consecutive state championship, will now take on No. 2 Horizon of Scottsdale in a winner-take-all final at 4 p.m. Tuesday at Tempe Diablo Stadium. The game will be broadcast live online on the High School Sports Network.
"If both teams play their best, it's going to be a dogfight," Favela said.
Nogales is seeking its third-consecutive state baseball crown, though its first in the 5A Conference. The Apaches won the title in 2017 and 2018 as a 4A school.
Bojorquez said he doesn't see any difference between competing for a championship in 4A or 5A.
"We're just trying to beat whoever's put in front of us. That's our goal, beat every team," he said. "It's always going to be playoff baseball and everyone's going to bring it."