Five bicyclists split into two groups at the Monte Carlo Trails pump track last Saturday morning. Some, with shovels in hand, continued the task of constructing new ramps on the property, while others practiced catching air over the recently-finished tracks.
Together, the Team 45 members are working steadily to mark a new wave in the local BMX culture as they regularly gather at Nogales parks to practice and engage in friendly competition.
"I don't really consider it a team. I just consider it a bunch of kids having a good time," said 42-year-old Francisco Orozco, who helped form the group. "It's just a brotherhood that you build together as friends and all we do is get outside, ride, go build."
The group began coming together about three years ago, Orozco said, when he bought his first BMX bike and started meeting up with fellow rider Alex Aguirre at the local skate park to share tips and ideas regarding the sport.
After a period of regularly practicing at the park, it became obvious that it was always the same people who showed up with an interest in learning more about BMX and trying it out for themselves.
"Ever since then, we've been riding," Orozco said. "Just between me and him, we got other people and he started educating me more about bikes. He's kind of the one who trained me because he's the one with the most experience."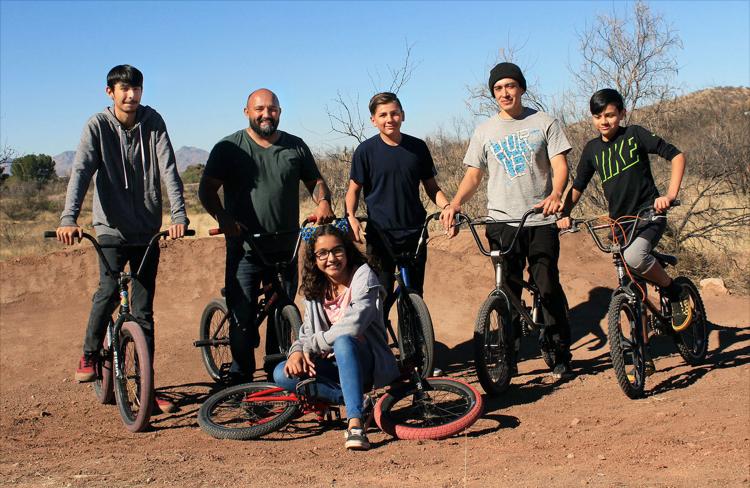 Orozco and Aguirre agreed that BMX and skateboarding trends come and go in Nogales in waves, with significant interest suddenly arising, only to die out after a few years.
The first wave Orozco remembers was when he was growing up in the Monte Carlo area during the 1990s, he said, recalling that dozens of kids would also skateboard around his neighborhood. But he believes the skateboarding trend died down by the end of that decade, while Aguirre's generation eventually brought back BMX a few years later.
"Here in Nogales, BMX died when I came in about three years ago. I guess Alex was the last one and he was the one who kept the fire going," Orozco said. "Now it's starting to come up again."
Aguirre, 26, who has been practicing BMX for about 11 years, said he has also witnessed how the trend comes and goes, as he was the only one among his friends and cousins who regularly stuck to the sport.
"Life gets in the way – you get a job, you get your first car, you concentrate on that and put BMX in the back," Aguirre said. "A lot of the riders that I started off with, they still ride, they just don't ride as often."
As the two began seeing more local kids become interested in the sport, they began brainstorming new ways to help them practice.
During the summer, Orozco said, he tries to organize trips to practice at bigger skate parks in Tucson and Phoenix, as well as attend BMX events and connect with more experienced athletes.
"If you put in the work and show me that you want it, I provide the opportunity," Orozco said, adding that he feels responsible for the rest of the group since he's the oldest member. "If we're all coming out, I put the water and the food."
Aguirre added that they also built a small pump track in Orozco's backyard after they felt they needed more local parks to practice. The experience of building the first few ramps later came in handy when the 0S3 Movement granted them a section at the Monte Carlo Trails to build a bigger pump track to practice.
"We started off with the small ones by hand, so that pretty much set the foundation for us," Aguirre said. Orozco added that structuring the ramps at the Monte Carlo Trails was made easier with the help of a Tucson man who dug up and piled the dirt with professional equipment.
As for training, Aguirre is the most experienced member of the group and he shares tips and skills with anyone interested in learning.
"If I see a kid that has potential, I try to motivate them. I find it cool because they're pretty much the new generation," Aguirre said.
The youngest and only female rider of the group, Orozco's 10-year-old daughter Sophia, admitted she was a bit intimidated when she first joined the group.
"When I first came here, I was like, 'I'm not going to ride, I'll just stay in the car.' But now that my dad got me the bike, I started riding and I feel comfortable," she said, adding that she's been more inspired to keep practicing after learning that there's other girls riding in bigger events in Tucson.
"It's fun, hanging out with friends," Sophia said. "When you look at it, it's scary but when you finally do it, it's not scary."
Orozco added that fear is one of the main factors keeping more people from joining the group, as new riders are often intimidated and parents frequently nervous about the possible injuries that their kids could sustain from the sport.
"I always tell them, 'Where you're at, that's how we started,'" he said, adding that the dangers are the same as more common sports like football: "And that's why I always invite and welcome parents to come watch and see what we're all about."
To learn more about Team 45, follow them on Instagram at @team45_.