When the Boston Red Sox selected Marcelo Mayer with the fourth pick in the Major League Baseball amateur draft earlier this month, they'd seen the young prospect's performance with baseball teams based in the San Diego area, where his family lives. But the 18-year-old infielder also has roots in Nogales, where Mayer family members have played ball on both sides of the border.
Marcelo's father Enrique Mayer and uncle Edward Mayer both played on the Nogales High School baseball team that won the Arizona state championship in 1981. And he's also related to Hector "Chero" Mayer, the Nogales, Sonora native who played in the St. Louis Cardinals minor league system in the 1950s, as well as in the Mexican League.
Enrique, who played baseball at NHS and was the first baseman on the 1981 team, was born in Nogales, Sonora. He grew up in the Los Angeles area and returned to Arizona for high school. Marcelo's mother Myriam was also born in Nogales, Sonora. Enrique's two sisters, Yvette and Sylvia, live in Nogales and Tucson.
Speaking to the NI by phone last week, Enrique Mayer said he hasn't been back to town recently due to the COVID-19 pandemic, but the family normally makes a few trips to Nogales each year.
"My family's from there, so I feel like I have deep roots there," he said. "And even though my kids have grown up in California their whole lives, I made it a point for them to feel like they're also from Nogales. So we go there a lot, that's where their grandparents are, their cousins are, and uncles and so forth."
In the early 1980s, when Enrique was in his last year of high school, NHS had already emerged as one of the top baseball schools in the state. The team won five state championships in the 1950s and also earned the title in 1965, 1971 and 1976.
"We always felt like it was a tradition of winning in baseball in Nogales back then," Enrique said.
Even so, after the 1981 championship, Nogales didn't win the state tournament again until 2017. By then, Enrique had settled with his family in California and Marcelo was about to start high school in Eastlake, Calif. Enrique said he remembers watching that championship game from home, tuning in to a streaming video on Facebook.
"We've been following Nogales baseball forever, even though we're out here," he said.
Marcelo Mayer, a 6-foot-3, 195-pound shortstop who bats left handed, posted a .392 batting average, 14 home runs and 45 RBIs during his senior season at Eastlake High School. He committed to attend USC on a baseball scholarship, but it was well known that he was highly coveted by Major League teams.
On July 11, the Mayers gathered a big crowd for a draft day party in the San Diego area. Enrique said about 30 friends and family members from Nogales traveled to California for the event.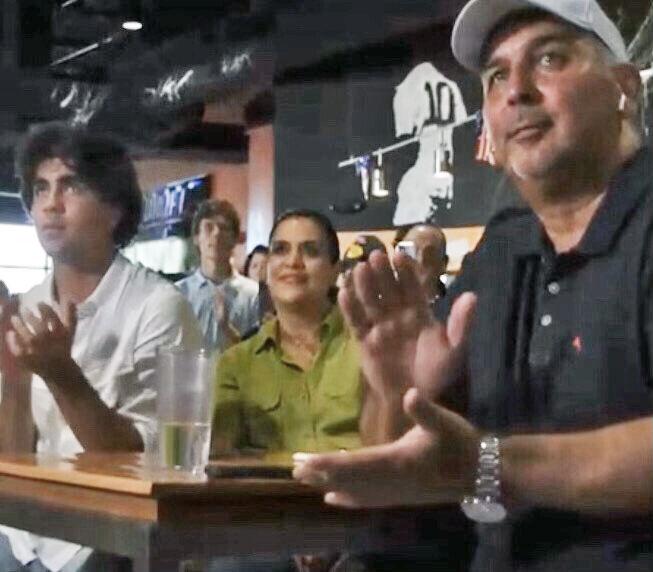 After some tense negotiations with teams that morning, Marcelo was drafted by the Red Sox with the fourth-overall pick. Some analysts predicted that he'd be chosen with the first-overall pick by the Pittsburgh Pirates, but Marcelo told ESPN afterward that "it feels great" to be selected by the Red Sox.
He still hasn't signed a contract with the team – the Sox have until Aug. 1 to sign him, and the recommended monetary slot value for where he was picked is just under $6.7 million, according to Boston.com – but he'll head to Boston for a physical exam this week. Then he'll fly to the Red Sox's training facility in Ft. Myers, Fla., his father said.
Enrique Mayer added that his son's draft selection had provided another reason to connect with old friends from Nogales.
"Guys that I hadn't talked to since high school, since 1981 have been calling me," he said. "It's been amazing, the support has been amazing."