The Rio Rico Hawks say they're on the right track to rebound from a disappointing 2018 football season that saw them go 1-9.
"There are more players committed, and a lot of people giving more effort," said senior back Cristian Vega following a pre-season practice on Aug. 13. "We're looking good this year, so we're hoping to make it a better season than last year."
To turn things around, the Hawks are looking for guidance from the man who led them to the school's last and only state playoff season in 2013: Kevin Kuhm. The former Hawk head coach has returned to take the reins at RRHS after a five-year stint at Nogales High School.
A member of the 4A Conference Gila Region, the Hawks have a great opportunity for a do-over of last year's schedule. They play the same teams in the same order as they did in 2018, just flip-flopping the site of the games.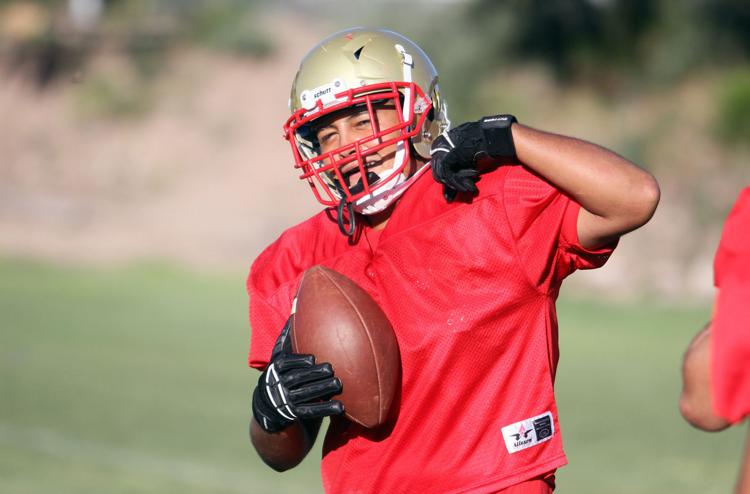 Senior lineman Bryant Sosa said he's looking forward to the chance to leave a lasting mark on the program.
"I want to start a legacy where from now on, everyone starts acting different – a winning culture," he said. "I want it to be a better culture and a community."
Returning starters: Edryann Rodriguez (junior, QB), Bryant Sosa (senior, OL), Chris Bustamante (senior, OL), Tony Motta (senior, OL) and Frank Gonzales (senior, FB).
Key newcomers: Cade Fanning (senior, WR), Cristian Vega (senior, RB) and Quinn Duerkop (senior, OL).
The Hawks had a difficult time getting the ball into the end zone last season, when they averaged just 6.5 points per game. But Vega said this year's offense is shaping up to be more potent.
"This year, we're more of a unit. We have the same players playing on the same positions, so everybody knows what they're doing," he said. "Last year, we had a lot of players changing position every week, so it was kind of hard to get used to the new plays."
Rio Rico is running the Wing-T, an offense characterized by a wingback lined up just off the tight end on the strong side, and a split end lined up on the weak side.
"What the Wing-T is, it's an angle-blocking philosophy, so we're not trying to block guys down the field, we're trying to block them down the line of scrimmage," Coach Kuhm said. "We're trying to block them side-to-side, east and west, based on angles. We're a smaller team and we feel like rather than going head-to-head and trying to push someone back, it's a lot easier to block in or block out and try to move someone side-to-side and let our backs run through."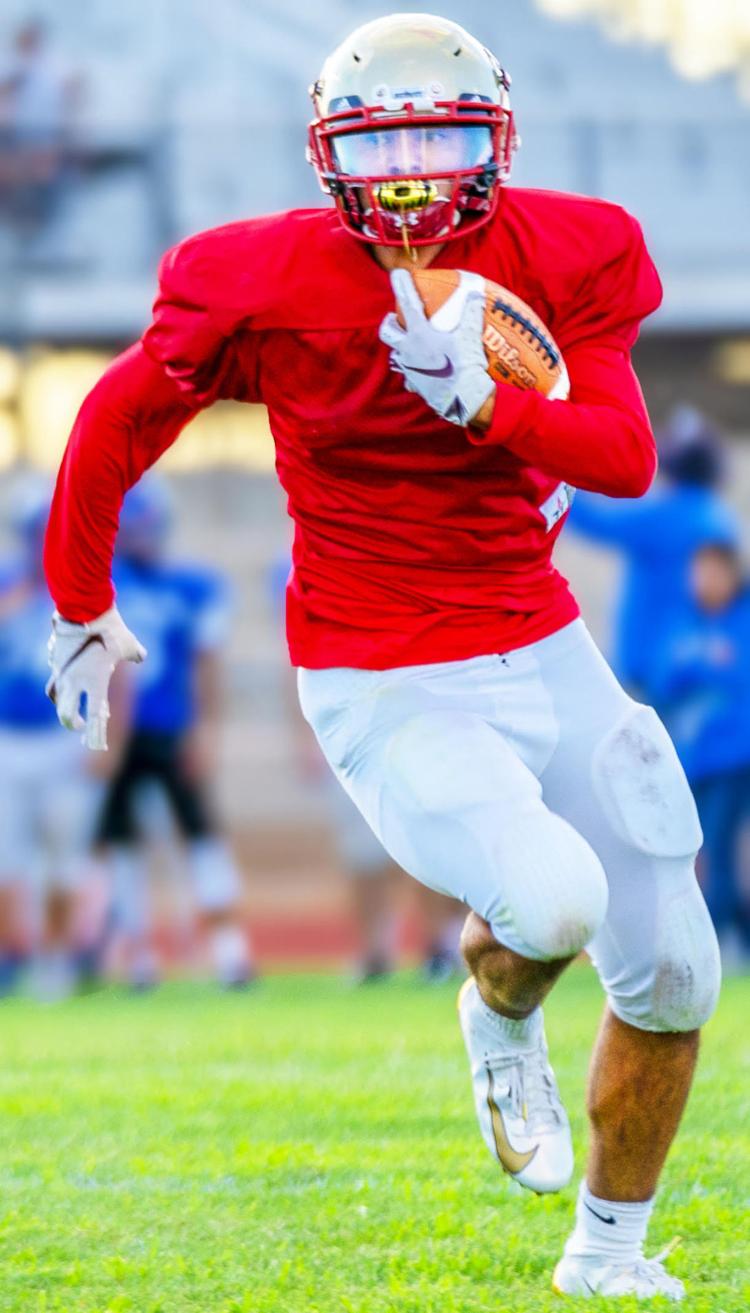 Kuhm noted significant improvement in the Hawks' offensive line and said he hopes they'll open up holes for the running backs.
"It starts with our center, Bryant Sosa, up front, and we've got four other guys up there in Aiden Solis, Chris Bustamante, Tony Motta and Quinn Duerkop, who I think really love each other and will play as a unit and do things the right way," he said.
At fullback, Kuhm said, "we've got three guys we believe in, and then we've got two running backs that are pretty good in Cris Vega and Robert Villegas."
The quarterback will be junior Edryann Rodriguez, who has seen time at the position since his freshman year. Hawk fans can expect to see plenty of running and play-action passes with Rodriguez running the offense, Kuhm said.
"With Edryann being able to throw the ball and run the ball, with some good wheels, we feel like we can open it up, once we feel comfortable in our base offense, to highlight some of his skills," the coach said.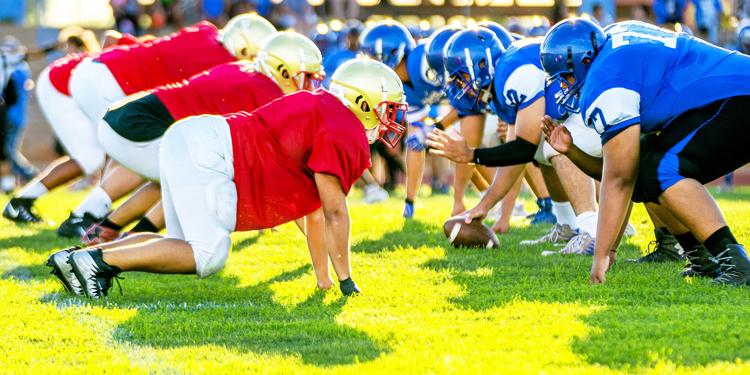 Returning starters: Edryann Rodriguez (junior, DB), Ivan Rodriguez (senior, DB), Frank Gonzales (senior, DL), Tony Motta (senior, DL), Chris Bustamante (senior, DL), Bryan Sosa (senior, DL) and Cristian Vega (senior, DB).
Key newcomers: Manny DeLara (senior LB) and Jose Meza (senior LB).
"We're running a really base defense," Kuhm said. "It's about leverage, keeping the ball inside of us. And with our defensive secondary, our defensive backs, keep the ball in front of us."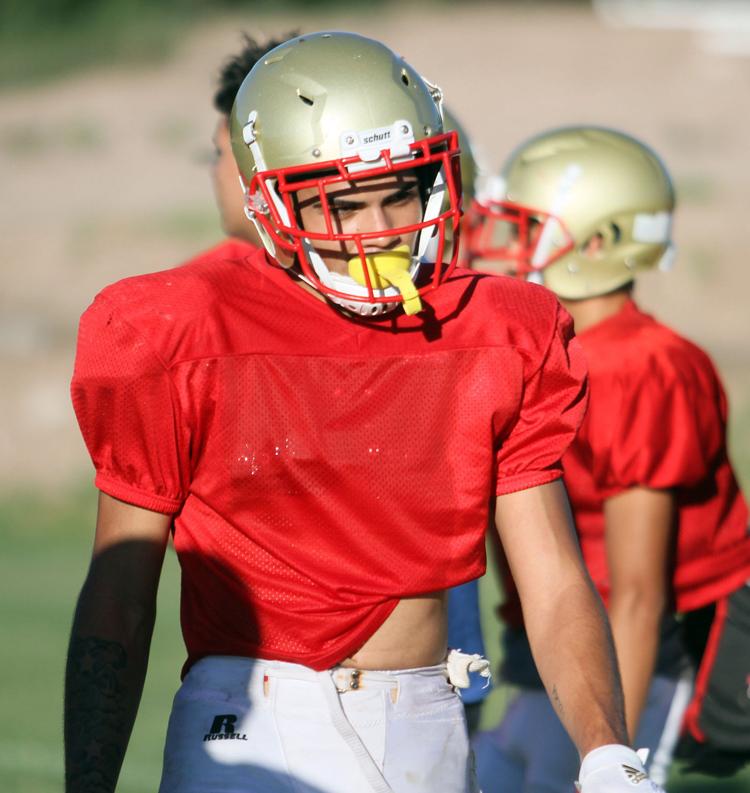 Sosa was named second-team all-Gila Region as a defensive lineman in 2018, and one member of the Hawks' secondary that Kuhm thinks has the potential to be an all-conference performer this year is free safety Ivan Rodriguez, a senior.
"He's able to play from hash to hash and take away the middle of the field in the passing game. But he's also fast enough, aggressive enough, to come downhill and support on the run, and then strong enough to take guys to the ground," he said.
Key returners and newcomers: Gabriel Romero-Davis (sophomore, K), Emmanuel Rodriguez (senior, P), Robert Villegas (senior, RB), Anthony Amezaga (sophomore) and Alan Morgan (senior).
Gabriel Romero-Davis, a returning sophomore kicker, will be counted on to boot Rio Rico's field goals, PATs and kickoffs.
"He is 120 pounds soaking wet, but he's really accurate when he's kicking the ball," Kuhm said.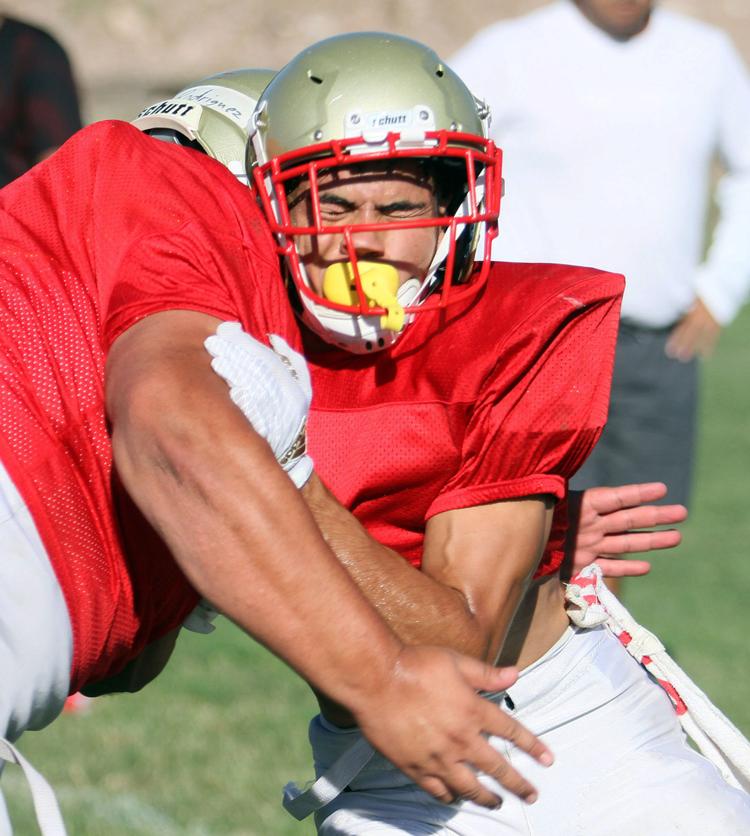 Emmanuel Rodriguez, a senior utility man who can play tight end, safety, full back and linebacker, will also handle the Hawks' punting duties. "We're asking him to do a whole lot for us and he's doing a really great job," the coach said.
Running back Villegas will use his speed to return kicks, and Kuhm also listed sophomore Anthony Amezaga and senior Alan Morgan as key special teams contributors.
Goals: Kuhm said the Hawks sat down as a team and came up with three goals: a winning season, winning the Gila Region championship and qualifying for the state 4A playoffs.
"In my opinion, those are always going to be the goals around here, no matter who's suiting up for us, no matter how we did last season," he said.
"I believe we can have a winning season this year," said Vega, the senior offensive and defensive back. "It's obviously not going to be easy – we need everyone to be showing up to practice and doing what they're supposed to."
His teammate Sosa urged community members to show up to games and support the team.
"They should come and watch us because I for sure know that these games will be a show to watch, because we'll give it more effort and we'll play with fun this year," he said.