The Rio Rico High School volleyball team overcame some early jitters to take control of Tuesday's season-opening match against the Palo Verde Titans and win in straight sets.
Playing in front of a boisterous home crowd, the Hawks fell behind 5-0 and 8-1 in the first set. But after a timeout, they regrouped and gained the serve. Then, with senior Andrea Carrillo serving, they reeled off eight-straight points – three on aces – to go ahead 10-8.
"I could tell they were nervous. I said, 'We've got to pick it up right here because this is not how we're supposed to start,'" Coach Alexis Bermudez said. "Their faces said everything. But after that they picked it up and I was really, really happy with the ending."
After Palo Verde came back to tie the first set at 10, Rio Rico forged leads of 21-13 and 23-17. But the Titans fought back again to make it 23-22 before the Hawks closed it out with three-straight points, the clincher coming on a kill by senior Yamileth Barcelo.
The Hawks took an early 9-2 lead in the second set, again with Carrillo serving, and cruised to a 25-9 win.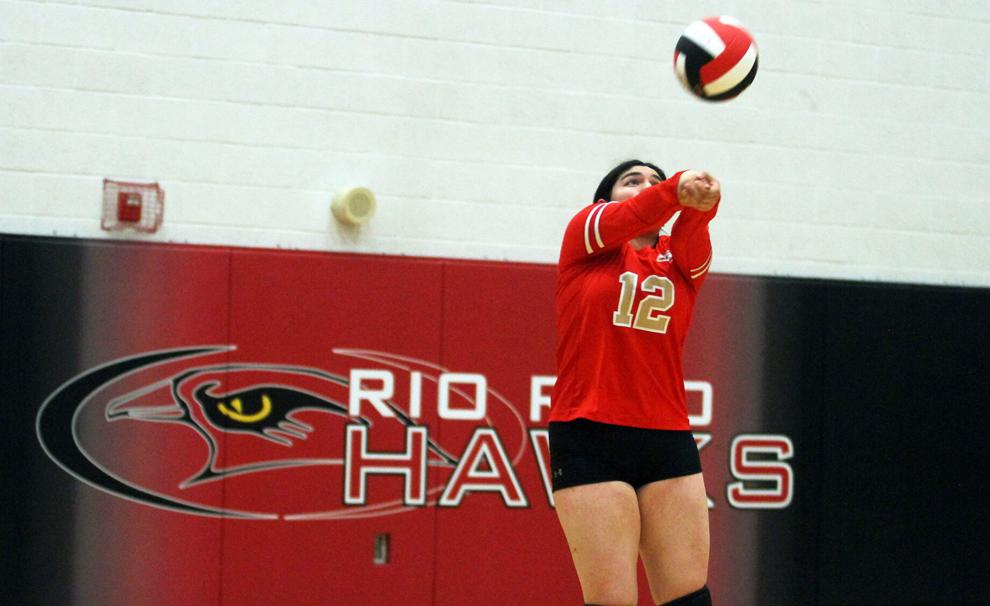 Rio Rico capped off the night with an even more dominating performance in the third set.
Junior Dior Velez started off with the serve and tallied eight aces as the Hawks rolled to a 15-0. Then, after a point for the Titans, Carrillo took over service and led Rio Rico to a 25-1 win in the set and a 3-0 match victory.
"We served all summer and we serve at every practice. I tell them, 'You're by yourself, it's all you, these are the points you've got to make on your own, so just get it over,'" Bermudez said of her team's serving.
Carrillo finished the match with 12 aces and six kills. Velez had 12 aces as well. Junior Ailani Rodriguez had five kills and four blocks – "She really stepped up," said Bermudez, who also cited Carrillo and Velez as standout performers.
"I think everybody pretty much did what they have to do," she said. "We just need to be a little more aggressive."
As for the strong crowd support, Bermudez said: "I couldn't ask for any more. The energy in here was, I mean, I got goosebumps every time they started. And I think we needed that, the girls needed that. We feed off of that, so I love it, I love the fans."
The Hawks were scheduled to play at Cholla High School in Tucson on Thursday evening, then take on county rivals Nogales at NHS in a match starting at 6 p.m. on Friday.