Friday night the Rio Rico Hawks earned a spot in the Class 4A State Championship bracket with a tough, 60-54 play-in round win over the Flagstaff Eagles.
Rio Rico used tenacious defense, which led to timely forced turnovers and rebounding, along with an impressive use of the three-point arc to negate the Eagles' height advantage.
Habid Calderon led the Hawks in scoring with 20 points, 15 of those on three-pointers. Mario Alvarado (12 points) and Elian Velasquez (13 points) both added three baskets from beyond the arc.
The Hawks trailed through most of the first quarter, chipping away at the Eagles lead until tying the score at 16 each at the 2:50 mark. Alvarado connected on his second of two first quarter three-pointers with 1:30 remaining to give Rio Rico its first lead of the game, 19-17 at the end of the first.
The Hawks stretched their advantage to 24-17, but the Eagles went on a 6-0 scoring run to narrow the gap to 24-23. Point guard Sebastian Alvarez (10 points) put an end to the Flagstaff streak he drove the lane hard and picked up two points among the tall bodies. He then followed up with a three-pointer and it was 29-26.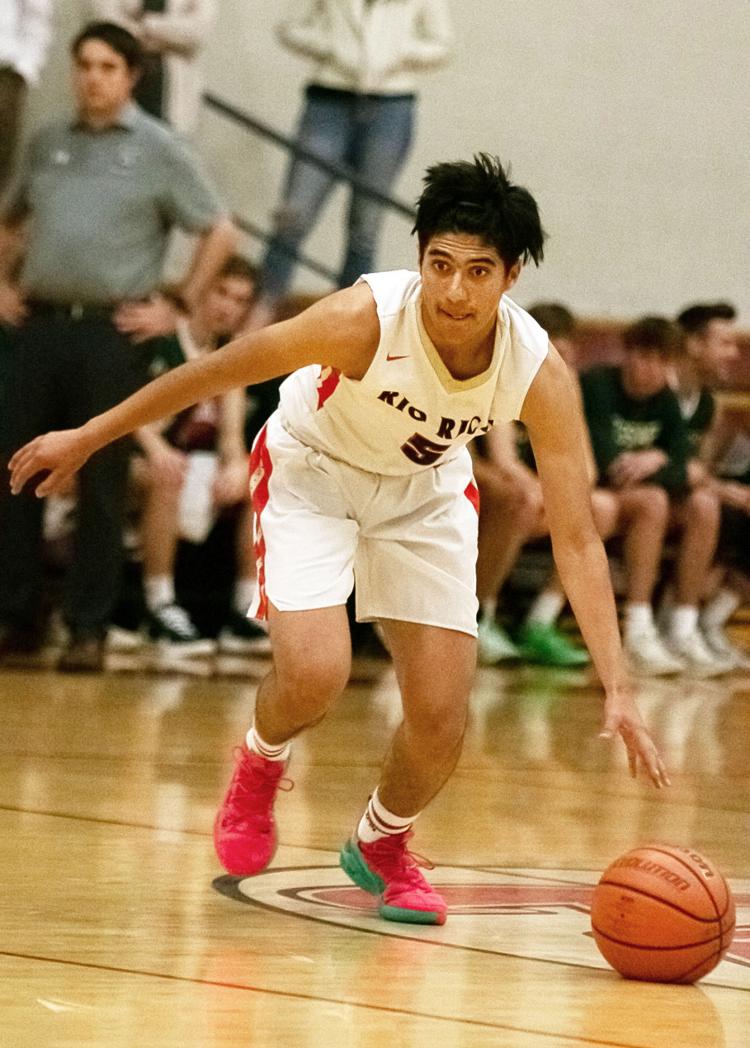 The Eagles closed to within one point before Elian Velasquez added three to close out the first half with Rio Rico ahead 32-28.
In the third quarter, Flagstaff seemed to have settled in a bit and managed to re-capture the lead 35-34. That lead would be short-lived, as the Hawks went on an 11-point scoring spree to make it 43-35. Rio Rico would enter the final quarter up, 47-39.
By the midway point of the fourth quarter Flagstaff had closed the gap 48-45. An eight-point run by the Hawks that included a pair of three pointers by Velasquez and Calderon moved the score to 56-48 with 2:05 remaining.
At this point Flagstaff kicked up the intensity with a tough full court press. It was too little, too late. The Eagles did manage to pick up six points to the Hawks' four in the final two minutes, but they were still six points short.
At the final buzzer the sizable student body on hand erupted; their Hawks had advanced to the first round of the State Championship Tournament with a 60-54 win, their sixth-consecutive victory.
The Hawks' next game will be on Tuesday, Feb. 18, against Salpointe (17-1) in Tucson. Rio Rico is seeded No. 15 and Salpointe is No. 2. The teams played a regular-season game on Dec. 3 at RRHS, with Salpointe coming out on top, 87-46.