Hilario Ortiz and Sebastian Armenta have been football teammates for the past four years at Nogales High School. Now they're prepared to continue that tradition at Iowa Wesleyan University.
Seated side-by-side at a ceremony Wednesday at NHS, the two members of the Class of 2019 simultaneously signed letters of intent to play football starting this fall at IWU, a four-year liberal arts college in Mount Pleasant, Iowa.
Ortiz, a second-team all-5A Conference Southern Region selection at linebacker last season for Nogales, said he expects to play a safety-linebacker hybrid position at IWU, a member of the United States Collegiate Athletic Association and a provisional member of the NCAA Division III Upper Midwest Athletic Conference.
He said he learned about the school and its football program when he saw the coach tweeting that he was looking for players.
"That's when I texted him, I showed him my film and he was interested," he said. "We just kept talking from there, and here I am."
Once he honed in on the school, Armenta began to consider it as well, Ortiz said. Now that they've both signed to go there, he said, he's feeling more comfortable about the transition.
"At first it was pretty scary because it was just by myself, not knowing anybody. But it feels better knowing I'm going to go with someone I know," Ortiz said.
Armenta said he expects to be a long-snapper for the IWU Tigers, "and if anything else opens up, I'll take the chance."
He's also expecting to participate in track and field in college after qualifying for the Arizona state meet this past season in the discus. He'll keep focusing on discus as his main event, he said, though he's also interested in shot put, javelin and the hammer throw.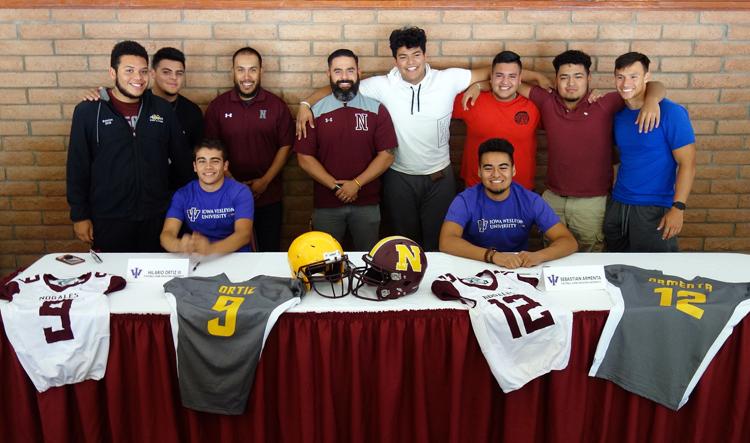 Armenta said he was attracted to IWU because of the program's focus on academics as well as athletics.
"I really want to get my education as a physical therapist, so that's what I liked," he said, adding that he'll major in biology with a concentration in physical therapy.
Speaking during Wednesday's signing ceremony, NHS football coach Jake Teyechea praised his two athletes.
"These two guys put in a lot of work, a lot of effort. Not just in the weight room or on the practice field, but also off," he said, adding that their work ethic is what elevated them to the collegiate level.
"Without a doubt in my head I know that they'll do a job at that level, with their academics and athletics, because they've both got a lot going for them," Teyechea said.
Ortiz's mother Anna, who accompanied him at the ceremony, said: "I'm just very proud of him. I'm really looking forward to what he can do at the next level."
Armenta's father Aurelio and brother Cristian were on hand as well. Asked if he wanted to say something about his son's big achievement, Aurelio Armenta said: "May God bless him."